DeMarco Announces Raising $360,000 in Campaign For Congress
By Brandon Moseley
Alabama Political Reporter
On Monday, January 27, 2014 Alabama State Representative Paul DeMarco (R) from Homewood officially qualified with the Alabama Republican Party today as a candidate for Congress representing Alabama's Sixth Congressional District. The DeMarco campaign also announced that they had raised more than $360,000 in the final nine weeks of 2013.
State Representative DeMarco said in a written statement, "I will fight for your rights and values in Washington."
Rep. DeMarco said, "My number one goal is to repeal Obamacare.  The people of this state are fed up with an overreaching White House. I will take my experience to Washington to work to repeal Obamacare and stop out-of-control spending."
Rep. DeMarco has been a member of the Alabama House of Representatives since 2005.
DeMarco said, "I am the lowest paid member of the Alabama House because I refused to take a pay raise.  I built a reputation as a fiscal conservative, opposing tax increases and over-spending, even when it meant going against some members of my own party. I will not compromise those principles in Washington."
DeMarco was accompanied by his wife, Dr. Jacqueline Dillon DeMarco at Alabama Republican Party Headquarters in Hoover when he filed his qualifying papers.
DeMarco called on the people of the Sixth District to join him in a campaign to restore common sense values in Washington. DeMarco vowed that he would fight for the rights and values of Alabama citizens in Congress.
The DeMarco campaign announced this month that DeMarco will file a report detailing that the campaign had raised contributions totaling more than $360,000 in the final nine weeks of 2013. 97% of those contributions were from individuals from Alabama.  The campaign said in their statement that this demonstrates strong support from the people in the Sixth District.
Representative Paul DeMarco is a lifetime Alabama resident and is an attorney.
DeMarco is running in a crowded Republican field that includes: the co-founder and longtime CEO of the Birmingham based Alabama Policy Institute (API), Gary Palmer; longtime Harbert executive, Will Brooke; mattress manufacturer Tom Vigneulle; and Indian Springs orthopedist Chad Mathis.  Sources claim that State Senator Scott Beason from Gardendale will enter this race in coming days for the rare open Congressional seat in one of the most conservative districts in the entire country.  As of press time only Dr. Mathis and Rep. DeMarco had officially qualified.
The Sixth District Congressional District is currently represented by Rep. Spencer Bachus (R) from Vestavia. After serving in the seat for 21 years, Rep. Bachus announced that he would not seek re-election when his current term expires.
The Republican Primary will be held on June 3, 2014.
Trump Truck and boat parades this weekend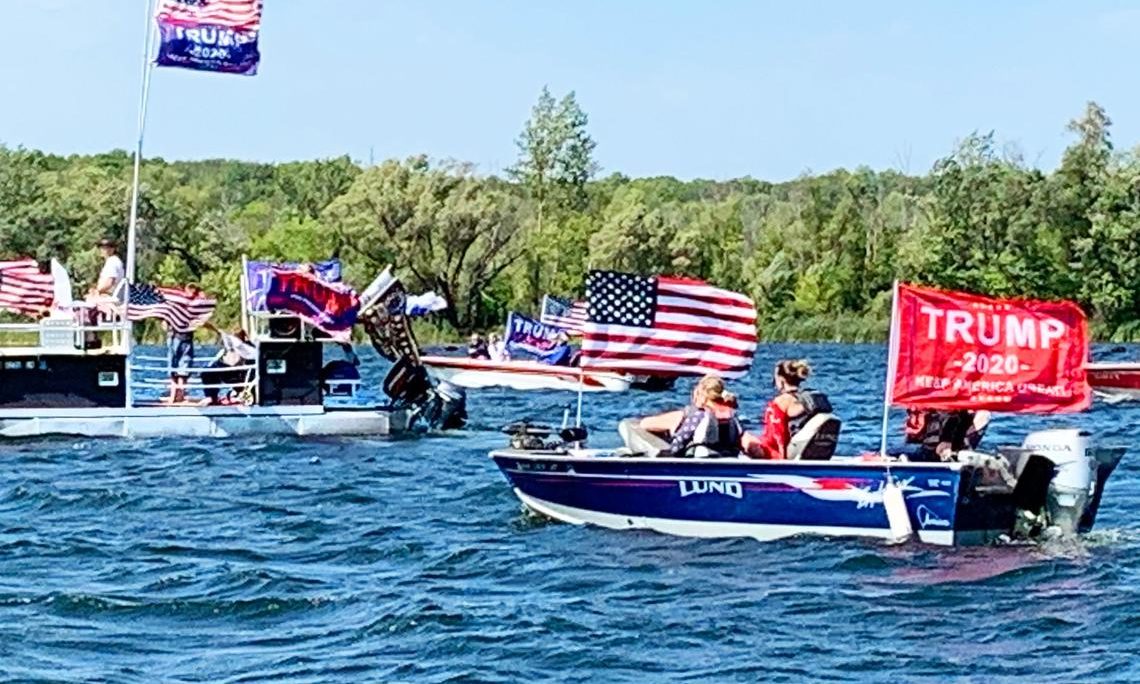 As Election Day draws near, Alabama Republicans are excited about promoting the re-election of Donald J. Trump as President and the election of Tommy Tuberville for U.S. Senate. This weekend two pro-President Trump events are happening in the state. There will be a truck parade from Ashland to Phenix City on Saturday sponsored by the Clay County Republican Party, while there will also be a boat parade on Wilson Lake in the Shoals sponsored by the Colbert County Republican Party on Sunday.
The pickup trucks will assemble at the Ashland Industrial Park in Clay County, 8240 Hwy 9, Ashland. There is a pre-departure rally at 10:00 a.m. central standard time. The trucks will depart at 11:00 a.m. and then proceed on a parade route that will take them into the bitterly contested swing state of Georgia. The Trump Pickup Parade will wind through east Alabama and West Georgia traveling through LaGrange and Columbus before concluding near the Alabama/Georgia line in Phenix City, 332 Woodland Drive, Phenix City at approximately 2:00 p.m. central time. Speakers will begin at 3:00. Trump flags will be on sale at the event.
The Phenix Motorsports Park will be hosting what sponsor hope could possibly the world's largest Pickup Tuck parade in U.S. history that is routing over 50 mile through Georgia in effort to "pickup" President Trump's numbers in GA.
A number dignitaries have been invited to address the Phenix City rally, including Coach Tuberville. Former State Sen. Shadrack McGill, Trump Victory Finance Committee member former State Rep. Perry O. Hooper Jr., and Paul Wellborn, the President and CEO of the largest Family owned Kitchen Cabinet manufacture in the USA are among the featured speakers who have committed to speak at the event.
Entertainment will be provided by: Charity Bowden, an up and coming country music singer who was the runner up on "The Voice". Charity will sing 'I am Proud to be an American' as well as songs from her Voice performances. The McGill Girls will also perform. The three beautiful and talented sisters will be singing patriotic songs in three part harmony. Geoff Carlisle, a professional DJ will be keeping the crowd pumped with music and entertainment.
Following the speakers and the entertainment there will Trump truck-vs- Joe Bidden truck races down the drag strip for the finale.
The Northwest Alabama boat parade will be on Sunday. The boats will gather at 2:00 p.m. near Turtle Point and then the flotilla will parade around the open waters of Wilson Lake til 3_00 p.m.. There will be a contest for best decorated Trump boats.
Trump supporters have held a number of large boat parades across the state to show their support for the re-election of Pres. Trump.
Boat parade sponsors say that this parade will be: pro-American, pro-law enforcement, pro-military.