Wilcox Faces Carr Today in District 104 Special Election
By Brandon Moseley
Alabama Political Reporter
Voters in House District 104, in Mobile County, go to the polls on Tuesday to select their candidate to replace Representative Jim Barton (R) from Mobile. Margie Wilcox won a close race versus children's boutique owner, Susan Hightower, in the Republican Primary Runoff special election seven weeks ago and now faces Democrat, Stephen P. Carr.  Wilcox has to unite the Republican electorate and turn out her voters in order to defeat Stephen Carr, who faces an uphill battle in the Republican leaning South Alabama District.
Wilcox said on Facebook Monday, "I just finished an on air interview with WPMI channel 15. We are trying to raise awareness for Tuesday election. We need Republicans to vote this Tuesday."
Margie Wilcox is a prominent business owner who owns cab companies and airport transport companies. The Theodore businesswoman is staunchly pro-Life and supports the traditional family.
Wilcox said on her website, "By ensuring that our parks are clean and safe and that our police have the resources and the laws to fight crime we can keep families together and our children safe. We need a stronger focus on families!" Wilcox is a charter member of St. Vincent De Paul Catholic Church.
If elected, Wilcox promises to reduce the size of government, publish most government documents on the web, and strengthen Alabama's ethic laws. Wilcox said on her website: "Just a few years ago our republican leadership did a great job in passing new laws to improve our trust and confidence in elected leadership. Unfortunately the loop holes have been found. Double dippers are still double dipping and the old revolving door is spinning even faster. I am a cheerleader for the conservative leadership in our state and I want to join them with a push to close those holes and keep the promise to be the most honest and transparent leadership in the history of Alabama!" Wilcox is a graduate of Leadership Mobile, a former member of the Mobile County Republican Executive Committee and has been very active in the Business Council of Alabama and the National Association of Women Business Owners.
Carr has received the endorsement of the Alabama Voter's Coalition (a Democratic Party aligned group).  The group said in a written statement that it, "Believes that Stephen Carr a Democrat is the best candidate to represent House District 104 in Mobile County and the Great State of Alabama.
Chairman of the Alabama Voter's Coalition, Gary Johnson said, "We need a Representative for the people and not the select few and special interest. Our legislative body in Montgomery supposed to serve and represent all people. I believe Stephen Carr will do just that."
Stephen P. Carr said in a written statement, "Mobile has a chance on Tuesday, January 28th, to send a true public servant to Montgomery for a change. I am the best candidate and have no personal gain ambitions tied to my candidacy. I seek to serve the people, and that is what I will do as long as I have the privilege to serve. I have served in the Army, in Community Mental Health Clinics, in Church and Faith Based organizations, and have always put others' interests before my own. This trait of wanting to help and to serve others is what has driven me to run for the District 104 seat and I hope that the people of Mobile County will give me the chance to prove to them that I am what I say that I am, a public servant."
The House District 104 seat became vacant following the resignation of Representative Jim Barton (R) this past August when he left to pursue a job opportunity as a professional lobbyist. The winner will serve the remainder of Barton's term and will still have to face re-election in 2014 along with every other seat in the Alabama Legislature. House District 104 is located in the southern section of Mobile County and stretches from I-65 to the Mississippi line.
Both camps are anxious to motivate their voters to go to the poll.  Rare winter weather last week led Alabama Governor Robert Bentley to postpone the special election until today.  Voter turnout is expected to be very light.
Wilcox said on Facebook, "We are in the "red zone" (to borrow a football phrase). Let's push hard to accomplish our goal and WIN this election. Call and volunteer for: waving, placing signs, reminding voters to vote, poll greeting, victory party committee, etc. Thank you for all of your efforts I am forever grateful."
Breaking down the six amendments on Alabama's November ballot
What do the six proposed amendments on Alabama's November ballot do? We answer your questions here.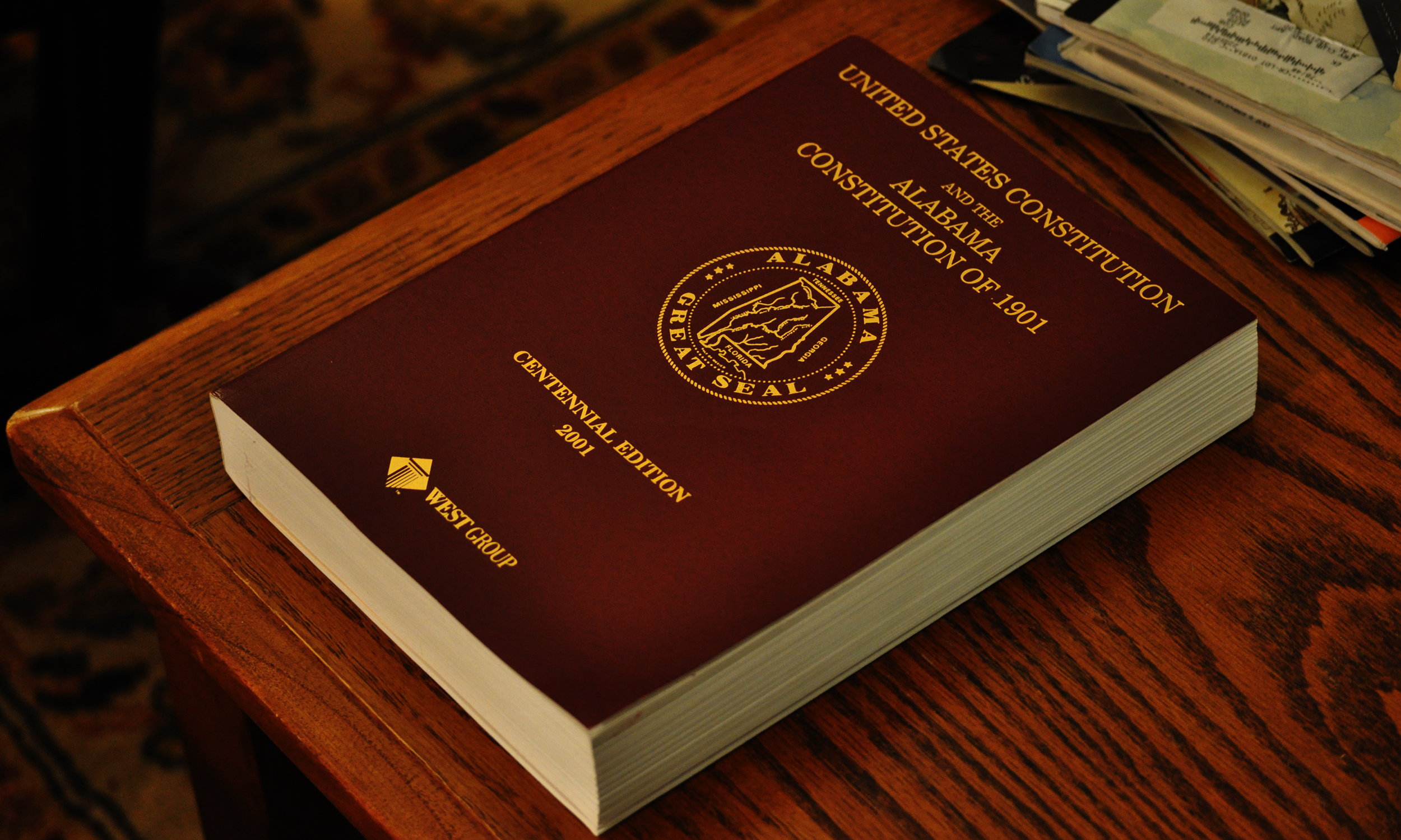 Alabama voters in the Nov. 3 election will have to decide on whether to add six constitutional amendments to what is already believed to be the longest constitution in the world. 
If approved, three of the amendments won't actually make substantive changes to state law, however.
To be added to the constitution, the amendments must receive support from a majority of voters.

Amendment 1
Amendment 1 — sponsored by State Sen. Del Marsh, R-Anniston — would "grant the right to vote to 'only' those U.S. citizens who meet the requirements." 
If approved, the change in the state's constitution would be to replace wording that the constitution grants the right to vote for "every" U.S. citizen who meets the requirements, to it grants the right to vote for "only" those U.S. citizens who meet the requirements. 
The amendment makes no changes to state voting requirements, and it's already a federal requirement to be a U.S. citizen to vote. Marsh told WBRC that the amendment "sends a message to Washington." Opponents to Amendment 1 say it could make it easier for the GOP-controlled Legislature to restrict voting rights.

Amendment 2
Amendment 2 processes numerous changes to the state's judicial system, including a change that would allow Alabama Supreme Court, rather than the Chief Justice, to appoint the Administrative Director of Courts. 
The amendment would also increase the Judicial Inquiry Commission from nine members to 11 and would  allow Governor, rather than the Lieutenant Governor, to appoint a member of the Court of the Judiciary. 
If approved, it would also prevent automatic disqualification from holding public offices for a judge solely because a complaint was filed with the Judiciary Inquiry Commission. Additionally, it would provide that a judge can be removed from office only by the Court of the Judiciary.
Amendment 3
Amendment 3 would extend the time appointed district and circuit court judges serve. State law now mandates appointed judges serve one year, or until the end of the term of the judge whom they were appointed to replace, whichever is longer.  
The amendment would allow the appointed judge to serve two years before running to keep their judgeship in an election. 
Amendment 4
Amendment 4 would allow "a rearranged version of the state constitution" to be drafted to "remove racist language," "remove language that is repeated or no longer applies,"  "combine language related to economic development"  and "combine language that relates to the same county."
 The rearranged version of the state constitution would have to be drafted by the state Legislature in 2022, according to the amendment, and the new draft wouldn't become law until approved by a majority of voters.
Amendments 5 and 6
Amendments 5 and 6 relate to Franklin and Lauderdale counties only, and if approved, would add to the state constitution that "a person is not liable for using deadly physical force in self-defense or in the defense of another person on the premises of a church under certain conditions" in both of those counties. 
Alabama already has a "stand your ground" that applies to the use of deadly force in churches, however. 
Alabama Attorney General Steve Marshall in a Jan. 2 statement, following the West Freeway Church of Christ shooting in White Settlement, Texas, wrote that Alabama law "does not impose a duty to retreat from an attacker in any place in which one is lawfully present."