Alabama Legislature Honors Military During Joint Session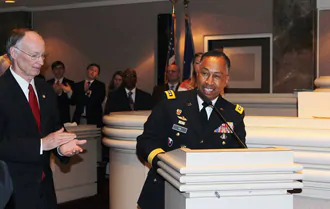 By Brandon Moseley
Alabama Political Reporter
On Thursday, February 6, 2014, in honor of Military Appreciation Day, the Alabama Legislature convened a Joint Session Thursday to pay tribute to the members of the United States Armed Forces and to highlight legislation that is aimed at strengthening Alabama's role as a military-friendly state.
The featured speaker at the event was General Dennis Via, the Commander of the U.S. Army Materiel Command located in Huntsville.
General Via said, "I can tell you that everyone who wears the uniform considers themselves fortunate – very fortunate – to be part of a special state that celebrates and honors its service members and veterans in such meaningful and significant ways."  General Via is Alabama's only four-star general and one of only 13 in the U.S. Army.
Alabama Governor Robert Bentley (R) said, "Alabama is a strong pro-military state, and it is important to recognize and thank our military members whenever we can.  America would not be free without our military."
The Speaker of the Alabama House of Representatives, Rep. Mike Hubbard (R) from Auburn said, "There is no group more worthy of our commendation and admiration than the men and women of the military.  Alabama has a proud tradition of military service and the valor of our brave men and women has been displayed in every war and conflict in our nation. Our freedom is not free and I give thanks each day that we are able to live in the land of the free, thanks to the countless brave."
Alabama Lieutenant Governor Kay Ivey said, "Our fighting men and women deserve infinite thanks. It is an honor to set aside a day in the Legislature to recognize them.  Alabama boasts a strong history of supporting our military and it has been my goal since taking office to ensure we continue that legacy."
Rep. Howard Sanderford (R) from Huntsville presented a House Resolution in honor of Military Appreciation Day. Military service members in attendance were recognized and a moment of silence in memory of fallen troops was observed.
Alabama State Senator Phil Williams (R) from Rainbow City said on Facebook, "Proud to be on hand as 4-star General Dennis Via of the Army Materiel Command and Governor Bentley addressed a joint Session of the legislature to honor our military.  Our veterans were indeed honored today ….and rightly so."
Alabama Senate President Pro Tem Del Marsh (R) from Anniston said, "Alabama is home to some of the most vital military missions and most distinguished military leaders in our nation's Armed Forces.  It is our distinct honor to host General Via in the Alabama Legislature while highlighting those significant missions and expressing our deep gratitude to those who carry them out."
Governor Bentley said, "I'm honored to participate in Military Appreciation Day and I appreciate the Legislature for honoring our military."
The Alabama Legislature has passed several military-focused bills to strengthen the state's defenses against any changes that could come from the Base Realignment and Closure (BRAC) process. At the urging of Alabama Secretary of State Jim Bennett (R) and the U.S. Department of Justice, the first statewide bill passed during the 2014 Legislative Session was is the Military and Overseas Voting Act, which makes it much easier for military members stationed or deployed overseas too participate in the election process via absentee ballot.
Alabama has more than 11,900 active duty members stationed here.  The state also has 22,099 reserve and National Guard personnel and more than 420,000 veterans. Alabama has four major military installations: Redstone Arsenal in Huntsville, Maxwell/Gunter Air Force Base in Montgomery, Ft. Rucker in Dale County, and the Anniston Army Depot.
The Alabama House Republican Caucus wrote, "Today members of the Alabama House and Senate paid their respects to the brave men and women of the United States Armed Forces during a joint session commemorating Military Appreciation Day. Numerous individuals who comprise our nation's military were in attendance, including several who also are current members of the Alabama Legislature."
Military Appreciation Day is a coordinated effort by the Office of the Lieutenant Governor, Military Stability Foundation, the Alabama House of Representatives, and the Alabama Senate.
Trump Truck and boat parades this weekend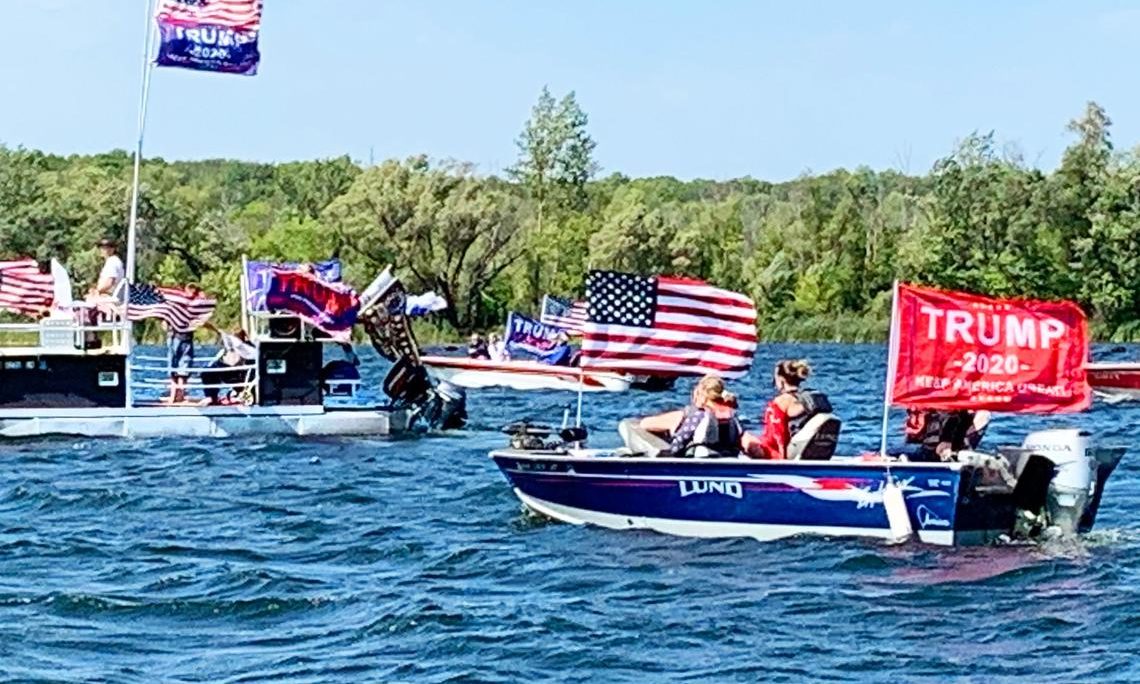 As Election Day draws near, Alabama Republicans are excited about promoting the re-election of Donald J. Trump as President and the election of Tommy Tuberville for U.S. Senate. This weekend two pro-President Trump events are happening in the state. There will be a truck parade from Ashland to Phenix City on Saturday sponsored by the Clay County Republican Party, while there will also be a boat parade on Wilson Lake in the Shoals sponsored by the Colbert County Republican Party on Sunday.
The pickup trucks will assemble at the Ashland Industrial Park in Clay County, 8240 Hwy 9, Ashland. There is a pre-departure rally at 10:00 a.m. central standard time. The trucks will depart at 11:00 a.m. and then proceed on a parade route that will take them into the bitterly contested swing state of Georgia. The Trump Pickup Parade will wind through east Alabama and West Georgia traveling through LaGrange and Columbus before concluding near the Alabama/Georgia line in Phenix City, 332 Woodland Drive, Phenix City at approximately 2:00 p.m. central time. Speakers will begin at 3:00. Trump flags will be on sale at the event.
The Phenix Motorsports Park will be hosting what sponsor hope could possibly the world's largest Pickup Tuck parade in U.S. history that is routing over 50 mile through Georgia in effort to "pickup" President Trump's numbers in GA.
A number dignitaries have been invited to address the Phenix City rally, including Coach Tuberville. Former State Sen. Shadrack McGill, Trump Victory Finance Committee member former State Rep. Perry O. Hooper Jr., and Paul Wellborn, the President and CEO of the largest Family owned Kitchen Cabinet manufacture in the USA are among the featured speakers who have committed to speak at the event.
Entertainment will be provided by: Charity Bowden, an up and coming country music singer who was the runner up on "The Voice". Charity will sing 'I am Proud to be an American' as well as songs from her Voice performances. The McGill Girls will also perform. The three beautiful and talented sisters will be singing patriotic songs in three part harmony. Geoff Carlisle, a professional DJ will be keeping the crowd pumped with music and entertainment.
Following the speakers and the entertainment there will Trump truck-vs- Joe Bidden truck races down the drag strip for the finale.
The Northwest Alabama boat parade will be on Sunday. The boats will gather at 2:00 p.m. near Turtle Point and then the flotilla will parade around the open waters of Wilson Lake til 3_00 p.m.. There will be a contest for best decorated Trump boats.
Trump supporters have held a number of large boat parades across the state to show their support for the re-election of Pres. Trump.
Boat parade sponsors say that this parade will be: pro-American, pro-law enforcement, pro-military.