Alabama Voter's Coalition Is Urging Democratic Leaders to Unite
By Brandon Moseley
Alabama Political Reporter
The Alabama Voter's Coalition votes has requested a special meeting with State Democratic Leaders to attempt to mend fences between the Alabama Democratic Party, the Alabama Democratic Conference, and the Alabama Democratic Majority.
The Alabama Voter's Coalition executive committee has issued a written statement announcing that it has voted to request a special meeting with Mark Kennedy, Joe Reed, and Nancy Worley.
Alabama Voter's Coalition Chairman Gary Johnson said, "It is time for Mr. Kennedy, Mr. Reed, and Chairwoman Worley to sit down and settle their differences and move forward. There is no reason for us to continue to be divided because of our differences. It is time for us to unite now for the sake of our party, supporters, and voters."
The Alabama Voter's Coalition is a Democratic political organization that focuses on engaging, encouraging, and inspiring minorities to participate in the political process.  Its mission is to provide political education, increase minority voter registration, and unite the Democratic minority while reaching out to political independents to engage in the political process.  They support Democratic candidates and causes.
The committee voted unanimously on a resolution to request the meeting to discuss all the tensions between the state Democratic Party and the former chair Mark Kennedy and Vice-Chair Mr. Joe Reed.
"Come to the table and let's work out a solution, not just for each individual, but for the party", said Chairman Gary Johnson.
The group has proposed a date for the meeting and has given Marcus Echols the authority to represent the coalition.  Marcus Echols is a Field Director with the Alabama Voter's Coalition for the 4th Congressional District.
The groups said on their website that their mission is, "To unite and inform minority and independent voters of the political process, elections, legislation, and candidates in Alabama. It is our continuing mission to identify key areas in Alabama, and reach out to minority and independent voters and engage each of them one by one."
Chairman Gary Johnson is a native and resident of Mobile County.   Johnson is a former member of the Mobile County Democratic Executive Committee, was the Democratic Nominee for State Representative District 102 in 2002 and 2006, is an ordained elder at his local church, and is a small business owner.
For a long time Alabamians voted Republican in national elections, but sent Democrats to represent them in Montgomery.  Guy Hunt was the first Republican Governor in 1986.  He was re-elected in 1990.  Former Democratic Governor Fob James was elected as Alabama's second 20th Century Republican in 1994.  Beginning with Perry Hooper Senior the Republicans increasingly dominated state court races.  In 2002 the Republicans narrowly won back the Governor's mansion when Bob Riley was elected.  Republicans, under the leadership of Bob Riley and Mike Hubbard, were able to gradually erode that support by convincing voters that there is no difference between Alabama Democrats and Nancy Pelosi's Democrats.  It was a clever strategy that combined with Democrats being embroiled in a string of corruption scandals resulted in a Republican landslide in 2010 that gave the Republicans every statewide office on the ballot, two additional Congressional seats, and super majorities in both the Alabama House and the Alabama Senate.  This was the first time that Republicans have held any majority in either house since the mid-1870s.
Stung by the momentous defeat, Democrats responded by changing party Chairmen.  Alabama Democrats reached out to their political past by replacing the likable Joe Turnham (best known for losing multiple close Congressional races to Mike Rogers (R) from Saks) with George Wallace's son in law, former Alabama State Supreme Court Justice Mark Kennedy.
Kennedy struggled to raise money or even recruit candidates in the 2012 elections.  The party had to sack its own Chief Justice of the Alabama Supreme Court candidate, Harry Lyon, when Lyon's homophobia, personal hatred for Kennedy and over the top rhetoric got too much to bear.   Republican Roy Moore then easily defeated the Democrats hand-picked candidate, Jefferson County Circuit Judge Robert Vance.  The Democrats last remaining state wide office holder, PSC President Lucy Baxley was unseated by her Republican challenger, Twinkle Andress Cavanaugh.
In 2013, Kennedy resigned as Chairman and formed his own foundation, the Alabama Democratic Majority, after his working relationship with longtime AEA boss and Alabama Democratic Conference (ADC) Chairman Joe Reed had become toxic.  Former Secretary of State Nancy Worley has since been made Chairwoman of the Alabama Democratic Party.  Reed has resisted efforts to make the Alabama Democratic Party more diverse.
Three mental health crisis centers coming to Mobile, Montgomery and Huntsville
"Today marks a culture change in Alabama for treatment of individuals with mental illness and substance use disorders," Mental Health Commissioner Lynn Beshear said.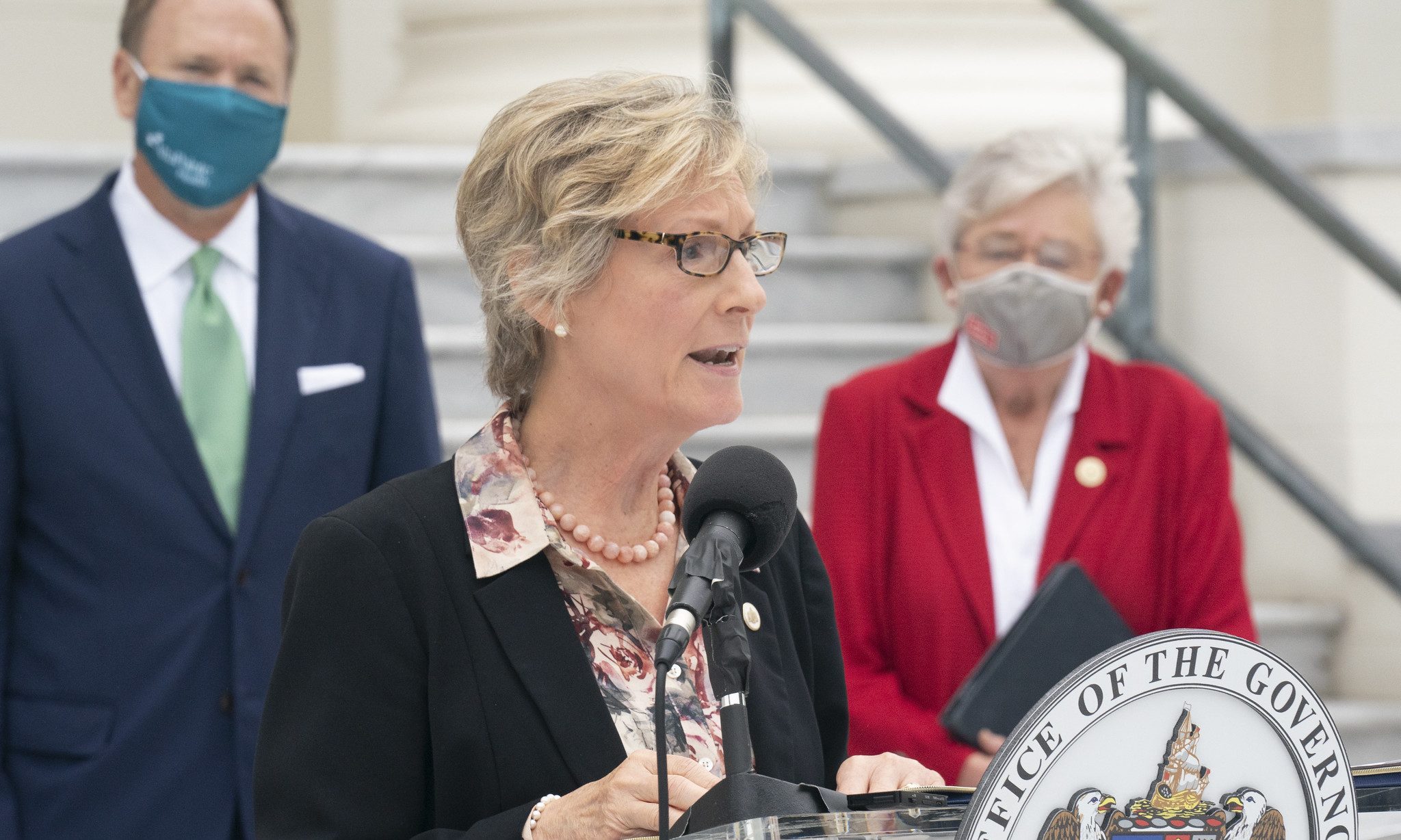 Gov. Kay Ivey on Wednesday announced an $18 million project to create three new mental health crisis centers to be located in Mobile, Montgomery and Huntsville. 
These centers, once in operation, will reduce the number of people suffering from mental health crises who are hospitalized or jailed, Ivey said during a press briefing in front of the Capitol Building in Montgomery. 
"When these facilities are open and fully staffed, these centers will become a safe haven for people facing mental health challenges," Ivey said. 
Lynn Beshear, commissioner of the Alabama Department of Mental Health, said during the briefing that the centers will provide "recovery based" care with "short term stays of a few hours, or up to a few days, to provide treatment, support, and connection to care in the community." 
"Today marks a culture change in Alabama for treatment of individuals with mental illness and substance use disorders," Beshear said. 
Beshear said AltaPointe Health in Mobile will operate one of the three facilities, and once built it is to serve Mobile, Baldwin, Clarke, Conecuh, Escambia, Monroe and Washington counties with 21 new beds, including 15 temporary observation beds. Altapointe will begin with a temporary space while constructing the new facilities, she said. 
Beshear said the Montgomery Area Mental Health Authority is partnering with the East Alabama Mental Health Authority and the Central Alabama Mental Health Authority to serve the 11 counties in Region 3 with 21 new beds, including 10 temporary observation and respite beds. 
"The regional crisis center will be located in Montgomery, and will be open to walk-ins and for drop off by law enforcement, first responders and referrals from emergency rooms," Beshear said. 
Wellstone Behavioral Health in Huntsville was selected to open the third center, and will do so at a temporary site while a new facility is being built, with the help of an additional $2.1 million from local governments, Beshear said. That facility will eventually have 39 beds, including 15 for temporary observation and 24 for extended observation.
"There's not a day that goes by that after-hours care is not an issue in our state," said Jeremy Blair, CEO of Wellstone Behavioral Health, speaking at the press conference. "And so I applaud the Department of Mental Health and the leaders for their efforts in recognizing that and taking it a step further and funding our efforts here." 
Asked by a reporter why a center wasn't located in Jefferson County, one of the most populous counties with a great need for such a center, Ivey said those residents will be served in one of the other regions. 
"Plans are underway to continue this effort. Today's beginning, with these three crisis centers, is just the beginning," Ivey said. 
Ivey added that request for proposals were sent out for these three centers and "it was a strong competition for the location of these three crisis centers." 
Alabama House Majority Leader Nathaniel Ledbetter, R-Rainsville, said during the briefing that more than a year ago, Ivey asked him what the state should be looking at, and that he replied "we're failing miserably in mental health."
Ledbetter said Ivey asked him to take on the challenge of correcting the state's response to mental health, and a team was created to do just that. 
"Working together, today's announcement will not only change Alabamians lives, but will help to save lives," Ledbetter said.