Alabama House of Representatives Passes Four Pro-Life Bills
By Brandon Moseley
Alabama Political Reporter
On Tuesday, the Alabama House of Representative passed four pieces of Pro-Life legislation aimed at reducing the number of abortions performed in the State of Alabama.
Republicans in the House easily brushed aside filibusters of the legislation from Alabama's outnumbered Democrat House minority.
Rep. Ed Henry (R) from Decatur said on Facebook, "All 4 Pro-Life bills have passed. The opposition just ran out of steam."
In a low point in the lengthy filibuster, Rep. Alvin Holmes charged that 99% of Republicans present would make their daughters' abort if the child were sired by a Black man.  Holmes has become something of a national celebrity after he called U.S. Supreme Court Justice Clarence Thomas an 'Uncle Tom' and criticized him for marrying a White woman on the floor of the House.  These new remarks could earn Holmes yet another segment on Sean Hannity's Fox News cable television program.
During the debate, Rep. Mack Butler (R) from Rainbow City said on Facebook, "Today we are truly fighting for those with no voice! Being a father is by far the greatest blessing in life!"
First the House passed HB 489.  HB 489 is sponsored by Rep. Ed Henry (R) from Decatur.  Henry said that his bill requires that a woman who wishes to have an abortion must be notified of the risk of having an abortion and that that waiting period be extended from 24 hours to 48 hours.
Rep. Henry said that HB 489 will require a 48 hour waiting period between when a women receives information about the risk of an abortion and when she actually has the abortion. "This is a decision that will likely affect her the rest of her life and most assuredly effect the life of her unborn child. We have states in this union that require 48hrs waiting period before getting a tattoo or buying a gun, is killing an unborn child not more serious," Henry said.  Typically a woman planning an abortion phones an abortion clinic to set an appointment.  The clinic then mails the woman a packet of materials.  The 48 hour waiting period begins from the time that she signs for that certified letter.
In a heated exchange on the House floor, Rep. Darrio Melton (D) from Selma said to Henry, "Sounds like you are not intelligent enough to deal with questions about your own bill."  Then followed that with, "Me and my wife did not have an abortion," referencing Rep. Henry's admission that his first child was killed in an abortion.
Rep. John Knight (D) from Montgomery intervened and asked the Speaker to invoke rule 52.  Speaker of the House Mike Hubbard (R) from Auburn agreed and said, "Yes.  Melton stop interrogating Mr. Henry.  This is not an interrogation. And Mr. Henry stop being flippant with your answers."
Despite the lengthy verbal fireworks the bill passed the House 76 to 23.
HB 493 was sponsored by Rep. Kurt Wallace from Maplesville.  Rep. Wallace said that the Perinatal Hospice Information Act would require that a family that finds out that their child has been diagnosed with a fetal abnormality be given information about Perinatal Hospice and requires a 48 waiting period before that child can be aborted.  HB493 informs a woman whose unborn child has a lethal fetal anomaly of perinatal hospice services.  The bill passed the House of Representatives 73 to 24.
The Alabama House also passed HB 490, the Fetal Heartbeat Act, sponsored by state Representative Mary Sue McClurkin (R) from Indian Springs.  Rep. McClurkin said that the legislation, "Would make it unlawful for a physician to perform an abortion on a pregnant woman if a heartbeat is detected on an unborn child."  The bill also requires that abortion clinic keep documentation showing that the fetal heartbeat test was performed.  The Fetal Heart Beat bill passed the House of Representatives 73 to 29.
Some Democrats complained that Republicans were costing the state tax dollars defending these pieces of legislation in court.  Rep. Butler replied on Facebook, "They keep saying these bills will wind up in court! That's exactly what needs to happen. That is how we get Roe V Wade overturned."
The House also passed HB 494, which strengthens Alabama's parental consent law.  The bill was sponsored by Representative Mike Jones (R) from Andalusia.  Rep. Jones said, "This bill deals with parental consent which has already been upheld by the courts."  HB494 toughens parental consent requirements for minors seeking an abortion."
All four bills now go to the Alabama Senate.
The Alabama House Republican Caucus said in a written statement that House Republicans are, "Proving once again that we are dedicated to continuing our four-year record of defending the Right to Life in Alabama."
The Alabama Right to Life Movement is kicking off their 40 days for life effort on Wednesday, March 5.
The Christian Coalition of Alabama announced that they,
"Will be marching and supporting the 40 Days For Life March in Huntsville, Alabama on March 8, 2014.  Participants in the march will assemble at 204 Lowe Avenue on the corner of Lowe and Green at 10:00 am and begin the march at 10:30 am.  This year's march will be extended a few blocks marching past the abortion facility, then looping around the block to the West back to the vigil site at Madison and Lowe across from the AL Women's Center for Reproductive Alternatives.   This march is dedicated to the memory of faithful Pro-Life prayer warrior Deacon Ron Puent of Good Shepherd parish, who passed away recently.  A Respect Life Mass will be held in advance of the march at St. Mary of the Visitation Catholic Church, 222 Jefferson St. North, at 8:30am."
Similar efforts will be taking place in Birmingham, Montgomery, Tuscaloosa, and Mobile.
Alabama Citizens for Life announced on their web site that: "40 Days for Life Vigils will take place in 306 cities from coast to coast in North America — and in eight other countries around the world. We are blessed to have so many faithful prayer warriors taking a stand for life and being a voice for the voiceless."
For more information visit their website.
Opinion | Electing Tuberville could cost Alabama billions
If your conscience or decency isn't enough, vote your wallets.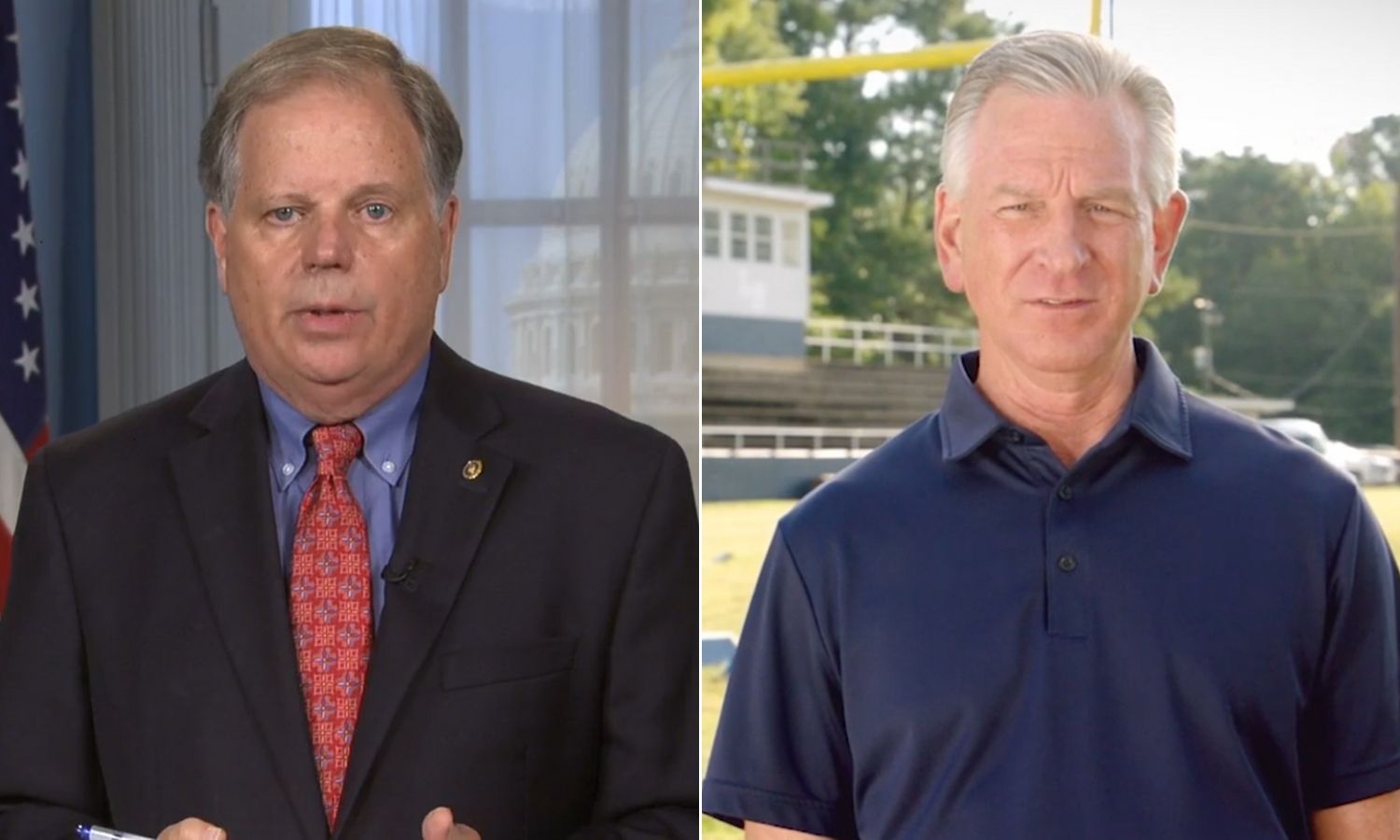 Money matters in Alabama. Oh, I know that we're not supposed to say that out loud. That we're supposed to promote our image of southern grace and hospitality, of churchiness and care, of rich people never getting into heaven. 
But the truth is greed is our biggest character flaw in this state. 
Every problem we have can be traced back to our unending thirst for dollars. Our ancestors didn't keep slaves because they hated black people. They did it because they loved money and the difference in skin color gave them an excuse — a really, really stupid excuse — to mistreat other humans to take advantage of the free labor. 
Our rivers and lakes and dirt aren't filled with poisons from factories because we're too dumb to understand how this works. They're that way because our politicians are paid off to turn a blind eye to the dumping of toxic waste. 
Our schools aren't terrible because we have dumb kids or bad teachers. It's because we're too cheap to pay for them. 
You see what I mean? It's our lust for the almighty dollar. Every time. 
We love money. 
Which makes me seriously wonder why so many people in this state are going to vote for a man who will cost us all — and especially our biggest businesses — so much of it. 
Tommy Tuberville will be like a money vacuum for Alabama. Billions of dollars will vanish for this welfare state that relies so much on federal contracts, federal programs and federal dollars. 
If you doubt this, don't simply take my word for it. Just Google up the press releases from Sen. Richard Shelby's office from the last, say, six years — the most recent span in which Republicans have controlled the Senate. 
Almost every single release is about Shelby securing millions or billions of dollars in federal funding for this project or that project, getting the state's share of dollars from a variety of different programs and initiatives implemented by Congress. 
Shelby and I obviously have different political viewpoints, but it's hard to argue that the man has been successful in securing money for Alabama. Lots and lots of money. 
Money for airports and roads. Money for defense contractors in Huntsville. Money for the port in Mobile. Money for car manufacturers. Money for farmers. 
Money. Money. Money. 
Shelby can do that because of three things: He's on the right committees, he's a member of the party in power and he's liked by the right people.
Tuberville will be none of those things. 
Most pundits are predicting that Democrats will take over the Senate, tipping the balance of power and giving the party control of both houses and the White House. 
That automatically means that a first-time senator in the opposition party will have little to no say in any decisions. 
But what's worse for Tuberville, and for Alabama, is that other Republicans don't like him either. 
Establishment Republicans essentially openly campaigned against Tuberville in the primary, tossing tens of millions of dollars behind his opponent, Jeff Sessions. They even favored third-place finisher Bradley Byrne over Tuberville. 
It's not hard to understand why — he's clueless. 
I know that's a Doug Jones talking point, but this one happens to be true. Let me give you an example: On Thursday, Tuberville tweeted out what was meant to be a shot at Jones, claiming that Alabama's current senator wouldn't meet with Trump's Supreme Court nominee because Jones knows "he won't have much time in the Senate to work with her."
If you're unaware, the Senate doesn't "work with" the Supreme Court. They're separate entities. 
Combine that with his other nonsensical answers on COVID relief, school reopenings, the Voting Rights Act, senate committee assignments, education, foreign affairs — really, the list is almost endless — and it shows how little work he's put in over the last two years to understand this job he's applying for. 
Now, that might be just fine with Alabama voters who care more about the party affiliation and owning the libs, but it's not OK with grownups who take the job of running the country seriously. 
And those people — both Rs and Ds — don't like Tuberville or his here-for-an-easy-check-like-always approach to one of the most serious jobs in the world. 
He will be frozen out of the most sought after committee assignments. His voice will carry zero weight. His presence will be all but forgotten. 
And in the process, so will Alabama. Especially in two years, when Shelby retires and his senior status is lost. 
In the meantime, Jones is highly respected by senators on both sides of the aisle. He already has a presence on top committees, and is so well liked within the Democratic Party that he's on the short list to be Joe Biden's AG, should he not be re-elected. 
The choice seems pretty simple. On the one hand is a competent, prepared and serious statesman who knows how to maneuver his colleagues to get the most for the state. On the other hand is an unprepared, uncaring, lazy carpetbagger who doesn't understand any process. 
If your conscience or decency isn't enough, vote your wallets.