Roby Discusses Situation in Ukraine
By Brandon Moseley
Alabama Political Reporter
Military forces of the Russian Federation have occupied the Crimea, a Republic in the Ukraine.  Russia has announced that the Crimea will be voting soon on secession from the Ukraine presumably to be incorporated into Russia.  All of this is in defiance of post-Cold War treaties, at least one of which guarantees Ukraine's borders with American force.
U.S. Representative Roby (R) from Montgomery wrote over the weekend, "What Russia has done is outrageous and should not be allowed to stand. We need to bring all of our diplomatic and economic tools to bear, provide leadership in the world and make it clear that Putin's actions have consequences."
Congresswoman Roby said, "This week, the House is expected to vote on a resolution that would encourage the Obama administration to bring economic sanctions against the Russian government. The House has also passed legislation designed to assist Ukraine with temporary loan guarantees in their time of need."
The Conservative Alabama Congresswoman concluded, "This is a time for America to speak with one voice – and to rally our allies to speak up too. We also need to be looking two steps ahead. Russia has shown every intention of interrupting our efforts to keep Iran in check. We need to demonstrate our willingness to stand up to Putin now before the consequences get even greater down the road."
President Barack H. Obama has dispatched F-15s to Poland and a destroyer to the Black Sea and has urged Russian President Vladimir Putin to withdraw his forces from the Crimea.  Meanwhile Russian television has been reporting on the mistreatment of ethnic Russians in Eastern Ukraine, sparking fears that the Russians may further extend their sphere of influence inside Ukraine and perhaps sparking an actual shooting war.
Rep. Bradley Byrne (R) from Montrose said in a statement last week, "The President of the United States is the Commander in Chief of our armed forces.  I call on him to take decisive action.  So far, the President has projected weakness and timidity by dithering away while Russia asserts its control on the ground. The President must demonstrate strong leadership by rescinding the announcement this week that he will weaken our National defense. We should show our strength as a nation by appropriately investing in our military based on the strategic needs of our combatant commanders and military leaders in the field."
Ukraine has two major ethnicities: Ukrainian and Russian that speak different languages.  The Ukrainian government had applied to enter into the European Union.  The ethnic Russian minority opposed this move and won recent elections that gave them control of the government.  Ukrainian President Viktor Yanukovich promptly ended plans to join the EU and instead proposed that the government of Ukraine strengthen its ties to the Russian Federation.
Ethnic Ukrainians objected to this change in policy and took to the streets in the capital city of Kiev in November to demand the ouster of Yanukovich.  Those protests became increasingly violent.  After dozens of people were killed and his chief of staff, Andriy Klyuyev, was wounded by gunfire in an ambush, Yanukovich fled the country for Russia on February 22nd.
A thousand years ago, Kiev (now the capital of Ukraine) was the capital of feudal Russia.  In the thirteenth century the whole area was conquered by the Mongols.  The Russian principality of Moscow eventually got autonomy and then independence from Mongol domination and began growing.  Since then the Ukraine has changed hands between the Russian Empire, the Mongols/Tartars, and the Islamic Ottoman Empire with periods of Ukrainian independence or autonomy. Eventually the area was absorbed into the Russian Empire.
When the Communist Bolsheviks overthrew the Russian Empire during World War I, Ukraine was forced to become a Republic in the Russian dominated Union of Soviet Socialist Republic (USSR).  When Karl Marx's failed economic and government theories proved hopelessly inadequate for the real world, the USSR collapsed and Ukraine suddenly became a separate country in the 1990s.
The cash starved Ukrainian government surrendered a vast nuclear arsenal it inherited from the USSR in exchange for promises that the U.S. and Great Britain would protect its borders.  The Ukraine has since radically downsized its military.  Ukraine has an estimated 135,000 troops but they are underpaid, poorly equipped, and poorly trained.  It is not known how many Ukrainian troops are actually loyal to the Ukrainian state and will they fight if called to.
Russia claims that deposed President Yanukovich (who is in Russian custody) asked Russian President Vladimir Putin to send troops to his country to restore order.  The Ukrainian Government insists that it has lawfully removed Yanukovich by a vote of Parliament and he no longer represents Ukraine, but Russia insists that he is still the President and that they are acting to protect the human rights of the Russian minority…..a charge that the acting Ukrainian Government strongly denies.
Congresswoman Martha Roby represents Alabama's Second Congressional District.
Alabama women to Ivey: Support fair processes
Last week, Ivey co-authored a letter of support for Barrett and released it to media outlets.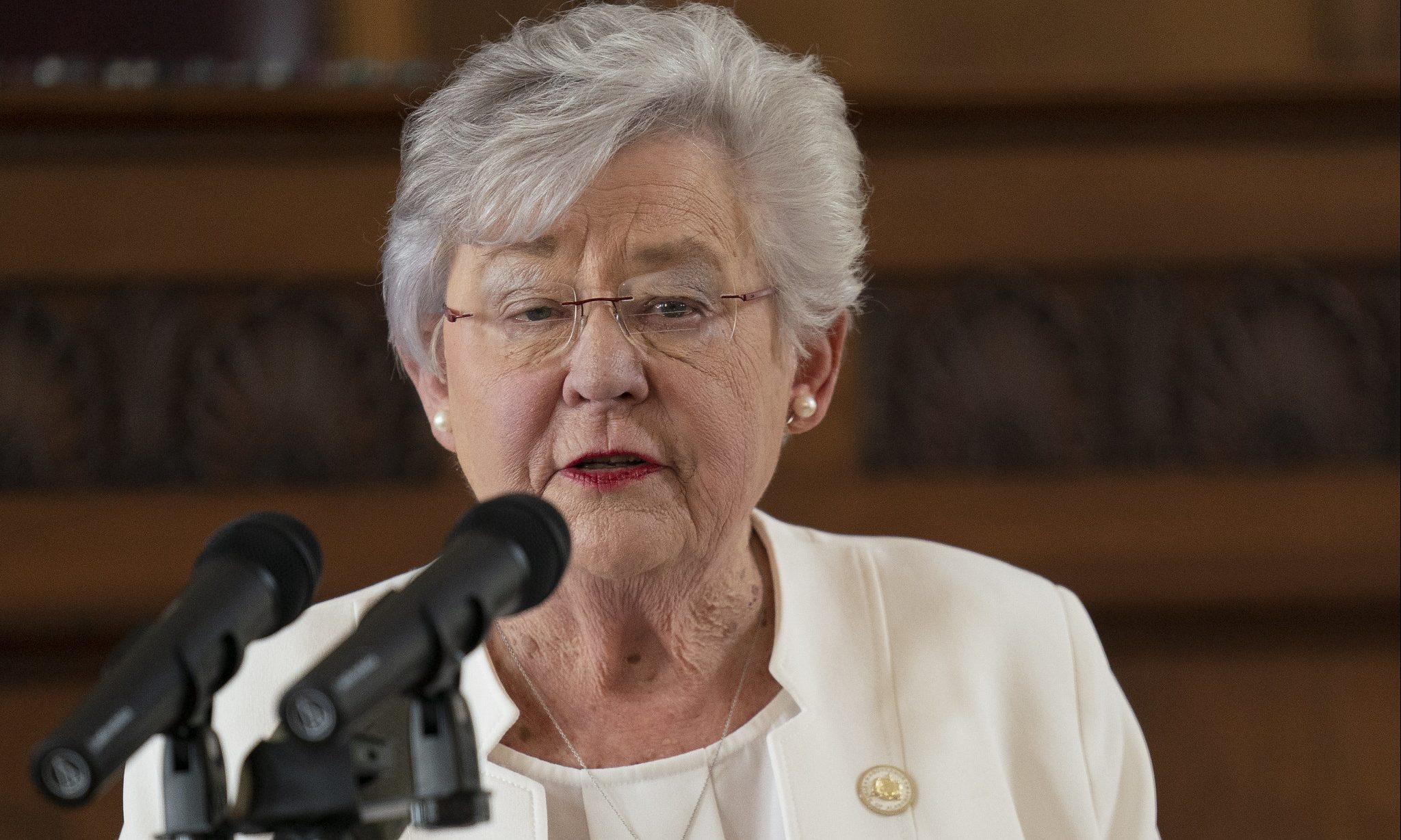 A letter signed by a bipartisan group of about a thousand Alabama women takes issue with Gov. Kay Ivey's recent support of Republican Supreme Court nominee Amy Coney Barrett, and it encourages Ivey and other state officials to instead support fair processes.
Last week, Ivey co-authored a letter of support for Barrett and released it to media outlets. In response, the letter from Alabama women calls the process to nominate Barrett, which is occurring after more than 50 million votes have been cast and in a Senate that is predicted to change from Republican to Democratic control, unfair and "anti-democratic."
The letter, which doesn't criticize Ivey or request that she rescind her endorsement of Barrett, asks instead that Ivey and other state leaders honor women by implementing and following fair processes that provide women with equal opportunities.
The full letter is below:
Dear Governor Ivey,
We are a group of women. We are current and future mothers, grandmothers, caregivers, leaders and champions of all citizens of our great state. We are moderates, progressives and conservatives. When we agree with our leaders, we say so, as we have in your support for education, workforce development, and sensible mask policies.  
We also speak up when we do not agree. Thus, we want to respond to your letter in support of Amy Coney Barrett because it does not represent our views. 
Like you and Judge Barrett's father, we want to tell all young girls that they can do anything their male counterparts can do and they can be anything and everything they want to be. We want it to be a truth, not just a signal "that the most qualified individual will get the job".  In addition to those things, we want them to know and believe that the process will be fair, because no matter the job, the process should be fair. And our children and young people (boys or girls) should be able to trust that democracy works and can be counted on. How can we assure them when this process has been so rushed and undemocratic?
We are women who oppose Judge Barrett's confirmation, because confirming her at this time, when 50 million Americans have already cast their votes, is anti-democratic. Regardless of what ways she does or does not think or talk like us, what matters is that a confirmation should not take place after the election is underway. 
We do not expect you to rescind your support of Judge Barrett. However, we urge you and the other women leaders who have advanced to top positions in our government to stand with us in asking for a fair process that takes place after the election. A process that helps us to believe that our voices and our votes matter because the American people should have the right to choose who nominates the next Supreme Court Justice.
Respectfully, 
Emily Hess Levine
Lindsey Chitwood
Megan Cheek
Kira Fonteneau
Ronne M. Hess
Cindi Cassis Branham
Anna Brantley Fry
Joellyn M. Beckham
Kristen Berthiaume
Alexandra Ruthann Bullock McElroy
The letter is signed by more than 800 women. The full list of signatures was sent to APR with the letter. We have chosen to list only the first 10 for the sake of brevity.