Kay Ivey to Be Special Guest at Auburn Steve Forbes Event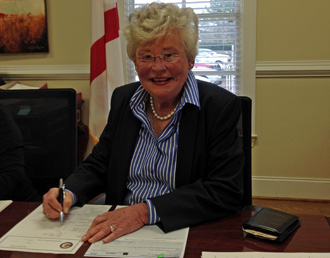 By Brandon Moseley
Alabama Political Reporter
Auburn Conservatives for Tomorrow (ACT) and Young America's Foundation will host An Evening with Steve Forbes on Friday, March 21, 2014 at the new Auburn Arena. On Wednesday ACT announced that Alabama Lieutenant Governor Kay Ivey (R) will be the Special Guest at the VIP event.
Ivey is an Auburn graduate, a native of Wilcox County and is the first Republican woman in Alabama history to be Lieutenant Governor.  Ivey was also previously elected the state Treasurer.
Steve Forbes will be the speaker at Auburn Conservatives for Tomorrow's 2nd Annual Spring Conservative Student Conference.  This event is on the campus of Auburn University.  The keynote address event begins at 7:30 pm and is free for students. This is a change from our earlier reporting where we had the keynote address beginning at 7:00 pm.
General Admission tickets will cost $30 a piece and can be purchased at the door.
There will also be a VIP Dinner & Photo Op beginning at 5:30 PM which is closed to the press.
ACT reported on Wednesday that there are still a limited number of VIP Dinner and Photo Op tickets available.  To purchase VIP Dinner & Photo Op tickets for an Evening with Steve Forbes email ACT President Cody Garton directly at [email protected].
Speakers at the VIP event will include ACT leaders, Lt. Gov. Ivey, and Steve Forbes.
For more information about ACT, to purchase general admission keynote address tickets, or to join ACT visit their website:
www.conservativesfortomorrow.com
Steve Forbes is the Chairman and Editor-in-Chief of Forbes Media.  'Forbes' magazine is the company's flagship publication and is the nation's leading business magazine.
Steve Forbes campaigned for the Republican nomination for President in 1996 and 2000.  He is also the author of How Capitalism Will Save Us: Why Free People and Free Markets Are the Best Answer in Today's Economy.
Mr. Forbes has a bachelor's degree in History from Princeton University.  He serves on the boards of the Ronald Reagan Presidential Foundation, the Heritage Foundation, and the Foundation for the Defense of Democracies.
Auburn Conservatives for Tomorrow describes themselves as Auburn University's premiere conservative student group.  ACT is dedicated to the principles of individual responsibility, personal freedom, and free market economics.
The group said in a written statement, "ACT prides ourselves on providing first-class speaking events, for our student members, and members of our community. We bring in big name conservative speakers to excite our students, and to help prepare them to be the next generation of conservative leadership. Don't miss out! Join Us!"
Best-selling conservative writer and pundit, Ann Coulter, spoke at the group's 2013 Spring Conference.
Print this piece
UAB students helping healthcare workers
Most of America is spending more time at home and working to find something to stay occupied as our schools and workplaces are largely shut down in order to slow the spread of the coronavirus. For America's hospitals, particularly the intensive care workers, their job has never been more stressful or more important.
215,300 Americans, as of press time, have been confirmed as being COVID-19. For most of them their illness will just mean flulike symptoms and two weeks at their house reading internet news sites and watching way too much bad daytime TV. Unfortunately for nearly ten percent of patients, COVID-19 will mean hospitalization, often in serious or critical condition. Currently 5,004 COVID-19 patients are in the fight of their lives. They can't win their fight without a lot of help from the skilled doctors and nurses who have made medicine their life's work.
Students with the University of Alabama at Birmingham's Department of Health Services Administration are thanking those healthcare workers on the frontlines, while supporting the local restaurant businesses they love.
Through a partnership with Frontline Foods, the students are independently supporting local clinicians in the fight to keep our communities safe, while simultaneously supporting Birmingham's local restaurant industry.
Frontline Foods began with independent groups in San Francisco and New York City with the same central idea. They help health care workers and local restaurants during the COVID-19 pandemic, that has already claimed over 5,100 lives.
"As this crisis grows in scope and scale, we want to continue to push that mission forward by boosting the morale of our frontline warriors in need across our communities, all while helping local restaurants and their employees," said Christina Fortugno, a critical care nurse, second-year Health Administration graduate student and MBA student within the department, and co-organizer of Frontline Foods Alabama.
.
Fortugno and Bradley Tipper, another second-year MSHA and Health Informatics graduate student, decided the entire process of donating needed to be as transparent as possible.
100 percent of donations made to the Birmingham chapter of Frontline Foods through World Central Kitchen's website will be used to sponsor meals prepared by our local restaurant community and delivered to local hospitals.
Fortugno and Tipper say their group will absorb all of the administrative overhead.
"Being in the Health Services Administration program, we've been trained on how to support and help our providers," Tipper said. "We knew that, even though we were about to leave Birmingham, we wanted to be a part of the solution here."
In addition to providing meals to health care workers, care packages are another way community members are able to say "thank you" to the doctors, nurses, techs, environmental service workers and others. Care packages contain snacks, goodies and handwritten notes of encouragement, to be delivered to our health care heroes. You can purchase items to be included here.
"We are so inspired by the efforts of these leaders," said Christy Lemak, Ph.D., chair of the Department of Health Services Administration. "They identified what was needed and quickly went to work to fill those needs right here in our community, and the fact that this helps both frontline caregivers and local restaurants is a fabulous 'synergy' that I think everyone can relate with as well. This is what servant leadership looks like. It's great to see the students take charge in this way."
Fortugno and Tipper began delivering these meals on March 30 to UAB's Emergency Department. They hope to exp of COVID=1and their efforts to other Birmingham-area hospitals in the in the coming days and weeks.
Economic developer Dr. Nicole Jones said, "We all have our roles and can offer support amidst the COVID-19 crisis, and students within UAB's Department of Health Services Administration certainly have stepped up to offer a kind gesture and boost morale during this time of need. And what a smart idea to order carry-out from local restaurants – small businesses can certainly use (and are appreciative of) the support right now, making this is a 'win-win' situation for all."
Dr. Anthony Fauci of the White House's coronavirus task force said recently that he expects "millions" of Americans will get COVID-19. Fauci expects more than 100,000 Americans will die. As these numbers grow, the strain on America's healthcare workers will only continue to grow.
(Based on an original report by UAB's Adam Pope).
Print this piece