Attacking the Messenger, Ignoring the Message (And Leaks)
By Bill Britt
Alabama Political Reporter
MONTGOMERY—The Alabama Foundation for Limited Government is under attack for allegedly violating the Fair Campaign Practice Act (FCPA).
Senate President Pro Tem, Del Marsh (R-Anniston) has accused the foundation of breaking the State's Fair Campaign Practice Act as well as being a front for the Alabama Education Association.
But, in reality, according to its founder, former Republican Senator John Rice, it is the messenger that is being attacked while ignoring the message. Rice says the message is about ending corruption in Montgomery, "…but they purposefully ignore that and attack the messenger as a diversion."
Many other incumbent Republican lawmakers have made the same assertion as Marsh, saying the foundation is little more than a shill for the teachers organization.
The individual legislators who have found fault with the messenger have yet to address the message, which is an anti-corruption pledge, according to Rice.
"They keep talking about where the money comes from but they never mention the pledge," says Rice. "What if I am receiving funds from the Catholic Church would that change the message?"
Rice, says that the foundation is under attack not because of its funding but because it has dared challenge lawmakers to put their name to a document that says they will help end corruption in the State Capital.
"They keep trying to make this about me, as a way to avoid taking responsibility for the terrible pattern of corruption in Montgomery," said Rice. He points out the Alabama Foundation for Limited Government came about as a result of the 2013 legislation that allowed unlimited campaign contribution from corporations. Rice said, "They opened the door on this and now they don't like it when someone is playing by their rules while calling them to account."
Both Marsh and Speaker of the House Mike Hubbard (R-Auburn) control dark money foundations. Marsh has filed a complaint with the Secretary of State asking for an investigation into the foundation controlled by Rice.
According to Deputy Secretary of State, Emily Thompson, Senator Marsh filed his complaint with their office on March 28. She said that the compliant was forwarded with an accompanying letter to the Attorney General on April 2, which is standard protocol.
On Friday, April 11, the Alabama Political Reporter received a tip that Rice had received a letter from the AG's office and that they were demanding that he turnover the foundations list of donors. Later, we were to find out that we received that information before Rice had received his certified letter from the Post Office or knew the content of the letter. Rice has still not confirmed the letters content, saying only that he has forwarded the information to his attorneys.
This raises several questions:
1. Did the Attorney General's Office intentionally leak information about the letter to make sure that the press was on top of the story?
2. If this was an intentional leak, who leaked it and why?
If so, this means that someone within the AG's office is using their position to play dirty politics.
Since 2012, the Office of Attorney General Luther Strange has become a black hole of information.  Those inside the office say that Chief Deputy Kevin Turner is keeping Strange away from the press while waging a war within the department to appease Republican power brokers outside.
Several individuals inside the AG's office have said that Turner is deliberately trying to derail investigations that might be harmful to Strange's political career, including the investigation into Speaker of the House Mike Hubbard (R-Auburn). Could it be that someone is using their office to encourage investigation into anyone who might call out corruption? That is a question that Rice would like an answer to as well.
"The whole purpose of the Foundation for Limited Government is about doing what is right for Alabama and not just for a few that are in power," said Rice.
According to Rice, The Alabama Anti-Corruption Pledge is a comprehensive, common sense plan for ethics reform in State government that all legislators and candidates should sign. The pledge includes term limits, a ban on pay-to-play schemes, restrictions on gifts like football tickets, and other reforms that will make State government more accountable and transparent.
The Attorney General's Office had no comment on the letter to Rice.
Three mental health crisis centers coming to Mobile, Montgomery and Huntsville
"Today marks a culture change in Alabama for treatment of individuals with mental illness and substance use disorders," Mental Health Commissioner Lynn Beshear said.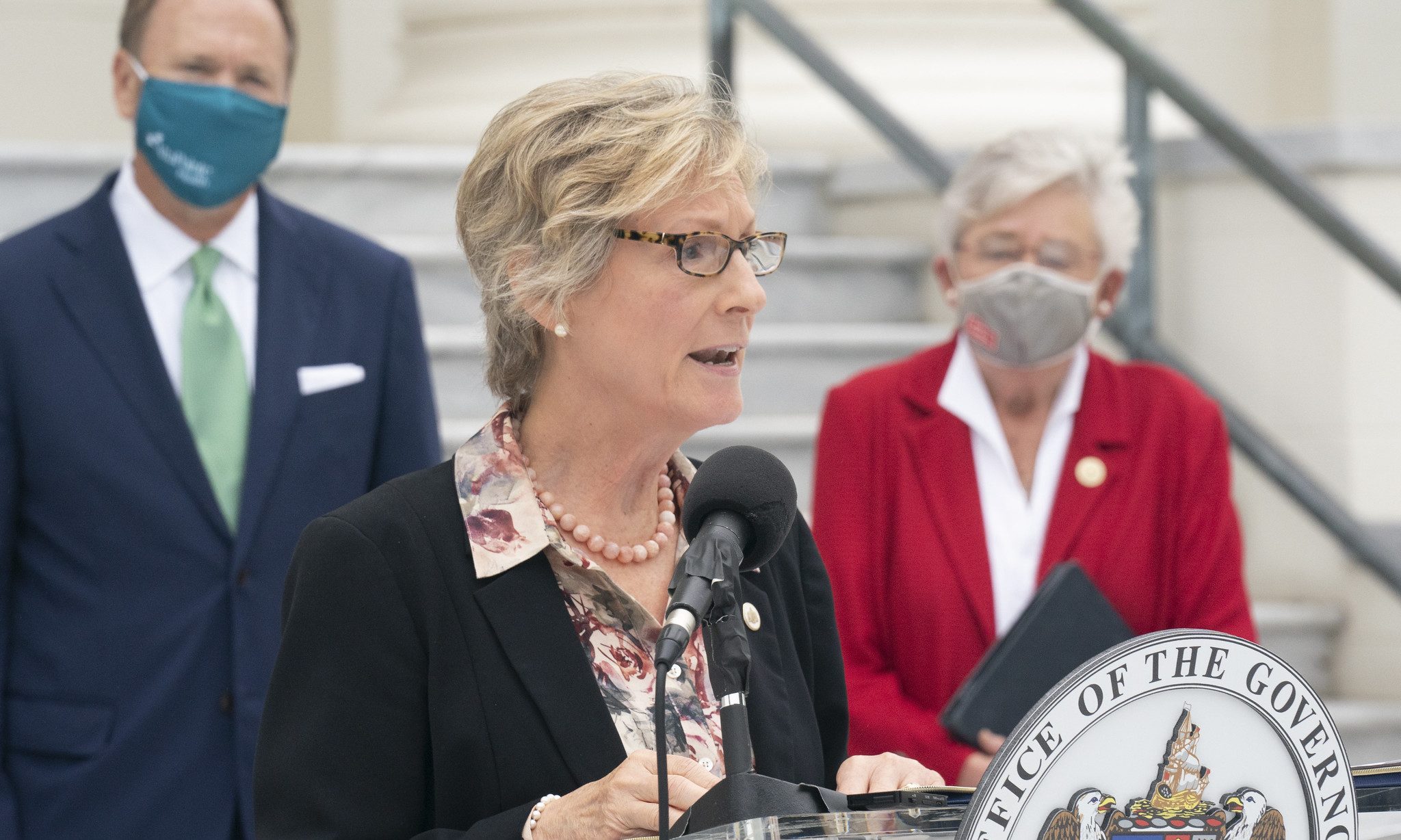 Gov. Kay Ivey on Wednesday announced an $18 million project to create three new mental health crisis centers to be located in Mobile, Montgomery and Huntsville. 
These centers, once in operation, will reduce the number of people suffering from mental health crises who are hospitalized or jailed, Ivey said during a press briefing in front of the Capitol Building in Montgomery. 
"When these facilities are open and fully staffed, these centers will become a safe haven for people facing mental health challenges," Ivey said. 
Lynn Beshear, commissioner of the Alabama Department of Mental Health, said during the briefing that the centers will provide "recovery based" care with "short term stays of a few hours, or up to a few days, to provide treatment, support, and connection to care in the community." 
"Today marks a culture change in Alabama for treatment of individuals with mental illness and substance use disorders," Beshear said. 
Beshear said AltaPointe Health in Mobile will operate one of the three facilities, and once built it is to serve Mobile, Baldwin, Clarke, Conecuh, Escambia, Monroe and Washington counties with 21 new beds, including 15 temporary observation beds. Altapointe will begin with a temporary space while constructing the new facilities, she said. 
Beshear said the Montgomery Area Mental Health Authority is partnering with the East Alabama Mental Health Authority and the Central Alabama Mental Health Authority to serve the 11 counties in Region 3 with 21 new beds, including 10 temporary observation and respite beds. 
"The regional crisis center will be located in Montgomery, and will be open to walk-ins and for drop off by law enforcement, first responders and referrals from emergency rooms," Beshear said. 
Wellstone Behavioral Health in Huntsville was selected to open the third center, and will do so at a temporary site while a new facility is being built, with the help of an additional $2.1 million from local governments, Beshear said. That facility will eventually have 39 beds, including 15 for temporary observation and 24 for extended observation.
"There's not a day that goes by that after-hours care is not an issue in our state," said Jeremy Blair, CEO of Wellstone Behavioral Health, speaking at the press conference. "And so I applaud the Department of Mental Health and the leaders for their efforts in recognizing that and taking it a step further and funding our efforts here." 
Asked by a reporter why a center wasn't located in Jefferson County, one of the most populous counties with a great need for such a center, Ivey said those residents will be served in one of the other regions. 
"Plans are underway to continue this effort. Today's beginning, with these three crisis centers, is just the beginning," Ivey said. 
Ivey added that request for proposals were sent out for these three centers and "it was a strong competition for the location of these three crisis centers." 
Alabama House Majority Leader Nathaniel Ledbetter, R-Rainsville, said during the briefing that more than a year ago, Ivey asked him what the state should be looking at, and that he replied "we're failing miserably in mental health."
Ledbetter said Ivey asked him to take on the challenge of correcting the state's response to mental health, and a team was created to do just that. 
"Working together, today's announcement will not only change Alabamians lives, but will help to save lives," Ledbetter said.