Former Secretary of the Senate McDowell Lee Has Died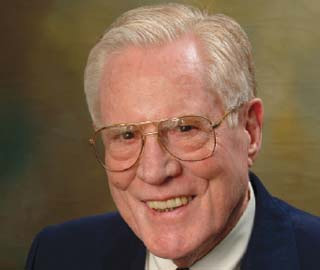 Staff Report
McDowell Lee, Sr.
(February 12, 1925 – April 17, 2014)
Official McDowell Lee Obituary
Alabama lost one of its finest sons with the passing of Charles McDowell Lee, Sr., at his home in Auburn April 17, 2014.  "Mac", as he was known by those who knew him, died peacefully with family at his side after a brief illness.  He had been a renowned public servant having served as Secretary of the Alabama Senate from 1963 to 2011.   Before that he had served in the Alabama House of Representatives from 1954 to 1962 where he became the third generation of his family to serve in the Alabama Legislature, a commitment to his civic duty that he took very seriously and was very proud of.
He graduated from Barbour County High School in Clio in 1942, and entered the Alabama Polytechnic Institute (Auburn University) that same year.  At Auburn, he served as a member of the Student Senate and as manager on the football team.  In February, 1943, he left Auburn to enlist in the United States Navy.  He served in both the European and Pacific Theaters of Operation in World War II and was honorably discharged in 1946.  Upon his return to civilian life, he entered the Troy State Teachers College (Troy University), from which he graduated with a degree in education.  While at Troy, he was a member of Kappa Delta Pi Honor Society and, later, the Omicron Delta Kappa Honor Society.  In 1948, he was elected as Mayor of Clio, Alabama and became the youngest mayor in the nation.  He served as mayor for two years before resigning to become a Special Agent of the Federal Bureau of Investigation, where he worked for two years before returning to Clio to administer the family businesses.
In 1954 he was elected to the Alabama House of Representatives where he served eight years during which time he was chosen by the Alabama Press Association as "Outstanding Freshman" Representative in 1955, and chosen as "Best Debater" in 1959.
In 1963 he was elected as Secretary of the Alabama Senate, a position he held for 47 years over the span of 10 governors before retiring in 2011, making him the longest serving Senate Secretary in the nation, as well as the longest serving in Alabama history.   During that time he became one of the leading parliamentarians in the nation exemplified by the extensive involvement in national and regional legislative organizations.  He served as Treasurer of the American Society of Legislative Clerks & Secretaries from 1973-1974 and President from 1974 to 1975.  He received the John A. Beek Award for distinguished service for to legislative history, he served on the Executive Committee of the National Conference of State Legislature and was Staff Vice President from 1976 to 1977.  He has written several articles on the legislative process in Alabama and coauthored two books, The Role of the Senate in Alabama History andGeorge Corley Wallace:  A Legislative Legacy.  In 2006, Mr. Lee was selected by a vote of the faculty of the Department of Political Science of the University of Alabama to be a member of the Department of Political Science Leadership Board, in recognition of his contributions to public service in Alabama.  For over twenty years, he served on the National Conference of State Legislatures Revision Commission of Mason's Manual of Legislative Procedure, the primary source of rules and procedures utilized by most state legislatures.
Nationally recognized as an authority on parliamentary law and legislative procedure, "Mac" spoke extensively on these subjects and was a respected advisor to the National Conference of State Legislatures, the American Society of Legislative Clerks & Secretaries, as well as the officers of various state legislatures.  In 2000, the Alabama Legislature, in conjunction with the City of Montgomery, named the street which runs along the north side of the State House, "McDowell Lee Lane".    He was honored for his 47 years of service as Secretary of the Alabama Senate with a Bronze sculpture and portrait that sit in the Senate Chambers.
In 1967, he was appointed to the Troy State University Board of Trustees, and served as President Pro-Tem of that governing body from 1967 to 1979.  In 1979 he received an Honorary Doctor of Law degree from Troy State University followed in 1985 with Troy State University naming its varsity aquatics facility the "Charles McDowell Lee Natatorium".  In 2000 Troy State University honored him with its first ever "Troy State University Distinguished Leadership Award".
He is survived by his wife of 27 years, Hazel Johnston, his sons, Arch (Charlsi), Charles, Jr., Kenneth, daughters, Margaret (Steve) Cunningham and Josie Lee; special loved and cherished family Scott (Chris) Johnston, Jan Johnston Pugh (Allen Samford), Joy Johnston; Grandchildren Janet (Ken) Price, Lee and Anna Cunningham, McDowell, Arch, McKay and Anne Layton Lee, special grandchildren Haley (Lane) Scheiblauer, Mitch (Kelly) Pugh, Peyton Pugh, Sam and Kevin Johnston, Ali and Jet Taylor; great grandson, Nicholas Price,  special great grandchildren Ansley and Luke Scheiblauer.
Visitation will be at the Jeffcoat-Trant Funeral Home in Opelika on Monday, April 21st from 5:00 to 7:00 pm.   Graveside burial to follow at the Pea River Presbyterian Cemetery in Clio on Tuesday, April 22nd at 1:00 pm.   Tripp Martin and Dan Ireland will be officiating.  Honorary pallbearers include Dr. Ed Bridges,  Jiles Williams, Charles Moore, Dave Avant, Senator John Teague, Bill Kennedy, Senator Crum Foshee, Johnny Crawford, Lewis Kelly, Guice Slawson, Dowe Littleton, Dr. Gerald Johnson, Senator Ted Little, Lt. Govenor Jere Beasley, Art McWhinney and Pat Harris.  In lieu of flowers please give to the East Alabama Cancer Center or Hospice Advantage or a charity of your choice in his memory.
Trump Truck and boat parades this weekend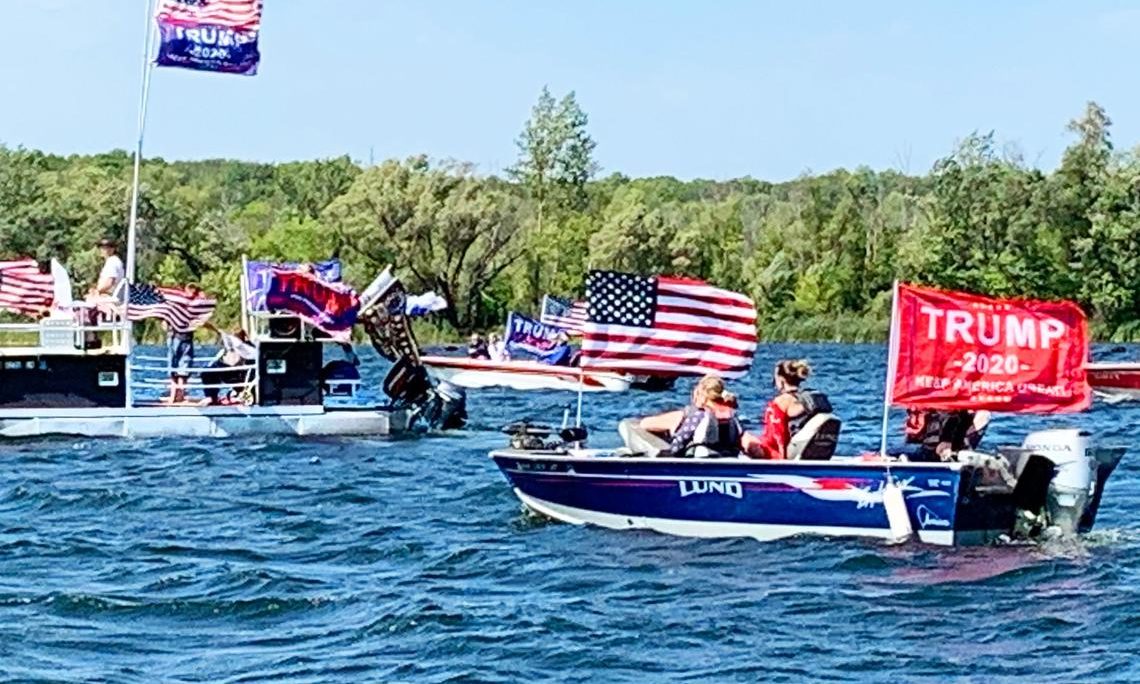 As Election Day draws near, Alabama Republicans are excited about promoting the re-election of Donald J. Trump as President and the election of Tommy Tuberville for U.S. Senate. This weekend two pro-President Trump events are happening in the state. There will be a truck parade from Ashland to Phenix City on Saturday sponsored by the Clay County Republican Party, while there will also be a boat parade on Wilson Lake in the Shoals sponsored by the Colbert County Republican Party on Sunday.
The pickup trucks will assemble at the Ashland Industrial Park in Clay County, 8240 Hwy 9, Ashland. There is a pre-departure rally at 10:00 a.m. central standard time. The trucks will depart at 11:00 a.m. and then proceed on a parade route that will take them into the bitterly contested swing state of Georgia. The Trump Pickup Parade will wind through east Alabama and West Georgia traveling through LaGrange and Columbus before concluding near the Alabama/Georgia line in Phenix City, 332 Woodland Drive, Phenix City at approximately 2:00 p.m. central time. Speakers will begin at 3:00. Trump flags will be on sale at the event.
The Phenix Motorsports Park will be hosting what sponsor hope could possibly the world's largest Pickup Tuck parade in U.S. history that is routing over 50 mile through Georgia in effort to "pickup" President Trump's numbers in GA.
A number dignitaries have been invited to address the Phenix City rally, including Coach Tuberville. Former State Sen. Shadrack McGill, Trump Victory Finance Committee member former State Rep. Perry O. Hooper Jr., and Paul Wellborn, the President and CEO of the largest Family owned Kitchen Cabinet manufacture in the USA are among the featured speakers who have committed to speak at the event.
Entertainment will be provided by: Charity Bowden, an up and coming country music singer who was the runner up on "The Voice". Charity will sing 'I am Proud to be an American' as well as songs from her Voice performances. The McGill Girls will also perform. The three beautiful and talented sisters will be singing patriotic songs in three part harmony. Geoff Carlisle, a professional DJ will be keeping the crowd pumped with music and entertainment.
Following the speakers and the entertainment there will Trump truck-vs- Joe Bidden truck races down the drag strip for the finale.
The Northwest Alabama boat parade will be on Sunday. The boats will gather at 2:00 p.m. near Turtle Point and then the flotilla will parade around the open waters of Wilson Lake til 3_00 p.m.. There will be a contest for best decorated Trump boats.
Trump supporters have held a number of large boat parades across the state to show their support for the re-election of Pres. Trump.
Boat parade sponsors say that this parade will be: pro-American, pro-law enforcement, pro-military.