Pumpkin Patch Rally is Opportunity to Meet State Candidates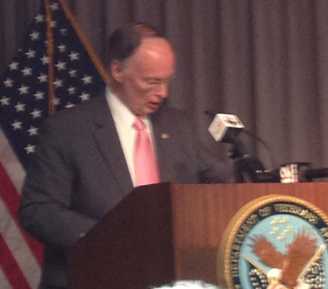 By Brandon Moseley
Alabama Political Reporter
For those who take voting responsibilities seriously there is nothing quite as disconcerting as looking at two names on a ballot and thinking: I know nothing at all about these people and I have to pick one.  Most primary voters have had this experience.
That is why the Alabama Republican Party is sponsoring events like the Pumpkin Patch Rally in Clanton.  Citizens are given an opportunity to go and interact with a number of statewide, congressional, and legislative candidates, pick up campaign literature, and get yard signs
In a statement on Tuesday the Alabama Republican Party released a statement listing the candidates who are participating.  ALGOP wrote, "We are glad to announce that the following candidates will be at the Pumpkin Patch."  The list includes Governor Robert Bentley who is seeking a second term as Governor; Jonathan Barbee for Public Service Commissioner Place 2; state Senator Scott Beason who is running for U.S. House in Congressional District 6 (CD6); Will Brooke – U.S. House, CD6; Clyde Chambliss for Senate District 30; Dr. Stan Cooke for Lt. Governor of Alabama; Kevin Davis for Sheriff of Chilton County; Terry Dunn – Public Service Commissioner, Place 2; Tommy Glasscock for Superintendent of Chilton County; Lt. Governor Kay Ivey who is seeking a second term as Lt. Governor; Judge Reese McKinney – Secretary of State; Commissioner of Agriculture and Industries John McMillan who is seeking a second term as Commissioner of Agriculture; state Rep. John Merrill – Secretary of State; Jeremy H. Oden – Public Service Commissioner, Place 1; Gary Palmer for Alabama – U.S. House, CD6; Jim Perdue – Secretary of State; Kathy Peterson – Public Service Commissioner Place 1; Hobbie Sealy for State Auditor; John Shearon for Sheriff of Chilton County; AG Luther Strange who is seeking a second term as Attorney General; Adam Thompson – State Auditor; Tom Vigneulle – U.S. House, CD6; and  Jim Zeigler – State Auditor.
Alabama Republican Party Chairman Bill Armistead said, "As Alabama Republicans, we're uniting to work for the good of our state and nation. We need everyone to jump in and help our state and local leaders fight for our values. We have to continue standing up for our principles and our beliefs so that our children and future generations can have the same way of life we have had."
The Alabama Republican Party announced that the Pumpkin Patch Statewide Rally event will be held on Saturday April 26, 2014 in Chilton County from 10:00am to 2:00pm. The Rally will be held at 1901 Lay Dam Road, Clanton, AL 35045
ALGOP wrote that this will be a statewide rally, we will have BBQ, and bouncy houses and face painting as entertainment for kids. There will be an opportunity to hear from all candidates in attendance and a location to pick up yard signs!
For more information contact Britney Garner at [email protected]
USDA is seeking rural energy grant applications
The deadlines to apply for grants is Feb. 1, 2021, and March 31, 2021. Applications for loan guarantees are accepted year-round.
United States Department of Agriculture Deputy Under Secretary for Rural Development Bette Brand on Wednesday invited applications for loan guarantees and grants for renewable energy systems, and to make energy efficiency improvements, conduct energy audits and provide development assistance.
The funding is being provided through the USDA's Rural Energy for America Program, which was created under the 2008 Farm Bill and reauthorized under the 2018 Farm Bill. This notice seeks applications for Fiscal Year 2021 funding.
The deadlines to apply for grants is Feb. 1, 2021, and March 31, 2021. Applications for loan guarantees are accepted year-round.
REAP helps agricultural producers and rural small businesses reduce energy costs and consumption by purchasing and installing renewable energy systems and making energy efficiency improvements in their operations.
Eligible systems may derive energy from wind, solar, hydroelectric, ocean, hydrogen, geothermal or renewable biomass (including anaerobic digesters).
USDA encourages applications that will support recommendations made in the Report to the President of the United States from the Task Force on Agriculture and Rural Prosperity to help improve life in rural America.
Applicants are encouraged to consider projects that provide measurable results in helping rural communities build robust and sustainable economies through strategic investments.
Key strategies include achieving e-Connectivity for rural America, developing the rural economy, harnessing technological innovation, supporting a rural workforce and improving quality of life. For additional information, see the notice in the Federal Register.