Gov. Bentley and GOP Lt. Gov Candidate Stan Cooke Tour Tornado Rubble Together in Kimberly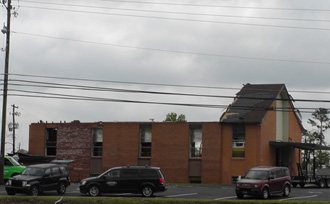 By Lee Hedgepeth
Alabama Political Reporter
Governor Bentley visited the city of Kimberly on Wednesday to tour extensive damage left by this week's severe weather, including a tornado that ravaged the town – ripping the roof off of the Kimberly Church of God and nearly completely leveling the city's fire department. He was met at his arrival by GOP candidate for Lieutenant Governor Stan Cooke, who has pastored the church for ten years.
Cooke, who is running against incumbent Lt. Gov Kay Ivey, showed the Governor the damage at the church. Kimberly Church of God consisted of two main buildings, the older of which will likely be a complete loss due to the removal of its roof. The other building – the main sanctuary – suffered extensive water damage and some mostly superficial damage to its exterior; a structural engineer was on site to asses the feasibility of renovation as opposed to rebuilding the latter building.
Bentley and Cooke went through the remnants of the older church building's roof, which had been lifted up and dropped right next to the structure's foundation by the EF1 tornado. Stained glass and debris were littered around the site, though much had already been removed by volunteers.
After assessing the church's partial destruction, Governor Bentley and Cooke addressed the media, including CNN International and all local major news networks, including Alabama Political Reporter.
"We're in Kimberly today at Kimberly Church of God and Stan Cooke is our pastor here and he's been a friend of mine for a long time," Governor Bentley said.
"So we're glad to be here with the people in Kimberly. We're sorry to see all the destruction, but we'll rejoice in the fact that no lives were lost here. That's the most important thing. You can always replace buildings – you can always replace structures, but you can't replace people," he said.
Bentley also pointed out the need to further efforts to make sure citizens have a storm shelter somewhere nearby, and that they use them. Kimberly Church of God, in fact, has been used as a shelter, with over a dozen individuals, including the children's minister, having hunkered down in the main building's basement. After the storm had passed, those in the basement attempted to leave and found themselves somewhat stuck – the tornado had wedged the exit doors shut. Having unsuccessfully attempted to break windows, a few members of the group were able to break the door off the hinges; no one was injured, however, despite the other church building being completely demolished just a few yards away.
Bentley declared a state of emergency for all Alabama counties in response to the extreme weather damage, and written to President Obama requested a federal state of emergency be declared for out state. Alabama's US congressional delegation has sent a letter to Obama supporting the Governor's efforts.
Stan Cooke said that he is optimistic that the community will rebound given all the support pouring out from around the state and country, though it will be a lengthy process. He has said that the church was insured fully, and that it will be able to rebuild. Cooke is already making necessary arrangements to hold church services next weekend outside the damaged church.
"I tell my congregation all the time," Cooke said, "the church isn't the building, it's the people."
Alabama hospitals nearing COVID-19 summer surge levels
Wednesday was the 18th straight day with more than 1,000 people in hospitals in Alabama with COVID-19. 
Alabama hospitals reported caring for 1,483 people infected with COVID-19 on Wednesday, the highest number of patients since Aug. 11, when the state was enduring its summer surge. Wednesday was also the 18th straight day with more than 1,000 people in hospitals in Alabama with COVID-19. 
The seven-day average of hospitalizations was 1,370 on Wednesday, the 36th straight day of that average rising. The Alabama Department of Public Health reported 2,453 new cases Wednesday. The 14-day average of new cases was — for the eighth day in a row — at a record high of 2,192. 
Across the country, more than 80,000 people were hospitalized for COVID-19 on Tuesday, a record high and the 15th straight day of record hospitalizations nationwide, according to the COVID Tracking Project, a coronavirus tracking website.
The CDC this week recommended people not travel for Thanksgiving to help prevent the spread of coronavirus. 
"The only way for us to successfully get through this pandemic is if we work together," said Dr. Kierstin Kennedy, UAB's chief of hospital medicine, in a message Tuesday. "There's no one subset of the community that's going to be able to carry the weight of this pandemic and so we all have to take part in wearing our masks, keeping our distance, making sure that we're washing our hands." 
Kennedy said the best way she can describe the current situation is "Russian Roulette." 
"Not only in the form of, maybe you get it and you don't get sick or maybe you get it and you end up in the ICU," Kennedy said, "but if you do end up sick, are you going to get to the hospital at a time when we've got capacity, and we've got enough people to take care of you? And that is a scary thought." 
The Alabama Department of Public Health on Wednesday reported an increase of 60 confirmed and probable COVID-19 deaths. Deaths take time to confirm and the date a death is reported does not necessarily reflect the date on which the individual died. At least 23 of those deaths occurred in November, and 30 occurred in other months. Seven were undated. Data for the last two to three weeks are incomplete.
As of Wednesday, at least 3,532 Alabamians have died of COVID-19, according to the Department of Public Health. During November, at least 195 people have died in Alabama from COVID-19. But ADPH is sure to add more to the month's tally in the weeks to come as data becomes more complete.
ADPH on Wednesday announced a change that nearly doubled the department's estimate of people who have recovered from COVID-19, bringing that figure up to 161,946. That change also alters APR's estimates of how many cases are considered active.
ADPH's Infectious Disease and Outbreak team "updated some parameters" in the department's Alabama NEDSS Base Surveillance System, which resulted in the increase, the department said.