US Supreme Court May Overturn Today's Elections Next Term
By Lee Hedgepeth
Alabama Political Reporter
WASHINGTON, D.C. – Yesterday the US Supreme Court agreed to hear a case challenging the redistricting of electoral districts by the Alabama Legislature in response to 200 census results.
The redistricting, which occurred under the direction of Republicans, has been upheld in lower courts, facing challenges based on charges of racially motivated gerrymandering, minority voting dilution, and violation of the one man, one vote principle.
The US Supreme Court has agreed to review the lower court's ruling on the matter, consolidating two appeals, one from the Alabama Democratic Conference and one from the Legislative Black Caucus, and scheduling them for oral argument and decision during the High Court's next term, which begins in October.
While today's primary will go on as scheduled, and candidates are sure to campaign from today until the November general election, after hearing arguments in the redistricting case, the Supreme Court could – if it decides in favor of the Black Caucus and the ADC – overturn the current legislative districts, and require re-elections. This could even be the case if the Court did not decide the case until towards the end of next term – a time when controversial cases are usually announced – and a time after the November election cycle. In that scenario, a new general election could be ordered.
There is some precedent for the overturning of elections due to redistricting problems. After demographic changes in the 1980 census and a resulting redistricting, the Supreme Court ordered a repeat general election after it ruled the new electoral boundaries unconstitutional. Instead of holding new primaries, state executive committees nominated candidates without an election.
The Alabama Attorney General's Office has, in all lower case decisions, defended the new boundaries, saying that any factor race played was necessary in order to comply with federal voting nondiscrimination standards. AG Luther Strange has also pledged to defend the new districts through whatever legal means necessary now that the case has been granted a place on the Supreme Court docket.
The claims made by those challenging the lines in each case are summarized below.
Alabama Legislative Black Caucus v. Alabama
1. The redistricting plan violates the principle of one person, one vote
2. The redistricting plan unnecessarily classifies African-Americans and packs them into districts with the goal of maintaining supermajority percentages

Alabama Democratic Conference v. Alabama

1. Lawmakers in the legislature trying to reach 2010 minority district percentages were applying an unnecessary racial quota
2. The redistricting plan violates Section 2 of the Voting Rights Act and the Fourteenth Amendment of the US Constitution
Merrill defends social media comments, questions motives of Black Lives Matter movement
During the interview, he blamed most of the uproar on "liberal, white women" who have "attacked" him on social media.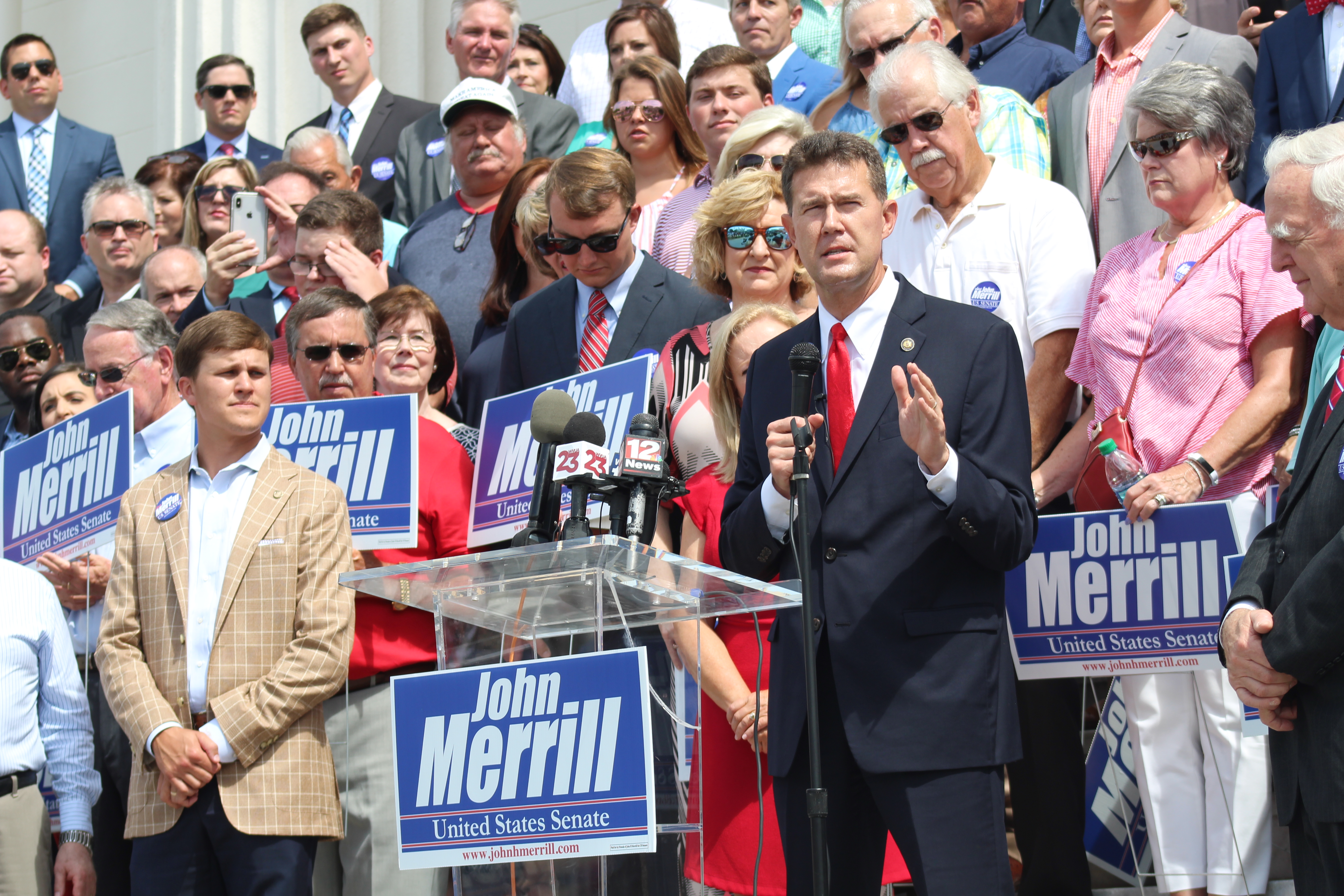 Alabama Secretary of State John Merrill regrets some of his recent controversial comments on social media but he refused to acknowledge that he should be held to a higher standard as an elected official and made no apologies for "defending" himself. 
Merrill took part in a lengthy, wide-ranging interview on the Alabama Politics This Week podcast. The sometimes contentious back-and-forth conversation covered an array of topics, from Merrill's comments — in which he encouraged one man to get a sex change — to his views on race, religion and election fraud claims. 
Merrill has come under fire over the last few weeks for his interactions on social media, and a number of civil rights groups have called for him to either apologize or resign. During the APTW interview, he blamed most of the uproar on "liberal, white women" who have "attacked" him on social media and said he wasn't going to allow someone "to hit me over the head and not fight back."
"You expect me, as an elected official, if someone comes up and knocks me in the head, I'm supposed to just take it? That's your expectation?" Merrill asked. 
Host David Person responded: "My expectation is that you, as a public servant, would have a level of deportment that would be different than the average person."
Merrill acknowledged that he probably went too far in his responses and has since started ignoring or blocking people who attempt to antagonize him. 
Later in the interview, when asked about his retweet of a video and a "war on whites" comment, Merrill said he has since deleted his retweet and that it didn't reflect his true feelings. But when asked about his thoughts on the Black Lives Matter movement, Merrill responded that "all lives matter." He then launched into a biblical explanation of his feelings. 
When Person explained the history and meaning of the BLM movement — and that it doesn't seek to elevate Black lives above anyone, but instead merely wants to see equal value — Merrill responded by stating the BLM movement has been "co-opted."
"I'm afraid to tell you this, but I think there's a number of people across the nation who have co-opted what your intent was — if that was your intent — and they've changed the narrative … and tried to make it something else … which is that Black lives are superior and if you can't agree that Black lives are superior then you have no place in the conversation," Merrill said. 
That is patently false, and the leaders of the BLM movement have taken great care to make equality and acceptance the primary goals of the movement. The false narrative introduced by Merrill — that the BLM movement is somehow racist — is a popular one on right-wing websites and TV shows, but it has been credibly debunked numerous times by numerous reputable sources. 
Merrill also addressed his controversial comments about election fraud, defended claims he made that appear to be false and talked his way around questions about Alabama's voter ID law. 
You can listen to the full interview at the APTW website or you can search for and subscribe to the podcast wherever you get your podcasts.