Judge Says Davis Has Authority, Hubbard's Attorney Questions Judge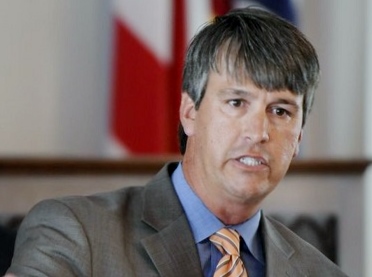 By Bill Britt
Alabama Political Reporter
 
MONTGOMERY— On Friday, Circuit Court Judge, Jacob A Walker III, denied Rep. Barry Moore's motion to dismiss the felony case against him in Lee County.
 
In his order, Judge Walker also released a letter showing were Attorney General Luther Strange has given W. Van Davis the authority to act on the Attorney General's behalf in, "the State's interests in the current investigative matters relating to State Representative Mike Hubbard…to include all criminal matters arising from that investigation."
 
However, Hubbard's white collar criminal defense lawyer, J. Mark White, isn't buying Judge Walker's decision, according to a report by the Associated Press.
 
Speaker of the House Mike Hubbard, R-Auburn, has been mentioned, not only in the Moore indictment, but in the conviction and plea agreement of disgraced lawmaker, Rep. Greg Wren, R-Auburn, as well. But, Hubbard and his defense lawyer, J. Mark White, have continued to argue that Hubbard was not a part of these investigations.
 
The letter attached to Judge Walker's order makes it abundantly clear that Hubbard has been the subject of the criminal investigation from the start.
 
Of course Hubbard and White have also tried to spin their argument by saying that the investigation is a political witch hunt. While denying Hubbard's involvement they would simultaneously have the public believe that the whole affair is concocted to damage Hubbard politically. The position of Hubbard and White would seem to lack any real cognitive consistency.
 
One of the arguments made by Moore's attorney, Bill Baxley, was that Davis who was appointed acting Attorney General on January 31, 2013, did not have standing before the court. And therefore the entire Grand Jury proceedings were illegal.
 
 The Judge dismissed that argument saying, "The Court accepted an in camera document from the State which supports the position that Mr. Davis was appointed by the Attorney General to assume oversight of a legislative corruption investigation on or around January 31st, 2013, as well as any criminal matters arising from that investigation. Furthermore, the letter informs Mr. Davis that the chief of the special prosecution division will report directly to him. These actions appear to be supported by the authority of sections 12-17-184(10), 12-17-216 and 36-15-15 of the Code of Alabama. A redacted copy of the letter which was filed under seal is attached to this order as Exhibit A."
Hubbard's attorney questioned Judge Walker ruling according to an AP report, "His [Hubbard's] attorney, Mark White, said Friday the letter raises more questions than it answers about whether Davis was properly appointed to oversee the investigation. He said that a section of state law the attorney general cited in the letter only refers to appointing active district attorneys, not former district attorneys, to help with investigations."
 
White insinuates that the law applies only to "active district attorneys, not former district attorneys." What White omits is the fact that Davis is a supernumerary district attorney.
This appears to be an attempt to spin the facts not only for the public,  while disparaging the judge's order. Perhaps White hopes to continue this argument before the Alabama Court of Appeals.
White continues to spend the facts implying that Davis has no standing to conduct the investigation.
Davis, is a supernumerary District Attorney from St. Clair County.
A supernumerary is someone who has retired from their full-time court position, but continues to work on a part-time or as needed basis. Certainly, even White knows that a supernumerary is always available to be called back into action and never truly, inactive in the eyes of the State.
But as one observer said during the Moore motion dismiss  hearing, "When a client is guilty, never argue that they are innocent. Argue about the law."
 
As far as the case against Moore/Hubbard being political motivated, Judge Walker's action in delaying his ruling until after the June primaries should put an end to that argument; but, it most likely will not.
 
White and at least 4 other attorneys working with him were on hand during the Moore hearing to dismiss.  Many believe that White is managing both cases in a coordinated effort to exonerate Hubbard.
Insiders say it was Rob Riley, the son of former Gov. Bob Riley, who recommended White to represent Hubbard and that White put forward Baxley as attorney for Moore. Both former Gov. Riley and Hubbard have contributed heavily to Moore's campaign fund, from which he has been paying his attorney's fees.
 
Judge Walker dismissed all the arguments that Baxley made on Moore's behalf, citing extensive case law.
 
Moore's trial is set for September 15.
 
The question remains, will Baxley (on White's orders) appeal Judge Walker's ruling and if so will the Court of Appeals uphold the lower court actions?
 
In many quarters, there is a persistent current of distrust for the State's judicial system. Speaker Hubbard is on record saying, "We have nine of nine justices," on the State Supreme Court. That has been taken to mean that courts heavily weighted with Republican jurists can be counted on to favor Republican causes, or defendants,  despite the law.
 
Could this be what Hubbard and White are counting on? Does Hubbard's think that the Alabama judicial system is corrupt?
 
The men and women who sit on the Court of Appeals have sworn an oath to uphold the law. There is no reason to believe that they would shrink from their duty. However, there is a general belief that party politics trump justice.
 
Judge Walker handed the Moore camp a stunning defeat on Friday. He also opened the State's eyes to the on going criminal investigation of Speaker Hubbard.
 
White has questioned Judge Walker.
 
Time will tell how that works out for his client and if the State courts are based on the rule of law, or the party of men.
Alabama hospitals nearing COVID-19 summer surge levels
Wednesday was the 18th straight day with more than 1,000 people in hospitals in Alabama with COVID-19. 
Alabama hospitals reported caring for 1,483 people infected with COVID-19 on Wednesday, the highest number of patients since Aug. 11, when the state was enduring its summer surge. Wednesday was also the 18th straight day with more than 1,000 people in hospitals in Alabama with COVID-19. 
The seven-day average of hospitalizations was 1,370 on Wednesday, the 36th straight day of that average rising. The Alabama Department of Public Health reported 2,453 new cases Wednesday. The 14-day average of new cases was — for the eighth day in a row — at a record high of 2,192. 
Across the country, more than 80,000 people were hospitalized for COVID-19 on Tuesday, a record high and the 15th straight day of record hospitalizations nationwide, according to the COVID Tracking Project, a coronavirus tracking website.
The CDC this week recommended people not travel for Thanksgiving to help prevent the spread of coronavirus. 
"The only way for us to successfully get through this pandemic is if we work together," said Dr. Kierstin Kennedy, UAB's chief of hospital medicine, in a message Tuesday. "There's no one subset of the community that's going to be able to carry the weight of this pandemic and so we all have to take part in wearing our masks, keeping our distance, making sure that we're washing our hands." 
Kennedy said the best way she can describe the current situation is "Russian Roulette." 
"Not only in the form of, maybe you get it and you don't get sick or maybe you get it and you end up in the ICU," Kennedy said, "but if you do end up sick, are you going to get to the hospital at a time when we've got capacity, and we've got enough people to take care of you? And that is a scary thought." 
The Alabama Department of Public Health on Wednesday reported an increase of 60 confirmed and probable COVID-19 deaths. Deaths take time to confirm and the date a death is reported does not necessarily reflect the date on which the individual died. At least 23 of those deaths occurred in November, and 30 occurred in other months. Seven were undated. Data for the last two to three weeks are incomplete.
As of Wednesday, at least 3,532 Alabamians have died of COVID-19, according to the Department of Public Health. During November, at least 195 people have died in Alabama from COVID-19. But ADPH is sure to add more to the month's tally in the weeks to come as data becomes more complete.
ADPH on Wednesday announced a change that nearly doubled the department's estimate of people who have recovered from COVID-19, bringing that figure up to 161,946. That change also alters APR's estimates of how many cases are considered active.
ADPH's Infectious Disease and Outbreak team "updated some parameters" in the department's Alabama NEDSS Base Surveillance System, which resulted in the increase, the department said.