Federal Judge Gives Planned Parenthood Southeast a Victory over Alabama Legislature
By Brandon Moseley
Alabama Political Reporter
Millions of Americans believe that every woman has the right to terminate a pregnancy for any reason and millions of Americans believe that abortion is the murder of an unborn child.  The majority of Alabamians believe that abortion is murder and if the State's Republican Supermajority ever has its say on the matter, the State of Alabama would quickly abolish the practice.  The United States Supreme Court however sided with the abortion rights cause in the landmark ruling Roe versus Wade and on Monday, August 4, 2014 U.S. District Judge Myron Thompson sided with America's largest abortion provider, Planned Parenthood, in a ruling that struck down Alabama's controversial Women's Health and Safety Act sponsored by State Representative Mary Sue McClurkin (R) from Indian Springs during the 2014 legislative session.
Supporters of the legislation said that the bill was necessary due to the possibility of complications with the procedure.  The bill required that the state's abortion clinics meet the same safety standards as outpatient surgical centers.  Planned Parenthood hire physicians who often fly from state to state conducting abortions in multiple clinics.  They argued that their physicians would be unable to obtain staff privileges at a local hospital for a variety of reasons; including that most Alabama hospitals require providers to admit a certain number of patients to the hospital per year, which abortionist can not meet because complications from the procedure are so rare.  Other hospitals mandate that doctors live within a certain distance from a hospital, since many of the doctors in this business don't actually live in Alabama they can't meet that requirement.  Abortion clinic operators claim (with some justification) that complying with the law would have forced them to shut down.  Supporters of the law argued that women's safety was their primary concern.
The President and CEO of Planned Parenthood Southeast, Staci Fox said, "We all want to protect patient safety, but this law doesn't do that.  Politicians passed this law in order to make it impossible for women in Alabama to get abortions, plain and simple.  This victory ensures that women in Alabama can make their own private health care decisions without the interference from politicians," said Fox.
The President of Planned Parenthood Federation of America, Cecile Richards said, "This ruling will ensure that women in Alabama will have access to safe, legal abortion and Planned Parenthood will continue to fight for our patients, because a woman's ability to make personal medical decisions should not depend on where she lives."
The Deputy Legal Director of the American Civil Liberties Union (ACLU) which helped represent Planned Parenthood in this case, Louise Melling said, "As the judge noted today, the justifications offered for this law are weak at best.  Politicians, not doctors, crafted this law for the sole purpose of shutting down women's health care centers and preventing women from getting safe, legal abortions."
Planned Parenthood said in their statement, "This victory ensures that women in Alabama can make their own private health care decisions without the interference from politicians."
Planned Parenthood argued that the Alabama abortion clinic safety law would restrict women's access to safe, legal abortions.  Had it gone into effect, this dangerous law would have drastically reduced the number of licensed health centers in Alabama providing abortions.
In his ruling Judge Myron Thompson wrote, "The evidence compellingly demonstrates that the requirement would have the striking result of closing three of Alabama's five abortion clinics, clinics which perform only early abortions, long before viability. Indeed, the court is convinced that, if this requirement would not, in the face of all the evidence in the record, constitute an impermissible undue burden, then almost no regulation, short of those imposing an outright prohibition on abortion, would."
Planned Parenthood Southeast and another women's health care provider, Reproductive Health Services, were represented by attorneys from the Montgomery firm Sabel & Sabel, Planned Parenthood Federation of America, and the American Civil Liberties Union.
A similar law in Mississippi was recently struck down by a Federal appeals court panel in a 2-1 decision on similar grounds.
Judge Myron Herbert Thompson was appointed to the Federal bench in September 1980 by then President Jimmy Carter (D).
Trump Truck and boat parades this weekend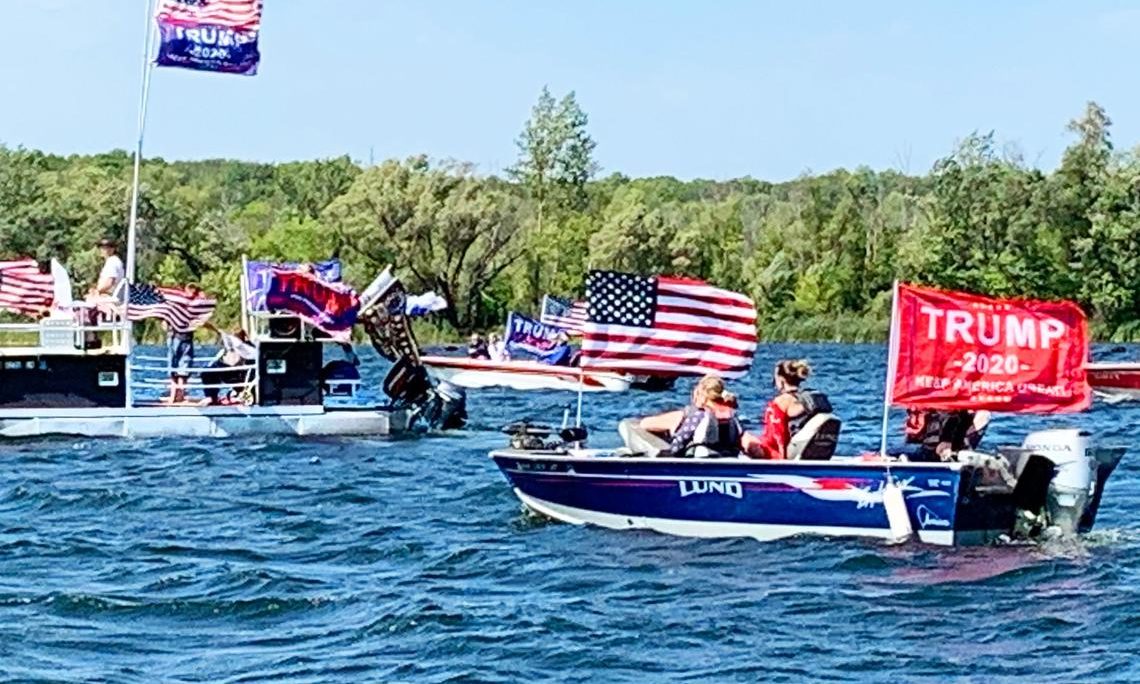 As Election Day draws near, Alabama Republicans are excited about promoting the re-election of Donald J. Trump as President and the election of Tommy Tuberville for U.S. Senate. This weekend two pro-President Trump events are happening in the state. There will be a truck parade from Ashland to Phenix City on Saturday sponsored by the Clay County Republican Party, while there will also be a boat parade on Wilson Lake in the Shoals sponsored by the Colbert County Republican Party on Sunday.
The pickup trucks will assemble at the Ashland Industrial Park in Clay County, 8240 Hwy 9, Ashland. There is a pre-departure rally at 10:00 a.m. central standard time. The trucks will depart at 11:00 a.m. and then proceed on a parade route that will take them into the bitterly contested swing state of Georgia. The Trump Pickup Parade will wind through east Alabama and West Georgia traveling through LaGrange and Columbus before concluding near the Alabama/Georgia line in Phenix City, 332 Woodland Drive, Phenix City at approximately 2:00 p.m. central time. Speakers will begin at 3:00. Trump flags will be on sale at the event.
The Phenix Motorsports Park will be hosting what sponsor hope could possibly the world's largest Pickup Tuck parade in U.S. history that is routing over 50 mile through Georgia in effort to "pickup" President Trump's numbers in GA.
A number dignitaries have been invited to address the Phenix City rally, including Coach Tuberville. Former State Sen. Shadrack McGill, Trump Victory Finance Committee member former State Rep. Perry O. Hooper Jr., and Paul Wellborn, the President and CEO of the largest Family owned Kitchen Cabinet manufacture in the USA are among the featured speakers who have committed to speak at the event.
Entertainment will be provided by: Charity Bowden, an up and coming country music singer who was the runner up on "The Voice". Charity will sing 'I am Proud to be an American' as well as songs from her Voice performances. The McGill Girls will also perform. The three beautiful and talented sisters will be singing patriotic songs in three part harmony. Geoff Carlisle, a professional DJ will be keeping the crowd pumped with music and entertainment.
Following the speakers and the entertainment there will Trump truck-vs- Joe Bidden truck races down the drag strip for the finale.
The Northwest Alabama boat parade will be on Sunday. The boats will gather at 2:00 p.m. near Turtle Point and then the flotilla will parade around the open waters of Wilson Lake til 3_00 p.m.. There will be a contest for best decorated Trump boats.
Trump supporters have held a number of large boat parades across the state to show their support for the re-election of Pres. Trump.
Boat parade sponsors say that this parade will be: pro-American, pro-law enforcement, pro-military.