Space Launch System Passes Review

By Brandon Moseley
Alabama Political Reporter
NASA announced on Wednesday, August 27, that the Space Launch System (SLS) has passed a formal review by NASA officials and the program's progression from formulation to development has been approved to proceed.
The SLS will be the most powerful rocket ever built for deep space missions. NASA plans to use the SLS to launch a craft to distant objects, to including an asteroid and ultimately the planet Mars. Much of the engineering, design, and testing work for the SLS is being done in Huntsville at the Marshall Space Flight Center.
Since building the space shuttle in the 1970s and early 80s, NASA has started and then stopped other space exploration class vehicles. This is the first project to get this far in the process since the agency built the space shuttle.
NASA Administrator Charles Bolden said, "We are on a journey of scientific and human exploration that leads to Mars, and we're firmly committed to building the launch vehicle and other supporting systems that will take us on that journey."
On Wednesday, August 13, NASA's Marshall Space Flight Center held a ribbon cutting event for Marshall's newest building which houses the Space Launch System Program Office and 400 engineers.
The SLS will give NASA unsurpassed heavy-lift capability and unrivaled payload volume. This capability will allow NASA to take heavier loads into higher earth orbits than the space shuttle could ever go and is essential to human missions to explore asteroids and Mars.
U.S. Senator Jeff Sessions said then, "It's sort of, in my mind, confirmation of the Space Launch System program that is going to lead us into exploration of the solar system."
Marshall Space Flight Center Director Patrick Scheuermann Director Scheuermann said, "The Space Launch System is going to be an incredible capability for the united states, it will get our astronauts farther than we've ever been, ever."
Rep. Brooks said, "The heavy-lift capability that we will potentially have once this is up and rolling is just a tremendous advantage for our country vis-à-vis all of our international competitors. And remarkably, for any kind of federal government program, SLS is five months ahead of schedule, on budget, and recently passed the Critical Design Review—all unprecedented feats for a program of this size, so thank you for what you are doing. And on the building side, to have put together a building that is going to decrease maintenance and operations costs by 65%, decrease utility costs by 35%, on the budget constraints we face in Washington, DC, right now, that is very, very impressive."
In its first flight test, SLS will be configured for a 70-metric-ton (77-ton) lift capacity and will carry an uncrewed Orion spacecraft beyond low-Earth orbit. In its most powerful configuration, SLS will provide an unprecedented lift capability of 130 metric tons (143 tons), which will enable missions even farther into our solar system.
The SLS is designed to be flexible and evolvable to meet a variety of crew and cargo mission needs.
The decision to proceed comes after a thorough review known as Key Decision Point C (KDP-C), which provides a development cost baseline for the 70-metric ton version of the SLS of $7.021 billion from February 2014 through the first launch and a launch readiness schedule based on an initial SLS flight no later than November 2018.
Associate Administrator Robert Lightfoot said, "Our nation is embarked on an ambitious space exploration program, and we owe it to the American taxpayers to get it right. After rigorous review, we're committing today to a funding level and readiness date that will keep us on track to sending humans to Mars in the 2030s – and we're going to stand behind that commitment." Lightfoot and his team were responsible for the review.
The associate administrator for the Human Explorations and Operations Mission Directorate at NASA Headquarters in Washington, William Gerstenmaier said, "The Space Launch System Program has done exemplary work during the past three years to get us to this point, we will keep the teams working toward a more ambitious readiness date, but will be ready no later than November 2018."
The SLS, the Orion space exploration vehicle which is launched into space by the SLS, as well as the Ground Systems Development and Operations programs each conduct a design review prior to each program's respective KDP-C, and each program will establish cost and schedule commitments that account for its individual technical requirements.
The director of the Exploration Systems Development at NASA, Bill Hill said, "We are keeping each part of the program — the rocket, ground systems, and Orion — moving at its best possible speed toward the first integrated test launch."  "We are on a solid path toward an integrated mission and making progress in all three programs every day."
The SLS program manager, Todd May said, "Engineers have made significant technical progress on the rocket and have produced hardware for all elements of the SLS program.  The team members deserve an enormous amount of credit for their dedication to building this national asset."
The next phase of development for SLS is the Critical Design Review, a programmatic gate that reaffirms the agency's confidence in the program planning and technical risk posture.
Trump Truck and boat parades this weekend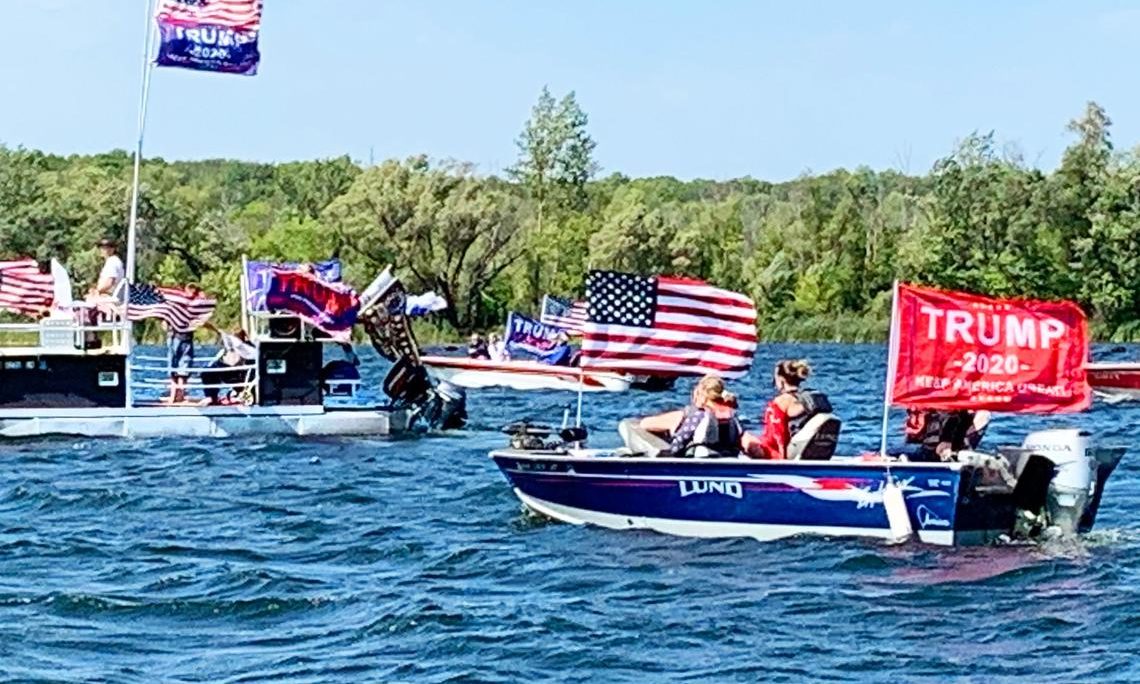 As Election Day draws near, Alabama Republicans are excited about promoting the re-election of Donald J. Trump as President and the election of Tommy Tuberville for U.S. Senate. This weekend two pro-President Trump events are happening in the state. There will be a truck parade from Ashland to Phenix City on Saturday sponsored by the Clay County Republican Party, while there will also be a boat parade on Wilson Lake in the Shoals sponsored by the Colbert County Republican Party on Sunday.
The pickup trucks will assemble at the Ashland Industrial Park in Clay County, 8240 Hwy 9, Ashland. There is a pre-departure rally at 10:00 a.m. central standard time. The trucks will depart at 11:00 a.m. and then proceed on a parade route that will take them into the bitterly contested swing state of Georgia. The Trump Pickup Parade will wind through east Alabama and West Georgia traveling through LaGrange and Columbus before concluding near the Alabama/Georgia line in Phenix City, 332 Woodland Drive, Phenix City at approximately 2:00 p.m. central time. Speakers will begin at 3:00. Trump flags will be on sale at the event.
The Phenix Motorsports Park will be hosting what sponsor hope could possibly the world's largest Pickup Tuck parade in U.S. history that is routing over 50 mile through Georgia in effort to "pickup" President Trump's numbers in GA.
A number dignitaries have been invited to address the Phenix City rally, including Coach Tuberville. Former State Sen. Shadrack McGill, Trump Victory Finance Committee member former State Rep. Perry O. Hooper Jr., and Paul Wellborn, the President and CEO of the largest Family owned Kitchen Cabinet manufacture in the USA are among the featured speakers who have committed to speak at the event.
Entertainment will be provided by: Charity Bowden, an up and coming country music singer who was the runner up on "The Voice". Charity will sing 'I am Proud to be an American' as well as songs from her Voice performances. The McGill Girls will also perform. The three beautiful and talented sisters will be singing patriotic songs in three part harmony. Geoff Carlisle, a professional DJ will be keeping the crowd pumped with music and entertainment.
Following the speakers and the entertainment there will Trump truck-vs- Joe Bidden truck races down the drag strip for the finale.
The Northwest Alabama boat parade will be on Sunday. The boats will gather at 2:00 p.m. near Turtle Point and then the flotilla will parade around the open waters of Wilson Lake til 3_00 p.m.. There will be a contest for best decorated Trump boats.
Trump supporters have held a number of large boat parades across the state to show their support for the re-election of Pres. Trump.
Boat parade sponsors say that this parade will be: pro-American, pro-law enforcement, pro-military.