USDA Study Shows Alabama Citizens Among Top 10 in Food Insecurity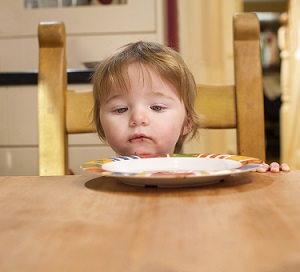 By Bill Britt
Alabama Political Reporter
MONTGOMERY— A new report just released from the United States Department of Agriculture (USDA) shows that Alabama was one of 10 states with the largest number of households where food was often scarce or hunger was a major problem between 2011-2013.
http://www.ers.usda.gov/publications/err-economic-research-report/err173.aspx#.VAjdZktH2lI
According to the study from the USDA, 14.3 percent of households in the U.S. were food insecure at least some time during the year, including 5.6 percent with very low food security.
In Alabama, the number of households who have or do face food insecurity is 16.7 percent.
The USDA defines food insecurity as meaning "consistent access to adequate food is limited by a lack of money and other resources at times during the year," meaning that the food intake of one or more household members was reduced and their eating patterns were disrupted at times during the year because the household lacked money and other resources for food.
Arise Citizens Policy Project Executive Director Kimble Forrister said about the new report:
"Hunger is a huge challenge in Alabama when one in six households say they often couldn't put enough food on the table to ensure a healthy, active life for everyone in their family. And it's even more troubling that 7 percent of our households say they had to miss meals or disrupt their normal diets because they didn't have enough money for food."
While Alabama has programs to help feed the poor as well as many community based programs, the statistics paints a troubling downward trend.
During the last four years, the Republican Super Majority has passed legislation to place greater restrictions on State managed programs in what they say is an effort to stem fraud and abuse.
According to Forrister "Policymakers can take three big steps to fight hunger, which threatens the health of our children, our workforce and our economy.
First: Alabama should make food more affordable by ending its State grocery tax and replacing the lost revenue responsibly.
Second: Alabama should lift the lifetime ban that blocks low-income people with a past felony drug conviction from getting nutrition assistance to help feed their families.
And third: more school districts with large numbers of low-income children should provide no-cost meals to all of their students next year by participating in the new community eligibility program."
In 1997, the Federal Government froze its allocations for the Temporary Assistance for Needy Families (TANF) program, informally known as Welfare.
According to Arise, fewer Alabama families are receiving TANF aid and the benefits are not worth as much as they once were.
http://www.arisecitizens.org/index.php/component/docman/doc_view/1073-the-basics-alabama-s-meager-but-vital-tanf-program?Itemid=44
"Far too many of our friends and neighbors struggle with hunger, but we can do something about it. With these three policy changes, our lawmakers can bring Alabama much closer to the day when no one has to go to bed hungry," said Forrister.
USDA is seeking rural energy grant applications
The deadlines to apply for grants is Feb. 1, 2021, and March 31, 2021. Applications for loan guarantees are accepted year-round.
United States Department of Agriculture Deputy Under Secretary for Rural Development Bette Brand on Wednesday invited applications for loan guarantees and grants for renewable energy systems, and to make energy efficiency improvements, conduct energy audits and provide development assistance.
The funding is being provided through the USDA's Rural Energy for America Program, which was created under the 2008 Farm Bill and reauthorized under the 2018 Farm Bill. This notice seeks applications for Fiscal Year 2021 funding.
The deadlines to apply for grants is Feb. 1, 2021, and March 31, 2021. Applications for loan guarantees are accepted year-round.
REAP helps agricultural producers and rural small businesses reduce energy costs and consumption by purchasing and installing renewable energy systems and making energy efficiency improvements in their operations.
Eligible systems may derive energy from wind, solar, hydroelectric, ocean, hydrogen, geothermal or renewable biomass (including anaerobic digesters).
USDA encourages applications that will support recommendations made in the Report to the President of the United States from the Task Force on Agriculture and Rural Prosperity to help improve life in rural America.
Applicants are encouraged to consider projects that provide measurable results in helping rural communities build robust and sustainable economies through strategic investments.
Key strategies include achieving e-Connectivity for rural America, developing the rural economy, harnessing technological innovation, supporting a rural workforce and improving quality of life. For additional information, see the notice in the Federal Register.