Alabama Delegation Divided on Arming Syrian Rebels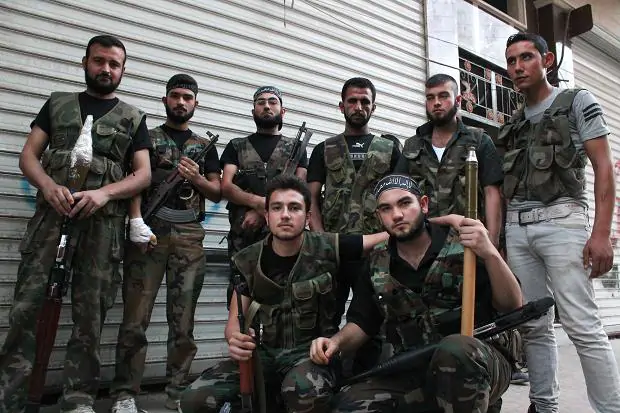 By Brandon Moseley
Alabama Political Reporter
On Wednesday, September 17 Congressman Bradley Byrne (R from Montrose) spoke on the House floor in support of an amendment to authorize the arming and training of Syrian rebels as part of the strategy to defeat the barbaric Islamic State of Iraq and the Levant (ISIL) joining Congresswoman Terri A. Sewell (D from Selma) in support of President Obama's Syria/Iraq strategy. On the same day, however, Congressman Mo Brooks (R from Huntsville) spoke in opposition to the same measure.
Representative Sewell said in a statement after the vote, "I support the President's request to train and equip moderate Syrians outside of Syria pursuant to a strategy to degrade and destroy ISIS. The depravity of ISIS's actions demands strategic action from the United States and our international partners. This is why I supported the bipartisan McKeon Amendment to the Continuing Resolution that provides Title 10 authorization for the Pentagon to arm, train and equip appropriately vetted members of the Syrian opposition to combat both ISIS and the Syrian President Bashar Assad. To achieve a lasting solution, I believe that Syrians should be on the front lines defending their own people against the aggression of ISIS and the oppression of the Assad regime. ISIS poses a serious threat to our national security and to do nothing is unacceptable. This is the most responsible course of action."
Representative Brooks said, "I just voted against authorizing President Obama to raise, train and arm a rebel army to fight in Syria's civil war. I have many reservations about this strategy. To name a few, if America recruits, trains and arms a rebel army in Syria, there is a high risk that the President's rebel army will ultimately be a foe of the United States, with American weapons once again being used against America and our allies. Additionally, the President promises that there will be no American combat troops in Syria. If the President will never use America's military superiority to ensure victory in Syria, then America should not embroil itself in Syria's civil war."
Congressman Byrne said, "I believe we must do everything we can to defeat this vile enemy known as ISIL. Time is of the essence here. With each passing day, ISIL continues to get stronger. The President has finally asked for a very limited authorization, not of force, but for training and supplying. Based upon the information that I've received, I believe arming and training Syrian rebels is an important first step."
Congressman Brooks said, "I emphasize that today's vote does not retard in any way, shape or form the President's ability to apply American military force, or a multi-nation coalition's force, to defeat the Islamic State. The question and vote Congress faced was limited to whether it is in America's best interest to raise, train and arm a rebel force to fight in Syria's civil war. I do not believe it is."
Rep. Bryne said, "Just a few weeks ago, I joined Chairman McKeon and a few other colleagues on a trip to the Middle East. While there we met with numerous foreign leaders and defense officials. One thing became very clear: there is regional interest and support for defeating ISIL, but they are waiting on our leadership." "Now I believe arming and training the Syrian rebels to be a necessary step, but I do not believe it alone will be sufficient. Just this morning Chairman of the Joint Chiefs of Staff Martin Dempsey expressed that more action will likely be needed." "Our enemy should not just be 'degraded' or 'contained.' Our enemy must be defeated. In order to accomplish that objective, more action will be needed including overt help from Sunni Muslims in the region and air attacks from the United States. It's also important to note the safeguards Chairman McKeon has written into this amendment. This amendment requires that each fighter be thoroughly vetted by the Department of Defense and that regular progress reports be provided to Congress."
The amendment was sponsored by House Armed Services Committee Chairman Buck McKeon (R) and would authorize "the Secretary of Defense to train and equip appropriately vetted elements of the Syrian opposition and other appropriately vetted Syrian groups or individuals." The amendment also requires that the Administration prepare detailed reports and progress updates on the vetting process and monitoring procedures for Congress.
Rebels revolted against decades of rule by the Assad family in the 'Arab Spring' in 2012. Since then the loose collection of rebels have seized vast swaths of disputed territory in Syria. The largest such group, ISIS/ISIL invaded Western Iraq in June and has begun exterminating Christians, other religious minorities, and their opponents on both sides of the border. Assad and Iran both call for a united effort against ISIS…..a move that would almost certainly give Assad a victory in the Syrian Civil War which has claimed over 150,000 lives. President Obama has rejected that strategy in favor of supporting Syrian rebels who are supposedly at war with both ISIS and Assad.
Based on original reporting by the Associated Press, President Obama's Syria strategy suffered a setback on September 9 when the head of one of Syria's largest rebel groups was killed in a suicide bombing along with other rebel leaders and many of his top commanders and supporters. Hassan Aboud of Ahrar al-Sham was the leader of an ultraconservative Syrian rebel group. The bombing occurred in the northwestern town of Ram Hamdan in the Syrian province of Idlib. Ahrar al-Sham is an ultraconservative Islamist group, but has worked with more moderate rebel groups trying to oust President Bashar Assad and has fought ISIS.
The Syrian rebels amendment was just part of the bigger H.J. Res 124 – Continuing Appropriations Resolution, 2015 funding package.
Rep. Sewell said, "Today, I voted in favor of the Continuing Appropriations Resolution 2015, because it ensures that hard-working Americans and their families can continue to have access to the government programs and services they and their families depend upon. In addition to funding government operations through December 11, 2014, this bill includes additional funding to address the Ebola virus outbreak in West Africa, the U.S. border agencies efforts to control the influx of child migrants, and the extension of the Export-Import Bank. I am glad that a bipartisan agreement was reached today to address these three urgent issues and avoid the needless uncertainty and economic harm caused by a government shutdown."
President Obama was asking for funding to send up to 3,000 U.S. troops and medical personnel to West Africa to fight the growing Ebola plague there.
Some conservatives led by Freedomworks had opposed extending the decades old Export-Import bank.
The resolution passed in the Republican controlled U.S. House of Representatives with a vote of 319-108 and has been sent to the Democratic controlled U.S. Senate for final approval before going to the President's desk.
Three mental health crisis centers coming to Mobile, Montgomery and Huntsville
"Today marks a culture change in Alabama for treatment of individuals with mental illness and substance use disorders," Mental Health Commissioner Lynn Beshear said.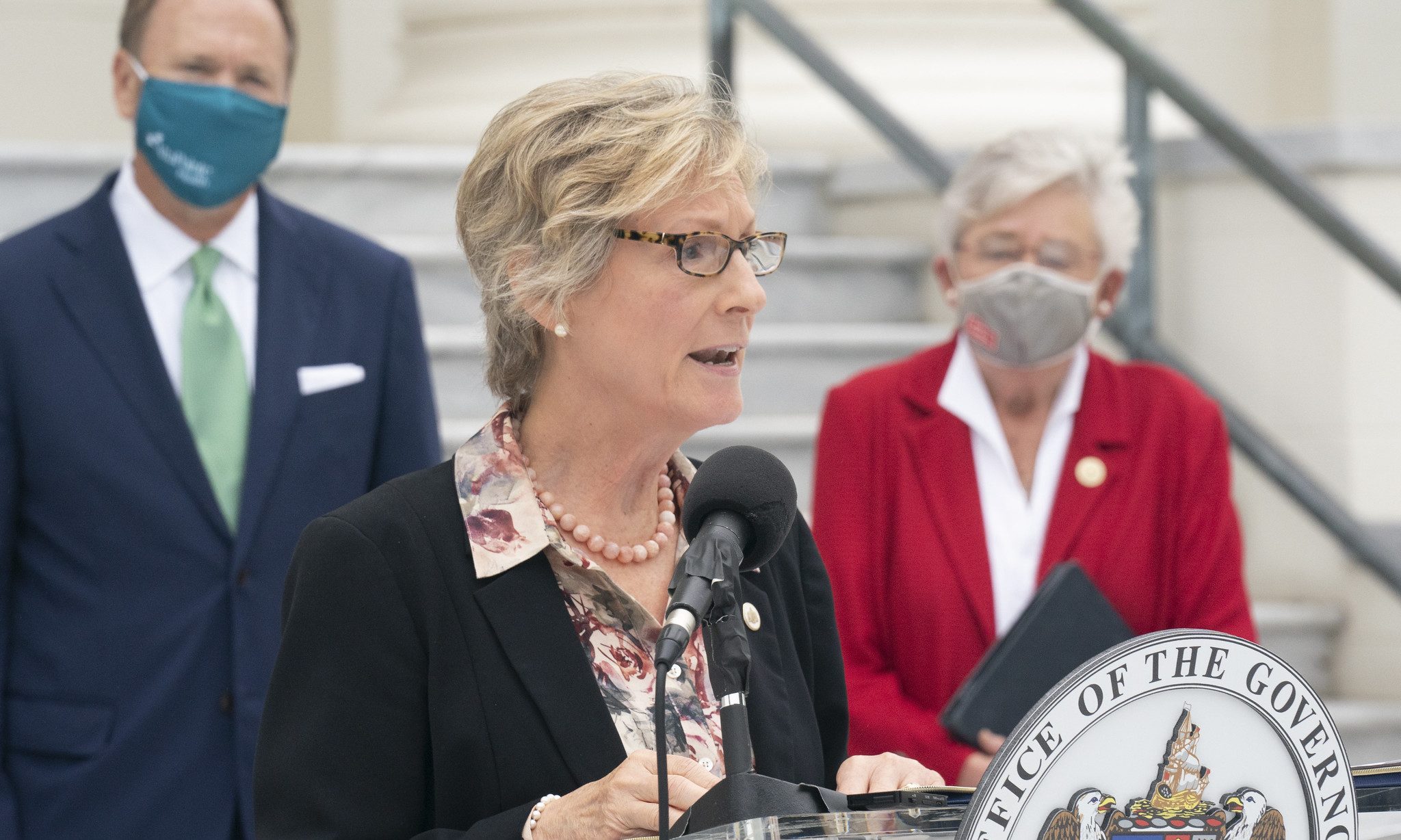 Gov. Kay Ivey on Wednesday announced an $18 million project to create three new mental health crisis centers to be located in Mobile, Montgomery and Huntsville. 
These centers, once in operation, will reduce the number of people suffering from mental health crises who are hospitalized or jailed, Ivey said during a press briefing in front of the Capitol Building in Montgomery. 
"When these facilities are open and fully staffed, these centers will become a safe haven for people facing mental health challenges," Ivey said. 
Lynn Beshear, commissioner of the Alabama Department of Mental Health, said during the briefing that the centers will provide "recovery based" care with "short term stays of a few hours, or up to a few days, to provide treatment, support, and connection to care in the community." 
"Today marks a culture change in Alabama for treatment of individuals with mental illness and substance use disorders," Beshear said. 
Beshear said AltaPointe Health in Mobile will operate one of the three facilities, and once built it is to serve Mobile, Baldwin, Clarke, Conecuh, Escambia, Monroe and Washington counties with 21 new beds, including 15 temporary observation beds. Altapointe will begin with a temporary space while constructing the new facilities, she said. 
Beshear said the Montgomery Area Mental Health Authority is partnering with the East Alabama Mental Health Authority and the Central Alabama Mental Health Authority to serve the 11 counties in Region 3 with 21 new beds, including 10 temporary observation and respite beds. 
"The regional crisis center will be located in Montgomery, and will be open to walk-ins and for drop off by law enforcement, first responders and referrals from emergency rooms," Beshear said. 
Wellstone Behavioral Health in Huntsville was selected to open the third center, and will do so at a temporary site while a new facility is being built, with the help of an additional $2.1 million from local governments, Beshear said. That facility will eventually have 39 beds, including 15 for temporary observation and 24 for extended observation.
"There's not a day that goes by that after-hours care is not an issue in our state," said Jeremy Blair, CEO of Wellstone Behavioral Health, speaking at the press conference. "And so I applaud the Department of Mental Health and the leaders for their efforts in recognizing that and taking it a step further and funding our efforts here." 
Asked by a reporter why a center wasn't located in Jefferson County, one of the most populous counties with a great need for such a center, Ivey said those residents will be served in one of the other regions. 
"Plans are underway to continue this effort. Today's beginning, with these three crisis centers, is just the beginning," Ivey said. 
Ivey added that request for proposals were sent out for these three centers and "it was a strong competition for the location of these three crisis centers." 
Alabama House Majority Leader Nathaniel Ledbetter, R-Rainsville, said during the briefing that more than a year ago, Ivey asked him what the state should be looking at, and that he replied "we're failing miserably in mental health."
Ledbetter said Ivey asked him to take on the challenge of correcting the state's response to mental health, and a team was created to do just that. 
"Working together, today's announcement will not only change Alabamians lives, but will help to save lives," Ledbetter said.