Bentley Offers $5,000 Reward In Death Investigation Of Hiawayi Robinson
By Brandon Moseley
Alabama Political Reporter
Friday, September 19, Alabama Governor Robert Bentley (R) announced that he is offering a $5,000 reward for information leading to the arrest and conviction of the person involved in the murder of 8-year old Hiawayi Robinson.
Governor Bentley said in a written statement, "Dianne and I were heartbroken to learn of the tragic death of this innocent child. We have been praying and following the situation closely, and our prayers for comfort are with Hiawayi's family."
Governor Bentley said, "We won't rest until this little girl's killer is brought to justice. Alabama's State law enforcement agencies have been actively assisting the Prichard Police Department in the investigation into the death of Hiawayi Robinson. I directed the Secretary of the Alabama Law Enforcement Agency, Spencer Collier, to go to Prichard and offer any resources needed. As soon as Hiawayi was reported missing, we sent 10 State Bureau of Investigation agents to Prichard, and our Trooper Aviation Unit also assisted in helping to find Hiawayi. Those agents will remain in Prichard until a suspect has been arrested. Furthermore, I've directed an increased presence of state troopers in Prichard until the person who committed this terrible act has been found."
The Governor continued, "I've also issued a $5,000 reward for information leading to the arrest and conviction of the person or persons responsible for the murder. Sometimes tips from the public are the only leads law enforcement officers have to help them solve a case. I hope this reward will encourage anyone with any information to come forward and help authorities solve this case and bring Hiawayi Robinson's killer to justice."
Gov. Bentley and law enforcement are asking that anyone with any possible information about Hiawayi or this case to please contact the Federal Bureau of Investigation (FBI) at 1-800-CALL FBI.
According to original reporting by Fox 10's (WALA) Kati Weis, there is surveillance footage of eight-year-old Hiawayi Robinson captured at a strip mall about three blocks down from the St. Stephens Woods Apartments complex where she lived.  The video shows little Hiawayi running into a convenience store at 4:04 p.m. Tuesday afternoon where she stayed for about six minutes, bought $4.04 of candy, left the store, and politely holds the door for some folks going inside.  She then runs back around the side of the building.  This is the last Hiawayi was seen before her body was found dumped on the side of a road in Prichard.
Merrill defends social media comments, questions motives of Black Lives Matter movement
During the interview, he blamed most of the uproar on "liberal, white women" who have "attacked" him on social media.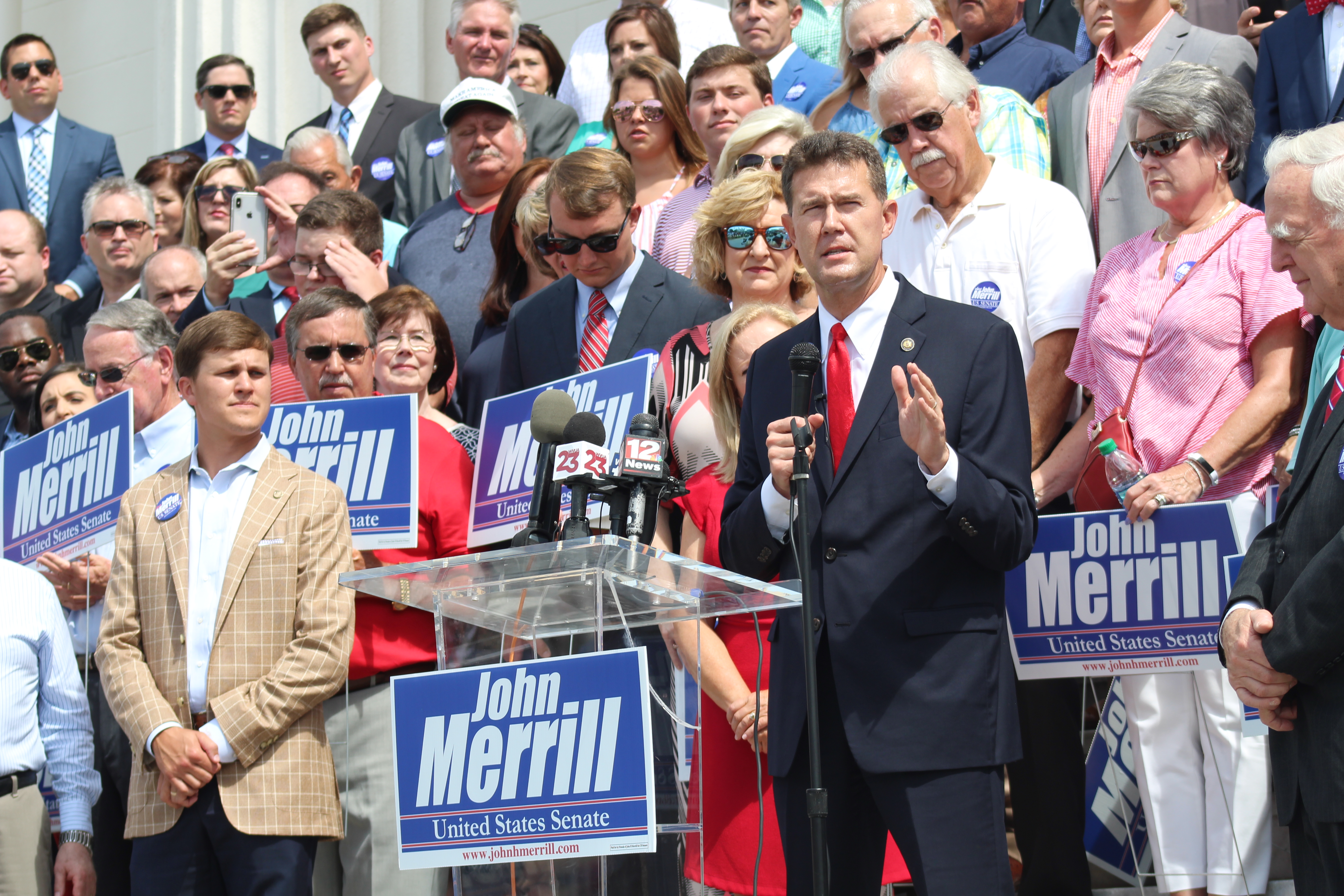 Alabama Secretary of State John Merrill regrets some of his recent controversial comments on social media but he refused to acknowledge that he should be held to a higher standard as an elected official and made no apologies for "defending" himself. 
Merrill took part in a lengthy, wide-ranging interview on the Alabama Politics This Week podcast. The sometimes contentious back-and-forth conversation covered an array of topics, from Merrill's comments — in which he encouraged one man to get a sex change — to his views on race, religion and election fraud claims. 
Merrill has come under fire over the last few weeks for his interactions on social media, and a number of civil rights groups have called for him to either apologize or resign. During the APTW interview, he blamed most of the uproar on "liberal, white women" who have "attacked" him on social media and said he wasn't going to allow someone "to hit me over the head and not fight back."
"You expect me, as an elected official, if someone comes up and knocks me in the head, I'm supposed to just take it? That's your expectation?" Merrill asked. 
Host David Person responded: "My expectation is that you, as a public servant, would have a level of deportment that would be different than the average person."
Merrill acknowledged that he probably went too far in his responses and has since started ignoring or blocking people who attempt to antagonize him. 
Later in the interview, when asked about his retweet of a video and a "war on whites" comment, Merrill said he has since deleted his retweet and that it didn't reflect his true feelings. But when asked about his thoughts on the Black Lives Matter movement, Merrill responded that "all lives matter." He then launched into a biblical explanation of his feelings. 
When Person explained the history and meaning of the BLM movement — and that it doesn't seek to elevate Black lives above anyone, but instead merely wants to see equal value — Merrill responded by stating the BLM movement has been "co-opted."
"I'm afraid to tell you this, but I think there's a number of people across the nation who have co-opted what your intent was — if that was your intent — and they've changed the narrative … and tried to make it something else … which is that Black lives are superior and if you can't agree that Black lives are superior then you have no place in the conversation," Merrill said. 
That is patently false, and the leaders of the BLM movement have taken great care to make equality and acceptance the primary goals of the movement. The false narrative introduced by Merrill — that the BLM movement is somehow racist — is a popular one on right-wing websites and TV shows, but it has been credibly debunked numerous times by numerous reputable sources. 
Merrill also addressed his controversial comments about election fraud, defended claims he made that appear to be false and talked his way around questions about Alabama's voter ID law. 
You can listen to the full interview at the APTW website or you can search for and subscribe to the podcast wherever you get your podcasts.