The Day of Reckoning is at Hand: Editorial
By Bill Britt
Alabama Political Reporter
Four years ago, then soon to be Speaker of the House Mike Hubbard and a band of newly-minted republicans promised that they would clean up corruption in Alabama State politics.
Four years ago on October 4, 2010, Federal agents fanned-out across the State arresting lawmakers and lobbyists as part of a federal probe into efforts to pass gambling legislation. That was supposed to mark the beginning of the end of Montgomery's culture of crookedness.
Four years on, we now know that the Hubbard, along with former Gov. Bob Riley and others, did not end the culture of corruption in Montgomery, it appears they expanded it beyond the wildest dreams of their democratic counterparts.
In just four short years, Hubbard and his cronies have presided over a reign of unscrupulous, double-dealing, fraud and profiteering, unparalleled in Alabama State history. Their false promises were little more than a tribute of lies for an unwitting public. Hubbard, Riley and their pimps hid their true intentions so as to prostitute the people of Alabama to gain wealth and power. Their promises four years ago were nothing more than a polished sale-pitch, given by two-bit hustlers.
Now, comes the hour of reckoning, the sword that hangs over their heads has been forged in justice, soon to be executed by lawmen, unbent and unbowed by the political corruption that has made Hubbard, Riley and their associates the State's power elite.
Even now, Hubbard, Riley and a team of attorneys plot to undermine justice, by any means possible. Acting Attorney General W. Van Davis has stated publicly that Deputy Attorney General Henry T. "Sonny" Reagan had "undisclosed communications with individuals affiliated with people indicted or under investigation by the Lee County Special Grand Jury. Davis also says that Reagan took other action to impede or obstruct the investigation."
We also know from sources inside and outside of the Attorney General's Office, that Luther Strange's Chief Deputy Kevin Turner, tried to orchestrate a plot to remove chief prosecutor Matt Hart from the Lee Country Grand Jury investigation.
It is stunning, if not shamefully, that Attorney General Luther Strange allows Turner to remain his second-in-command, while it would appear to any rational person that his action cast a sinister shadow over the State's highest institution of law-enforcement.
But these are just two of the actors who are believed to be trying to aid Hubbard, Riley and their conies, in a desperate attempt to evade justice, there are more.
In four years, these so-called republicans have built an empire of greed and corruption, laid on a foundation of deceit, established by little Caesars, aided by boot-licking sycophants.
They didn't "storm" the State House, to bring conservative values, they led an assault on an unknowing public, for their own profit. They marched not with honor, but looted and pillaged like wonton savages, then celebrated at an orgy of lust, feeding off the taxpayers blood and sweat like a pack of rabid jackals.
And what of their blind followers, the children of the damned, can they be trusted to lead State government? Can those who followed these false prophets be reborn into honest lawmakers? Can those who obeyed without question out of complicity, ignorance or fear be suddenly transformed into honest brokers of the people business?
For certain, the scales have fallen from many a legislator's eye, and there were actually a few who never drank from the poison well that Hubbard and Riley so skillfully dug.
But those who now hold office in the republican caucus hierarchy must be replaced by the few honest brokers left standing.
There is a restlessness, even a weariness that stirs among those who desperately desire to see justice severed in Montgomery. The daily refrain, "when will the indictments come, will they come before the election, or at all?"
The wheel of justice is meant to grind slowly, so that it grinds finely.
Davis and Hart do have a responsibility to proceed with haste, so that the voters know if they are about to elect crooks; knowing no matter the timing, the felons will always cry "political prosecution."
But Davis and Hart also know they only have one chance to get it right.
There are those who will be inclined to have sympathy toward Hubbard once he is indicted, these people will have been ignorant of or complicit with his unbridled wrath and lurid cruelty towards those who disagree or stood in his way. Hubbard, is a man who at his core has a sadistic temperament toward those who do not kowtow to his smallest whim.
Such is the way of men when evil is chosen as a way to fulfill their ambition for power.
Republicans like Hubbard celebrated at the October, 2010 arrest of democratic lawmakers. None of those legislators were found guilty of crimes, but it gave Hubbard and others an election slogan that worked.
What great irony it would be if the indictments of Hubbard and others were to come closely to that October date.
Hubbard's time as Speaker will have been brief, remembered by some for its sound and fury, remembered by most as dark and rotten as the grave.
Once Hubbard, Riley and their cohorts no longer hold sway over our State, there will be a brief moment when true ethics reform can be enacted.
This must not be done in a knee-jerk fashion, but with intense resolution and rational thought, led by the invisible hand of moral conscience.
Opinion | Let's hope for Reed's success
Reed's temperament and style appear right for this moment in Alabama's history.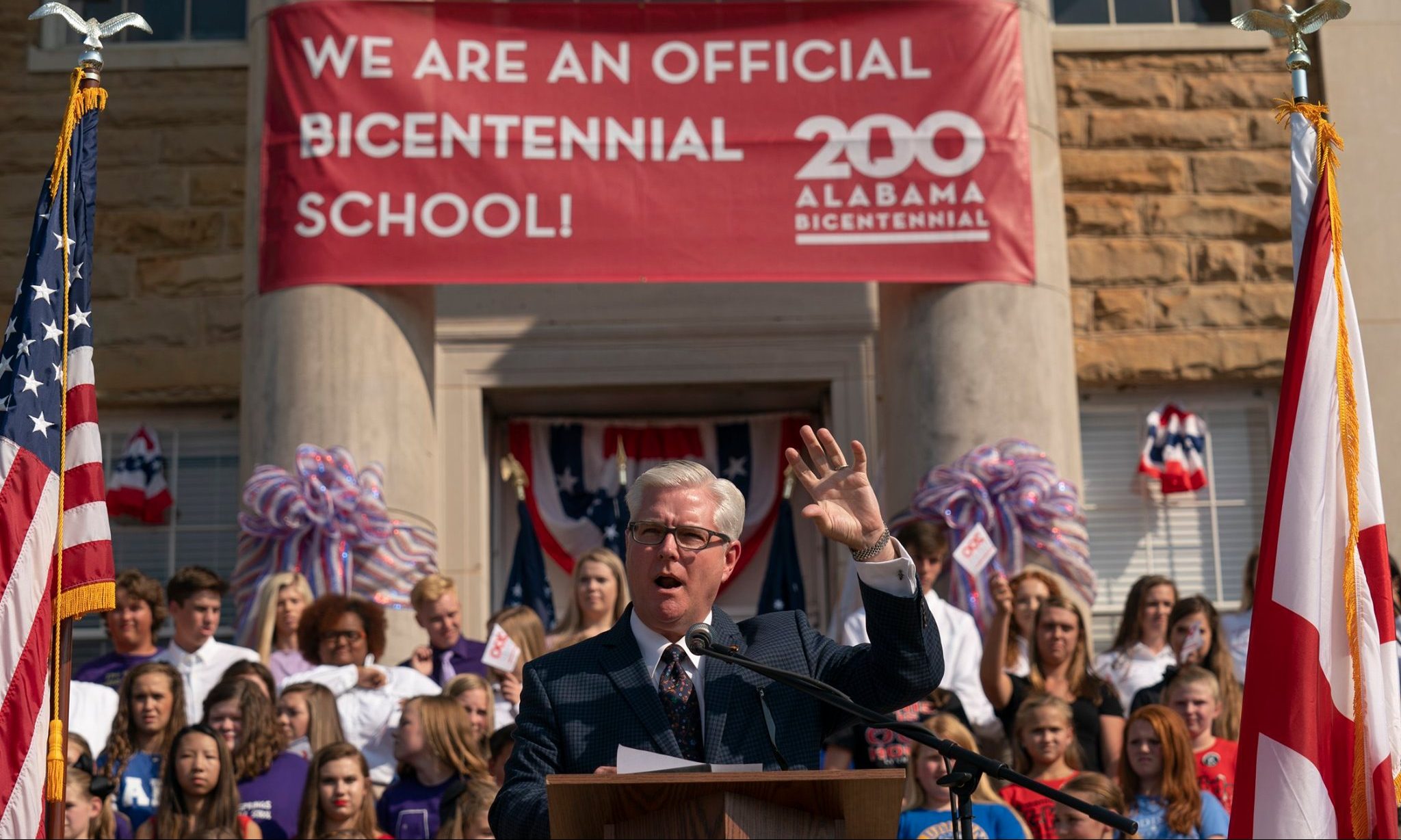 State Sen. Greg Reed, R-Jasper, will lead the Alabama Senate as president pro tem during the upcoming 2021 legislative session. What changes will Reed bring to the upper chamber, and how will his leadership differ from his predecessor? No one knows for sure.
Reed succeeds Sen. Del Marsh, who has served as president pro tem since Republicans took control of the Statehouse in 2010. Marsh, along with then-Gov. Bob Riley, current felon Mike Hubbard and ousted BCA Chair Billy Canary orchestrated the 2010 takeover that saw the Republican rise to dominance.
Reed, who won his Senate seat the same year, was not a charter member of the Republican ruling class, but he benefited from the power sift.
Mild-mannered and studious with a quiet charm, Reed has steadily ascended the ranks of Senate leadership. His silver hair and calm determination have served him well. Reed is a senatorial figure straight out of Hollywood's central casting.
In all, Reed is nearly universally liked and respected, which in the near term is a hopeful sign of potential success. But political leadership always comes with a warning: "Friends come and go, enemies accumulate."
Reed's relationship with Gov. Kay Ivey is certainly less contentious than Marsh's and gives rise to the belief that there will be greater cooperation between the executive and the Senate.
With the economy and public health under dire stress due to the ravages of COVID-19, legislative priorities are fixed: get people back to work and eradicate the coronavirus.
However, one of Reed's first tests will be whether he can cool the smoldering anger of those senators who still feel the sting of Ivey's rebuke over the allocation of CARES Act funds. He will also need to resist those who want to punish the administration over its use of public health statutes to implement mask mandates and other safety measures to prevent the deadly coronavirus spread.
Despite outward declarations of a unified body, the State Senate is a small, insular and unwieldy beast where egos loom large and consensus on policies is often tricky to achieve except on "red meat issues."
Building a coalition on policy in the Senate is often a combination of horse-trading, cajoling and carefully applied pressure. The way forward in the near term is exact: pass legislation that spurs economic recovery and mitigates the health crisis at hand.
But Reed will also simultaneously need to recognize what comes next for justice reform, prison construction, gambling and a myriad of other pressing issues. His job will be to understand the prevailing winds, which are evolutionary, not revolutionary.
As author Doris Kearns Goodwin noted in Lyndon Johnson and the American Dream: "For political leaders in a democracy are not revolutionaries or leaders of creative thought. The best of them are those who respond wisely to changes and movements already underway. The worst, the least successful, are those who respond badly or not at all, and those who misunderstand the direction of already visible change."
Reed's temperament and style appear right for this moment in Alabama's history.
As President Abraham Lincoln said, "If you want to test a man's character, give him power."
Let's all hope that Reed passes the test.