Hubbard Attorney Reacts To Davis Statements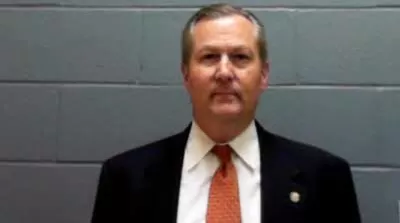 By Bill Britt
Alabama Political Reporter
Speaker Hubbard's team of PR specialists took nearly seven hours to respond to the press statement from Acting Attorney General W. Van Davis, concerning false allegations being made by Hubbard and his attorney J. Mark White.
Davis took Hubbard and White to task for their false accretions that the 23 felony charges against Hubbard are a politically motivated witch hunt with a rogue prosecution.
Davis, point-by-point, knocked down each one of the Hubbard spin machine's outrageous accusations.
Not only did Davis catch Hubbard and White flat-footed, he landed a body blow that left White squealing like a little girl: "He's touching me," as one political consultant said.
White, who likes to try his cases in the media, responded by slinging a kitchen sink full of accusations back at Davis. His biggest argument boils down to Davis not putting a disclaimer on the statement saying that Hubbard was presumed innocent until proven guilty.
White also filed a motion with Lee County Circuit Judge Jacob Walker, III, with regards to alleged  "media tape recording," which one Montgomery attorney characterized as, "when caught with your pants down, point at the audience and say look over there."
White may very well try to sue the prosecution for talking to the media, as he seems to think he is the only person allowed to do so.
White once said he was having a difficult time convincing Hubbard that the word, "speaker" was a noun and not a verb.
It would seem that White wants Davis to shut up and stop touching him.
USDA is seeking rural energy grant applications
The deadlines to apply for grants is Feb. 1, 2021, and March 31, 2021. Applications for loan guarantees are accepted year-round.
United States Department of Agriculture Deputy Under Secretary for Rural Development Bette Brand on Wednesday invited applications for loan guarantees and grants for renewable energy systems, and to make energy efficiency improvements, conduct energy audits and provide development assistance.
The funding is being provided through the USDA's Rural Energy for America Program, which was created under the 2008 Farm Bill and reauthorized under the 2018 Farm Bill. This notice seeks applications for Fiscal Year 2021 funding.
The deadlines to apply for grants is Feb. 1, 2021, and March 31, 2021. Applications for loan guarantees are accepted year-round.
REAP helps agricultural producers and rural small businesses reduce energy costs and consumption by purchasing and installing renewable energy systems and making energy efficiency improvements in their operations.
Eligible systems may derive energy from wind, solar, hydroelectric, ocean, hydrogen, geothermal or renewable biomass (including anaerobic digesters).
USDA encourages applications that will support recommendations made in the Report to the President of the United States from the Task Force on Agriculture and Rural Prosperity to help improve life in rural America.
Applicants are encouraged to consider projects that provide measurable results in helping rural communities build robust and sustainable economies through strategic investments.
Key strategies include achieving e-Connectivity for rural America, developing the rural economy, harnessing technological innovation, supporting a rural workforce and improving quality of life. For additional information, see the notice in the Federal Register.