Byrne Critical of Jeh Johnson's Defense of Obama Amnesty Plan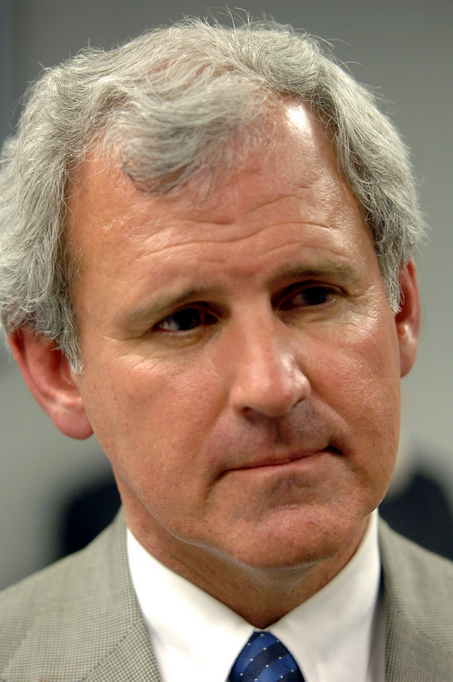 By Brandon Moseley
Alabama Political Reporter
On Wednesday, December 3, U.S. Representative Bradley Byrne (R from Mobile) issued written comments in which he was critical of President Obama's recently announced Executive amnesty program for millions of undocumented immigrants.
Congressman Byrne said in a written statement on Facebook, "Secretary Johnson struggled to defend President Obama's executive action on immigration today during a hearing on Capitol Hill. No wonder it was hard to defend. No President has ever simply ignored the law and granted amnesty to almost 5 million illegal immigrants. Stay tuned for more on how the House is going to respond."
President Obama sent Homeland Security Department Chief Jeh Johnson to two hearings on Tuesday, December 2 to defend the Obama's Executive action.
At the House Homeland Security Committee meeting: "Open Borders: The Impact of Presidential Amnesty on Border Security," the committee focused on the President's unilateral action on immigration and its impact on border security.
Secretary Jeh Johnson defended the Obama administration's decision to grant deportation relief to some undocumented immigrants as "simple common sense." Johnson said, "The reality is that, given our limited resources, these people are not — and have not been for years — prioritizes for removal. It's time we acknowledge that and encourage them to be held accountable. This is simple common sense."
Republicans challenged the administrations legal authority to change America's immigration laws unilaterally. Johnson said that he was, "fully comfortable" that the Executive branch has the authority to implement the Executive action.
Congressman Mike Rogers (R from Saks) warned that eligible immigrants could potentially receive Social Security and Medicare benefits paid for by American taxpayers. Rogers said that it was, "irresponsible" to add that "burden" to the system.
The Chairman of the Homeland Security Committee, U.S. Rep. Michael McCaul, (R from Texas) asked Johnson what steps that the Department of Homeland Security will take to prepare for a potential surge of illegal immigration and the challenging task of identifying those who would be eligible for deferred action.
Chairman McCaul said 20 percent of the applicants for the President's Deferred Action for Childhood Arrivals (DACA) applications are denied as fraudulent.
Chairman McCaul said, "We saw [fraud] after 1986 – the 1993 World Trade Center bomber, one of them, had fraudulent documentations exploiting the 1986 amnesty law. What are you going to do to verify that these people are not fraudulently entering the country, including what could be security threats to the country?"
Sec. Johnson agreed abuse of deferred action programs is a problem. "Fraudulent applications have the potential to undermine the whole process," Johnson said. "In the implementation, I want to make sure we take a hard look at best practices to avoid fraudulent applications and fraudulent misuses of the program. That is a priority of mine."
Chairman McCaul also noted that President Obama previously stated that "such an indiscriminate approach would be both unwise and unfair… and this could lead to a surge in more illegal immigration."
Johnson disagreed with the president saying, "no, in fact we prioritize recent illegal migrants."
According to information supplied by Representative McCaul's office, DHS's statistics show that less than half of the 479,000 individuals apprehended along the southern border this year were removed by ICE. The other half were given notices to appear before an immigration judge, with a court date years away, and released into the United States.
Chairman McCaul saide, "Again, I just look at history. In 1986 the amnesty law was passed and it led to a wave of illegal immigration. I look at DACA. I had 60,000 children unaccompanied crossing my border in Texas through the Rio Grande Valley sector as a result of DACA. You can't deny that the traffickers are going to message this, now this executive action, and exploit it." Chairman McCaul said, "There is a right way to do this and a wrong way. Obviously, I disagree with the president's approach in this case…. the president said over 20 times that he did not have the legal authority to do this, to take this executive action, and that this is not how democracy works."
Former U.S. Senator and possible 2016 GOP Presidential Rick Santorum (R from Pennsylvania) said in a written statement that we need to discuss how President Obama's recent issue of an executive order granting amnesty to millions of illegal immigrants impacts American workers.
Sen. Santorum wrote that, "Average Americans who have borne the brunt of this economic recession with stagnant wages and a decline in median income. Under our current immigration system and de facto amnesty for existing illegal aliens (this administration simply doesn't deport anyone unless they have committed another serious crime in the U.S.) we have flooded America with competition for our lower-skilled workers." Real wages have been flat since 2000, and declined for the least skilled, despite a decade-and-a-half of technological progress. Clearly one of the most likely culprits is the present level of immigration…All of the net-job gains since 2000 have gone to workers born outside the US."
Original reporting by the Daily Caller contributed to part of this report.
Congressman Mike Rogers represents Alabama's Third Congressional District.
Congressman Bradley Byrne represents Alabama's First Congressional District.
Today is Thanksgiving
Today is a national and state holiday. Schools, banks, government offices and many private businesses are closed.
Four hundred years ago, on Nov. 11, 1620, after 66 days at sea, a group of English settlers landed near what is today Cape Cod in Massachusetts. Onboard the Mayflower were 102 men, women, and children, including one baby born during the Atlantic crossing, who made up the Pilgrims.
The Mayflower, captained by Christopher Jones, had been bound for the mouth of the Hudson River. The ship took a northerly course to avoid pirates, but the decision to avoid the then widely traveled sea lanes to the New World took the ship into bad weather, which had blown the Mayflower miles off course and left the ship damaged. Off Cape Cod, the adult males in the group made the fateful decision to build an entire colony where none had existed prior. They wrote and signed the Mayflower Compact.
"In the name of God, Amen. We whose names are underwritten, the loyal subjects of our dread Sovereign Lord King James, by the Grace of God of Great Britain, France, and Ireland King, Defender of the Faith, etc. Having undertaken for the Glory of God and advancement of the Christian Faith and Honour of our King and Country, a Voyage to plant the First Colony in the Northern Parts of Virginia, do by these presents solemnly and mutually in the presence of God and one of another, Covenant and Combine ourselves together in a Civil Body Politic, for our better ordering and preservation and furtherance of the ends aforesaid; and by virtue hereof to enact, constitute and frame such just and equal Laws, Ordinances, Acts, Constitutions and Offices from time to time, as shall be thought most meet and convenient for the general good of the Colony, unto which we promise all due submission and obedience. In witness whereof we have hereunder subscribed our names at Cape Cod, the 11th of November, in the year of the reign of our Sovereign Lord King James, of England, France and Ireland the eighteenth, and of Scotland the fifty-fourth. Anno Domini 1620."
After a few weeks off Cape Cod, they sailed up the coast until they reached Plymouth. There they found a Wampanoag Indian village that had been abandoned due to some sort of plague. During the Winter of 1620-1621 they lived aboard the Mayflower and would row to shore each day to build houses. Finally, they had built enough houses to actually move to the colony, but the cold, damp conditions aboard the ship had been costly.
Some 28 men, 13 women (one of them in child birth), and 8 children died in that winter. Governor John Carver would die in April. His widow, Kathrine White Carver, would follow a few weeks later. There is some recent archaeological evidence suggesting that some of the dead were butchered and eaten by the survivors.
The Mayflower and her crew left for England on April 5, 1621, never to return.
About 40 of the Pilgrims were religious Separatists, members of a Puritan sect that had split from the Church of England, in defiance of English law. In 1609, they immigrated to Holland to practice their religion but ran into problems there too. Others in the group had remained part of the Church of England but were sympathetic to their Separatist friends. They did not call themselves Pilgrims, that term was adopted at the bicentennial for the Mayflower voyage. The members of core Separatist sect referred to themselves as "Saints" and people not in their sect as "Strangers."
In March 1621, an English speaking Native American, named Samoset, visited the Plymouth colony and asked for beer. He spent the night talking with the settlers and later introduced them to Squanto, who spoke even better English. Squanto introduced them to the chief of the Wampanoag, Massasoit.
Squanto moved in with the Pilgrims, serving as their advisor and translator. The friendly Wampanoag tribe taught the Pilgrims how to hunt and grow crops. The two groups began trading furs with each other.
William Bradford, a Separatist who helped draft the Mayflower Compact, became the longtime Plymouth Governor. He was also the writer of the first history of the Plymouth Colony and the Mayflower. Bradford's more notable descendants include author, dictionary writer and scholar Noah Webster; TV chef Julia Child; and Supreme Court Chief Justice William Rehnquist.
In the fall of 1621, 399 years ago, the Pilgrims invited their Wampanoag Indian friends to a feast celebrating their first harvest and a year in the New World with a three-day festival. This has become known as the first Thanksgiving.
Today is a national and state holiday. Schools, banks, government offices and many private businesses are closed.