Orion Test Flight is Success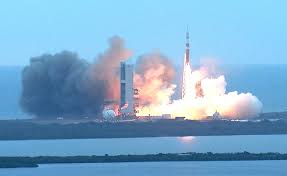 By Brandon Moseley
Alabama Political Reporter
On Friday, December 5 at 7:05 AM NASA launched the Orion spacecraft into orbit for the first time. The short flight into space for the long delayed space shuttle replacement was successful and will allow NASA engineers and scientists to learn more about the Orion capsule before it is launched as a crewed mission.
U.S. Representative Martha Roby (R from Montgomery) said in a statement on Facebook, "Once again, Alabama played a leading role in the next era of space exploration! The Alabama-built Delta IV Rocket this week propelled the Orion spacecraft for an important test mission that is critical to the future of American spaceflight. NASA hopes to send Orion and a crew to an asteroid in the near future, and Mars after that."
Congressman Mo Brooks (R from Huntsville) said in a Facebook statement, "Congratulations to Orion on a historic flight today. I'm extremely proud of the work done by NASA's Marshall Space Flight Center and United Launch Alliance in North Alabama, leading us into this new era of spaceflight!"
U.S. Senator Jeff Sessions (R from Alabama) said in a written statement, "NASA's Marshall Space Flight Center, the Space Launch System, and the United Launch Alliance are a tremendous source of pride for Alabama. This is the beginning of an historic advancement in space and I congratulate the incredible work done to ensure the success of the Orion test flight."
Rep. Roby added, "Jonathon Walden, a young engineer from Decatur, has worked for 4 years to develop the adapter that connected Orion to the Delta IV Heavy rocket and was able to see it in action during today's launch."
Rep. Roby concluded, "Congratulations to everyone who has worked tirelessly to make this launch successful, but especially the team at ULA's Decatur team who built the rocket and Walden who designed the attachment. What an awesome accomplishment for the state of Alabama and our nation's space program as a whole."
On Wednesday, December 3 U.S. Senator Richard Shelby (R) told the Alabama Political Reporter that the Orion test launch is an important step.
Senator Shelby said in a written statement in response to APR's inquiry, "The Orion test launch is an important step for the future of space exploration and an exciting event given North Alabama's long-standing role in our nation's space program. I am confident that the Orion launch will be successful and that NASA will continue to make progress on a launch system that will enable NASA's deep space exploration goals."
The Orion spacecraft was launched into space for the first time on top of a Decatur, AL built United Launch Alliance (ULA) Delta IV Heavy launch vehicle at Space Launch Complex 37 at Cape Canaveral Air Force Station (CCAFS) in Florida on Friday. The Orion capsule went into space and then splashed down in the Pacific Ocean approximately 600 miles southwest of San Diego.
Orion orbited the Earth twice during its 4.5 hour trip and traveled to an altitude of 3,600 miles into space. More than 15 times farther than the International Space Station's orbital position. The flight will test the risk to astronauts and will provide critical data needed to improve Orion's design and reduce risks to future mission crews.
The Orion spacecraft deployed three massive red and white main parachutes to splashdown in the Pacific Ocean. The spacecraft hit speeds of 20,000 mph and weathered temperatures approaching 4,000 degrees Fahrenheit as it entered Earth's atmosphere.
Friday's short first voyage of the Orion spacecraft went deeper into space than any spacecraft designed for astronauts has been in more than 40 years.
NASA Administrator Charles Bolden said in a statement, "Today's flight test of Orion is a huge step for NASA and a really critical part of our work to pioneer deep space on our Journey to Mars. The teams did a tremendous job putting Orion through its paces in the real environment it will endure as we push the boundary of human exploration in the coming years."
Orion Program Manager Mark Geyer said, "We really pushed Orion as much as we could to give us real data that we can use to improve Orion's design going forward. In the coming weeks and months we'll be taking a look at that invaluable information and applying lessons learned to the next Orion spacecraft already in production for the first mission atop the Space Launch System rocket."
A team of NASA, U.S. Navy and Lockheed Martin personnel aboard the USS Anchorage are in the process of recovering Orion and will return it to U.S. Naval Base San Diego.
Lockheed Martin is NASA's prime contractor for Orion and began manufacturing the Orion crew module in 2011 and delivered it in July 2012 to the Neil Armstrong Operations & Checkout Facility at Kennedy.
Future Orion missions will be launched by the larger Space Launch System which is being designed, engineered, and tested in Huntsville at the Marshall Space Flight Center.
Orion was intended to fly on the Ares I launch vehicle, then the Space Launch System after Ares I was cancelled.
The SLS will be the most powerful rocket ever built for deep space missions. NASA plans to use the SLS to launch a craft to distant objects, including an asteroid and ultimately the planet Mars.
Since building the space shuttle in the 1970s and early 80s, NASA has started and then stopped other space exploration class vehicles. Orion is the first project to get this far in the process since the agency built the space shuttle.
Alabama hospitals nearing COVID-19 summer surge levels
Wednesday was the 18th straight day with more than 1,000 people in hospitals in Alabama with COVID-19. 
Alabama hospitals reported caring for 1,483 people infected with COVID-19 on Wednesday, the highest number of patients since Aug. 11, when the state was enduring its summer surge. Wednesday was also the 18th straight day with more than 1,000 people in hospitals in Alabama with COVID-19. 
The seven-day average of hospitalizations was 1,370 on Wednesday, the 36th straight day of that average rising. The Alabama Department of Public Health reported 2,453 new cases Wednesday. The 14-day average of new cases was — for the eighth day in a row — at a record high of 2,192. 
Across the country, more than 80,000 people were hospitalized for COVID-19 on Tuesday, a record high and the 15th straight day of record hospitalizations nationwide, according to the COVID Tracking Project, a coronavirus tracking website.
The CDC this week recommended people not travel for Thanksgiving to help prevent the spread of coronavirus. 
"The only way for us to successfully get through this pandemic is if we work together," said Dr. Kierstin Kennedy, UAB's chief of hospital medicine, in a message Tuesday. "There's no one subset of the community that's going to be able to carry the weight of this pandemic and so we all have to take part in wearing our masks, keeping our distance, making sure that we're washing our hands." 
Kennedy said the best way she can describe the current situation is "Russian Roulette." 
"Not only in the form of, maybe you get it and you don't get sick or maybe you get it and you end up in the ICU," Kennedy said, "but if you do end up sick, are you going to get to the hospital at a time when we've got capacity, and we've got enough people to take care of you? And that is a scary thought." 
The Alabama Department of Public Health on Wednesday reported an increase of 60 confirmed and probable COVID-19 deaths. Deaths take time to confirm and the date a death is reported does not necessarily reflect the date on which the individual died. At least 23 of those deaths occurred in November, and 30 occurred in other months. Seven were undated. Data for the last two to three weeks are incomplete.
As of Wednesday, at least 3,532 Alabamians have died of COVID-19, according to the Department of Public Health. During November, at least 195 people have died in Alabama from COVID-19. But ADPH is sure to add more to the month's tally in the weeks to come as data becomes more complete.
ADPH on Wednesday announced a change that nearly doubled the department's estimate of people who have recovered from COVID-19, bringing that figure up to 161,946. That change also alters APR's estimates of how many cases are considered active.
ADPH's Infectious Disease and Outbreak team "updated some parameters" in the department's Alabama NEDSS Base Surveillance System, which resulted in the increase, the department said.