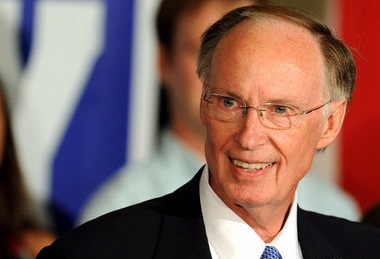 By Brandon Moseley
Alabama Political Reporter
On Monday, January 19, most of Alabama's statewide elected officials, including Governor Robert Bentley (R), will be inaugurated in Montgomery.
The events begin with an Inaugural Prayer Service at River City Church on 301 Dexter Avenue at 7:30 am. The inaugural committee had announced that the prayer service was canceled due to limited funds, but State Auditor-elect Jim Zeigler announced that he would host the service instead.
The Zeigler-paid-for service will be just a block from where crowds will gather for the 9 a.m. swearing-in of statewide officials. The Speaker for the service is Dr. John Killian, the immediate past President of the Alabama Baptist Convention. The public is invited, the service is free, and no tickets or reservations are required. The service will end at 8:30, and attendees can walk to Dexter Avenue and the inaugural audience for the 9 a.m. ceremony.
At 9:00 a.m. there will be Swearing-in Ceremonies on the front steps of the state capitol on Dexter Avenue. Both the Booker T. Washington High School Choir and the Alabama National Guard Band will perform.
At 11:00 a.m. there will be a Parade on Dexter Avenue. Following the parade, there will be a free party at the historic Cramton Bowl. The historic 25,000 seat stadium opened in 1922. The party will include free soft drinks and barbecue. Participants can view both the University of Alabama and Auburn University football National Championship Trophies.
Free parking is available at the Cramton Bowl parking lot. Attendees can either walk four blocks or ride a shuttle to Dexter Avenue.
The Cramton Bowl Party will include appearances by NASA astronauts, the Etowah County Youth Orchestra, The House Band, bluegrass music and cloggers from Pike County.
There will be an inaugural celebration at 7 p.m. at the Montgomery Renaissance Hotel. Tickets to that event are required and cost $200 each.
Alabama hospitals nearing COVID-19 summer surge levels
Wednesday was the 18th straight day with more than 1,000 people in hospitals in Alabama with COVID-19. 
Alabama hospitals reported caring for 1,483 people infected with COVID-19 on Wednesday, the highest number of patients since Aug. 11, when the state was enduring its summer surge. Wednesday was also the 18th straight day with more than 1,000 people in hospitals in Alabama with COVID-19. 
The seven-day average of hospitalizations was 1,370 on Wednesday, the 36th straight day of that average rising. The Alabama Department of Public Health reported 2,453 new cases Wednesday. The 14-day average of new cases was — for the eighth day in a row — at a record high of 2,192. 
Across the country, more than 80,000 people were hospitalized for COVID-19 on Tuesday, a record high and the 15th straight day of record hospitalizations nationwide, according to the COVID Tracking Project, a coronavirus tracking website.
The CDC this week recommended people not travel for Thanksgiving to help prevent the spread of coronavirus. 
"The only way for us to successfully get through this pandemic is if we work together," said Dr. Kierstin Kennedy, UAB's chief of hospital medicine, in a message Tuesday. "There's no one subset of the community that's going to be able to carry the weight of this pandemic and so we all have to take part in wearing our masks, keeping our distance, making sure that we're washing our hands." 
Kennedy said the best way she can describe the current situation is "Russian Roulette." 
"Not only in the form of, maybe you get it and you don't get sick or maybe you get it and you end up in the ICU," Kennedy said, "but if you do end up sick, are you going to get to the hospital at a time when we've got capacity, and we've got enough people to take care of you? And that is a scary thought." 
The Alabama Department of Public Health on Wednesday reported an increase of 60 confirmed and probable COVID-19 deaths. Deaths take time to confirm and the date a death is reported does not necessarily reflect the date on which the individual died. At least 23 of those deaths occurred in November, and 30 occurred in other months. Seven were undated. Data for the last two to three weeks are incomplete.
As of Wednesday, at least 3,532 Alabamians have died of COVID-19, according to the Department of Public Health. During November, at least 195 people have died in Alabama from COVID-19. But ADPH is sure to add more to the month's tally in the weeks to come as data becomes more complete.
ADPH on Wednesday announced a change that nearly doubled the department's estimate of people who have recovered from COVID-19, bringing that figure up to 161,946. That change also alters APR's estimates of how many cases are considered active.
ADPH's Infectious Disease and Outbreak team "updated some parameters" in the department's Alabama NEDSS Base Surveillance System, which resulted in the increase, the department said.