By Brandon Moseley
Alabama Political Reporter
Conservative activist and past President of the Alabama Federation of Republican women, Elois Zeanah, has succumbed to her long struggle with lymphoma.
Alabama Auditor Jim Zeigler (R) said on Facebook, "Alabama loses a fighting lady patriot. Our friend Elois Zeanah has finished her fight."
Elois's husband and the Chairman of the Tuscaloosa Republican Party, Jim Zeanah reported in a statement, "It is my sad duty to tell you my dear wife Elois passed away at home about 11:55 Friday evening, January 23. She collapsed in my arms about 11:30 and died peacefully surrounded by our son Derek, our daughter Kristen, and our daughter-in- law Michelle. She was able to see her beloved granddaughter Sagan one last time when she arrived from California this past evening."
Mr. Zeanah said, "Elois battled advanced lymphoma for fourteen months with courage, grace, and optimism. In the end, it was overwhelming, and mercifully her suffering has ended."
Jim Zeanah wrote, "During these months, she has received many treasured expressions of your encouragement and affection, and for which we have not been able to thank you properly. We have turned away many faithful friends who wanted to visit, because of the rigors of her treatments, her repeated infections, and her physical exhaustion. She wanted me to tell you she was sorry so much isolation was necessary. But in the end, she was happy that your last memory of her would be as she was in life and not in decline."
The funeral is scheduled for Tuesday, January 27. More details to come when they are available.
The Alabama Republican Party said in a statement: "Elois, as many of you know, served as President of the Alabama Federation of Republican Women for several years and was a champion of conservative causes in our state and nation. Elois was a fighter in life and in death."
ALGOP wrote, "Elois was an example for all of us to follow as she demonstrated with passion her love for our state, country and God. Our heart and prayers go out to Jim and their family on their loss. We will provide details of the funeral arrangements for Elois in our Monday newsletter."
COVID-19 hospitalizations in Alabama continue surge
On Monday, 1,335 patients with COVID-19 were being cared for in hospitals statewide, the most to date.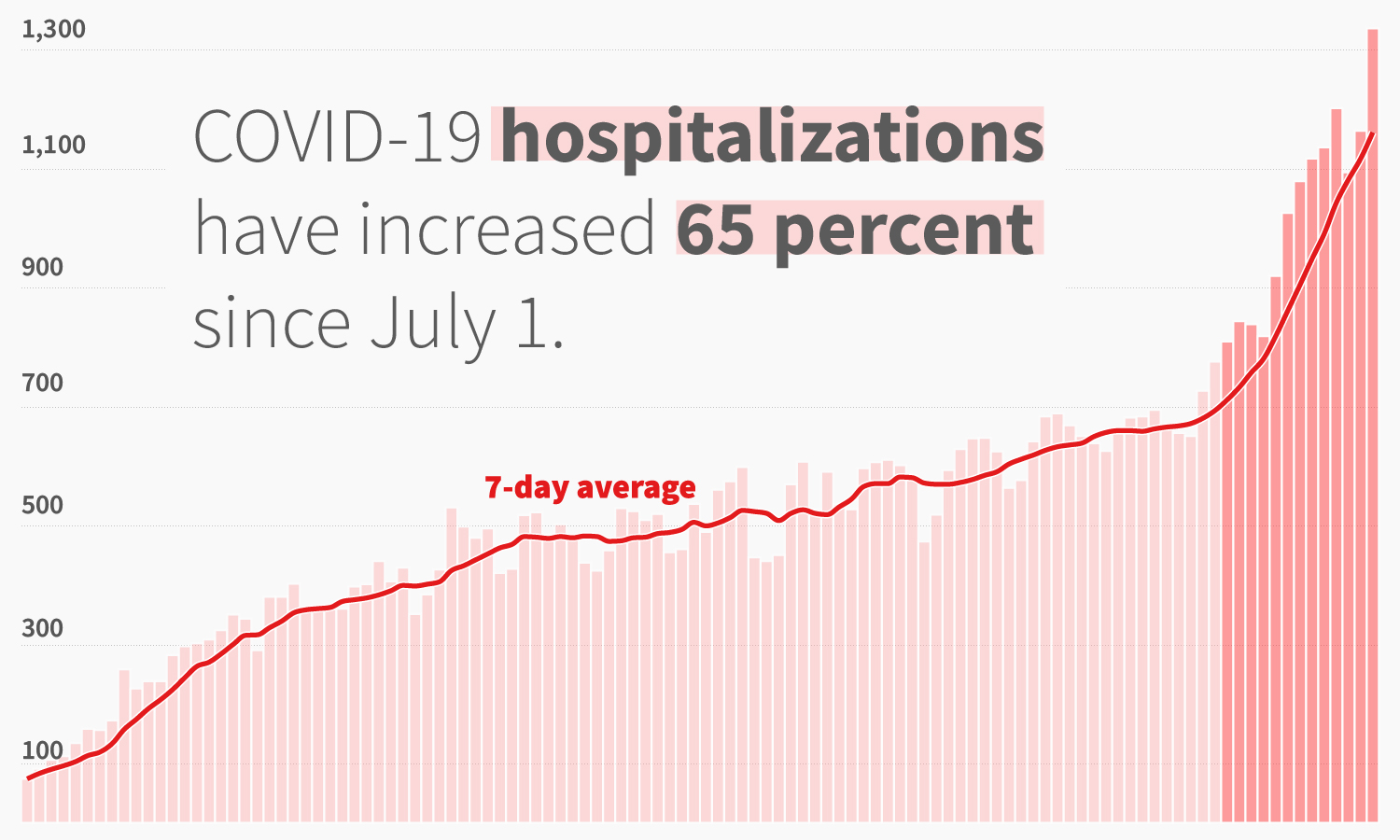 Alabama on Monday saw the highest number yet of COVID-19 patients in hospitals since the start of the pandemic, and the second-highest single-day increase in coronavirus cases on record. 
On Monday, 1,335 patients with COVID-19 were being cared for in hospitals statewide. That was 172 more COVID-19 patients than were hospitalized the previous day — and the largest single-day increase in hospitalization numbers reported by the Alabama Department of Public Health.

The last record number of hospitalized COVID-19 patients in Alabama was on Friday, when 1,201 people were being treated statewide. The increase Monday is also 134 more patients than were being care for on Friday.
Friday was the sixth straight day of record-breaking COVID-19 hospitalizations in Alabama. Friday also saw the second-highest number of deaths in a single day in the state, when ADPH confirmed 35 new deaths as a result of COVID-19, nearly breaking the previous record of 37 set on May 12.
On Monday, the state also added 1,860 to Alabama's total case count, bringing the cumulative total now to 54,768 confirmed cases. That's the second-highest single-day increase in cases since the start of the pandemic. With 25,783 people presumed to have recovered from the virus, and at least 1,096 dead, more than half of the state's cases, or 27,889, are presumed to be active.

Testing has ticked up slightly in the last few weeks — Alabama's seven-day average of tests conducted was 9,176 on Monday, 93 more than the previous high set on July 5 — but the percentage of tests that are positive continues to increase as well, a sign that new cases aren't just due to more testing. 
The seven-day average positivity rate Monday was 16.18 percent, which was almost 30 percent higher than it was a week ago. Taking into account the Alabama Department of Public Health's incomplete testing data on July 9 and in early April, which threw off the positivity rate, Monday's seven-day average was the highest on record for Alabama. 
Public health officials say that the percent of tests that are positive should be at or below 5 percent or there's not enough testing being done and cases are going undetected. 
Madison County continues to see a surge in new cases. The county added 267 new coronavirus cases on Monday, and over the last week added 1,044 new cases, which was 70 percent more than were added the week before. Madison County's positivity rate this week has been roughly 16 percent. 
Jefferson County followed closely behind Madison County, adding 266 new cases Monday and 1,602 cases within the last week, which was a 30 percent increase from the week before. 
In Mobile County, there were 157 new cases Monday.
Mobile County's weekly total of new cases for the last week was 23 percent higher than the previous week.