Mike Huckabee Visits Alabama

By Brandon Moseley
Alabama Political Reporter
On Tuesday, February 3, at the Brookwood Village Books-A-Million store in Homewood an estimated 150 people threaded their way in line to get former Arkansas Governor turned non-fiction write Mike Huckabee (R) to sign their copy of his newest book, "God, Guns, Grits, and Gravy."
Governor Huckabee (R) told reporters that people in the fly-over country, what I call the heartland of America, feel increasingly disconnected with the elites in the three cultural bubbles of Washington, New York, and Los Angeles.
When asked by reporters about Tuesday's eleventh court of appeals decision not to extend the stay on Judge Granade's ruling overturning Alabama's Defense of traditional marriage amendment, Gov. Huckabee said that recent decisions by judges overturning ballot initiatives like Alabama's Defense of Marriage amendment have led people to ask if their votes matter.
When asked by a reporter if the nation was headed toward greater acceptance of homosexuals and gay marriage, Gov. Huckabee said that the cultural elites are headed that way but the people are not.  The former Fox News Channel TV host said that in only four of the 34 states that passed statutes or initiatives by a vote of the people affirming traditional marriage did the people actually vote to overturn the ban on gay marriage.
Huckabee said that the real focus needs to be on getting wages for the ordinary working people up.  "Their wages have been stagnant for the last 40 years." Gov. Huckabee stated.
When asked by reporters if the Mike Huckabee book tour will turn into a Mike Huckabee for President campaign in 2016, Gov. Huckabee said, "That appears to be the way that it is headed.  I would not have left my show at Fox News unless I was seriously considering it; but I won't make that decision until the spring."
Gov. Huckabee said in a statement promoting his book, "We still think the United States is the greatest country in the history of the world, but we know it won't be if we don't return to the principles we were built on.  And it starts with a God who gave birth to this nation and miraculously preserved us through battles we should have lost.  The culture I grew up in created a sense of community, but also a sense of accountability.  I miss the front porch culture. Communities where people looked after each other, and where we never expected the government to do it, had a real strength about them."
While at the event, the Alabama Political Reporter talked with former State Representative Mary Sue McClurkin (R-Indian Springs) who, along with Alabama Republican Party National Committeeman Paul Reynolds, accompanied Gov. Huckabee on his bus tour stop in Birmingham.
When Gov. Huckabee ran for President in 2016, Rep. McClurkin headed his Alabama campaign, which carried the state for the former Arkansas Governor and ordained Baptist minister.
When asked if she would like to endorse Gov. Huckabee for the 2016 Republican Primary, Rep. McClurkin emphatically said, "Yes."  Any time you can get such a good man you have to stand up.  I wish he had been successful in 2008.
Rep. McClurkin is herself a candidate for Chairman of the Alabama Republican Party.  McClurkin's opponent is former Mobile County Republican Party Chair Terry Lathan.
The Alabama Republican Party State Executive Committee will select a new Chairman at the Party's annual Winter Meeting in Montgomery on February 21.
The Mike Huckabee book tour also made stops in Columbus, GA, Montgomery, Decatur, and concluded at an event in Huntsville on Tuesday night before moving on to another state.
UAB expert: We can't wait until it's too late to act on surging cases
"We still are at a time point when we have an ability to intervene, and do something to reduce that case count, to reduce the eventual mortality," UAB specialist Dr. Jodie Dionne-Odom said.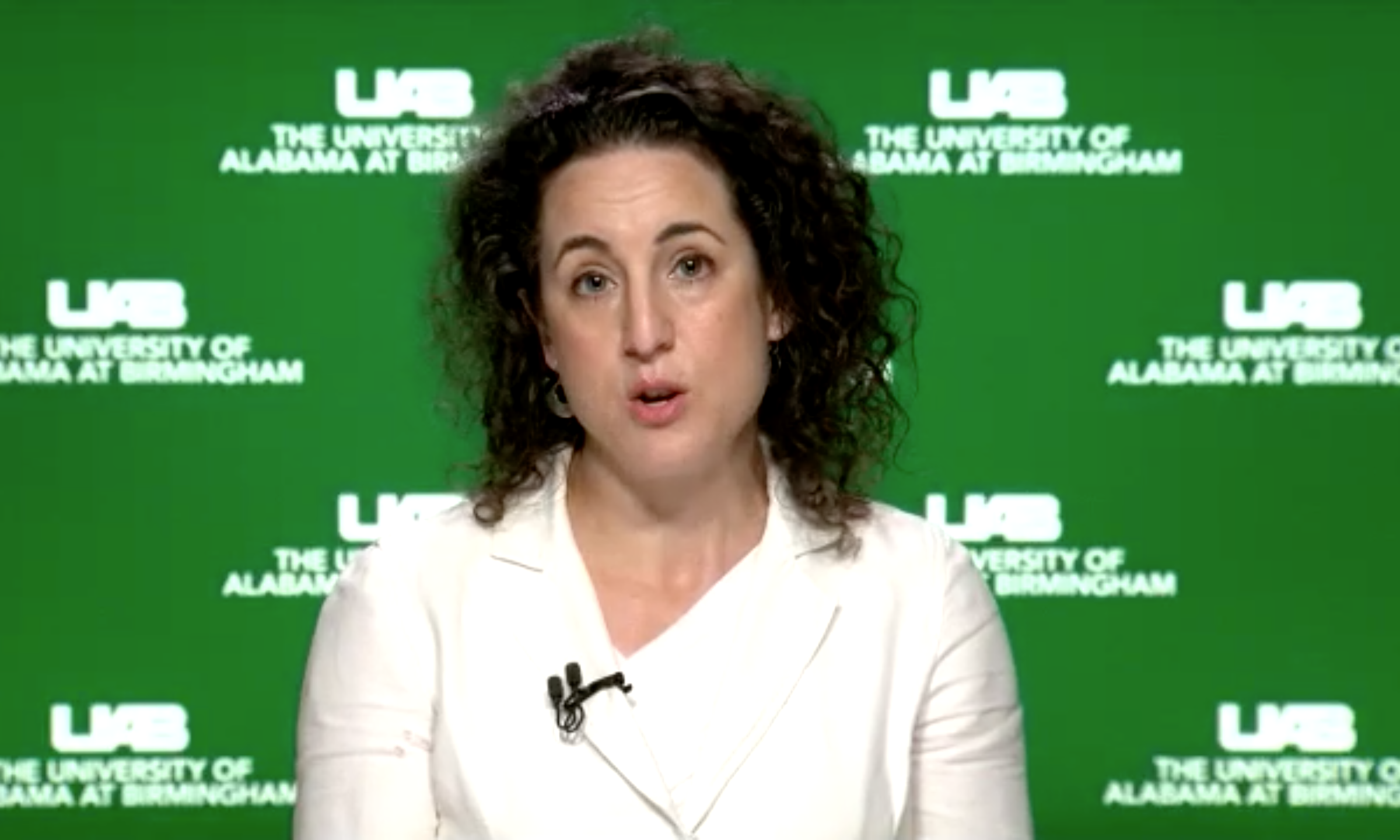 Alabama continues to see record numbers of new COVID-19 cases and hospitalizations, and the best way to turn the trend around is to wear face masks and practice social distancing, a UAB doctor says. 
Dr. Jodie Dionne-Odom, an infectious disease specialist at UAB, told reporters in a press conference Wednesday that the seven-day average of new daily coronavirus cases in Alabama has increased fourfold over the past several weeks. 
"We still are at a time point when we have an ability to intervene, and do something to reduce that case count, to reduce the eventual mortality," she said. "You don't want to wait until things are so bad that it's difficult for us to reverse the trend at all."
Dionne-Odom said she's concerned that the window of time to turn the trend of increasing cases, hospitalizations and the impending deaths that will surely come is limited. Wearing masks in public and practicing social distancing are some of the best tools we have to do so, she said.
On Wednesday, the state added 1,161 new COVID-19 cases and 25 deaths from the virus. It's killed 1,032 people in Alabama, the UAB physician said. At least 1,110 people were being treated in hospitals in the state Wednesday, according to the Alabama Department of Public Health, the most since the pandemic began.
The 14-day average of new daily cases was 1,057 — the highest it's been since the start of the pandemic. 
"The fact that we're seeing these sharp increases and hospitalization in cases over the past week or two is really concerning," Dionne-Odom said. "And we expect, given the lag that we know there is between cases and hospitalization — about a two-week lag, and a three-week lag between cases and deaths — that we're on a part of the curve that we just don't want to be on in our state."
UAB Hospital's COVID-19 intensive care and acute care units were approaching their existing capacity Tuesday, when the hospital was caring for 92 coronavirus patients. The hospital had 91 inpatients who had been diagnosed with COVID-19 on Wednesday.
Of those being treated in UAB's COVID-19 ICU unit Tuesday, less than half were on ventilators, a UAB spokesperson, Bob Shepard, said in a message to APR on Tuesday. Ventilator usage is actually dropping, he said, a positive sign. The hospital has both a COVID ICU and a COVID acute care unit designated to keep patients separated from those who don't have the virus, but it has more space in other non-COVID units.
"If we reach a point where we have more patients needing space in either unit, we will create more space in other areas of the hospital and designate additional beds for COVID patients," Shepard said.
"The issue is that designating more beds for COVID care reduces the number of beds we have for patients with non-COVID illnesses, which can have a profound effect on the overall health of our community," he said.
That flexibility was echoed by Dionne-Odom, who said that it is the type of system where they can create capacity as it's needed. 
"And we have units that we can open and close and take care of patients with COVID and staff who are familiar with the procedures of wearing PPE and gowning and keeping healthcare workers safe," Dionne-Odom said. "So we've used everything that we've learned since March, working really hard to be able to take care of more patients. That said, you have to remember that every bed that we're using today for someone with COVID can potentially be a bed that someone else would need, who's having a stroke or having a heart attack." 
"These problems are continuing to happen, and they need ICU-level care too," she continued. "So we don't want to continue to see an increase in the COVID cases because that has the indirect effect of affecting how we care for all the other patients with serious diseases." 
Dionne-Odom said that they know from experience that some of those being hospitalized for the virus will die in the coming weeks, "so we're all watching the next several weeks very cautiously." 
Testing across the state has increased in recent weeks, but so has the percentage of tests that are positive, a sign that not enough testing is being done, and cases are going undetected. 
Dionne-Odom said many cities across the southeast have high testing positivity rates of between five percent and 15 percent, and in some cases as high as 20 percent.

"And what that number means is when you're getting one of five tests back positive, is that there's a lot of spreading infection in the community that you are not detecting," Dionne-Odom said. 
Alabama's seven-day percent positivity rate was 14.69 on Wednesday. Public health experts say it should be at or below five percent or cases are going undetected. 
In Jefferson County, as of Wednesday, the percentage was roughly 14 percent.
While the majority of hospitalized patients are older, UAB does have COVID-19 patients in their 30s who are very ill and in ICU units, Dionne-Odom said.
"So the message is still true that this disease tends to impact older adults more than younger adults, but if you're 20, 30, 40, especially if you have an underlying condition, but even if you don't, you're not immune from this disease. You're still at risk of having severe outcomes," Dionne-Odom said.