Granade Orders Mobile County Judge To Issue Marriage Licenses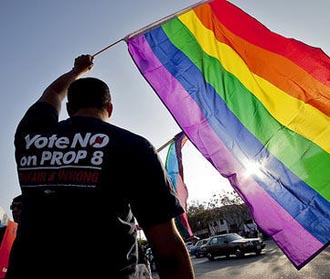 By Brandon Moseley
Alabama Political Reporter
Thursday. February 12, 2015, United States District Judge Callie Granade issued an order instructing Mobile County Probate Judge Don Davis to begin issuing marriage licenses to same-sex couples.
In January, Judge Granade declared in a highly controversial ruling that Alabama's laws excluding same-sex couples from marriage are unconstitutional and may no longer be enforced. Judge Granade's order was set to go into effect on February 9. However on Sunday, February 8, Alabama's Chief Justice of the Alabama Supreme Court Roy Moore (R) ordered the Probate Judges of Alabama to defy the ruling, which he denounced as, "judicial tyranny."
Some probate judges even outside of the Southern District of Alabama have been issuing marriage licenses to homosexual couples since Monday. Other judges have followed Chief Justice Moore's orders and have been issuing marriage licenses to only heterosexual couples as required by Alabama Law, which defined marriage as exclusively between one man and one woman. Still other probate judges have stopped issuing marriage licenses to everyone
Alabama Governor Robert Bentley (R) has issued a statement saying that he trusts the probate judges of Alabama and supports their decisions.
In a series of media interviews, Chief Justice Moore has questioned how a ruling by a southern district federal judge can be applicable to the entire state. The popular Chief Justice has also declared that he and every state judge, including the probate judges (many of whom are not even attorneys) have equal authority to interpret the U.S. Constitution and that only the U.S. Supreme Court has the authority to overrule state of Alabama Judges, particularly when they are not named as parties in the suit.
On Thursday, four same-sex couples who were denied marriage licenses in Mobile on Monday petitioned Judge Granade to order Mobile County Probate Judge Davis to begin issuing marriage licenses to same sex-couples. The Alabama couples are: James Strawser and John Humphrey, Meredith Miller and Anna Lisa Carmichael, Robert Povilat and Milton Persinger, and Kristy Simmons and Marshay Safford.
Judge Granade commanded Judge Davis to begin issuing the controversial licenses immediately. Judge Granade wrote, "Probate Judge Don Davis is hereby enjoined from refusing to issue marriage licenses to plaintiffs due to the Alabama laws which prohibit same-sex marriage. This injunction binds Judge Don Davis and all his officers, agents, servants and employees, and others in active concert or participation with any of them, who would seek to enforce the marriage laws of Alabama which prohibit or fail to recognize same-sex marriage."
Advocates for gay marriage want the order to apply to the entire state and there will almost certainly be legal action against any probate judge who continues to refuse licenses to same sex couples.
Human Rights Campaign (HRC) Legal Director Sarah Warbelaw said, "It is time for the judicial chaos that Chief Justice Roy Moore has caused to end. Both the law and Judge Granade's action today are crystal clear: refusing to follow the law has consequences. All probate judges should do their duties as public servants and begin to issue licenses to committed, loving same-sex couples immediately."
National Center for Lesbian Rights (NCLR) Legal Director Shannon Minter said in a statement, "Today's ruling by Judge Granade provides clear direction to Judge Davis and other probate judges and will help ensure that all same-sex couples in Alabama, regardless of whether they live, have the freedom to marry."
The Legal Director of the ACLU of Alabama, Randall Marshall said, "Judge Granade's ruling confirms that the U.S. Constitution requires Alabama probate judges to issue marriage licenses to all qualified couples, gay and straight. We hope state and local officials will recognize that their first obligation is to comply with our federal Constitution and will move quickly to follow the court's ruling so that all couples in Alabama will be able to share in the dignity and protection that marriage provides."
According to information provided by the HRC as of noon Thursday, 23 counties are issuing marriage licenses to all couples in Alabama. Those include: Autauga, Bullock, Butler, Calhoun, Chilton, Coffee, Conecuh, Crenshaw, Dallas, Elmore, Etowah, Jackson, Jefferson, Lawrence, Limestone, Lowndes, Madison, Monroe, Montgomery, Morgan, Perry, Wilcox and Winston.
18 Counties are issuing licenses to only heterosexual couples. These are: Baldwin, Chambers, Clay, Cleburne. Covington, Dekalb, Escambia, Greene, Lee, Macon, Marengo, Pickens, Shelby, Sumter, St. Clair, Talladega, Tuscaloosa, Washington.
Counties not issuing any marriage licenses include: Barbour, Bibb, Blount, Cherokee, Choctaw, Clarke, Colbert, Coosa, Cullman, Dale, Fayette, Franklin, Geneva, Hale, Henry, Houston, Lamar, Lauderdale, Marion, Marshall, Mobile, Pike, Randolph, Russell, Tallapoosa, Walker.
The HRC announced that in light of Thursday's action by Judge Granade, they will track which, if any, counties take new action on marriage licenses for gay and lesbian couples.
Print this piece
AlabamaWorks releases business survey to identify COVID-19 impact
AlabamaWorks has announced a new tool for all businesses, large and small, related to the COVID-19 impact and future focus of the workforce in the state.
The Alabama COVID-19 Workforce Response Survey is designed to help the state fully understand the impact of this pandemic on the state's workforce as well as provide a clear path forward for businesses, industry and state government.
"I am grateful to the Alabama Workforce Council for developing and deploying this much needed and user-friendly survey," said Governor Kay Ivey. "As we work together to combat COVID-19's impact, this tool will allow us to identify the needs of business and industry, resources that can help them and how we can best support Alabama's businesses owners and hardworking Alabamians and their families."
The official survey, which is critical for helping individual industry sectors recover from COVID-19, is available here: http://sm.aidt.edu/alabamaworks-survey.
"While these are challenging times, we fully understand that now, more than ever, business and industry leaders must continue to work together with Governor Ivey's administration and various state agencies to move us all forward together," noted Alabama Workforce Council Chairman Tim McCartney. "Rest assured there is an unwavering commitment to do everything we can to minimize the negative impact COVID-19 has on our businesses, our economy, the state and all of its citizens. Using the results from this survey, I know we can all make a difference in combating the challenges from this pandemic facing so many throughout Alabama."
Responses to the survey will be accepted through Tuesday, April 21 at 5 p.m. All businesses are highly encouraged to participate as the responses will help to protect Alabama's workforce, manage the impact of COVID-19 and guide the allocation of various resources.
Additionally, another tool was released earlier this week for hard-working Alabamians from Governor Ivey's office to help connect people to resources and resources to people. ALtogetherAlabama.org is a one-stop-shop for all Alabamians meant to connect businesses, nonprofits, and people that need help with the available resources during this time.
For more information and resources on Alabama's COVID-19 workforce recovery efforts please visithttps://alabamaworks.com/coronavirus/.
Print this piece