Roby and Sewell Promote Congressional Gold Medal Bill for Selma Marchers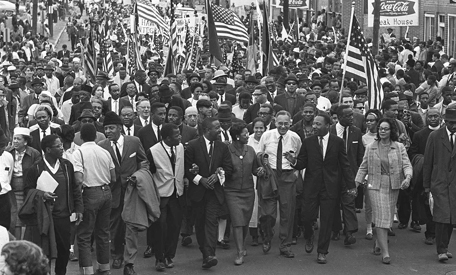 By Brandon Moseley
Alabama Political Reporter
On Wednesday, February 13, US Representatives Martha Roby (R-Montgomery) and Terri Sewell (D-Selma) released a video celebrating a special bill awarding the Congressional Gold Medal to the men and women who, in March 1965, marched from Selma to Montgomery to protest for the voting rights they were already entitled to under the 14th and 15th amendments to the US Constitution; but had been denied by Alabama state and local officials for decades.
Rep. Sewell, who sponsored the legislation, said the Congressional Gold Medal is a tribute to the bravery of those who marched and to the extraordinary changes they effected. Rep. Sewell said, "I believe the Congressional Gold Medal to these Foot Soldiers who were so brave to march across the Edmund Pettus Bridge is a powerful reminder of the power of ordinary Americans collectively achieving extraordinary social change. I think it is really important that we pay honor and tribute to those who were so brave to make sure America lived up to its ideals of equality and justice for all."
Rep. Roby, who co-sponsored the Congressional Gold Medal bill, said that the timing was important because of the upcoming 50th anniversary of the first march, known as "Bloody Sunday" due to the violence the demonstrators faced that day. Rep. Roby said, "As you know the 50th Anniversary of 'Bloody Sunday' is March the 7th. So, Terri and I wanted to make sure this bill made it to the floor in time for the Senate to take it up so we could get it passed before the march occurs and we can properly honor those who had the courage to step forward on that day."
The resolution gives the highest award a civilian can receive for, "The extraordinary bravery and sacrifice these foot soldiers displayed in pursuit of a peaceful march from Selma to Montgomery brought national attention to the struggle for equal voting rights, and served as the catalyst for Congress to pass the Voting Rights Act of 1965, which President Lyndon B. Johnson signed into law on August 6, 1965."
Rep. Roby said, "Terri and I have also been working very hard to recruit Members of Congress to join the Faith in Politics Pilgrimage to Selma and Montgomery for the anniversary. Passage of this bill is so important as we move towards that weekend of reflection."
The marchers were attempting to march the 54 miles from Selma to Montgomery to peacefully protest for voting rights. At the time, state and local officials used any means necessary to maintain White control. Even counties with Black majorities were represented in the legislature by White State Representatives, who of course were militant segregationists. Instead of simply allowing the peaceful marchers to protest (again a constitutional right denied) Alabama Governor George C. Wallace (D) ordered the state troopers to stop the march at the Edmund Pettis Bridge in Selma by force. Joined by White mobs the Troopers and police used violence to force the protestors to turn back. The whole event was reported on national and international television. A week later Dr. Martin Luther King Jr. and marchers from across the country joined the original march which successfully completed the journey. The embarrassing tactics and open police brutality employed by the State of Alabama outraged that nation and helped lead to passage of the Civil Rights Act of 1965. These events are dramatized in a current movie, "Selma."
The bill, H.R. 431, passed on Wednesday. It is expected to be introduced in the Senate by Sen. Jeff Sessions (R-Alabama) and Sen. Cory Booker (D-New Jersey). They hope to get this passed before March 7.
Alabama hospitals nearing COVID-19 summer surge levels
Wednesday was the 18th straight day with more than 1,000 people in hospitals in Alabama with COVID-19. 
Alabama hospitals reported caring for 1,483 people infected with COVID-19 on Wednesday, the highest number of patients since Aug. 11, when the state was enduring its summer surge. Wednesday was also the 18th straight day with more than 1,000 people in hospitals in Alabama with COVID-19. 
The seven-day average of hospitalizations was 1,370 on Wednesday, the 36th straight day of that average rising. The Alabama Department of Public Health reported 2,453 new cases Wednesday. The 14-day average of new cases was — for the eighth day in a row — at a record high of 2,192. 
Across the country, more than 80,000 people were hospitalized for COVID-19 on Tuesday, a record high and the 15th straight day of record hospitalizations nationwide, according to the COVID Tracking Project, a coronavirus tracking website.
The CDC this week recommended people not travel for Thanksgiving to help prevent the spread of coronavirus. 
"The only way for us to successfully get through this pandemic is if we work together," said Dr. Kierstin Kennedy, UAB's chief of hospital medicine, in a message Tuesday. "There's no one subset of the community that's going to be able to carry the weight of this pandemic and so we all have to take part in wearing our masks, keeping our distance, making sure that we're washing our hands." 
Kennedy said the best way she can describe the current situation is "Russian Roulette." 
"Not only in the form of, maybe you get it and you don't get sick or maybe you get it and you end up in the ICU," Kennedy said, "but if you do end up sick, are you going to get to the hospital at a time when we've got capacity, and we've got enough people to take care of you? And that is a scary thought." 
The Alabama Department of Public Health on Wednesday reported an increase of 60 confirmed and probable COVID-19 deaths. Deaths take time to confirm and the date a death is reported does not necessarily reflect the date on which the individual died. At least 23 of those deaths occurred in November, and 30 occurred in other months. Seven were undated. Data for the last two to three weeks are incomplete.
As of Wednesday, at least 3,532 Alabamians have died of COVID-19, according to the Department of Public Health. During November, at least 195 people have died in Alabama from COVID-19. But ADPH is sure to add more to the month's tally in the weeks to come as data becomes more complete.
ADPH on Wednesday announced a change that nearly doubled the department's estimate of people who have recovered from COVID-19, bringing that figure up to 161,946. That change also alters APR's estimates of how many cases are considered active.
ADPH's Infectious Disease and Outbreak team "updated some parameters" in the department's Alabama NEDSS Base Surveillance System, which resulted in the increase, the department said.