Rand Paul to Speak to Alabama Republican Party Friday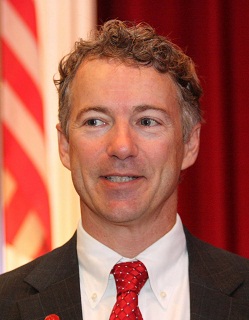 By Brandon Moseley
Alabama Political Reporter
On Friday, February 20, U.S. Senator Rand Paul (R-Kentucky), a probable 2016 Republican presidential candidate, will be the keynote speaker at the Alabama Republican Party's 2015 ALGOP Victory Celebration and Winter Dinner.
If Paul enters the 2016 Republican Primary it will likely be a crowded field with former Florida Governor Jeb Bush and Wisconsin Governor Scott Walker being two of the early favorites. Because Alabama's presidential primary is relatively early in the process, this State is expected to see a lot of presidential attention. Former Arkansas Governor Mike Huckabee was recently in the State on his book tour. Other possible candidates include former Pennsylvania Senator Rick Santorum, former Alaska Governor Sara Palin, Florida Senator Marco Rubio, former Texas Governor Rick Perry, Texas Senator Ted Cruz, New Mexico Governor Susana Martinez, New Jersey Governor Chris Christie, Dr. Ben Carson with others likely to consider getting in the race to succeed President Obama who is term limited from running again.
The event will be held at the Montgomery Renaissance Hotel at 7:00 pm, but all tickets have been sold. The ALGOP Winter Meeting will follow on Saturday. The Alabama GOP's Executive Committee will select new leadership on Saturday.
Outgoing Alabama Republican Party Chairman Bill Armistead said in a written statement, "We are honored to have Senator Rand Paul as our keynote speaker as we celebrate the incredible statewide Republican successes the Party had during this election cycle."
Chairman Armistead continued, "The Victory Celebration will give Alabamians an opportunity to see up close one of the leading candidates for the Republican presidential nomination. Senator Paul has ignited a lot of excitement amongst a segment of our population that we need to become more active in our Party: young people, females and minorities. We look forward to celebrating our victories with Republicans from every corner of the state at the Winter Dinner on February 20, 2015."
Chairman Armistead said, "The Victory Celebration will be an opportunity for the party to unite in showing our appreciation to all of our candidates who sought office this year. A great sacrifice was made by all, and we owe a debt of gratitude to the candidates, their supporters and the grassroots workers for these magnificent victories."
Dr. Rand Paul is the junior United States Senator for Kentucky. Senator Paul was elected in 2010 and still is in his first Senate term. Sen. Paul has proposed: cutting $500 billion in federal spending and a plan to balance the federal budget in just five years. He has since introduced similar bills with growing support. Senator Paul serves on the Senate's Foreign Relations, Health, Education, Labor and Pensions, Homeland Security and Government Affairs, and Small Business Committees.
Dr. Paul is an ophthalmologist and is a graduate of the Duke University School of Medicine. In 1995, he founded the Southern Kentucky Lions Eye Clinic, an organization that provides eye exams and surgery to needy families and individuals. Today, even as a US Senator, he continues to provide pro-bono eye surgery to Kentuckians in need of care.
Rand Paul supports term limits, a balanced-budget amendment, a Read the Bills Act, and an audit of the Federal Reserve. Sen. Paul has been married for 23 years to Kelley Ashby of Russellville, Ky., and they have three sons.
Senator Paul's father, Congressman Ron Paul (R from Texas), was a GOP Presidential candidate in 2012 and 2008 and was the Libertarian Party presidential nominee in 1988.
Today is Thanksgiving
Today is a national and state holiday. Schools, banks, government offices and many private businesses are closed.
Four hundred years ago, on Nov. 11, 1620, after 66 days at sea, a group of English settlers landed near what is today Cape Cod in Massachusetts. Onboard the Mayflower were 102 men, women, and children, including one baby born during the Atlantic crossing, who made up the Pilgrims.
The Mayflower, captained by Christopher Jones, had been bound for the mouth of the Hudson River. The ship took a northerly course to avoid pirates, but the decision to avoid the then widely traveled sea lanes to the New World took the ship into bad weather, which had blown the Mayflower miles off course and left the ship damaged. Off Cape Cod, the adult males in the group made the fateful decision to build an entire colony where none had existed prior. They wrote and signed the Mayflower Compact.
"In the name of God, Amen. We whose names are underwritten, the loyal subjects of our dread Sovereign Lord King James, by the Grace of God of Great Britain, France, and Ireland King, Defender of the Faith, etc. Having undertaken for the Glory of God and advancement of the Christian Faith and Honour of our King and Country, a Voyage to plant the First Colony in the Northern Parts of Virginia, do by these presents solemnly and mutually in the presence of God and one of another, Covenant and Combine ourselves together in a Civil Body Politic, for our better ordering and preservation and furtherance of the ends aforesaid; and by virtue hereof to enact, constitute and frame such just and equal Laws, Ordinances, Acts, Constitutions and Offices from time to time, as shall be thought most meet and convenient for the general good of the Colony, unto which we promise all due submission and obedience. In witness whereof we have hereunder subscribed our names at Cape Cod, the 11th of November, in the year of the reign of our Sovereign Lord King James, of England, France and Ireland the eighteenth, and of Scotland the fifty-fourth. Anno Domini 1620."
After a few weeks off Cape Cod, they sailed up the coast until they reached Plymouth. There they found a Wampanoag Indian village that had been abandoned due to some sort of plague. During the Winter of 1620-1621 they lived aboard the Mayflower and would row to shore each day to build houses. Finally, they had built enough houses to actually move to the colony, but the cold, damp conditions aboard the ship had been costly.
Some 28 men, 13 women (one of them in child birth), and 8 children died in that winter. Governor John Carver would die in April. His widow, Kathrine White Carver, would follow a few weeks later. There is some recent archaeological evidence suggesting that some of the dead were butchered and eaten by the survivors.
The Mayflower and her crew left for England on April 5, 1621, never to return.
About 40 of the Pilgrims were religious Separatists, members of a Puritan sect that had split from the Church of England, in defiance of English law. In 1609, they immigrated to Holland to practice their religion but ran into problems there too. Others in the group had remained part of the Church of England but were sympathetic to their Separatist friends. They did not call themselves Pilgrims, that term was adopted at the bicentennial for the Mayflower voyage. The members of core Separatist sect referred to themselves as "Saints" and people not in their sect as "Strangers."
In March 1621, an English speaking Native American, named Samoset, visited the Plymouth colony and asked for beer. He spent the night talking with the settlers and later introduced them to Squanto, who spoke even better English. Squanto introduced them to the chief of the Wampanoag, Massasoit.
Squanto moved in with the Pilgrims, serving as their advisor and translator. The friendly Wampanoag tribe taught the Pilgrims how to hunt and grow crops. The two groups began trading furs with each other.
William Bradford, a Separatist who helped draft the Mayflower Compact, became the longtime Plymouth Governor. He was also the writer of the first history of the Plymouth Colony and the Mayflower. Bradford's more notable descendants include author, dictionary writer and scholar Noah Webster; TV chef Julia Child; and Supreme Court Chief Justice William Rehnquist.
In the fall of 1621, 399 years ago, the Pilgrims invited their Wampanoag Indian friends to a feast celebrating their first harvest and a year in the New World with a three-day festival. This has become known as the first Thanksgiving.
Today is a national and state holiday. Schools, banks, government offices and many private businesses are closed.