By Bill Britt
Alabama Political Reporter
MONTGOMERY—As the State legislature heads into its 2015 session, the number 23 will be an important one to remember. Speaker of the House Mike Hubbard, (R-Auburn) will guide the legislative agenda even though he has been indicted by the State on 23 felony counts of pubic corruption.
When Hubbard pushes for charter schools, it will be important to remember that Count 10 of the 23 felony charges against him involves Edgenuity, Inc. and/or E2020, which, according to the company's profile, produces online course material that can be used at home or in the classroom.
The opening of charter schools around the State may very well prove to be a boom for the online course provider that paid Hubbard to lobby on its behalf.
Business Council of Alabama (BCA) has become the new power house behind Hubbard's agenda for the State, and now, serves in much the same capacity as the once powerful Alabama Education Association AEA.
In Count 22, Hubbard is accused of receiving "assistance with obtaining new clients for Auburn Network," from Billy Canary, the head of the Business Council of Alabama, (BCA). And in Count 23, Hubbard is charged with receiving assistance with obtaining new clients for Auburn Network and/or financial advice regarding Craftmaster Printers, from Will Brooke, Board Member of the Business Council of Alabama.
So, when a bill comes to the floor of the the House with the backing of BCA, legislators and concerned citizens should remember this extraordinary relationship with the man who holds the Speaker's gavel.
Any bill introduced that will favor any special interest or company with ties to the lobbying firm of Swatek, Azbell, Howe and Ross, (SAHR) should be looked at more than once. In Count 4, Hubbard is accused of using his office for obtaining personal gain through Tim Howe d/b/a The Howe Group, LLC and/or SRM Media and Advertising, LLC.
Swatek is named in Count 15, where Hubbard is charged with soliciting an investment in Craftmaster Printer. However, Swatek is not listed as giving Hubbard investments as did others. This has led to speculation that Swatek may have realized such an investment was illegal and offered the prosecution his cooperation.
It will still be of great interest to see which bills coming from the House are directly or indirectly linked to SAHR.
Medicaid is another issue that will come before the legislature this session, and Hubbard has been charged in Counts 5 and 6, with using his office and voting to secure an "exclusive" contract for American Pharmacy Cooperative Inc. (APCI), which would have given the company the right to be the sole provider for pharmacy benefits management under the State's Medicaid program.
Any Medicaid legislation will require close scrutiny for any trail that lead back to Hubbard.
Then, there is any legislation having to do with interest groups represented by former Gov. Bob Riley or his daughter Minda Riley Campbell, who are respectively in Counts 21-22.
Any legislation that is tied to Hubbard's "pro-business" agenda will require special examination because of his so-called business development deals, as mentioned in Counts 6 through 14.
As this legislative session opens, the State's website that displays the various pre-filed bill is broken. As of last week only 12 bills had been pre-filed in the House a small number by historical numbers. This has lead many political insiders to worry that Hubbard has more to hide than ever.
Of all the things that will necessitate constant vigilance, an interesting exercise will be to watch how many times the media follows any of his quote with, "who is under indictment on 23 felony counts of public corruption."
Opinion | Let's hope for Reed's success
Reed's temperament and style appear right for this moment in Alabama's history.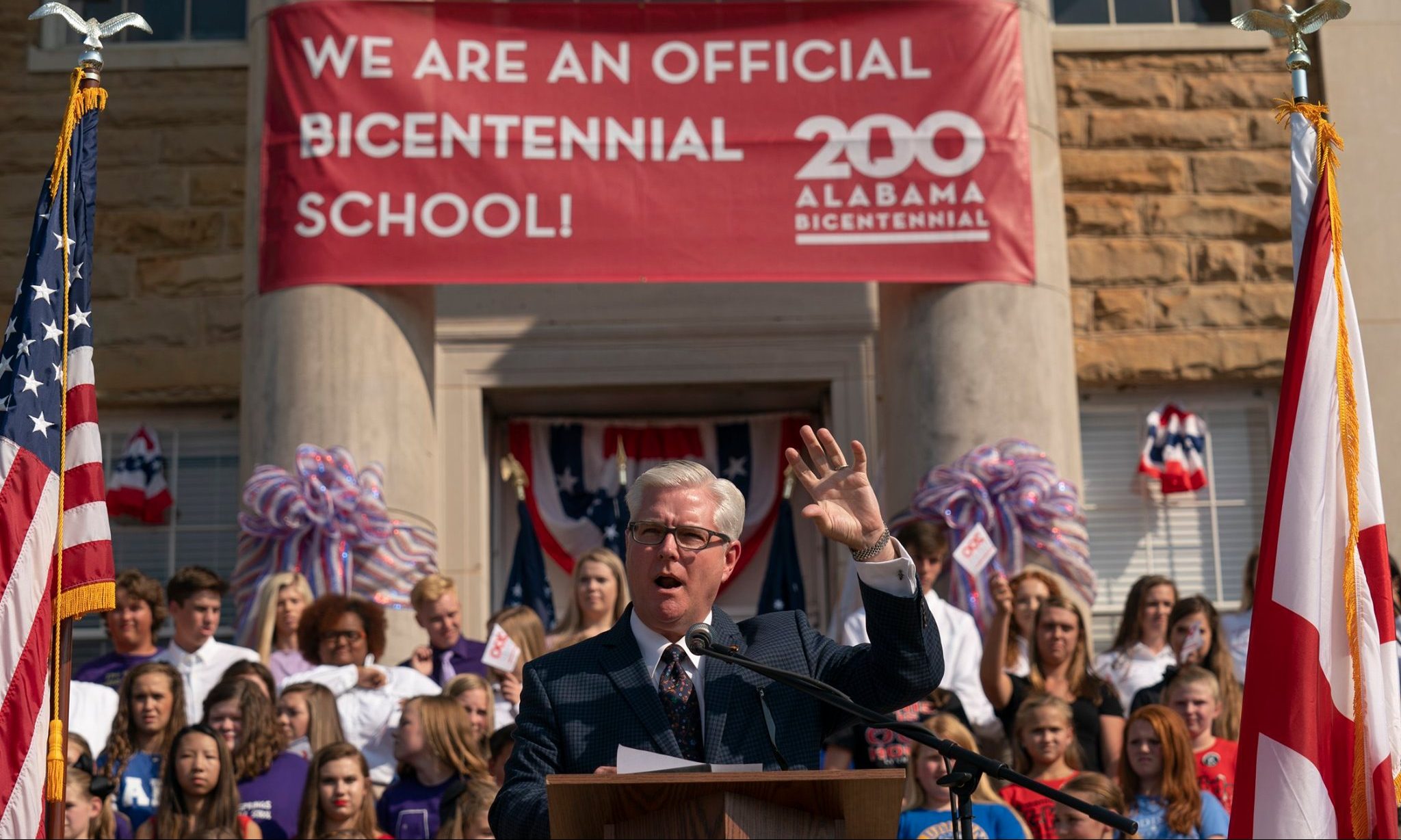 State Sen. Greg Reed, R-Jasper, will lead the Alabama Senate as president pro tem during the upcoming 2021 legislative session. What changes will Reed bring to the upper chamber, and how will his leadership differ from his predecessor? No one knows for sure.
Reed succeeds Sen. Del Marsh, who has served as president pro tem since Republicans took control of the Statehouse in 2010. Marsh, along with then-Gov. Bob Riley, current felon Mike Hubbard and ousted BCA Chair Billy Canary orchestrated the 2010 takeover that saw the Republican rise to dominance.
Reed, who won his Senate seat the same year, was not a charter member of the Republican ruling class, but he benefited from the power sift.
Mild-mannered and studious with a quiet charm, Reed has steadily ascended the ranks of Senate leadership. His silver hair and calm determination have served him well. Reed is a senatorial figure straight out of Hollywood's central casting.
In all, Reed is nearly universally liked and respected, which in the near term is a hopeful sign of potential success. But political leadership always comes with a warning: "Friends come and go, enemies accumulate."
Reed's relationship with Gov. Kay Ivey is certainly less contentious than Marsh's and gives rise to the belief that there will be greater cooperation between the executive and the Senate.
With the economy and public health under dire stress due to the ravages of COVID-19, legislative priorities are fixed: get people back to work and eradicate the coronavirus.
However, one of Reed's first tests will be whether he can cool the smoldering anger of those senators who still feel the sting of Ivey's rebuke over the allocation of CARES Act funds. He will also need to resist those who want to punish the administration over its use of public health statutes to implement mask mandates and other safety measures to prevent the deadly coronavirus spread.
Despite outward declarations of a unified body, the State Senate is a small, insular and unwieldy beast where egos loom large and consensus on policies is often tricky to achieve except on "red meat issues."
Building a coalition on policy in the Senate is often a combination of horse-trading, cajoling and carefully applied pressure. The way forward in the near term is exact: pass legislation that spurs economic recovery and mitigates the health crisis at hand.
But Reed will also simultaneously need to recognize what comes next for justice reform, prison construction, gambling and a myriad of other pressing issues. His job will be to understand the prevailing winds, which are evolutionary, not revolutionary.
As author Doris Kearns Goodwin noted in Lyndon Johnson and the American Dream: "For political leaders in a democracy are not revolutionaries or leaders of creative thought. The best of them are those who respond wisely to changes and movements already underway. The worst, the least successful, are those who respond badly or not at all, and those who misunderstand the direction of already visible change."
Reed's temperament and style appear right for this moment in Alabama's history.
As President Abraham Lincoln said, "If you want to test a man's character, give him power."
Let's all hope that Reed passes the test.