Palmer and Byrne Critical Of Deal With Iran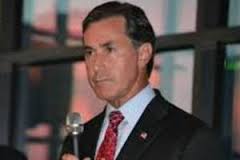 By Brandon Moseley
Alabama Political Reporter
On Monday, March 2, US Representatives Gary Palmer (R-Hoover) and Bradley Byrne (R-Montrose) issued statement in regards to Israeli Prime Minister Benjamin Netanyahu's speech before Congress and the impending Obama Administration deal with Iran on their nuclear ambitions.
Congressman Palmer said, "The diplomatic relationship between the United States and Israel is one of America's most important. This is based not just on common interests, but common values. Like America, Israel is democratic, guarantees religious freedom, and is governed by the rule of law. Like America, not only was Israel was born out of adversity, but on an idea."
Congressman Byrne said, "Tomorrow, Israeli Prime Minister Benjamin Netanyahu will come to this Chamber to share his perspective on the threats posed by a nuclear Iran. Some of my colleagues on the other side of the aisle have complained that the speech is somehow out of line or for political purposes only. They have pledged to boycott the event, and the Vice President has refused to attend."
Rep. Byrne continued, "I remain greatly disturbed by the way the Obama administration has treated Israel, our greatest and most important ally in the Middle East. I suspect the real reason the Obama administration is so opposed to Prime Minister Netanyahu's speech is because they are afraid of what he is going to say. They know he will speak the truth and that his statements will stand in direct contrast to what is being said by Secretary of State Kerry. Prime Minister Netanyahu won't hide the real issues. These nuclear talks threaten not only Israel but also the Middle East and the entire world."
Rep. Palmer said, "Unlike America, Israel is not bordered by two large oceans and two friendly neighbors. Instead, Israel has many hostile neighbors who wish to do it harm. Our friend and ally Israel faces a grave threat from the Islamic Republic of Iran, which has explicitly threatened to wipe Israel off the map and is aggressively pursuing the capability to carry out that threat. Threats to Israel's very existence are a daily reality."
Rep. Byrne said on the floor of Congress: "Mr. Speaker, I rise today to express my serious concerns about the ongoing Iran nuclear talks. Iran is no friend to the United States or our allies. Iran remains the foremost state sponsor of terrorism in the world. Iran has continued to develop Intercontinental Ballistic Missile technology, the only legitimate purpose of such technology is to deliver a nuclear payload."
Rep. Byrne continued, "Don't just take my word for it. Lieutenant General Vincent Stewart, the Director of the Defense Intelligence Agency recently wrote in his statement for the record to the House Armed Services Committee that 'The Islamic Republic of Iran continues to threaten US strategic interests in the Middle East. Iran's actions and policies are designed to further its goal of becoming the dominant regional power, as well as to enhance its strategic depth. Tehran views the United States as its most capable adversary and has fashioned its military strategy and doctrine accordingly.'"
Rep. Palmer said bluntly, "There is little hope for diplomacy with Iran succeeding, and any agreement that does not include Iran dismantling its nuclear program is futile. Negotiations are being used as tools by the militant Mullahs of Iran to hide their intentions and buy time. It is unfortunate that the Prime Minister's speech has become politicized, and some Democrats are boycotting the speech. Support for Israel is historically bipartisan, and it should remain as such. Even senior Democratic leaders, such as Sen. Bob Menendez, the ranking member of the Senate Foreign Relations Committee, have had profound differences with this Administration's approach to Iran. I urge those Democrats who are boycotting the speech to reconsider and show support for our ally Israel."
Rep. Byrne said, "Since they started in 2009, the negotiations with Iran have been marked by missed deadline after missed deadline. It seems like each time details of the deal are leaked to the press the United States is giving up more, whether it be the number of centrifuges or the length of the deal. Just last week Secretary of State John Kerry came before the House Foreign Affairs Committee and pleaded for more time and understanding as the State Department continues to hold talks about Iran's nuclear program. He asked us to sit silently while the details are negotiated in secret. He urged us to just trust him and his team."
Congressman Byrne said, "It's becoming increasingly hard to trust an administration that continually fails at these kinds of negotiations. Look at the Bergdahl deal when we gave away five high-level al-Qaeda officials. Look at the recent talks with Cuba in which the United States received very little while we released Cuban spies and pledged to open trade relations.  And we can't forget about President Obama telling Russian President Demitry Medvedev that he will have 'more flexibility' to deal with nuclear issues after the 2012 presidential elections – flexibility to deal with Vladimir Putin.  Far too often they give away the bank and we get very little in return."
Rep. Palmer concluded, "I look forward to hearing Prime Minister Netanyahu address colleagues on both sides of the isle concerning this grave threat. The friendship between Israel and America runs deep, and we must ensure it always will."
Rep. Byrne concluded, "Last summer I traveled to the Middle East with the Armed Services Committee. During that trip, we met with Prime Minister Netanyahu and he really impressed me. He has a clear vision and message about his country's defensive needs. And he is very determined to meet those needs. Israel is our strongest and most consistent ally in the region. We should listen to what they have to say."
Prime Minister Netanyahu will speak to the House on Tuesday. President Obama has refused to meet with the Prime Minister because he is worried about influencing the Israeli elections. President Obama's elections team is in Israel working for Netanyahu's opponents.
Gary Palmer represents Alabama's Sixth Congressional District.
Bradley Byrne represents Alabama's First Congressional District.
Justice Ginsburg's death will supercharge a heated 2020 campaign
The passing of one of the court's most liberal justices so close to the Nov. 3 general election has set off a political firestorm as to what president should pick the next justice — President Donald Trump or Joe Biden, should he defeat Trump in November.
Just hours after the death of 87-year-old Supreme Court Justice Ruth Bader Ginsburg on Friday, conservatives, including the Alabama-based Foundation for Moral Law, said Ginsburg's passing is an opportunity to reverse the ideological trend of the nation's highest court.
The passing of one of the court's most liberal justices so close to the Nov. 3 general election has set off a political firestorm as to what president should pick the next justice — President Donald Trump or Joe Biden, should he defeat Trump in November.
The controversy over when and how to confirm a new justice will likely supercharge an already heated 2020 election campaign. Trump was at a campaign rally on Friday night when he learned about the justice's death from reporters.
"Just died? Wow, I did not know that," Trump said. "She was an amazing woman. Whether you agreed or not she led an amazing life. She was an amazing woman. I am sad to hear that."
Ginsburg, since her appointment by President Bill Clinton, has been bastion of the court's more liberal wing. The court was divided with four "liberal" justices led by Ginsburg and four "conservative" justices led by Samuel Alito.
Chief Justice John Roberts, though appointed by President George W. Bush, has been the swing vote on a number of major issues since the retirement of Justice Anthony Kennedy in 2018. Her death gives Trump the opportunity to appoint her replacement and potentially shape the direction of the court for decades to come.
Conservatives want Trump to select the nominee and the current GOP-controlled Senate to confirm the Trump appointee.
The Foundation for Moral Law — a conservative legal group founded by former Alabama Chief Justice Roy Moore — released a statement saying that Ginsburg's passing is an opportunity to move the court in a more conservative direction.
"For many years United States Supreme Court has been a bastion for liberal anti-God ideology," Moore said. "The passing of Justice Ruth Bader Ginsberg will be an opportunity to reverse this trend. I'm hopeful that President Trump will immediately nominate a true conservative who understands that our rights come from God and no authority in this country can take those rights from us."
"This is a very critical time for our country and our future and the future of our posterity depends upon our vigilance and direction," Moore said.
Judicial Watch, another conservative legal group, echoed Moore's statement.
"Judicial Watch sends it condolences to the family of Justice Ruth Bader Ginsburg. She had a wonderful judicial temperament that will always be remembered," said Judicial Watch President Tom Fitton. "President Trump now has a historic opportunity to nominate yet another constitutional conservative who will honor the Constitution and the rule of law across the full spectrum of constitutional issues."
"And the U.S. Senate should move quickly to work with President Trump to consider and approve a new justice who will faithfully apply the U.S. Constitution," Fitton said. "There is no reason we cannot have a new justice by Election Day."
Trump is expected to put forth a nominee to fill Ginsburg's seat in the coming days, according to ABC News.
Senate Majority Leader Mitch McConnell, R-Kentucky, wrote in a statement that, "President Trump's nominee will receive a vote on the floor of the United States Senate."
But Democratic senators and Senate Minority Leader Chuck Schumer, D-New York, disagree.
"The American people should have a voice in the selection of their next Supreme Court Justice," Schumer wrote on social media Friday, parroting a similar quote McConnell used in 2016 when he refused to give then-President Barack Obama's nominee, Merrick Garland, hearings and a vote for confirmation to the court. "Therefore, this vacancy should not be filled until we have a new president."
Republicans in the Senate blocked Obama from selecting Justice Antonin Scalia's replacement. Scalia was the most conservative jurist on the court.
Ginsburg was a staunch supporter of abortion rights and voter protections, and she played a major role in upholding Roe v. Wade, the Supreme Court decision protecting abortion rights. She also voted in favor of same-sex marriage and to uphold the constitutionality of the Affordable Care Act.
Most political observers expect Trump to appoint a woman to fill Ginsburg's spot. Political insiders have suggested that Trump believes that appointing a woman to the court could help him with woman, a key swing demographic that will likely decide the next election.
Will the Senate confirm Trump's appointment before the election or wait until after the public votes? If Republicans lose control of the Senate, could a lame duck GOP majority select the direction of the court on their way out?
Alabama Sen. Doug Jones has been widely criticized for his vote against the confirmation of Justice Brett Kavanaugh. If the vote comes before the Nov. 3 election, Jones's decision on whether to confirm Trump's appointee will be heavily scrutinized.
The questions about the Supreme Court is likely to only further inflame passions on both sides this election cycle.