Worley and Knight Reflect on Selma March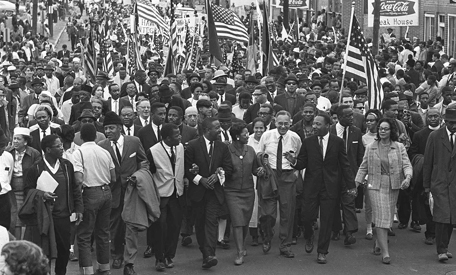 By Brandon Moseley
Alabama Political Reporter
On Saturday, March 7, Alabama Democratic Party Chairwoman Nancy Worley and Alabama Legislative Black Caucus Chair State Representative John Knight (D-Montgomery) both released statements on the 50th Anniversary of "Bloody Sunday" in Selma where peaceful voting rights marchers were attacked by Alabama State Troopers, local police, and a white mob.
Chairwoman Worley said, "Fifty years ago, those who marched in Selma changed our nation and made the dream of racial equality and civil rights become a reality. But as we take time today to remember their sacrifices and the battle they won, we must also acknowledge the fight that continues to undermine what they achieved and re-segregate our nation and our State."
State Representative John Knight said, "Today, our nation's eyes are turned on Selma as we celebrate the 50th anniversary of the march that changed our nation. But it is ironic that as we come here to celebrate civil rights, there are battles still being waged all over this country to undo the very rights we fought for and won on that bridge 50 years ago. So while we take time today to remember the past and the victories we won, we must also remember that we are still fighting the same fight today in legislatures and courtrooms throughout the country and at the highest levels of government. We must stand up and fight the attempts to re-segregate our State and our country, and win back the rights we fought so hard for and have watched in recent years be stripped away from us once again."
Ms. Worley continued, "The attacks on voting rights are still very real, and are being fought in legislatures and courtrooms throughout the country. From the US Supreme Court's decision to gut the Voting Rights Act in Shelby County v. Holder, to legislation restricting the ability for American citizens to vote, it is clear we are losing the ground we fought so hard to gain."
The ALDEM Chairwoman concluded, "So today is not just a celebration of what we achieved in the past. It is also a call for revival! It is a call to action! The fight for equality and civil rights is not over. We must pick up the torch from those who marched in Selma and continue the fight for equality for all Americans."
Nancy Worley is the Chairwoman of the Alabama Democratic Party. She spent more than 25 years working as an educator in the Decatur public school system.  She is also a former Alabama Secretary of State and is the former President of the Alabama Education Association (AEA). Worley defeated state Representative Dave Thomas (R-Springville) in 2002 to win the Secretary of State's office.
In 1965, voting rights marchers attempted to march from Selma to Montgomery. They were met by Alabama State Troopers who brutally attacked them on the Edmund Pettus Bridge in Selma on March 7, 1965. This day, now known as Bloody Sunday, was the first of three planned, peaceful protests from Selma to Montgomery. Undeterred Dr. Martin Luther King came to Alabama with nearly 2,500 Foot Soldiers just two days later on March 9, 1965, now known as "Turnaround Tuesday." An estimated 8,000 Foot Soldiers left Selma on March 21, 1965, and successfully marched to Montgomery to peacefully protest restrictive voting laws that prevented Blacks from voting in the South.
Rep. John Knight was elected to the state House of Representatives in 1992, and elected Chair of the House Black Caucus in 2014. He was also the longtime Executive Vice President at Alabama State University (ASU) in Montgomery until his position was eliminated in a recent reorganization of the administrative structure at the Historically Black University.
Worley replaced former Alabama Democratic Party Chairman Mark Kennedy after he resigned to start the Alabama Democratic Majority (ADM). No Democrat has won a statewide elected office in Alabama since 2008.
Alabama hospitals nearing COVID-19 summer surge levels
Wednesday was the 18th straight day with more than 1,000 people in hospitals in Alabama with COVID-19. 
Alabama hospitals reported caring for 1,483 people infected with COVID-19 on Wednesday, the highest number of patients since Aug. 11, when the state was enduring its summer surge. Wednesday was also the 18th straight day with more than 1,000 people in hospitals in Alabama with COVID-19. 
The seven-day average of hospitalizations was 1,370 on Wednesday, the 36th straight day of that average rising. The Alabama Department of Public Health reported 2,453 new cases Wednesday. The 14-day average of new cases was — for the eighth day in a row — at a record high of 2,192. 
Across the country, more than 80,000 people were hospitalized for COVID-19 on Tuesday, a record high and the 15th straight day of record hospitalizations nationwide, according to the COVID Tracking Project, a coronavirus tracking website.
The CDC this week recommended people not travel for Thanksgiving to help prevent the spread of coronavirus. 
"The only way for us to successfully get through this pandemic is if we work together," said Dr. Kierstin Kennedy, UAB's chief of hospital medicine, in a message Tuesday. "There's no one subset of the community that's going to be able to carry the weight of this pandemic and so we all have to take part in wearing our masks, keeping our distance, making sure that we're washing our hands." 
Kennedy said the best way she can describe the current situation is "Russian Roulette." 
"Not only in the form of, maybe you get it and you don't get sick or maybe you get it and you end up in the ICU," Kennedy said, "but if you do end up sick, are you going to get to the hospital at a time when we've got capacity, and we've got enough people to take care of you? And that is a scary thought." 
The Alabama Department of Public Health on Wednesday reported an increase of 60 confirmed and probable COVID-19 deaths. Deaths take time to confirm and the date a death is reported does not necessarily reflect the date on which the individual died. At least 23 of those deaths occurred in November, and 30 occurred in other months. Seven were undated. Data for the last two to three weeks are incomplete.
As of Wednesday, at least 3,532 Alabamians have died of COVID-19, according to the Department of Public Health. During November, at least 195 people have died in Alabama from COVID-19. But ADPH is sure to add more to the month's tally in the weeks to come as data becomes more complete.
ADPH on Wednesday announced a change that nearly doubled the department's estimate of people who have recovered from COVID-19, bringing that figure up to 161,946. That change also alters APR's estimates of how many cases are considered active.
ADPH's Infectious Disease and Outbreak team "updated some parameters" in the department's Alabama NEDSS Base Surveillance System, which resulted in the increase, the department said.