Charter Schools Are Coming
By Bill Britt
Alabama Political Reporter
MONTGOMERY—For years, State Republicans have touted Charter schools as the cure all for education. But, is it really the silver bullet that will fix the system, just another way for the elites to make money, or a mixed bag of both?
In a press release announcing legislation to create charter schools in the State, Republican Senate President Pro Tempore Del Marsh admits it is not a cure all or a silver bullet, but gives "community leaders another tool in their belt, ensures that no child's dreams are limited by a lack of educational opportunities."
Marsh does not define "community leaders," but presumably, these are educators and not the many out-of-state-funded pro-school-choice advocacy groups who have recruited local opinion makers.
Marsh is the sponsor of SB45 which will establish charter schools throughout the State. The bill allows for 50 new charter schools to open over the next five years, with an unlimited number of public schools to convert to charter at anytime.
Recent revelations about Speaker Mike Hubbard's lucrative contracts and ties to lobbyists who represent companies who produce charter schools have cast doubt over the process. Hubbard, who is charged by the State with 23 felony counts of public corruption, received $7500 a month to promote one such company without publicly revealing that information.
During the one-hour public hearing before passage of the charter school bill, the State's Superintendents Association spoke in opposition to the bill as well as the Jefferson County Teachers Association and the Alabama Association of School Boards. Also Anita Gibson, President of the Alabama Education Association (AEA, spoke against the measure.)
Prominent among those who spoke promoting the passage of the legislation were the Business Council of Alabama (BCA) and its education arm Business Education Alliance (BEA).
Marsh said that all the stakeholders were consulted in writing the bill,but that the public hearing showed several of the organizations closest to education were not in favor of the bill's passage. Even groups affiliated with the conservative Tea Party movement have rejected the bill on charter schools, noting the alignment of charters and Common Core.
State school superintendents were left out of the debate in the passage of the Alabama Accountability Act in 2013, and now their voices are not going to be heard in the charter school discussion.
David W. Hornbeck, who served as Maryland's State Superintendent of Schools from 1976 to 1988 and Philadelphia's Superintendent from 1994 to 2000 recently wrote, "As Philadelphia's Superintendent of Schools, I recommended the approval of more than 30 charter schools because I thought it would improve educational opportunity for our 215,000 students. The last 20 years make it clear. I was wrong."
Marsh stated, because Alabama is late in establishing charter schools, his legislation has taken the "high points from those states in terms of accountability, transparency and performance." Marsh said the SB45 took the best from the best in its creation.
However, Hornbeck says, "States with 'stronger' charter laws are not doing better." He also says that in cities like Philadelphia (where Pennsylvania's charter law is in the higher rankings) "charter growth is contributing significantly to a funding crisis that includes draconian cuts to teachers, nurses, arts, music and counselors."
Here, Hornbeck expresses some of the concerns shared by Alabama's Superintendents.
Beyond the fear that charter schools will undermine current public schools is the ever present fact that big money is involved in the creation and founding of charters.
Del Stover, writing for the American School Board Journal states, "many may not be aware of just how much private money is being spent to promote charters—or how that money is being put to use."
Over the last few years, hundreds of thousands of out-of-state dollars have flowed into the State to fund legislative campaigns as well as advocacy groups promoting the benefits of charters.
One such group is the Alabama Coalition for Public Charter Schools which operates the website: alabamapubliccharterschools.org
It is closely associated the BCA and has Jason Isbell, a former staffer for Speaker Hubbard, on the board.
Isbell was involved in Hubbard's efforts to place the 23 words into the State's Medicaid budget which would have given Hubbard's client, American Pharmacy Cooperative Inc. (APCI), a virtual monopoly over the program's pharmacy management benefits plan.
The charter school advocacy group is also represented by the lobbying firm Swatek, Azbell, Howe and Ross (SAHR), two of the firms principals, Dax Swatek and Tim Howe are mentioned in the indictments of Hubbard on 23 felony counts of public corruption. Another owner, John Ross, is referred to in court filings as having directed money at Hubbard request, as part of what the State describes as an alleged scheme to pass money from the ALGOP to Howe's companies and then back to Hubbard's business interest.
Stover writes, "Today, private money is being spent in an effort to reshape the face of public education and, by default, to affect your work as a local school leader."
But, in Alabama, few seem to be aware of the close ties between big business, high finance and Republican leaders.
From hedge fund managers, to real estate tycoons, charter schools are offering a stable return on investments and millions are being spent on state elections that ensure politicos stay on point and keep hammering the message of chapter school expansion.
Writing for RawStory, Laurie Levy points out 5 facts about Charter schools:
1. There is no data that supports the idea that charter schools are superior to public schools.
2. Unlike public schools, charters can pick and choose their students. Children with special needs are not chosen.
3. Children who are better resourced with more family support are the winners in the school choice game.
4. It's family income, stupid.
5. Public schools, in some communities, are doing just fine.
Marsh says he wants to make Alabama's Charter schools the best in the Nation.
For now, education professionals will just have to take his word.
CORRECTION: In an earlier version of this story AEA was identified as being absent from the charter school public hearing. The list this publication was given of those speaking in opposition to the bill was incomplete. We are sorry for the error.
"A tidal wave:" ICU beds scarce as Alabama breaks another hospitalization record
Infectious diseases experts worry if hospitals will have enough staff to handle "what might be a tidal wave of patients in the next month."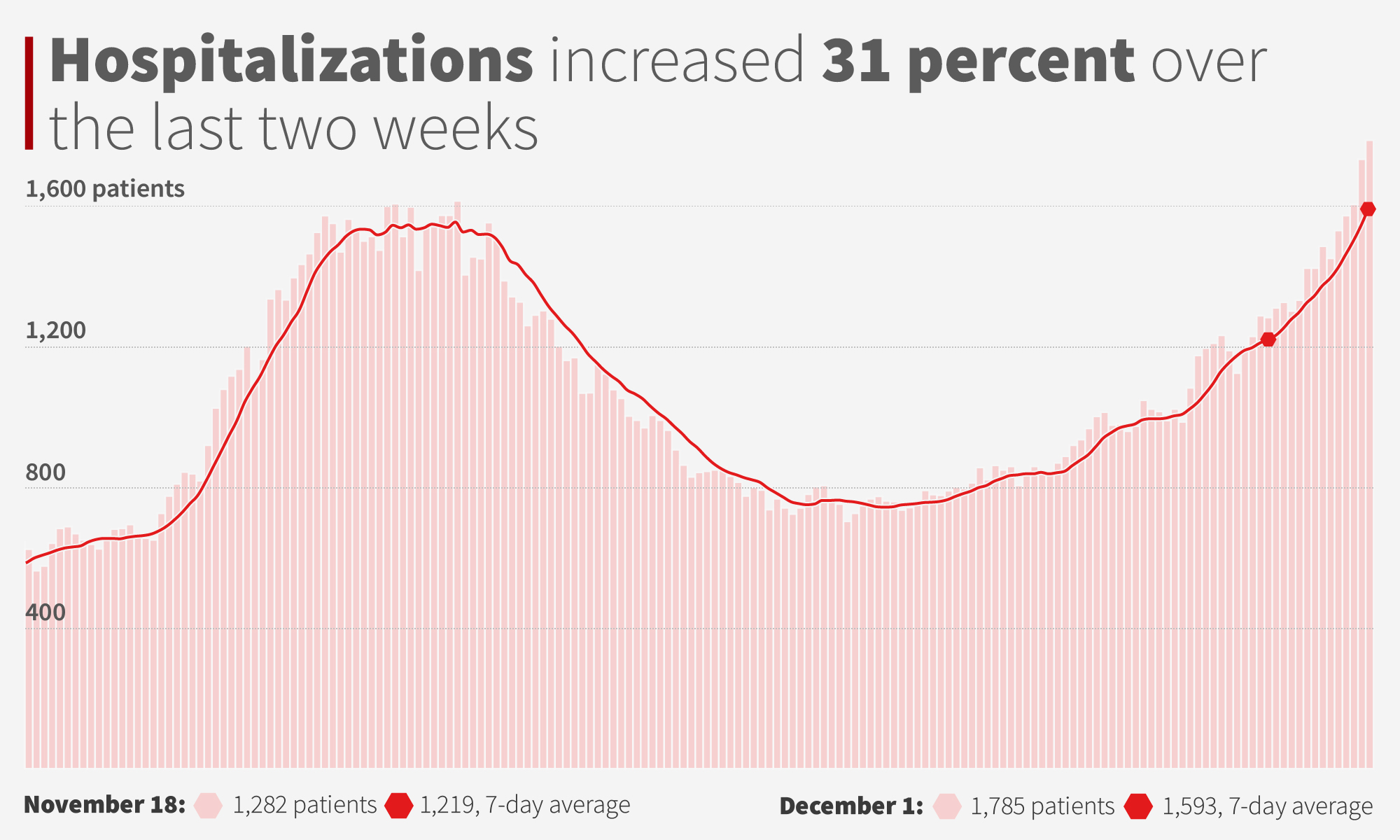 There were no intensive care beds available in Mobile County on Tuesday, the second day in a row Alabama set a record for hospitalized COVID-19 patients, and if models hold up, there could soon be the need to set up temporary medical facilities outside of hospitals, according to a UAB infectious disease expert. 
Dr. Jeanna Marrazzo, director of UAB's Division of Infectious Diseases, told reporters on Tuesday that looking at some models that forecast what might happen in the three weeks after Thanksgiving "you could conceivably see a true need for setting up ancillary care places in three weeks." 
"I hope that doesn't happen. Are we looking at the kind of situation that New York City experienced in March? A lot depends on what happened over Thanksgiving weekend," Marrazzo said, referring to the use of tent hospitals in New York City during the early spring surge there that overran hospitals. 
UAB had a record high 125 COVID-19 patients hospitalized on Monday and Tuesday, and Huntsville Hospital also set a new record Tuesday, with 317 hospitalized. There was a record high 1,785 COVID-19 hospitalizations statewide on Tuesday, and on Monday there had never been fewer intensive care beds available in the state. 
Marrazzo said the health care workforce continues to work valiantly and are "struggling very hard." What keeps her up at night, she said, is worrying if hospitals will have enough staff to handle "what might be a tidal wave of patients in the next month." 
"It may not look like we can affect what's going to happen in two to three weeks, post-Thanksgiving, but we can impact what happens around Christmas time and after that," Marrazzo said. 
The death toll from COVID-19 continues to increase across most of the country, Marrazzo said. On average, the U.S. is seeing between 1,400 and 1,600 people lose their lives to coronavirus each day, she said. In Alabama, at least 3,638 people have died from COVID-19.
Alabama reported an additional 60 deaths on Tuesday and has averaged at least 24 deaths reported each day over the last two weeks.
Each morning, Marrazzo gets a list of those admitted to UAB for COVID-19, those discharged and those coronavirus patients who have died. Not a day goes by when there isn't one name on that list of someone who didn't make it, she said. 
"And I think about that person, and I think about their family," Marrazzo said. "And unfortunately those numbers, as I mentioned before, are going up, and the balance of people being admitted is higher than the number of people who are being discharged." 
Alabama added 3,376 cases on Tuesday, which was the largest single-day case increase, excluding when on Oct. 23 ADPH added older backlogged test results. Tuesday's high number was the product of a delay in reporting to ADPH due to the holiday weekend, the department said in a data note. 
Still, Alabama's case count continues to increase alarmingly and testing is still down, Marrazzo explained. The state's 14-day average of new daily cases on Tuesday was at 2,289. That's a 28 percent increase from just two weeks ago. 
"This is a really, really scary inflection point, "Marrazzo said, "and I don't think that we are going to be able to turn it around without experiencing some more stress and some more pain." 
The positivity rate in Alabama over the last week has been an average of 32 percent, more than five times as high as public health experts say it should be to ensure there are enough tests and cases aren't going undetected. 
"If we would test more we would probably find more, so I think these numbers are an underestimate," Marrazzo said. 
Asked what has gone wrong, that even with the knowledge of how people can protect themselves — wearing masks, practicing social distancing and staying home as much as possible — we're still seeing huge spikes, Marrazzo described a complicated set of circumstances. 
"Is it because they don't believe it's going to affect them?" she asked. 
At first, COVID-19 was something happening in China, and then it moved closer to home, Marrazzo explained. Next, it became a question of "well, it's older people who are getting sick," and there was a sense of invulnerability among the young, who thought they'd be fine and that they wouldn't infect others, she said. 
"And then I think even for people who have been trying to be good there's a huge amount of fatigue," Marrazzo said. Even health care workers become worn down, and may take risks they know they shouldn't and become infected in their own communities, she said. 
"I think we've been hammering it home, but I also think in some ways, we need to do it in a way that's sympathetic and not angry," she said. "Because yeah, I'm pretty upset about what's going to happen in the next couple of weeks, but getting angry with people and shaming them is not the answer at this point, so I think all we can do is to continue to report on the facts."