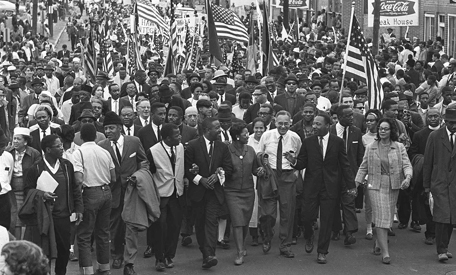 By Brandon Moseley
Alabama Political Reporter
Over 80,000 people from across the country, including 2 Presidents and 98 members of the US Congress, were in Selma over the weekend to honor those brave souls who made the march from Selma to Montgomery 50 years ago. Presidents George W. Bush and Barack H. Obama were there along with their First Ladies, Laura and Michelle.
US Representative Terri Sewell (D-Selma) said, "Words can't describe the emotions I felt as we marched across the Edmund Pettus Bridge yesterday…we owe a tremendous debt of gratitude to those who had the courage to take those steps 50 years ago! They changed the world!"
Alabama Republican Party Chairwoman Terry M. Lathan said in a statement, "A night I'll never forget: at the Selma 50th Anniversary dinner with Civil Rights icon Rep. John Lewis; GOP US Sen. Tim Scott (SC) and US Sen. Susan Collins (Maine); my friend and Congressman Bradley Byrne; and 2 young men with different career paths-one applying for the military academy and one a stand-up comic, both high school students planning their futures. Love will build a bridge…many thanks to Congresswoman Martha Roby with Rebecca Byrne."
President Obama said in his speech on Saturday, "There are places, and moments in America where this nation's destiny has been decided. Many are sites of war – Concord and Lexington, Appomattox and Gettysburg. Others are sites that symbolize the daring of America's character – Independence Hall and Seneca Falls, Kitty Hawk and Cape Canaveral. Selma is such a place."
Governor Robert Bentley thanked Congressman John Lewis (D-Georgia) and the faith and politics staff for their hard work in putting on the annual "Faith and Politics" pilgrimages to Selma. Bentley praised Lewis for that day 50 years ago when, "He led 600 men and women across that Edmund Pettus Bridge." Bentley standing on the Capital steps in Montgomery said that it is hard to imagine that we are standing on this very place where Dr. Martin Luther King Jr. gave his "How long?" speech.
Congressman Bradley Byrne (R-Montrose) said, "Rebecca and I had such a special day in Selma as we commemorated the 50th Anniversary of the Selma to Montgomery marches. I was happy to show the nation how far Alabama has come and honor the courage of so many who helped us get to where we are today."
State Senator Hank Sanders (D) said in a recent column, "Selma became a symbol of struggle for voting rights. Others all over the world drew inspiration and strength from the Selma Struggle and Selma Victory. Selma sowed the voting rights seeds but did not reap the fruits. The fruits were reaped near and far but not by Selma." Sen. Sanders is calling for a "harvest time" for the people of Selma to actually benefit from it's contribution to civil rights.
Congressman Gary Palmer (R-Hoover) said in a statement, "The events in Selma 50 years ago showed America at both its best and at its worst. Yet ultimately, it was the best of America that triumphed. Men and women of all races stood up, against scorn, intimidation, and violence to uphold the truth of an idea that was laid out by America's founders in the Declaration of Independence, 'that all men are created equal, and endowed by their creator with certain unalienable rights.' It was for those rights, enshrined in our founding documents but not fully realized, that they marched. It was only with faith in God and in solidarity with one another, they were eventually victorious in helping to realize Dr. Martin Luther King's dream that people are judged, not by the color of their skin, but by the content of their character. We honor those men and women who marched as we continue to strive to live the ideals expressed both in the Declaration and so eloquently by Dr. King."
Alabama Republican Party Secretary Lynn Mitchell Robinson said on Facebook, "I loved being in Selma with my Molly and Jeb to honor those who suffered/sacrificed for their rights and freedoms. Wonderful to join hands with strangers and say prayers, sing hymns before crossing Edmund Pettus Bridge. I'm thankful for unifying love of Our Father and that we could just be there and experience it."
State Senator Linda Coleman, "We pause to remember Selma, the events that occurred on Bloody Sunday and those who were beaten, maimed, and made the ultimate sacrifice. We pause to remember and say a prayer of thanks for the brave clergy, and our Caucasian brothers and sisters who were so moved to risk their own lives, leave their families and stand with their brown and black brothers and sisters in solidarity; some gave the ultimate sacrifice, to stand against human injustice in their resolve in reminding us all that injustice to one is an injustice to all. We pause to say a prayer for those who gave so much that we are here today to serve, work and to continue to carry the torch to light the path for those who will come. Please, let Selma not just be a memory."
Former President George W. Bush said on Facebook, "In Selma, Alabama, commemorating the 50th anniversary of Bloody Sunday – a seminal date in the history of human rights and dignity."
Democratic Party Whip in the US Congress Steny Hoyer (D-Maryland) said, "Today I laid a wreath with my House colleagues and Juanita Abernathy at the civil rights memorial in Montgomery, Alabama to honor the brave men and women who fought for equal rights fifty years ago. We should continue to honor them and their legacy by working to protect equal access to the ballot box for all Americans."
Jones urges public to heed surging COVID-19 cases, hospitalizations
U.S. Sen. Doug Jones, D-Alabama, on Thursday pleaded with the public to take COVID-19 seriously, especially now, as reopening of schools and Fourth of July celebrations near. Meanwhile, the state continues to see record numbers of new cases and hospitalizations. 
Alabama on Thursday saw a fourth straight day for record-high COVID-19 hospitalizations — and a record number of newly reported COVID-19 cases, when taking into account data collection problems that inflated Monday's total.
As of Thursday afternoon, 843 people were being treated in Alabama hospitals for COVID-19, according to the state health department. That number is an increase of nearly 22 percent over this time last week, and a near 40 percent increase compared to the beginning of June.
At least "961 of our neighbors and family members have lost their lives to COVID-19, and we need to be cognizant of that as well, as those numbers continue to grow," Jones said during a press briefing Thursday, also noting that over the last 14 days Alabama has seen 11,091 new cases of the virus, which is 28 percent of all the state's COVID-19 cases. 
Jones said that while we're testing more people in recent weeks, The Alabama Department of Public Health's statistics show that a greater percentage of the tests are coming back positive.
Based on a seven-day average, roughly 14 percent of the tests conducted in the state are now coming back positive. Public health experts believe that such a high percentage of positives is a sign that there continues to be community spread of the virus, and that there still isn't enough testing being done. 
Jones said he's concerned, too, about the timing of the surge in new cases, coming in the weeks after Gov. Kay Ivey lifted her more rigorous restrictions and after Memorial Day celebrations.  
"People did not seem to get the message about social distancing and wearing masks, and we are seeing these numbers increase and increase and increase," Jones said. 
Jones noted the state's long lines for people seeking help with their unemployment applications, some even camping out overnight to get that help, and said he's written a letter to Senate leadership asking for federal funding to state departments of labor to better service those in need. 
The senator also discussed Oklahoma's recent expansion of Medicaid, and said that the action made clear state leaders there understand that during the pandemic they needed to get all the help they can to their fellow citizens. 
"It is my hope that Alabama will also do likewise. We continue to see a rise in the number of people that could benefit from expanded Medicaid," Jones said, adding that he's still working to get another round of incentives to states to encourage expansion of Medicaid. 
Asked if there would be another round of stimulus checks sent to individuals, Jones said "maybe." 
Jones said the next round of COVID-19 legislation is being drafted behind closed doors by Sen. Mitch McConnell, the Republican Senate majority leader from Kentucky, and that it's uncertain whether more direct payments to individuals will be included in the final bills. 
"I've heard mixed messages coming out of the administration and Senator McConnell's office," Jones said, adding that he's for the additional payments and thinks it will be needed going forward. 
Montgomery Mayor Steven Reed, speaking during the press conference, said the Montgomery City Council could take up at the next council meeting a measure that would place guidelines on businesses within the city to be held accountable for helping enforce the city's mask ordinance for the public. 
In the absence of a statewide mask order, local governments have been instituting their own in recent weeks. Wearing masks, staying home when at all possible and maintaining social distancing when one can't are the best ways to reduce spread of the virus, public health experts say.
Montgomery currently has a mask order in place, which carries the possibility of a $25 fine for individuals not following the order. 
Reed said at the next meeting, council members may deliberate on a measure to require businesses help ensure the public adheres to the mask order or face possible suspension of their business license "for a couple of weeks, so that is yet to be voted on, and we will look at that." 
Reed said that the point of the city's mask order isn't to fine people, however, but to encourage them to wear masks and help save lives. He noted that Montgomery's mask order has been followed by similar orders in Mobile and Selma, as local municipalities make independent decisions to protect their fellow citizens.