Strange Opposes Motion To Order Same-Sex Marriage Across Alabama
By Brandon Moseley
Alabama Political Reporter
Monday, March 9, 2015, Alabama Attorney General Luther Strange (R) asked the Mobile federal court to reject a request by LGBT rights groups to, "Suddenly change a same-sex marriage lawsuit that already has been ruled upon, urging the Court not to allow the case to be certified as a class action that would force all of Alabama's 68 probate judges to grant same-sex marriage licenses."
Attorney General Strange called upon US District Judge Callie Granade to deny a motion filed by plaintiffs in the case of Strawser and Humphrey v. Strange. The Attorney General asked the Court to take no further action until the US Supreme Court rules on the issue of same-sex marriage in June.
AG Strange wrote, "When this court enjoined Attorney General Strange from enforcing Alabama's marriage laws to the extent those laws prohibited 'same-sex marriage,' Attorney General Strange immediately moved for a stay…Among other grounds, Attorney General Strange argued that a fundamental redefinition of marriage in Alabama without the benefit of full appellate review would lead to chaos, confusion, and additional litigation that could be avoided if the Court's orders were simply stayed a few months until the United States Supreme Court resolved the issue."
AG Strange noted that this is exactly what has happened.
"Since then, the number and rate of developments has been dizzying as officials came to different conclusions about their legal obligations and as parties tried to intervene in the initial cases and bring other officials under the Court's injunction," Strange said.
The conservative Alabama Attorney General wrote, "The Court should not further undermine the relationship between the state and federal courts by granting Plaintiffs leave to drastically change the nature of this case at this late date. Granting the relief the Plaintiffs seek will only add to all the chaos and confusion in Alabama, and will only increase the tension between the state and federal courts."
Stange concludes, "The only wise and judicious course of action is to deny the motion to amend and wait until June when the United States Supreme Court will resolve the constitutionality of same sex marriage in a way that will be binding on all federal judges and all state officials."
Under a 7 to 1 order from the Alabama Supreme Court homosexual marriages have been halted across the state, except in Mobile County where Judge Granade specifically ordered Judge Davis to grant the controversial licenses. Judge Davis has since halted issuing marriage licenses, while his court and legal counsel evaluate the Alabama Supreme Court opinion.
The Court wrote, "As it has done for approximately two centuries, Alabama law allows for "marriage" between only one man and one woman. Alabama probate judges have a ministerial duty not to issue any marriage license contrary to this law. Nothing in the United States Constitution alters or overrides this duty." No Probate Judges offices in the history of Alabama ever granted marriage licenses until Judge Granade ruled in January that Alabama's definition of marriage was unconstitutional.
The Alabama Supreme Court intervened after conservative Alabama Policy Institute (API) along with the Alabama Citizens Action Program (ACAP) filed an emergency petition requesting that the Alabama Court issue an emergency clarification on the latter.  API wrote, "The ongoing confusion caused by the federal court's action in January needed to be clarified in a formal opinion by the State's highest court and the Alabama Policy Institute was well-suited to pursue such a remedy. This decision by the Alabama Supreme Court finally, in the words of Justice Scalia, gives the people of Alabama the respect that they deserve by preserving our law until the U.S. Supreme Court resolves the issue. The sanctity of marriage–an institute that has always been reserved for the states–is a cause worth fighting for, for as long as the States still have their rightful say in the matter."
Gay Rights groups have asked Judge Granade to toss aside the Alabama State Supreme Court ruling under the legal concept that federal courts take precedence over state courts. A concept that Alabama Chief Justice Roy Moore (R) has repeatedly stated his disagreement with.
The Legal Director of Americans United, Ayesha N Khan wrote, "If Alabama officials thought we were going to sit back and allow them to deny same-sex couples their constitutional right to marry, they thought wrong. We are going to fight for these couples."
The Executive Director of ACLU Alabama wrote, "Alabama needs to be on the right side of history. Marriage equality is coming to all 50 states. We will not give up the fight until marriage equality exists for all."
The deputy legal director of the Southern Poverty Law Center, David Dinelli said. "Fair-minded people of Alabama don't want obstruction. They want progress. Couples in all 67 counties of this state should have the freedom to marry. The United States Constitution protects all of us, including those in Alabama, no matter the opinion of the Alabama Supreme Court. Marriage equality has taken hold in Alabama. We promise you that we are not going back and we are not leaving anyone behind."
NCLR Legal Director Shannon Minter agreed: "Alabama couples deserve the security and protection that marriage provides. We hope that the court will act quickly to provide certainty to couples throughout the state and establish once and for all that Alabama's same-sex couples have the freedom to marry."
The groups on Monday filed a motion asking Judge Granade to order the probate judges to comply and issue the same-sex marriage licenses even though there is no precedent for same-sex marriage in Alabama legal history…until Judge Granade's January ruling.
Sessions says Alabama doesn't take orders from Washington after Trump inserts himself in race again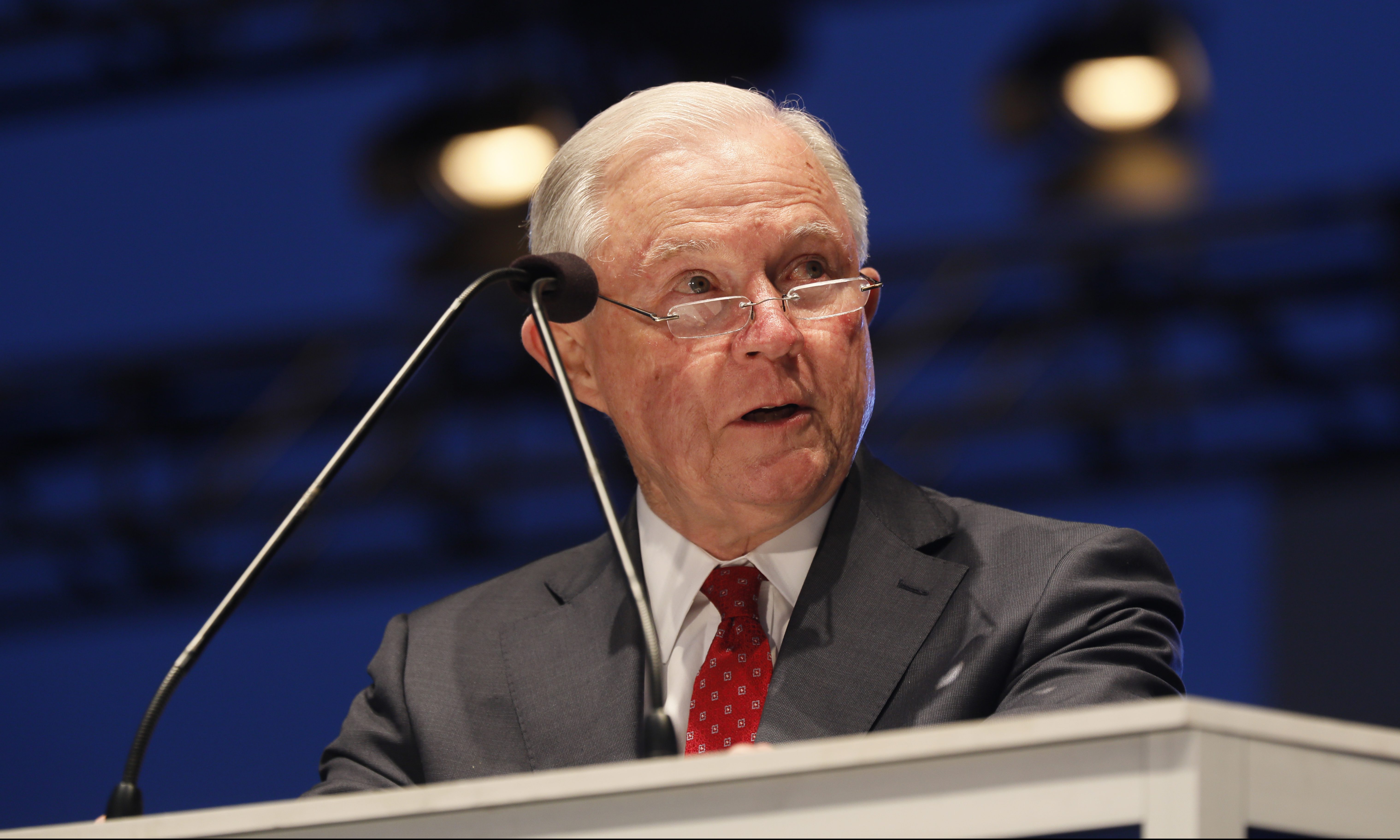 GOP Senate candidate and former Sen. Jeff Sessions, R-Alabama, released a statement pushing back against President Donald Trump's endorsement of his opponent, former Auburn coach Tommy Tuberville, in which he said "Alabama does not take orders from Washington."
The blunt comments were in response to a Twitter post from Trump once again inserting himself in the Alabama Senate race.
"I've taken the road less travelled," Sessions said. "Not sought fame or fortune. My honor and integrity are far more important than these juvenile insults. Your scandal ridden candidate is too cowardly to debate. As you know, Alabama does not take orders from Washington."
This was after Trump tweeted, "Big Senate Race in Alabama on Tuesday. Vote for @TTuberville, he is a winner who will never let you down. Jeff Sessions is a disaster who has let us all down. We don't want him back in Washington!"
Trump has called his decision to appoint Sessions as U.S. attorney general his "biggest mistake" as president.
The rift between the two former friends began in 2017 when Sessions, newly appointed as attorney general, recused himself from the Russian collusion investigation. Sessions has steadfastly defended the decision and continues to maintain that he was forbidden by U.S. Department of Justice policy forbidding anyone who was part of a campaign from investigating that campaign.
Sessions was the first U.S. senator to endorse Trump in the 2016 presidential election and worked tirelessly throughout 2016 as a surrogate for the Trump campaign.
Sessions maintains that had he not recused himself from the Russian collusion investigation things would have gone worse for Trump. As it was, his duties in the matter fell on fellow Trump appointee Rod Rosenstein, who appointed former FBI director Robert Mueller as special counsel.
The special counsel investigation successfully prosecuted a number of close Trump associates for various failings in their personal and professional lives, but ultimately never was able to indict the president or a member of the Trump family, and it never was able to produce tangible evidence that the 2016 Trump campaign was involved in collusion with Russian intelligence agencies to defeat former Secretary of State Hillary Clinton in 2016.
Sessions is running for the Senate seat he gave up to be attorney general.
Tuberville has been avoiding the media since a New York Times report detailed how Tuberville's business partner David Stroud cheated investors out of their savings and was sentenced to ten years in prison. The two had formed a hedge fund, managed by Stroud, a former Lehman Brothers broker. Tuberville maintains that he was Stroud's biggest victim, but the investors sued Tuberville, who settled out of court.
Sessions' campaign maintains that incumbent Sen. Doug Jones' campaign will capitalize on the scandal during the general election similarly to how they capitalized on allegations against former Chief Justice Roy Moore to win the 2017 special election to win the Senate seat vacated by Sessions to be attorney general.
Sessions was a late entrant into the Senate campaign. Sen. Richard Shelby, R-Alabama, has endorsed Sessions.
"Jeff Sessions is a good friend and a respected former colleague," Shelby wrote. "I believe he is well-suited to return to his role as United States Senator for the state of Alabama, where I served with him for more than 20 years. He has my full support and endorsement."
Sessions was Senator from 1997 to 2017. He was U.S. Attorney General from 2017 to Nov. 2018. Prior to his Senate service, he served the state as Alabama Attorney General, Republican Party Chairman, and U.S. Attorney under Presidents Ronald W. Reagan (R) and George H. Bush (R). Sessions was also a former assistant U.S. Attorney and a U.S. Army reserve officer. He is a native of Alabama who grew up outside of Camden in rural Wilcox County.
The Republican primary runoff is on Tuesday. In order to vote in any Alabama election you must: be registered to vote, vote at your assigned polling place, and have a valid photo ID. It is too late to register to vote in this election or obtain an absentee ballot; but if you have an absentee ballot today is the last day to return it either through mail or by hand delivering it to your courthouse absentee ballot manager's office.