Expanded Alabama Accountability Act Debated in Public Hearing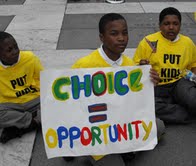 By Brandon Moseley
Alabama Political Reporter
The 2013 Alabama Accountability Act (AAA) which gave parents whose children are zoned to Alabama's worst performing schools unprecedented choices in where they go to school was the most talked about (and litigated) legislation passed in the last two years. 
The AAA gave the parents of students trapped in failing schools can apply for a scholarship to go to either another public school or a private school and the state pays for it. The Republican Super Majority passed the AAA in the face of vocal opposition from public school teachers, administrators, and school boards. 
In 2014, the Alabama Education Association (AEA) spent $millions to defeat the legislators who championed the AAA. The Educators' group also fought the act all the way to the Alabama Supreme Court. Both efforts failed. Voters gave the Republican Super-Majority even more seats in both houses of the legislature and the Alabama Supreme Court overturned a lower court decision that ruled against the AAA.
This is 2015 and the Accountability Act is back and it's champion. Senate President Pro Tem Del Marsh (R from Anniston) wants it to get bigger and better. 
On Wednesday, March 11, the merits of the bill to expand the Accountability Act was debated in a public hearing in the Senate Finance and Taxation Education Committee.
First the Committee adopted a substitute bill offered by Senator Jim McClendon (R from Springville). Senator Marsh said that the new version of the AAA would increase the cap on scholarships from just $25 million to $35 million (a 40 percent increase.)
A number of witnesses spoke in the public hearing:
Father Bry Shields is the principal at Mobile's McGill Toolen Catholic High School. Father Shields said that the Catholic High School was one of the first to sign up for the Alabama Accountability Act's scholarships. Our core belief is every child is a child of God. Over 90 percent of our students go to college. Over 90 percent are involved in a club or sport.  Two thirds get a scholarship to go to college. 
Father Shields said that many parents prefer that their child transfer into a school where their children they will be secure and safe and will have education opportunities that they would not otherwise have. 620 students across the Mobile Diocese have taken advantage of the Accountability Act.
Shields called the AAA a very good program. Father Shields said that we are in good shape. We have been operating for 120 years.  This program allows us to be of service to the greater community. Father Shields did ask that the deadline be moved to May 15 rather than September 15 when they have been in school for a month.
Father Shields said, "We are participating to be of service to the community."  "God does not give his gifts based on socioeconomic benefit or the neighborhood they live in."
Senator Gerald Dial (R-Lineville) asked, "Do you check to see if they come from a qualifying school?" 
Father Shields said, "No we leave that up to the Scholarship Granting Organization." The scholarship covers almost everything. Out of the $8000 scholarship, $7000 covers the tuition, $600 pays for fees, and they apply the rest to books. Shields said that families pay for their student's uniforms…..about $150.
Senator Quinton Ross (D-Montgomery) asked, "In terms of your curriculum what standards are used in your program?"
Father Shields said, "We take their transcript and match their program individually."
Sen. Roger Smitherman (D-Birmingham) asked about the criteria in deciding whether or not to take a student.
Father Shields said, "We would look at any kind of discipline record." Applicants with a drug problem or a criminal problem would not be accepted. Academically the school would try to place them according to our ability. We have an admission committee and the principal makes the decision. We have not had to turn anybody down.
A spokesperson for Alabama Arise said, "Many of our members would like to see the AAA repealed. The group recommended a cap on scholarships at 185% of the poverty line instead of 200% in the proposed bill because that is the accepted standard for public school lunches. "Given the condition of state budgets this is not the time to increase the cap for SGOs."
Sen. Marsh thanked the spokesman for acknowledging that this is an improvement over the original AAA.
Kim Mashburn said that her son, Derrick, struggled every day that he was trapped in his public school. They had meetings; but nothing was ever done so she met with the Alabama Scholarship fund and was awarded a scholarship to attend Churchill Academy. "He was really behind."  In just a few weeks he had an enormous difference in attitude.  "He has learned much more than he learned in the public school."
Ms. Mashburn said, "My older son went to public school and went to college. It worked for him. It didn't work for Derrick."
Sally Howe, who was speaking for the Alabama Association of School Boards, said that she would like to acknowledge the improvements this bill would bring to the AAA. I am here on a conceptual matter. This is not particularly accountable. The majority of our students still go to public schools I ask that the cap not be raised from $25 million to $35 million. "The money should go where our students are and that is in the public schools."
Christopher Caldwell said that he was not reaching his academic potential at Selma High School. The Accountability Act allowed him to go to Elmwood Christian Academy. They provided me smaller classes now I earn straight As. The school has also awarded him an opportunity to participate in a number of sports.
Caldwell said, "Because of the scholarship I received, I will attend college studying criminal justice."  "The experience has been life changing."
Jim Chestnut spoke next representing the Alabama School administrators. Chestnut was upset that more money will be diverted from the Education Trust Fund.
Ms. Allison said she was not satisfied with her children's pubic school experience. Her daughter spent an entire year without a science book and got an F because of it. She complained the school did nothing. Then she got an opportunity to apply for a scholarship and her daughter got approved. "Thank God. Churchill Academy has been a blessing. The public school failed me in addressing my child's needs."
The Superintendent of the Lowndes County School System Dr. Daniel Boyd said, "Public schools need more money not less money." Dr. Boyd complained that they did not get enough money for Books, toilet paper, professional development, etc. "It hampers the instructional process. We don't have the adequate tools."
Dr. Boyd complained that the bill increases the definition of failing schools from the bottom 6 percent now to the bottom 10 percent and it is based on a bell curve so there is a constantly changing criteria. "There will always be a bottom 10 percent."
Dr. John M. Mehaffey, who is the headmaster at Chambers Academy in LaFayette, said that they have 50 students enrolled on AAA scholarships.
Sen. Dial said, "I know the work you do at Chambers Academy and appreciate you being here."
Mehaffey said that the school has two academic tracks: standard and advanced.
Susan Kennedy, who is representing the AEA, said that her organization oppose any changes that increases the money going to scholarship. Kennedy said that; "Now more than 50% of the money is going to children that are not zoned to a failing school."
Kennedy said that the legislature should limit scholarships to children zoned for or are attending a failing school. She also warned of the retroactive tax provision. "It adds another $10 million onto fiscal year $2015 the year we are already on." Kennedy also wanted arbitrary audits of the private schools and the SGOs.
Lisa Schroeder, the director at Churchill Academy, said, "We serve kids only with special needs." They have been open since 1996 and get a lot of phone calls from families with low incomes who can not afford our services. Schroeder called the scholarships, "A huge blessing." Over 40 families in our school right now are on scholarships. The AAA has been, "Nothing but good for us and for our students." "My only concern is that Sept 15 thing which has made it incredibly difficult to plan for. We don't know who is or is not going to attend until Sept 15 so I would ask you to look at that."
Sen. Marsh asked that the vote be delayed. He will continue to negotiate with the various stakeholders and will likely introduce another substitute next week for the Committee vote on.
Justice Ginsburg's death will supercharge a heated 2020 campaign
The passing of one of the court's most liberal justices so close to the Nov. 3 general election has set off a political firestorm as to what president should pick the next justice — President Donald Trump or Joe Biden, should he defeat Trump in November.
Just hours after the death of 87-year-old Supreme Court Justice Ruth Bader Ginsburg on Friday, conservatives, including the Alabama-based Foundation for Moral Law, said Ginsburg's passing is an opportunity to reverse the ideological trend of the nation's highest court.
The passing of one of the court's most liberal justices so close to the Nov. 3 general election has set off a political firestorm as to what president should pick the next justice — President Donald Trump or Joe Biden, should he defeat Trump in November.
The controversy over when and how to confirm a new justice will likely supercharge an already heated 2020 election campaign. Trump was at a campaign rally on Friday night when he learned about the justice's death from reporters.
"Just died? Wow, I did not know that," Trump said. "She was an amazing woman. Whether you agreed or not she led an amazing life. She was an amazing woman. I am sad to hear that."
Ginsburg, since her appointment by President Bill Clinton, has been bastion of the court's more liberal wing. The court was divided with four "liberal" justices led by Ginsburg and four "conservative" justices led by Samuel Alito.
Chief Justice John Roberts, though appointed by President George W. Bush, has been the swing vote on a number of major issues since the retirement of Justice Anthony Kennedy in 2018. Her death gives Trump the opportunity to appoint her replacement and potentially shape the direction of the court for decades to come.
Conservatives want Trump to select the nominee and the current GOP-controlled Senate to confirm the Trump appointee.
The Foundation for Moral Law — a conservative legal group founded by former Alabama Chief Justice Roy Moore — released a statement saying that Ginsburg's passing is an opportunity to move the court in a more conservative direction.
"For many years United States Supreme Court has been a bastion for liberal anti-God ideology," Moore said. "The passing of Justice Ruth Bader Ginsberg will be an opportunity to reverse this trend. I'm hopeful that President Trump will immediately nominate a true conservative who understands that our rights come from God and no authority in this country can take those rights from us."
"This is a very critical time for our country and our future and the future of our posterity depends upon our vigilance and direction," Moore said.
Judicial Watch, another conservative legal group, echoed Moore's statement.
"Judicial Watch sends it condolences to the family of Justice Ruth Bader Ginsburg. She had a wonderful judicial temperament that will always be remembered," said Judicial Watch President Tom Fitton. "President Trump now has a historic opportunity to nominate yet another constitutional conservative who will honor the Constitution and the rule of law across the full spectrum of constitutional issues."
"And the U.S. Senate should move quickly to work with President Trump to consider and approve a new justice who will faithfully apply the U.S. Constitution," Fitton said. "There is no reason we cannot have a new justice by Election Day."
Trump is expected to put forth a nominee to fill Ginsburg's seat in the coming days, according to ABC News.
Senate Majority Leader Mitch McConnell, R-Kentucky, wrote in a statement that, "President Trump's nominee will receive a vote on the floor of the United States Senate."
But Democratic senators and Senate Minority Leader Chuck Schumer, D-New York, disagree.
"The American people should have a voice in the selection of their next Supreme Court Justice," Schumer wrote on social media Friday, parroting a similar quote McConnell used in 2016 when he refused to give then-President Barack Obama's nominee, Merrick Garland, hearings and a vote for confirmation to the court. "Therefore, this vacancy should not be filled until we have a new president."
Republicans in the Senate blocked Obama from selecting Justice Antonin Scalia's replacement. Scalia was the most conservative jurist on the court.
Ginsburg was a staunch supporter of abortion rights and voter protections, and she played a major role in upholding Roe v. Wade, the Supreme Court decision protecting abortion rights. She also voted in favor of same-sex marriage and to uphold the constitutionality of the Affordable Care Act.
Most political observers expect Trump to appoint a woman to fill Ginsburg's spot. Political insiders have suggested that Trump believes that appointing a woman to the court could help him with woman, a key swing demographic that will likely decide the next election.
Will the Senate confirm Trump's appointment before the election or wait until after the public votes? If Republicans lose control of the Senate, could a lame duck GOP majority select the direction of the court on their way out?
Alabama Sen. Doug Jones has been widely criticized for his vote against the confirmation of Justice Brett Kavanaugh. If the vote comes before the Nov. 3 election, Jones's decision on whether to confirm Trump's appointee will be heavily scrutinized.
The questions about the Supreme Court is likely to only further inflame passions on both sides this election cycle.