Hubbard Says Tax Increases Would Be A Last Resort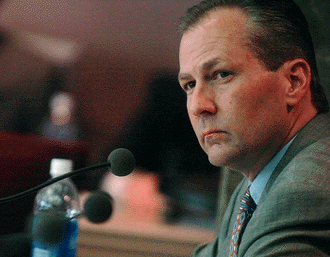 By Brandon Moseley
Alabama Political Reporter
Thursday, April 9, Alabama Speaker of the House Mike Hubbard (R-Auburn) addressed the Alabama Political Reporter as well as the other members of the Montgomery press corps after the House took a lunch break.
Speaker Hubbard said that while it appears that not a lot has happened this week behind the scenes "we got a lot accomplished." The Speaker said that Wednesday was a very busy day in committees where a lot of bills were moved.  Hubbard said that it was good to get started on the budgets so that everybody can see what the budgets might look like.
On Governor Robert Bentley's $541 million request for more taxes for the General Fund, the Speaker said that we can all agree that we are looking at about a $250 million shortfall in the general fund if everything is level funded from what they were last year, but not every agency will be level funded as shown by the budget that Rep. Clause released yesterday.
Speaker Hubbard said that his side of the aisle viewed taxes as a "last resort."
On Wednesday, April 8, the House Minority Caucus released their 2015 legislative agenda. When asked about it, Speaker Hubbard said, "I have never seen an agenda released after a session was one third over before." The Speaker said that those were old ideas that had been around for a while.
The Speaker said, "We will involve the Governor" in the budget negotiations when it is time to do so.  "We will not blindside the Governor." 
Speaker Hubbard said that the legislature wanted to pass all their improved efficiency legislation first before even looking at any revenue increases.
When asked if there would not be a budget finished this session, Speaker Hubbard said that there will be a budget passed though he could not guarantee that the Governor would sign it.  Speaker Hubbard said that it is normal for the budgets are done near the end of the legislative sessions. The Speaker said that when the Democrats ran the legislature it was often done on the last day.
On the proper split of Education Trust Fund (ETF) money's the Speaker said that he was supportive in theory of a two thirds pre-K-12 to one-third higher education split. The Speaker who acknowledged that Auburn University is in his district said that as more money comes in to the ETF in coming years we will gradually move that way.
The current split is roughly 74.8 percent pre-K thru12 to 25.2 percent higher education. Hundreds of college students were in the State House and the Capital grounds on Thursday urging lawmakers to appropriate more money towards higher education. Over the last decade of Democrat control of both houses of the legislature the split of ETF dollars gradually tilted in favor of the primary grades (elementary, middle, and high schools). As State appropriations declined the colleges and universities raised tuition. Many students are now graduating from four year state colleges with $58,000 in debt or more.
On efforts to improve the Alabama Accountability Act of 2013, Speaker Hubbard said that he has been working with Senate President Pro Tem Del Marsh on that legislation and was supportive of the bill. Hubbard said that he favored increasing the appropriation to the SGOs because the scholarships are so popular. Speaker Hubbard said that there are over 12,000 children on waiting lists for the scholarships.
Rep. Mike Hubbard has been Speaker of the House since the 2010 election which gave the Republican Party a supermajority in both houses of the Alabama legislature for the first time since Reconstruction after the Civil War.
Print this piece
Opinion | The people have always been more important than the monuments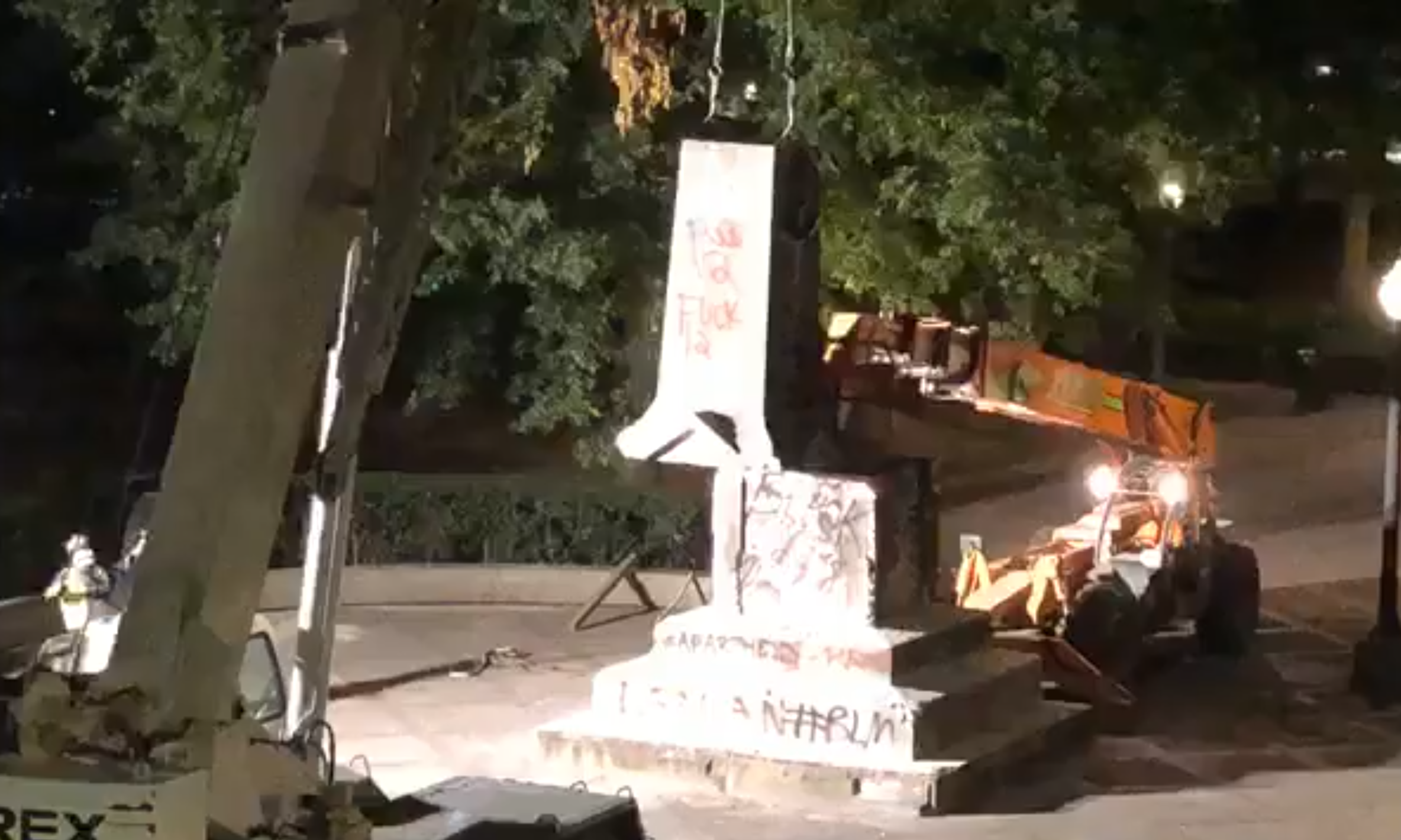 Two participation trophies fell in Alabama on Monday night. 
No tears were shed. 
On the same day that the state "celebrated" Confederate Memorial Day — which is somehow still a state holiday some 150 years after the traitorous South surrendered in its quest to make legal the ownership of other human beings — a large monument in Birmingham's Linn Park went away piece by piece and a metal statue of Robert E. Lee was toppled and hauled away from its spot outside of a Montgomery high school. 
This is progress, I guess. At least those eyesores are gone (for now, in the case of the Lee statue), even if the attitudes that kept them in place remain. 
It is no secret by now that I have never understood the fervor with which so many people in this state cling so tightly to reminders of defeated traitors who fought to enslave black people. 
I mean, I understand why racists cling to them. I don't understand how those who claim to "not have a racist bone in my body" also cling to them. I don't understand our state lawmakers creating laws to protect them. 
Monuments are meant to honor the people depicted in them. You don't see us creating monuments of the 9/11 hijackers at the former World Trade Center site, do you? 
You know why? Because while that day was historic and we'll want to remember those who died forever, we don't honor those who caused that devastation. 
But then, I don't actually think anyone is confused by this. The cries of "protecting history" or "not erasing history" are nothing more than phony excuses meant to mask the true intent of cowards too ashamed or too scared to say what they really mean. 
And what they really mean is that they still cling to this notion of white supremacy. They're just too scared of the societal backlash to put on a white hood and attend the meetings. 
These people see the removal of the Confederate monuments as a loss — a personal loss. Because that tie to the confederacy and the sad, pathetic belief that they were somehow superior because of the color of their skin has sustained them throughout their lives. 
That's why they cling so tightly to these relics of the past — because those relics represent their "heritage" and their worth. 
It doesn't matter at all that poor whites and poor blacks have so much more in common in 2020 than poor whites and rich whites. If the two groups ever bonded, ever formed a mutually beneficial coalition, they could — by the power of their numbers — change America overnight to a more just, more equitable country. 
But they won't, because poor white people would lose their ability to look down on someone. And really, what good is life if you can't make certain that someone out there has it worse than you? 
And so, here we are, more than 150 years after the end of the Civil War and more than 60 years since Dr. King crossed the bridge in Selma, still fighting battles over race and discrimination and hatred and intolerance. 
Maybe the protests of George Floyd's killing will finally be the straw to break this thing. Maybe the days of everything being on fire, along with those awful images of Floyd, will instill in the minds of enough people that there really are problems.
Maybe we can finally stop holding onto these relics of the past and concern ourselves more with holding onto each other. 
Print this piece