Agency Says Budget Cuts Threat To Public Safety
By Bill Britt
Alabama Political Reporter
MONTGOMERY —Projected budget cuts in the General Fund will not only pose a threat to public safety, but will also prevent prison reform efforts, according to the State Board of Pardons and Paroles.
The latest budget projections show that Pardons and Paroles can expect an 18 percent reduction in funding for FY 2016. This, on top of the 25 percent cut from FY 2009 funding levels, will have a devastating effect on the Board's ability to carry out its legal mandates.
According to the agency, on an annual basis, it supervises over 64,000 probationers and parolees, operates 61 field offices, a Central office in Montgomery, and a residential LIFE Tech transition facility in Thomasville.
A recent study by PARCA found that the State "spends about $43 a day per inmate to clothe, feed, house, and supervise its prisoners; about $15,308 per year, per inmate in the prison system. Alabama prisons are staffed at 58 percent of authorized levels, at a ratio of 12 prisoners per correctional officer."
The study finds, "cutting prison costs under existing circumstances seems unlikely."
They emphasize that reforms passed by the Legislature depend on an enhanced system of community supervision as an alternative to prison. However, the study concludes that the significant erosion in the Board of Pardons and Paroles budget will likely undermine reform efforts.
PARCA found that, "The ratio of probation and parole officers to offenders is 1 to 192, far in excess of levels recommended for a successful system of supervision."
The agency say budget cuts will negatively impact the State's prison overcrowding crisis, which prison reform advocates say could lead to a Federal takeover of the failing system.
According to the agency, an 18 percent cut will result in the forced layoffs of over 90 Pardons and Paroles staff resulting in "a significant threat to public safety."
This would lead to the closure of LIFE Tech Thomasville, "the State's only re-entry facility, providing meaningful education, vocational training, substance abuse and mental health treatment, and life skills to participating male offenders."
A closure would mean many individuals would be returned to the Department of Corrections, while others would be released directly back into communities across the State, without supervision.
The agency would also be forced to forfeit $1,100,000 in Federal grant funds awarded to operate 2 different evidence-based programs, in Birmingham, Decatur, Montgomery, Greenville, and Mobile.
The agency says, "cutting funding to Pardons and Paroles is the last thing that should happen in order to adequately preserve public safety."
Trump Truck and boat parades this weekend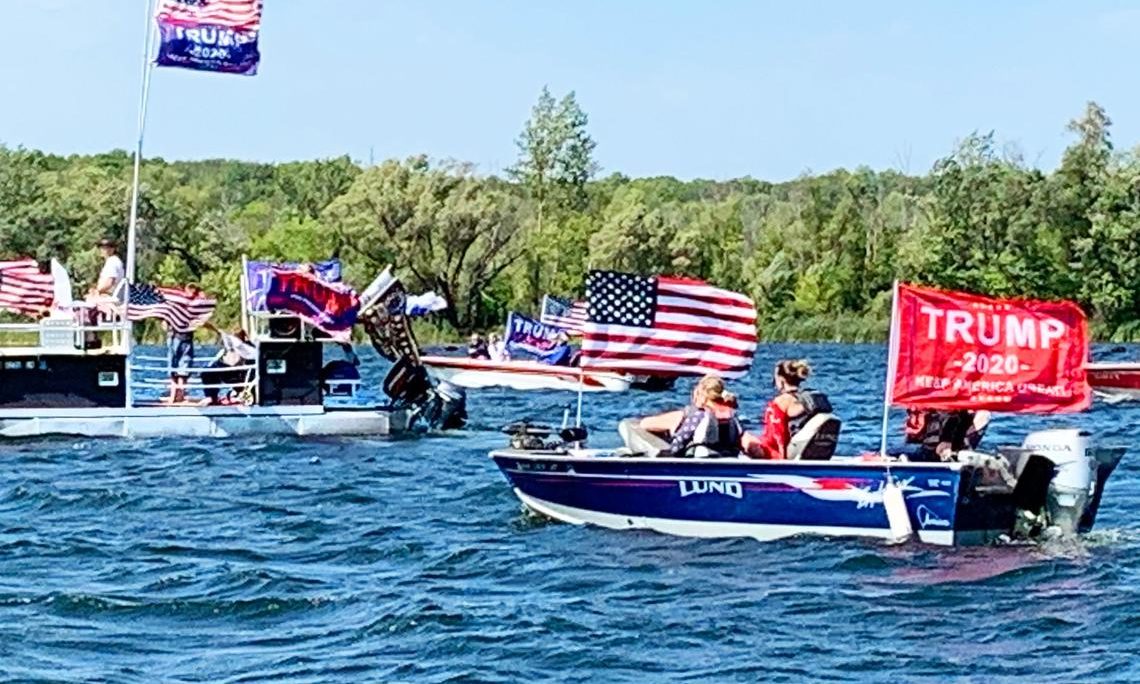 As Election Day draws near, Alabama Republicans are excited about promoting the re-election of Donald J. Trump as President and the election of Tommy Tuberville for U.S. Senate. This weekend two pro-President Trump events are happening in the state. There will be a truck parade from Ashland to Phenix City on Saturday sponsored by the Clay County Republican Party, while there will also be a boat parade on Wilson Lake in the Shoals sponsored by the Colbert County Republican Party on Sunday.
The pickup trucks will assemble at the Ashland Industrial Park in Clay County, 8240 Hwy 9, Ashland. There is a pre-departure rally at 10:00 a.m. central standard time. The trucks will depart at 11:00 a.m. and then proceed on a parade route that will take them into the bitterly contested swing state of Georgia. The Trump Pickup Parade will wind through east Alabama and West Georgia traveling through LaGrange and Columbus before concluding near the Alabama/Georgia line in Phenix City, 332 Woodland Drive, Phenix City at approximately 2:00 p.m. central time. Speakers will begin at 3:00. Trump flags will be on sale at the event.
The Phenix Motorsports Park will be hosting what sponsor hope could possibly the world's largest Pickup Tuck parade in U.S. history that is routing over 50 mile through Georgia in effort to "pickup" President Trump's numbers in GA.
A number dignitaries have been invited to address the Phenix City rally, including Coach Tuberville. Former State Sen. Shadrack McGill, Trump Victory Finance Committee member former State Rep. Perry O. Hooper Jr., and Paul Wellborn, the President and CEO of the largest Family owned Kitchen Cabinet manufacture in the USA are among the featured speakers who have committed to speak at the event.
Entertainment will be provided by: Charity Bowden, an up and coming country music singer who was the runner up on "The Voice". Charity will sing 'I am Proud to be an American' as well as songs from her Voice performances. The McGill Girls will also perform. The three beautiful and talented sisters will be singing patriotic songs in three part harmony. Geoff Carlisle, a professional DJ will be keeping the crowd pumped with music and entertainment.
Following the speakers and the entertainment there will Trump truck-vs- Joe Bidden truck races down the drag strip for the finale.
The Northwest Alabama boat parade will be on Sunday. The boats will gather at 2:00 p.m. near Turtle Point and then the flotilla will parade around the open waters of Wilson Lake til 3_00 p.m.. There will be a contest for best decorated Trump boats.
Trump supporters have held a number of large boat parades across the state to show their support for the re-election of Pres. Trump.
Boat parade sponsors say that this parade will be: pro-American, pro-law enforcement, pro-military.