Legislature Passes Innovator Liability Legislation
By Brandon Moseley
Alabama Political Reporter
Tuesday, April 28, the Alabama House of Representatives passed SB 80, which has already been passed by the Alabama Senate.  SB80 was sponsored by State Senator Cam Ward (R-Alabaster).  The legislation overturns the Alabama Supreme Court's decision in Weeks v. Wyeth, which Sen. Ward called an outlier. 
It costs an enormous amount of money to test a potential new drug.  To get FDA (US Food and Drug Administration) approval often involves animal trials and human trials with no guarantee that the FDA will give that approval.  Once approved the pharmaceutical company only has a few years to make that money back before those patents expire and every drug manufacturer is allowed to make generic versions of made brand-name manufacturers liable for injuries arising from their competitors' generic copycat products.  The United States has a bizarre legal system that allows law firms to solicit current/former users of drugs/treatments in class action law suits claiming side effects (many of which are often known from the drug trials) and sue the drug company that in many cases has extended their lives.  Weeks v. Wyeth held the original drug company liable not just for side effects of the name brand drug they sold; but also for the side effects of the generic copies of their drug, even though they received none of that revenue and have no control over the manufacturing process by the generic drug maker.  SB80 overturns that precedent.
Senator Ward said, "Today is a significant win for businesses that champion innovation and for Alabama's continued economic development.  Innovation should not carry with it indefinite liability, especially for products that the creator never made or sold.  Unfortunately, our Supreme Court gave life to this warped theory of 'innovator liability,' even though nearly every other court nationwide has squarely rejected it. But the Legislature answered the call and moved swiftly to restore the settled legal principles that have helped to make Alabama's growing manufacturing industry an engine of growth and a source of jobs for thousands of Alabamians."
The Alabama Senate passed SB80 by a 32-0 margin, and the House by a 86-14 margin.  Representative Jack Williams (R-Vestavia) sponsored the House companion bill, HB 110.
Historically Alabama has been considered to be one of the worst states for companies due to tort laws here.  The legislature, especially since 2010, has worked to make the laws a little more friendly for defendants and their insurance companies.
SB80 now goes to the Governor for his signature.
The Iron Bowl is today
Alabama will have to play without head football coach Nick Saban who has tested positive for the coronavirus.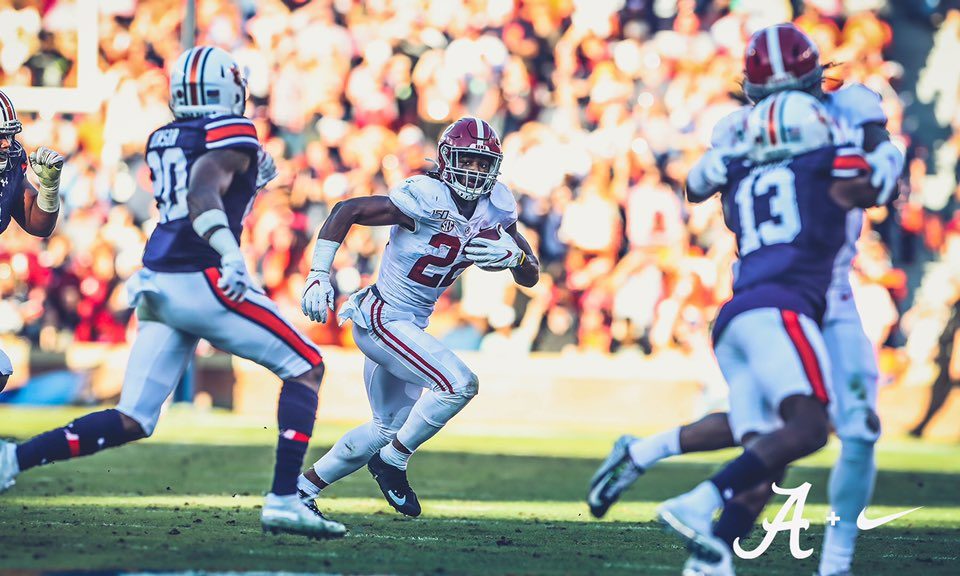 The Auburn University college football team will play the University of Alabama at Bryant-Denny Stadium in Tuscaloosa on Saturday with the game kicking off at 2:30 p.m. Attendance is strictly limited because of COVID-19 restrictions. The game will be televised on CBS stations.
Alabama will have to play without head football coach Nick Saban who has tested positive for the coronavirus and is experiencing mild symptoms. Offensive coordinator Steve Sarkisian will coach the Crimson Tide in Saban's absence. He has a 46-35 record as a head coach at USC and Washington.
Auburn will be coached by Gus Malzahn, who has a 67-33 record as a head coach. He is the fifth winningest coach in Auburn history, trailing only Shug Jordan, Mike Donahue, Pat Dye and now-Senator-elect Tommy Tuberville.
Alabama has a 7-0 record and is currently the No. 1 team in the country in the college football rankings. Auburn is 5-2 but with a win could still win the SEC West with wins in its remaining two games, and if Alabama were to lose another game down the stretch. Alabama is just one game ahead of Texas A&M for first place in the SEC West, but the Tide has the tiebreaker by virtue of having defeated the Aggies in head-to-head competition.
In addition to team honors, there is a lot riding for individual players in today's game. Alabama redshirt junior quarterback Mac Jones has thrown for 2,426 yards and 18 touchdowns in Alabama's first seven games. Jones's strong performance has made him a Heisman contender and has earned him consideration as a possible first-round or high second-round draft pick by the NFL if he were to leave Alabama early.
Auburn quarterback Bo Nix has thrown for 1,627 yards and ten touchdowns over seven games.
Alabama and Auburn played their first football game against each other in Lakeview Park in Birmingham on Feb. 22, 1893. The game is called the Iron Bowl because historically the game was played on a neutral site: Birmingham's historic Legion Field. Birmingham at the time was best known for the iron that was mined there and then made into steel and other metal products.
The game is now played as a home and home series, but the Iron Bowl name has stuck with the rivalry.
Alabama leads the series with 46 wins to Auburn's 37. There has been one tie. Auburn defeated Alabama 48 to 45 in last year's high scoring contest.