Former Chief of Staff, Deputy AG, Investigator, Part of Web in Hubbard Case

By Bill Britt
Alabama Political Reporter
MONTGOMERY—Untangling the web surrounding the investigation that has led to the arrest of Speaker Mike Hubbard, is a daunting task. Just the involvement of two men who are accused of working with the defense team from inside the Attorney General's Office, is a convoluted maze of interconnected events and alliances.
Henry T. "Sonny" Reagan and Howard "Gene" Sisson have both been accused by Attorney General Luther Strange of working with Hubbard's criminal defense team and others, to undermine the Lee County investigation into Hubbard's alleged criminal activities.
Reagan and Sisson claim that being forced from the AG's Office, is a result of retaliation by Special Prosecutions Division Chief, Matt Hart. They allege that Hart targeted them after a personnel complaint led to Reagan being subpoenaed to appear before the Lee County Grand Jury. But, following the trail of evidence provided by court records, it now appears that Reagan, and subsequently Sisson, were both subpoenaed due to the testimony of Hubbard's then Chief of Staff, Josh Blades.
According to emails sent from Hubbard to former Gov. Bob Riley, Reagan began providing information into the investigation as early as December, 2012. Court records show Reagan was providing information to Hubbard, Riley and his son, Rob Riley, about Hart's investigation. 
On Dec, 13, 2012, Hubbard emailed former Gov. Riley saying, "Gov: Talk with Rob when you can. Armistead and Luther have now teamed up to try and ruin me politically. Not sure what Luther's end game is others than he views me as a potential threat down the road. Rob knows details."
Riley replies, "I was with him [Rob] during the conversations with you and Sonny [Reagan] last night – ….. Have a couple of people trying to understand what's happening."
In a Jan. 18, 2013 email from Hubbard to Riley, subject "Snowy Night" Hubbard wrote,
"Confidentially, I received word just now from Josh that a mutual friend in the AG's office (he used to work for you) called to tell him that the prosecutor told him this afternoon that the accusations against me have been thoroughly investigated and totally dismissed by the Grand Jury." 
Following related court documents it becomes clear that Hubbard's and Riley's emails refer to Blades and Reagan. 
Reagan has tried to say that he was forced to resign his position at the Attorney General's Office because of a personnel complaint he filed against Hart, who has led the investigation into Hubbard's alleged crimes.
Sisson makes similar allegations saying he was fired from the AG's Office in retaliation of his personal investigation into Hart. 
Reagan has stated that he was called to testify at the Lee County Grand Jury because of the personnel complaint; Sisson makes the same allegations.
However, statements from Reagan supplied to White on March 20, 2015, show that Reagan, before he was called to testify before the Lee County Grand Jury, asked prosecutor Micheal Duffy why he would need to appear before the Grand Jury. Duffy told him that "Josh had brought my name up…."
Reagan did testify in Lee County, but on advice of council, evoked his 5th Amendment Rights after only a few questions. 
In writing to the Head of the State Personnel Board, Jackie Graham Sisson states, he was placed on mandatory leave on April 10, 2015, because he had investigated Hart for using his office for personal gain. 
In an August, 2014 letter to then Director of the State's Ethic Commission, Jim Sumner, Sisson accused Hart of using his office for personal gain, because Hart was drawing a pay check after Sisson felt he should have been fired. Sisson said, he believed Hart should have been fired as a result of a personnel complaint Reagan filed against him. Sisson alleges that Reagan being subpoenaed halted Doucet's investigation that Hart was using his position for personal gain.
However, in Sisson's termination letter from Strange, the Attorney General references the complaint saying,
"[Reagan], acting on advice of his legal counsel [Baxley] …filed an internal complaint against Mr. Hart. At the time he filed his complaint, however, he was not interested in commencing an internal investigation into his co-worker's conduct. Instead, he asked the Chief of the Administrative Services Division [Charlotte Doucet] if she would simply place the complaint 'in the file.' He did not say for what purpose. The day after his filing of that internal complaint, his attorneys [Baxley] filed a motion to compel the production of the co-worker's, Mr. Hart's, personnel file in the Moore case. Thus, Mr. Reagan worked in concert with the indicted criminal defendant to disrupt the criminal prosecution by shifting the focus away from the various subjects of the investigation to the conduct of the prosecutor." 
Strange states that the complaint was part of Reagan working with the defense to undermine the Lee County Grand Jury contradicting Sisson's assertion. The allegations made by Sisson regrading Hart have never been taken seriously, except by Hubbard's team who has used Reagan's allegations to show prosecutorial.
Sisson, in his letter to Graham, states that he "Loved and respected" his former boss, Troy King, who had elevated Sisson to the rank of Chief Investigator, a position he was compelled to forfeit under Strange.
Sisson, who after 20 years at the Montgomery Police Department, obtained the rank of corporal before retiring, joined the Attorney General's service in 2007. In 2009, King made Sisson Chief Investigator.
In his letter to Sumner, he claims that Hart's team of former FBI agents can't be trusted because they investigated King in 2009, the same year Sisson received his promotion. The investigation was led by the US Attorney's Office for the Northern District, under the direction of then US Attorney Alice Martin and then Chief of the White Collar Crimes Unit, Matt Hart. Reagan was brought before the Grand Jury in the King investigation.
The investigation into King was later dropped without explanation.
In his termination letter, Strange refers to several emails that Sisson sent from his office account. In one, Sisson refers the the FBI as  "f* **ing retards," which may be a reference to the former agents working with Hart. Strange said the comments  by Sisson were, "offensive, profane and unprofessional." 
In the letters to Graham and Sumner, he praises King while questioning his current boss, Strange.  
In August 2014, Sisson complained to Sumner about his supervisor Chief Investigator, Tim Furman, not filing an ethics complaint against Hart. Sisson said he waited two weeks for Furman, a former FBI agent, to make a complaint. Here again Sisson professed his admiration for King. He refers to Hart as bullying and retaliatory.
Sisson made several complaints about Hart to Charlotte Doucet, Head of the AG's Administrative Division, as well as Strange, even including copies to Gov. Robert Bentley's legal advisor, David Byrne.  All of these were dismissed in light of the evidence provided by the Attorney General's internal investigation.
From as early as 2012 until their firings, court filings and personnel records show what appears to be a coordinated effort to undermine the Lee County Grand Jury's investigation into Hubbard.
Alabama state health officer: COVID numbers are "mind-boggling"
"Unfortunately, we have very difficult times ahead," said Alabama State Health Officer Dr. Scott Harris.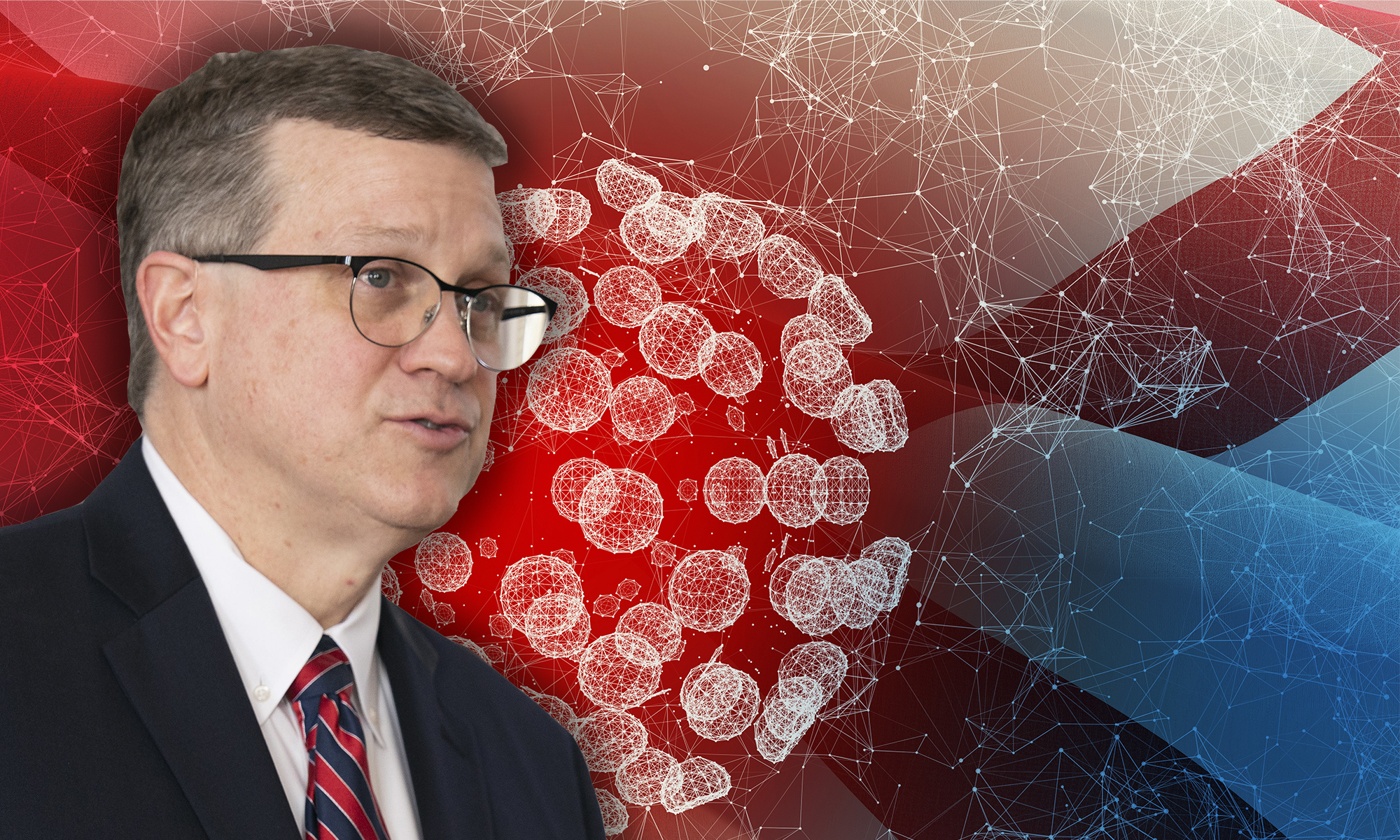 For the third straight day, Alabama's new daily COVID-19 case count was at a record high on Friday, and the number of hospitalized coronavirus patients reached a record high for the fourth time in four days. Elective medical procedures have begun to be postponed in Huntsville and in Birmingham as hospitals in both cities are seeing record numbers of COVID-19 patients. 
"Unfortunately, we have very difficult times ahead," said Alabama State Health Officer Dr. Scott Harris, speaking during a briefing Friday. Harris noted that public health officials were concerned in April when there were 500 hospitalized coronavirus patients statewide, and said for the last couple of days, more than 1,800 have been hospitalized. 
"The numbers are just mind-boggling sometimes," Harris said. 
The Alabama Department of Public Health reported 3,840 new cases Friday, the third straight day the state has confirmed more than 3,000 cases. For the first time, the state averaged more than 3,000 cases per day over the past seven days. The seven-day average of 3,046 is a 44 percent increase from two weeks ago. 
Alabama hospitals were caring  for 1,875 COVID-19 patients on Friday, a 41 percent increase from two weeks ago. The medical staff at UAB is strained, said Dr. Sarah Nafziger, co-chair of UAB's Emergency Management Committee and professor of medicine in the school's Department of Emergency Medicine, speaking during a separate press briefing Friday. 
"Our patient volumes of COVID-19 positive patients have more than doubled over the course of the last month," Nafziger said. 
A little more than a week ago many celebrated Thanksgiving by gathering with others, Nafziger said. Those gatherings have been a concern among the medical community for fear of outbreaks. 
"We haven't even begun to see those patients yet," Nafziger said.  
Huntsville Hospital Systems has begun delaying elective procedures due to so many COVID-19 patients needing care, and Nafziger said UAB has also begun delaying some of those procedures, many of which are serious to a person's quality of life, such as hip replacements to ease pain. 
"It absolutely breaks my heart. It breaks the heart of our clinicians, our hospital administration. All of our staff is absolutely brokenhearted about it because the last thing we want to do is delay care for people who need us," Nafziger said. 
Cases among UAB employees have begun to rise significantly, Nafziger said, and most of those workers contracted the disease in their own communities, and not at work, where they wear personal protective gear that's proven to provide strong protection. 
"They are emotionally drained. They're physically tired," Nafziger said of UAB staff. "But at the same time, while I see that in their eyes, hear it in their voices, they also voice their resolve that they're not going to quit."
Testing statewide remains low. The average percentage of tests positive over the last week was 34 percent. Public health experts say it should be below 5 percent to ensure adequate testing is being done to prevent cases from going undetected. The state averaged 8,517 tests each day over the last two weeks, down from the two week average of 9,407 recorded on Nov. 26. 
ADPH reported 55 COVID-19 deaths on Friday. Over the last two weeks, the department has confirmed 380 deaths were due to coronavirus. At least 3,831 people have died from the disease in Alabama since the pandemic began.
Sen. Doug Jones, D-Alabama, pleaded with the public Friday to wear masks, practice social distancing and to stay at home as much as possible to help slow the spread.  
"Don't just think about those people who have had minor symptoms. Think about those who had an empty chair at Thanksgiving, because a loved one was lost," Jones said. 
Harris, during the briefing hosted by Jones, said that the state is seeing numbers "much higher than we've seen anytime during the pandemic" and warned that the rapidly rising number of cases and hospitalizations "is not sustainable."
"We cannot continue to go down this road," he said,
Despite new treatments and the pending vaccines, the only tools public health has to prevent the spread of the disease are the same we've had since the start, Harris explained. Face masks, social distancing, hand hygiene and staying at home as much as possible help prevent illnesses and save lives, he said. 
Harris discussed the state's plans to distribute vaccines, of which the first could arrive within the next couple of weeks, but said there are "a lot of moving parts and a lot of logistical complications that we are working to deal with" and it will be some time before the wider public has access to vaccines. 
If approved by the U.S. food and Drug Administration on Dec. 10, the state expects to receive in a short time the first shipment of 40,950 doses of the Pfizer vaccine, Harris said. The Pfizer vaccine requires two shots, one shot to be given 21 days after the first. 
A vaccine produced by the drug maker Moderna is expected to be approved the following week, although Harris said he's unsure how much Alabama will get initially. 
The early shipments of the vaccines will be in short supply and will have to be prioritized to protect the most vulnerable, according to the Alabama Department of Public Health's plan. ADPH is working to determine levels of risk among various medical workers, Harris said. 
"It's a real mixed blessing. We're thrilled to have a vaccine. We know it's going to save lives … but at the same time, we've got a long way to go before we have enough to cover everyone," Harris said. 
Nursing home residents will begin receiving vaccines the week following the initial shipment, Harris said. By then, there should be both the Pfizer and the Moderna vaccines in the state, so access should grow as those vulnerable people receive immunizations. 
In early 2021, possibly in late spring, there would be as many as six different vaccines circulating in Alabama, but each will likely be appropriate for certain people, Harris explained. Some may better protect the elderly, while others better protect younger people. 
The Pfizer vaccine will at first be shipped to eight larger medical facilities with the capability to store the drug at ultracold temperatures, as required, Harris said, and be able to administer the minimum shipment of 975 doses. Some smaller medical facilities in rural areas may have ultracold storage but wouldn't be able to administer so many doses in time, he said. 
"So that's clearly a disadvantage for smaller and more rural places," Harris said. 
To help with that, Harris said those hospitals selected to receive the first shipments have been asked to administer vaccines to the at-risk medical workers in surrounding areas. 
"So they're going to set aside a certain portion of their vaccine, probably somewhere around maybe 40 percent of the allotment," Harris said. "It'll be used for their own health care workers in their facility, but the remaining amount is going to be allocated to other health care workers in their area." 
"The real solution, ultimately, for our more rural place is going to be the use of the Moderna vaccine, Harris said, which can be stored in a regular freezer and won't have to be shipped in such large quantities. 
Alabama has around 300,000 health care workers and between 25,000 and 30,000 residents in skilled nursing facilities, and around the same number of staff in those facilities, Harris said. It will take "a few weeks" to immunize those persons, he said. 
Both Jones and Harris were asked by a reporter whether they'd take a vaccine, once one is available to them, and both said yes. 
"I absolutely will take the vaccine, as soon as it's approved by the FDA, and we have guidance from the ACIP, which should happen in next few days," Harris said, referring to the Advisory Committee on Immunization Practices, an independent body of physicians and medical researchers tasked with developing recommendations on the use of vaccines. 
Harris said he's completely confident in the process, and said the only reason it's gone so quickly is that the federal government allowed these companies to begin manufacturing the vaccines as they simultaneously sought approval. 
"That's really been the biggest timesaver," Harris said. "They have not shortcut the safety process. They have not shortcut the review process in any other way." 
Birmingham Mayor Randall Woodfin in a separate press briefing on Friday asked business owners to enforce state law regarding masks being worn inside their businesses. 
"If you are a small business owner in the city of Birmingham, if you are a manager of some form of a public store, I expect you to enforce the state's facial covering [mandate]," Woodfin said. "You need to make sure if a person walks into your establishment that they are abiding by the state's law." 
Dr. David Hicks, Jefferson County Department of Health deputy health officer, said the county has had more than 500 deaths and is averaging 326 new cases daily. 
"That's unacceptable … this season we need to spread joy. We do not need to spread COVID-19," Hicks said. 
Woodfin implored city employees and the public to wear masks and practice social distancing. 
"We all know someone who has an underlying condition or pre-existing condition … remember that as you go about interacting with other human beings," Woodfin said. "We believe in science. We believe in data, and we believe in those who are the experts, and we should listen to them."