People of Colbert County Send Emphatic Anti-tax Message
By Brandon Moseley
Alabama Political Reporter
On Tuesday, May 26, Colbert County voters went to the polls and voted down a proposed massive proposed tax increase to benefit Colbert County Schools.  The rejection of the tax increases follows similar votes by the people of Baldwin and Lawrence Counties.
The Stop the Farm Tax Pac wrote on Facebook hours before the vote, "We've got teams out knocking doors in the rain today, as well as a number of volunteers making calls to voters in the district. If you or someone you know needs a ride to the polls today, let us know – we've got people on standby for that as well!"
The anti-tax group claimed, "Colbert County Schools spends MORE tax dollars per student than 92 percent of school systems in Alabama, yet they rank LOWER than 70 percent of schools in the state academically? This tax increase would put Colbert County Schools in the 95 percentile in Per Pupil Expenditure, according to new numbers release last week by the Alabama State School Board, even though they currently spend more than 130 percent as much per student than the median. If we aren't seeing results at these outrageous levels, why would we expect to see any better results by throwing even more money at the problem? SHARE this information with your friends to raise awareness!"
Former Mobile County Commissioner and political consultant Stephen Nodine warned the Alabama Political Reporter's readers that Governor Robert Bentley's $544 million tax proposal would have this effect on local tax referendums across the state. Nodine said that the tax proposals have made voters feel like they are under siege by their state government. Nodine urged the Governor to withdraw his ambitious tax plan and warned at the time that it would lead to failed school referendums.  Baldwin County voters rejected a proposed tax increase and even some renewals after it was revealed that public school dollars were being used to finance the vote for the tax campaign.  State Auditor Jim Zeigler (R) has since sued the Baldwin County School Board for what he claims were illegal use of taxpayer resources.
Disgraced Baldwin County Schools Superintendent Robbie Owens has since resigned for his role in the scandal.
Lawrence County voters followed and now Colbert County voters have rejected this proposed tax increase which would have raised property taxes by 27 percent.
Alabama state health officer: COVID numbers are "mind-boggling"
"Unfortunately, we have very difficult times ahead," said Alabama State Health Officer Dr. Scott Harris.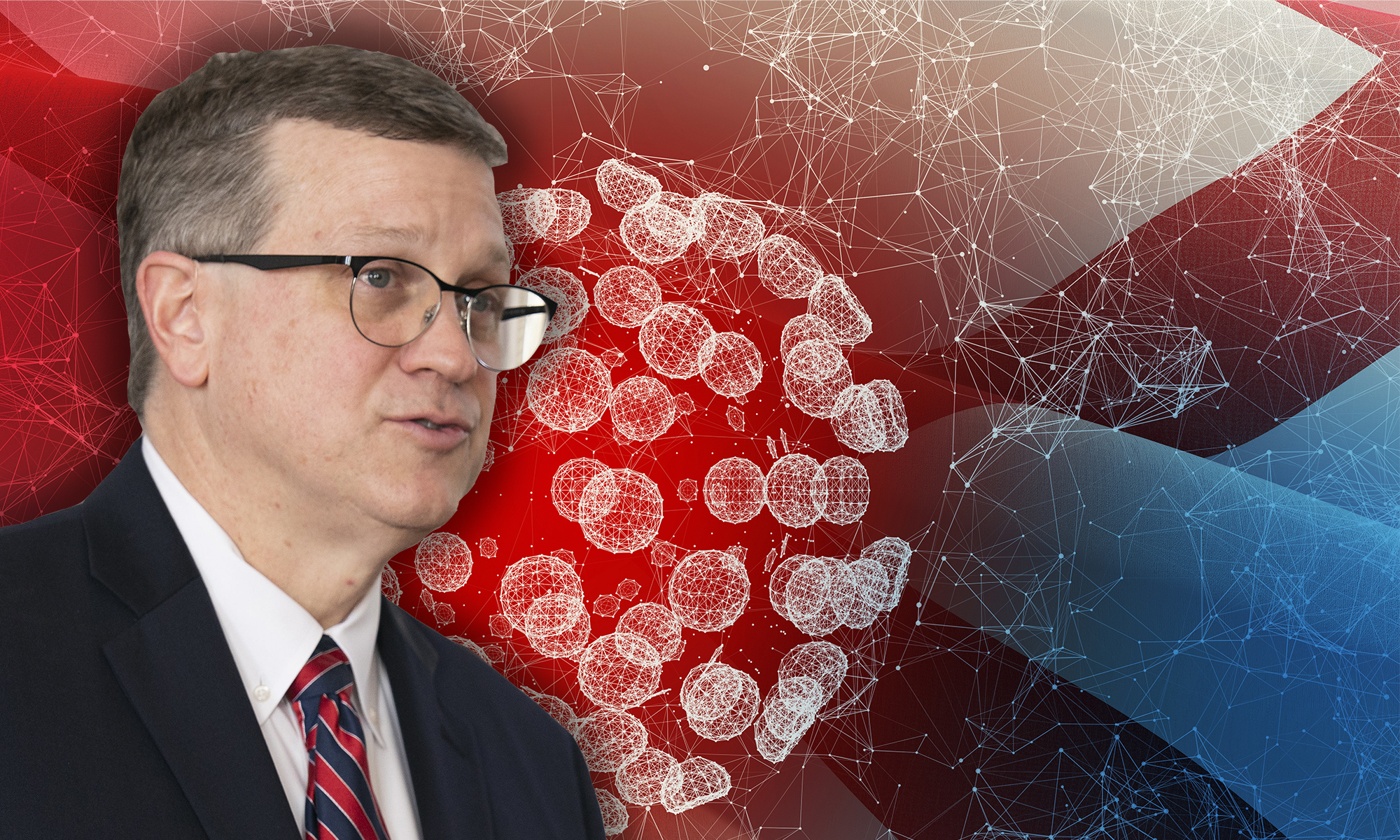 For the third straight day, Alabama's new daily COVID-19 case count was at a record high on Friday, and the number of hospitalized coronavirus patients reached a record high for the fourth time in four days. Elective medical procedures have begun to be postponed in Huntsville and in Birmingham as hospitals in both cities are seeing record numbers of COVID-19 patients. 
"Unfortunately, we have very difficult times ahead," said Alabama State Health Officer Dr. Scott Harris, speaking during a briefing Friday. Harris noted that public health officials were concerned in April when there were 500 hospitalized coronavirus patients statewide, and said for the last couple of days, more than 1,800 have been hospitalized. 
"The numbers are just mind-boggling sometimes," Harris said. 
The Alabama Department of Public Health reported 3,840 new cases Friday, the third straight day the state has confirmed more than 3,000 cases. For the first time, the state averaged more than 3,000 cases per day over the past seven days. The seven-day average of 3,046 is a 44 percent increase from two weeks ago. 
Alabama hospitals were caring  for 1,875 COVID-19 patients on Friday, a 41 percent increase from two weeks ago. The medical staff at UAB is strained, said Dr. Sarah Nafziger, co-chair of UAB's Emergency Management Committee and professor of medicine in the school's Department of Emergency Medicine, speaking during a separate press briefing Friday. 
"Our patient volumes of COVID-19 positive patients have more than doubled over the course of the last month," Nafziger said. 
A little more than a week ago many celebrated Thanksgiving by gathering with others, Nafziger said. Those gatherings have been a concern among the medical community for fear of outbreaks. 
"We haven't even begun to see those patients yet," Nafziger said.  
Huntsville Hospital Systems has begun delaying elective procedures due to so many COVID-19 patients needing care, and Nafziger said UAB has also begun delaying some of those procedures, many of which are serious to a person's quality of life, such as hip replacements to ease pain. 
"It absolutely breaks my heart. It breaks the heart of our clinicians, our hospital administration. All of our staff is absolutely brokenhearted about it because the last thing we want to do is delay care for people who need us," Nafziger said. 
Cases among UAB employees have begun to rise significantly, Nafziger said, and most of those workers contracted the disease in their own communities, and not at work, where they wear personal protective gear that's proven to provide strong protection. 
"They are emotionally drained. They're physically tired," Nafziger said of UAB staff. "But at the same time, while I see that in their eyes, hear it in their voices, they also voice their resolve that they're not going to quit."
Testing statewide remains low. The average percentage of tests positive over the last week was 34 percent. Public health experts say it should be below 5 percent to ensure adequate testing is being done to prevent cases from going undetected. The state averaged 8,517 tests each day over the last two weeks, down from the two week average of 9,407 recorded on Nov. 26. 
ADPH reported 55 COVID-19 deaths on Friday. Over the last two weeks, the department has confirmed 380 deaths were due to coronavirus. At least 3,831 people have died from the disease in Alabama since the pandemic began.
Sen. Doug Jones, D-Alabama, pleaded with the public Friday to wear masks, practice social distancing and to stay at home as much as possible to help slow the spread.  
"Don't just think about those people who have had minor symptoms. Think about those who had an empty chair at Thanksgiving, because a loved one was lost," Jones said. 
Harris, during the briefing hosted by Jones, said that the state is seeing numbers "much higher than we've seen anytime during the pandemic" and warned that the rapidly rising number of cases and hospitalizations "is not sustainable."
"We cannot continue to go down this road," he said,
Despite new treatments and the pending vaccines, the only tools public health has to prevent the spread of the disease are the same we've had since the start, Harris explained. Face masks, social distancing, hand hygiene and staying at home as much as possible help prevent illnesses and save lives, he said. 
Harris discussed the state's plans to distribute vaccines, of which the first could arrive within the next couple of weeks, but said there are "a lot of moving parts and a lot of logistical complications that we are working to deal with" and it will be some time before the wider public has access to vaccines. 
If approved by the U.S. food and Drug Administration on Dec. 10, the state expects to receive in a short time the first shipment of 40,950 doses of the Pfizer vaccine, Harris said. The Pfizer vaccine requires two shots, one shot to be given 21 days after the first. 
A vaccine produced by the drug maker Moderna is expected to be approved the following week, although Harris said he's unsure how much Alabama will get initially. 
The early shipments of the vaccines will be in short supply and will have to be prioritized to protect the most vulnerable, according to the Alabama Department of Public Health's plan. ADPH is working to determine levels of risk among various medical workers, Harris said. 
"It's a real mixed blessing. We're thrilled to have a vaccine. We know it's going to save lives … but at the same time, we've got a long way to go before we have enough to cover everyone," Harris said. 
Nursing home residents will begin receiving vaccines the week following the initial shipment, Harris said. By then, there should be both the Pfizer and the Moderna vaccines in the state, so access should grow as those vulnerable people receive immunizations. 
In early 2021, possibly in late spring, there would be as many as six different vaccines circulating in Alabama, but each will likely be appropriate for certain people, Harris explained. Some may better protect the elderly, while others better protect younger people. 
The Pfizer vaccine will at first be shipped to eight larger medical facilities with the capability to store the drug at ultracold temperatures, as required, Harris said, and be able to administer the minimum shipment of 975 doses. Some smaller medical facilities in rural areas may have ultracold storage but wouldn't be able to administer so many doses in time, he said. 
"So that's clearly a disadvantage for smaller and more rural places," Harris said. 
To help with that, Harris said those hospitals selected to receive the first shipments have been asked to administer vaccines to the at-risk medical workers in surrounding areas. 
"So they're going to set aside a certain portion of their vaccine, probably somewhere around maybe 40 percent of the allotment," Harris said. "It'll be used for their own health care workers in their facility, but the remaining amount is going to be allocated to other health care workers in their area." 
"The real solution, ultimately, for our more rural place is going to be the use of the Moderna vaccine, Harris said, which can be stored in a regular freezer and won't have to be shipped in such large quantities. 
Alabama has around 300,000 health care workers and between 25,000 and 30,000 residents in skilled nursing facilities, and around the same number of staff in those facilities, Harris said. It will take "a few weeks" to immunize those persons, he said. 
Both Jones and Harris were asked by a reporter whether they'd take a vaccine, once one is available to them, and both said yes. 
"I absolutely will take the vaccine, as soon as it's approved by the FDA, and we have guidance from the ACIP, which should happen in next few days," Harris said, referring to the Advisory Committee on Immunization Practices, an independent body of physicians and medical researchers tasked with developing recommendations on the use of vaccines. 
Harris said he's completely confident in the process, and said the only reason it's gone so quickly is that the federal government allowed these companies to begin manufacturing the vaccines as they simultaneously sought approval. 
"That's really been the biggest timesaver," Harris said. "They have not shortcut the safety process. They have not shortcut the review process in any other way." 
Birmingham Mayor Randall Woodfin in a separate press briefing on Friday asked business owners to enforce state law regarding masks being worn inside their businesses. 
"If you are a small business owner in the city of Birmingham, if you are a manager of some form of a public store, I expect you to enforce the state's facial covering [mandate]," Woodfin said. "You need to make sure if a person walks into your establishment that they are abiding by the state's law." 
Dr. David Hicks, Jefferson County Department of Health deputy health officer, said the county has had more than 500 deaths and is averaging 326 new cases daily. 
"That's unacceptable … this season we need to spread joy. We do not need to spread COVID-19," Hicks said. 
Woodfin implored city employees and the public to wear masks and practice social distancing. 
"We all know someone who has an underlying condition or pre-existing condition … remember that as you go about interacting with other human beings," Woodfin said. "We believe in science. We believe in data, and we believe in those who are the experts, and we should listen to them."