Bentley says Spaceships Could be Landing at Huntsville Airport Soon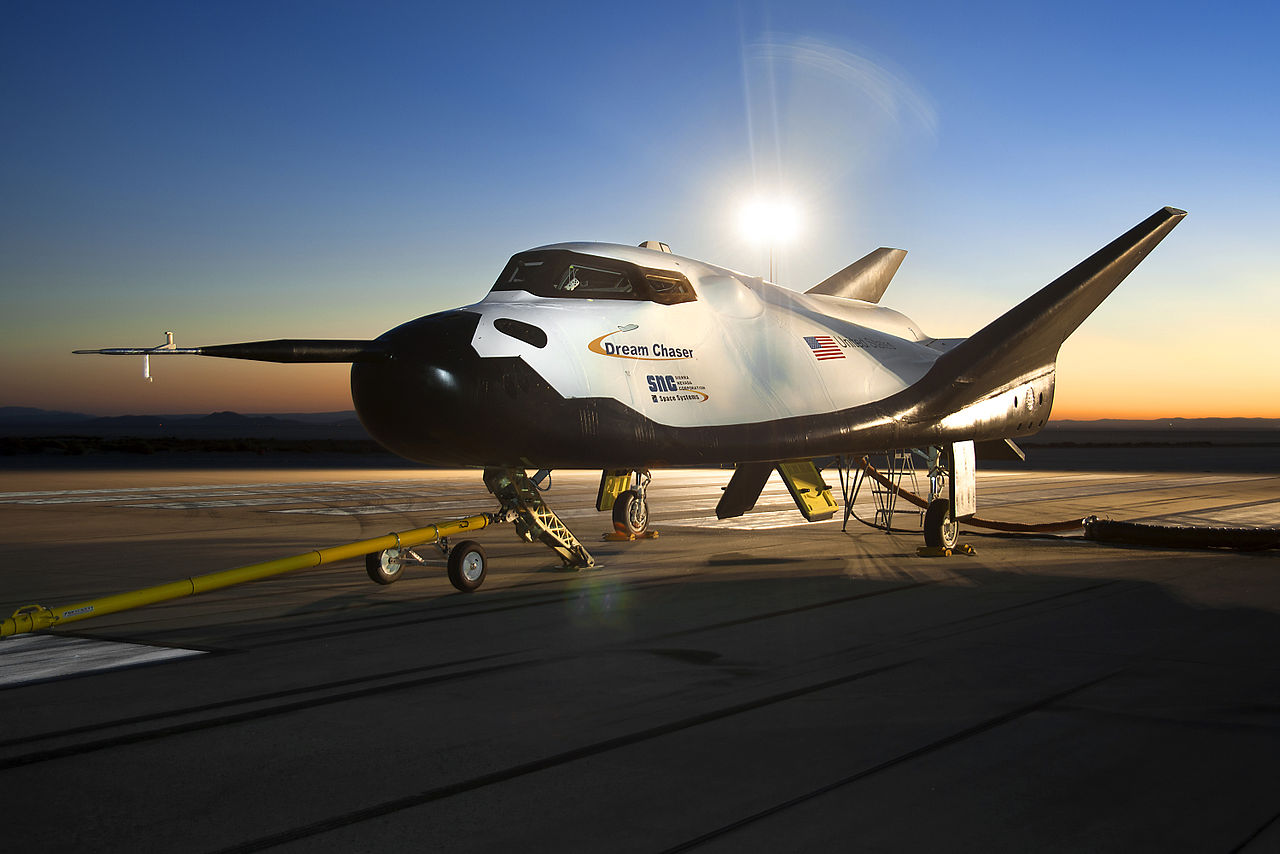 By Brandon Moseley
Alabama Political Reporter
Monday, June 15, Alabama Governor Robert Bentley announced plans to initiate a series of preliminary studies to assess the feasibility of landing Sierra Nevada Corporation's (SNC) Dream Chaser® spacecraft at the Huntsville International Airport.
The announcement was made on Monday at the Paris Air Show, although state business in Montgomery with the conclusion of the 2015 Legislative Session has prevented Governor Bentley from being able to attend this year's show.
Governor Bentley said in a statement, "Alabama has been a leader in the space industry since the beginning and it is natural that Alabama would continue to play a vital role in the continuation of space exploration.  Having Dream Chaser land in Huntsville would further highlight Alabama as the premiere destination for innovative, high-tech careers and keep our state on the cutting edge of history."
Secretary of the Alabama Department of Commerce Greg Canfield said, "For decades, Alabama's Rocket City has been at the epicenter of groundbreaking space exploration technology.  Having the Dream Chaser spacecraft touch down at the Huntsville International Airport after a cargo mission to space would be a fitting new chapter in that ongoing story."
Dream Chaser® was developed under the Sierra Nevada Corporation (SNC) Space Exploration Systems product line and is based on the HL-20, which was developed after years of work by NASA's Langley Research Center in Hampton, Va.  The HL-20 was developed as a concept for an enhanced lifting body candidate for manned orbital missions.  NASA designed the HL-20 for low operations cost, improved flight safety and conventional runway landings.  NASA, North Carolina State, and North Carolina A&T cooperatively built one non-flying mockup that was heavily tested.  NASA ultimately abandoned the project.
Sierra Nevada said in a statement on their website, "We are leveraging our long history and unrivaled record of success in developing innovative space technology and integrated systems. We are changing how space is accessed, explored and utilized through commercial means. Through our depth of capability and human spaceflight expertise, SNC's Space Exploration Systems is continually advancing systems and technologies to support the future of human spaceflight."
SNC said that, "The Dream Chaser® spacecraft is being refined and validated through partnership agreements with seven NASA field centers, ensuring maximum customer insight and access throughout the development and testing process. But then, NASA is more than just a customer … it is a trusted partner in our endeavor to provide broad utilization of space."
SNC's Dream Chaser spacecraft will be able to operate as an independent science platform, logistics enabler or orbital servicing vehicle.  SNC is in the competition for NASA's Commercial Resupply Services 2 contract to supply cargo to the International Space Station (ISS).   SNC also plans to operate the vehicle on other missions, tailored to a variety of U.S. and international customers.  The Dream Chaser spacecraft operates very similarly to the now retired Space Shuttle.  It goes into space on top of a rocket, and then glides to a landing back on earth horizontally on a runway.  Unlike the bigger shuttle, Dream Chaser can land on the typical commercial runway capable of handling the Boeing 737 or Airbus 320.  Dream Chaser uses non-toxic propellants and much easier access to payloads and crew upon landing.  The smaller Dream Chase can be easily transported from landing site to launch site using a variety of standard cargo aircraft.
Predating even the Space Shuttle, several lifting body craft including the M2-F2, M2-F3, HL-10, X-24A, and X-24B were flown by test pilots during the period between 1966 and 1975. The M2-F2 and the HL-10 were proposed in the 1960s to carry 12 people to a space station following launch on a Saturn 1B. The HL-20 PLS concept evolved from these early shapes. The "HL" designation stands for horizontal lander, and "20" reflected Langley's long-term involvement with the lifting body concept, which included the Northrop HL-10.
According to NASA, a lifting-body spacecraft, such as the HL-20 or its Dream Chaser successor, is expected, "To have several advantages over other shapes. With higher lift characteristics during flight through the atmosphere while returning from orbit, the spacecraft can reach more land area, and the number of available landing opportunities to specific sites would be increased. Loads during entry, in terms of g-forces, would be limited to about 1.5 – 1.9. This is important when returning sick, injured, or deconditioned Space Station crew members to Earth. Wheeled runway landings would be possible, permitting simple, precision recovery at many sites around the world.  Rockwell International (Space Systems Division) and Lockheed Advanced Development Company both were contracted by NASA in that research.
Teledyne Brown Engineering, with support from RS&H Aerospace and Morrell Engineering, will conduct preliminary studies to assess environmental factors such as airspace, traffic flow, potential impacts to commercial air traffic and the compatibility of SNC's Dream Chaser spacecraft with the existing runway and taxiway environments at Huntsville International Airport, a public use airport.
If those preliminary assessments are successful, a second phase of work may begin in late 2015, which could result in the issuance of a re-entry license from the Federal Aviation Administration to land the Dream Chaser spacecraft at the Huntsville International Airport.
House passes General Fund Budget
By Brandon Moseley
Alabama Political Reporter
The Alabama House of Representatives passed the state General Fund Budget on Tuesday.
The General Fund Budget for the 2019 fiscal year is Senate Bill 178. It is sponsored by Sen. Trip Pittman, R-Montrose. State Rep. Steve Clouse, R-Ozark, carried the budget on the House floor. Clouse chairs the House Ways and Means General Fund Committee.
Clouse said, "Last year we monetized the BP settlement money and held over $97 million to this year."
Clouse said that the state is still trying to come up with a solution to the federal lawsuit over the state prisons. The Governor's Office has made some progress after she took over from Gov. Robert Bentley. The supplemental we just passed added $30 million to prisons.
The budget adds $50 million to the Department of Corrections.
Clouse said that the budget increased the money for prisons by $55,680,000 and includes $4.8 million to buy the privately-owned prison facility in Perry County.
Clouse said that the budget raises funding for the judicial system and raises the appropriation for the Forensic Sciences to $11.7 million.
The House passed a committee substitute so the Senate is either going to have to concur with the changes made by the House or a conference committee will have to be appointed. Clouse told reporters that he hoped that it did not have to go to conference.
Clouse said that the budget had added $860,000 to hire more Juvenile Probation Officers. After talking to officials with the court system that was cut in half in the amendment. The amendment also includes some wording the arbiters in the court lawsuit think we need.
The state General Fund Budget, SB178, passed 98-1.
Both budgets have now passed the Alabama House of Representatives.
The 2019 fiscal year begins on Oct. 1, 2018.
In addition to the SGF, the House also passed a supplemental appropriation for the current 2018 budget year. SB175 is also sponsored by Pittman and was carried by Clouse on the floor of the House.
SB175 includes $30 million in additional 2018 money for the Department of Corrections. The Departmental Emergency Fund, the Examiners of Public Accounts, the Insurance Department and Forensic Sciences received additional money.
Clouse said, "We knew dealing with the federal lawsuit was going to be expensive. We are adding $80 million to the Department of Corrections."
State Representative Johnny Mack Morrow, R-Red Bay, said that state Department of Forensics was cut from $14 million to $9 million. "Why are we adding money for DA and courts if we don't have money for forensics to provide evidence? if there is any agency in law enforcement or the court system that should be funded it is Forensics."
The supplemental 2018 appropriation passed 80 to 1.
The House also passed SB203. It was sponsored by Pittman and was carried in the House by State Rep. Ken Johnson, R-Moulton. It raises securities and registration fees for agents and investment advisors. It increases the filing fees for certain management investment companies. Johnson said that those fees had not been adjusted since 2009.
The House also passed SB176, which is an annual appropriation for the Coalition Against Domestic Violence. The bill requires that the agency have an operations plan, audited financial statement, and quarterly and end of year reports. SB176 is sponsored by Pittman and was carried on the House floor by State Rep. Elaine Beech, D-Chatham.
The House passed Senate Bill 185 which gives state employees a cost of living increase in the 2019 budget beginning on October 1. It was sponsored by Sen. Clyde Chambliss, R-Prattville and was being carried on the House floor by state Rep. Dimitri Polizos, R-Montgomery.
Polizos said that this was the first raise for non-education state employees in nine years. It is a 3 percent raise.
SB185 passed 101-0.
Senate Bill 215 gives retired state employees a one time bonus check. SB215 is sponsored by Senator Gerald Dial, R-Lineville, and was carried on the House floor by state Rep. Kerry Rich, R-Guntersville.
Rich said that retired employees will get a bonus $1  for every month that they worked for the state. For employees who retired with 25 years of service that will be a $300 one time bonus. A 20-year retiree would get $240 and a 35-year employee would get $420.
SB215 passed the House 87-0.
The House passed Senate Bill 231, which is the appropriation bill increase amount to the Emergency Forest Fire and Insect and Disease Fund. SB231 is sponsored by Sen. Steve Livingston, R-Scottsboro, and was carried on the House floor by state Rep. Kyle South, R-Fayette.
State Rep. Elaine Beech, D-Chathom, said, "Thank you for bringing this bill my district is full of trees and you never know when a forest fire will hit.
SB231 passed 87-2.
The state of Alabama is unique among the states in that most of the money is earmarked for specific purposes allowing the Legislature little year-to-year flexibility in moving funds around.
The SGF includes appropriations for the Alabama Medicaid Agency, the courts, the Alabama Law Enforcement Agency, the Alabama Department of Corrections, mental health, and most state agencies that are no education related. The Alabama Department of Transportation gets their funding mostly from state fuel taxes.
The Legislature also gives ALEA a portion of the gas taxes. K-12 education, the two year college system, and all the universities get their state support from the education trust fund (ETF) budget. There are also billions of dollars in revenue that are earmarked for a variety of purposes that does not show up in the SGF or ETF budgets.
Examples of that include the Public Service Commission, which collects utility taxes from the industries that it regulates. The PSC is supported entirely by its own revenue streams and contributes $13 million to the SGF. The Secretary of State's Office is entirely funded by its corporate filing and other fees and gets no SGF appropriation.
Clouse warned reporters that part of the reason this budget had so much money was due to the BP oil spill settlement that provided money for the 2018 budget and $97 million for the 2019 budget. Clouse said they elected to make a $13 million repayment to the Alabama Trust fund that was not due until 2020 but that is all that was held over for 2020.
Clouse predicted that the Legislature will have to make some hard decisions about revenue in next year's session.