No Accountability in Accountability Act
EDUCATION MATTERS
By Larry Lee 

The Alabama Department of Revenue (ADOR) has made public the latest reports of scholarship granting organizations (SGO) participating in the Alabama Accountability Act.  And once again we see how little accountability there really is in this law.
There are currently nine SGOs listed by ADOR.  All were supposed to make a report showing info for Jan. 1, 2015 through June 30, 2015.  This was due by Sept. 1, 2015.  Two have made no reportsl.  Of the remaining seven, one made no annual report and its "quarterly" report was from June 1, 2015 to Aug. 1, 2015.  Two made no quarterly reports  and one annual report was late.
Which means that of the nine, only three (AAA Scholarship Foundation, Montessori Society of Huntsville, Scholarships for Kids) have provided all required reports in a timely fashion.
According to an article from AL.com, my friend Leslie Searcy, executive director of the Alabama Opportunity Scholarship Fund (the SGO created by former governor Bob Riley and operated out of Florida) says the accountability act is "certainly exceeding our expectations."
Let's step back and take a look at the program in its entirety and see if we agree.  (Judging AAA on just a quarterly report would be like saying that if a football team is ahead at the end of first quarter, it won the game and we can all go home.)
Each dollar donated to an SGO is a dollar diverted from the Education Trust Fund and instead goes as a tax break for the donor.  Total donations from the beginning of the program in 2013 until Oct. 22, 2015 were $54,395,485.  This is nearly $54.4 million that potentially could not be used for class rooms, new buses, textbooks, etc.
Looking at every report ADOR has posted and checking and double-checking shows that a total of 10,220 scholarships have been awarded (remember that in the second year of the program, most go to a student enrolled the year before), 2,573 have gone to students either attending, or zoned to attend, a failing school and 1,374 have gone to students who were already enrolled in private schools.
Of course, when AAA was passed in 2013 we were told repeatedly that it was to help kids stuck in failing schools by the zip codes.  Obviously this is not the case.  Certainly those 1,374 scholarships that went to students already attending a private school did not remove a child from a failing school.  And "attending" and "zoned to attend" are two totally different things.  In the first instance, the child leaves a failing school.  In the second instance, a child already attending a private school, but zoned to attend a failing public school, is totally different.
The two major SGOs are Alabama Opportunity Scholarship Fund and Scholarships for Kids.  Together they have awarded 10,040 of the 10,220 scholarships now given out.
AOSF gave out 3,608 scholarships in 2014.  The amended Accountability Act passed earlier this year states on page 3: to clarify and confirm that once an eligible student receives an educational scholarsip under this program that the student remains eligible to receive an educational scholarship unit the student graduates from high school or reaches 19 years of age.
However, AOSF only awarded 2,059 this year and Searcy points out that all went to previous recipients.  So does this mean 1,549 were not renewed even though the law says they are eligible?
According to a report in the Montgomery Advertiser early this year, Ellwood Christian Academy in Selma had 198 students on scholarship from AOSF.  However, when school started in August, 37 former Ellwood students enrolled in Selma city schools.  Were these 37 students who expected scholarships and never got them?
We have 735,000 students in Alabama public schools.  As best I can figure, the most we could now have on an AAA scholarship is 4,408.  So we have diverted $54.4 million from 735,000 so we can help 4,408.
Really now.  Exceeding expectations?
Larry Lee led the study, Lessons Learned from Rural Schools, and is a long-time advocate for public education.  [email protected]  read his blog: www.larryeducation.com
Print this piece
Opinion | We can't let up in the fight against gun-grabbers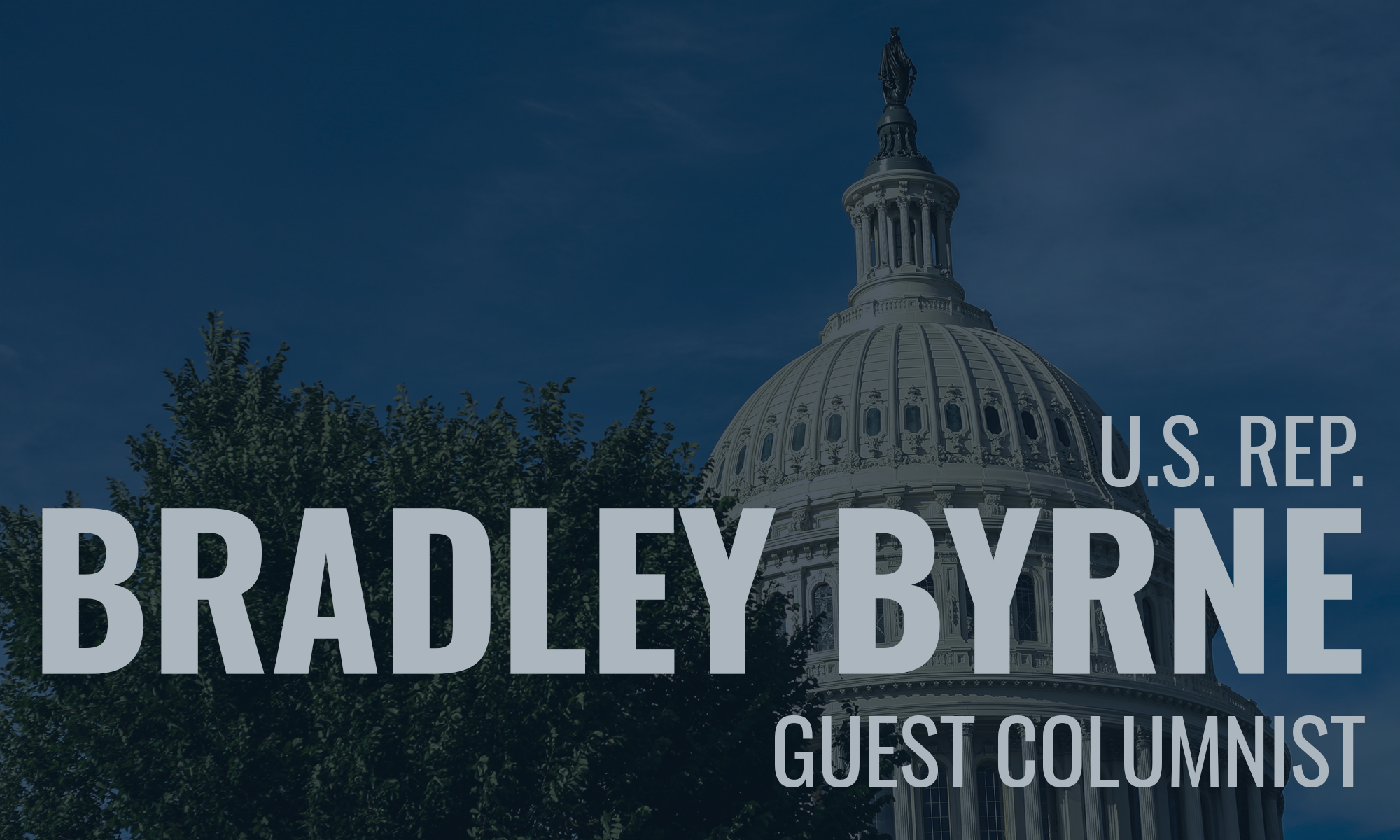 The Second Amendment is under attack like never before in our nation's history, but I am leading the fight to preserve your constitutional rights.
Last year, just weeks after taking power, House Democrats passed a bill to limit the constitutional right to own guns.  Their misguided legislation would do nothing to address the underlying problem behind actions of mass violence.  That bill, HR8, would prevent lawful gun owners from selling their guns to other law-abiding Americans.  If that bill became law, anytime a gun owner like me wanted to transfer or sell a gun, he or she would have to go through a government-sanctioned middle-man.  Of course, this process would be prohibitively time consuming and expensive.  The authors of this bill's true intent not only was to freeze all gun transactions through the power of a slow and inefficient federal bureaucracy but to subject millions of Americans to federal prosecution.  Even transferring a firearm to a family member or friend could require federal permission!
Let's not kid ourselves.  Criminals are not going to put their illegal enterprises on pause while waiting for permission to buy or sell a gun.  HR8 does nothing to stop crime and only burdens lawful citizens.  And it does nothing to address the mental health crisis behind so much of the mass violence we have seen.  During the debate on that bill, I introduced an amendment to strip out this anti-gun legislation and replace it with nationwide concealed carry reciprocity.  My amendment actually could make our country safer.  Unsurprisingly, Speaker Pelosi blocked my amendment.
Fortunately for gun owners, we have a true friend in the White House.  President Trump has been the biggest advocate for the Second Amendment ever to sit in the Oval Office.  To appreciate the significance of that, contrast his Second Amendment policies with those of his opponent in the 2016 election, Hillary Clinton.
In 2008 in District of Columbia v. Heller, in a major victory against zealous gun-grabbing liberals, the Supreme Court ruled against a District of Columbia law criminalizing handgun ownership.  That law made it illegal to possess an unregistered firearm in the city but also effectively prohibited registration itself, a blatant attempt to block constitutional rights to own a gun.  Clinton, however, disagreed with the Supreme Court's ruling!  Can you imagine if we had a president in the White House who thought it should be illegal to own a gun?  Unfortunately, her beliefs are now standard for Democrat politicians.
The battle to preserve the second amendment continues in the courts.  Last year, I wrote an amicus brief, often called a "friend of the court" brief, to the Supreme Court.  The Court is working on a case, N.Y. State Rifle & Pistol Association Inc. v. City of New York, to determine if New York's ban on transporting a handgun to a home or shooting range outside city limits is constitutional.  Like the District of Columbia law found unconstitutional in Heller, this law is a backdoor attempt to weaken your Second Amendment rights.  I was proud to have 120 lawmakers sign onto my brief as well as the support of the NRA and Gun Owners of America.
Last week, I signed on as an original cosponsor to an important bill to strengthen and protect gun rights.  The Lawful Interstate Transportation of Firearms Act would ban states from prosecuting lawful gun owners simply traveling through their state.  This commonsense legislation would protect against liberal states' sneaky schemes to circumvent the Second Amendment.  I'll continue fighting for this bill with my colleagues, including Mo Brooks of Alabama who introduced the bill.
The gun-grabbers aren't letting up, so we can't stop fighting either. Rest assured I will keep leading the fight in Washington to protect your Second Amendment rights.
Print this piece