By Brandon Moseley
Alabama Political Reporter
Wednesday, November 18, Alabama Governor Robert Bentley (R) released a statement about a recent phone conference between the Governors who oppose President Obama's controversial plan to resettle Syrian refugees in the United States and the President who steadfastly defends his unpopular plan.
Gov. Bentley said in a statement afterwards, "While the White House attempted to share information with Governors who have refused the relocation of Syrian refugees out of concern for their state's security, there were few questions answered by the Obama Administration. In a letter to the President yesterday, I expressed my frustration over the lack of information provided to states on how Syrian refugees are vetted. Other Governors shared those same concerns on the call with the White House."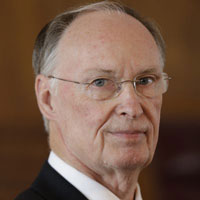 Governor Bentley said that the, "Governors expressed frustration over the failure to communicate with states. Federal officials admitted the refugee process is flawed and outdated and may need to be revised given the terrorists attacks in Paris."
Gov. Bentley concluded, "Despite Tuesday's call, I still have strong concerns on the vetting process of Syrian refugees. I am joining fellow Governors this week to discuss this important issue at the Republican Governors Association Annual Conference. I will continue to press the Obama Administration for answers and will keep the safety and security of Alabamians a top priority."
President Obama said, "When candidates say we wouldn't admit three year old orphans…that is political posturing.  I can not think of a more potent recruitment tool for ISIL than some of the rhetoric that has been coming out of here during the course of this debate."
In response New Jersey Governor and Republican Presidential candidate Chris Christie told CNN's Jake Tapper, "The President is the person that created this entire situation, Jake.  He didn't keep his word when he drew a red line in Syria.  He allowed the situation in Syria to happen.  He hasn't set up a no fly zone which could create a safe haven for these refugees so that they could live safely in their own country instead of being dispersed all across the world.  He allowed this situation to happen and he is the one casting aspersions? It is a joke and he is a joke on this issue. The fact is that we shouldn't be worried about any other folks without first worrying about the people of the United States of America and their security.  The widows and orphans I remember are the ones after 9-11 and I don't want to create a new generation of those.  The fact is the President could have fixed this problem in Syria if he acted before and he could ameliorate it now.  His failure created this crisis in Syria.  Now he is the one that wants to be a critic?  I don't take any criticism from the President seriously.  He lives in a fantasyland in the way he thinks the world should be not the way that the world is."
Governor Bentley, on Sunday, was the second Governor in the country to demand that no Syrian refugees be resettled in his state.  27 other Governors have since joined the movement.  On Tuesday, Governor Bentley issued an executive order to all state agencies ordering them not to assist federal authorities in any resettlement efforts.