By Brandon Moseley
Alabama Political Reporter
On Wednesday, December 2, Alabama Governor Robert Bentley (R) sent another letter to the White House reiterating his ongoing concerns with the Obama Administration over the refugee vetting process and the lack of information and involvement among states.
Gov. Bentley said in a statement, "I continue to have great concerns with the refugee vetting process, particularly the lack of state involvement, oversight or knowledge.  I cannot help but believe the intent appears to be an effort to circumvent states and our ability to adequately protect our people and ensure the safety of our citizens."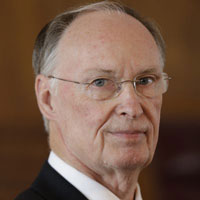 On November 15, 2015, Governor Bentley made national headlines when he announced his refusal to receive refugees from Syria through the US Refugee Admissions Program citing his increasing concerns with the federal government's vetting process.
Gov. Bentley said hours after the Islamo-facist attack, "After full consideration of this weekend's attacks of terror on innocent citizens in Paris, I will oppose any attempt to relocate Syrian refugees to Alabama through the US Refugee Admissions Program. As your Governor, I will not stand complicit to a policy that places the citizens of Alabama in harm's way."
Approximately 29 other Governors joined Bentley in expressing similar concerns to the White House.  The White House's position is that they, not the governors, have exclusive authority to implement immigration law and the governors have no authority to prevent the federal government from resettling refugees from war torn Syria in their states.
The Bentley Administration says that Alabama is entitled to receive quarterly reports on any refugees from Catholic Social Services (CSS), a volunteer organization unaffiliated with any state agency.  CSS, located in Mobile, is the only designated non-governmental organization in Alabama responsible for the processing of refugees in the resettlement program. Alabama has not received any of the required reports from CSS.  In a letter last week to Obama Administration officials, Governor Bentley requested that the State Department order CSS to deliver the refugee reports to the Governor's Office.
On Monday, White House Chief of Staff Denis McDonough responded to Governor Bentley's concerns by offering to allow the National Governors Association (NGA) to act as a filter between Governors and the federal government in an attempt to address the issues raised by Governors.
Gov. Bentley responded, "I cannot accept that proposal as a workable solution.  There should be no filter between the federal government and state governments, and especially between the President and Governors regarding an issue of such high importance as national security. As I expressed in my letter last week, Alabama has not received any refugee reports regarding any refugee of any national origin. I do not believe placing a filter such as NGA between the Administration and the Governor's Office addresses this current problem, nor does it solve future concerns regarding the vetting process."
Many Americans are fearful that importing more Muslims into this country will only increase the number of terror attacks in this country.
Coincidentally, also on Wednesday an Islamic couple killed 14 people and wounded 17 at an employee Christmas Party, before being gunned down by police after a brief vehicle chase.  Police have found several explosive devices in the area and in the couple's home which they are describing as an IED (improvised explosive device) construction facility.  Syed Farook and Tashfeen Malik left multiple pipe bombs and other explosive devices at various sites associated with their killing spree including three pipe bombs at the Inland Regional Center, where they attacked Sayed's co-workers.  Farook was a restaurant health inspector.  His 27 year old bride of nine months was from Qatar.  The couple has a six month old child they left with relatives.