Bentley Says that USDOT Discrimination Investigation is an Attempt to Politicize a Resolved Situation

By Brandon Moseley
Alabama Political Reporter
Wednesday, December 9, Alabama Governor Robert Bentley (R) on Wednesday issued a statement dismissing the US Department of Transportation's announcement of an investigation into the closure of Alabama Driver License Offices as, "An ongoing attempt to politicize a resolved issue" and accused President Obama and former Secretary of State Hillary Clinton (D) of politicizing the situation.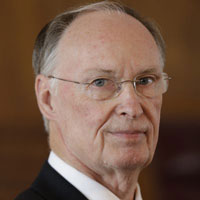 Gov. Bentley said, "In an ongoing attempt to politicize a resolved issue, the United States Department of Justice informed my office Tuesday of an impending investigation by the United States Department of Transportation (USDOT) that is in its early stages and no findings have been made. Due to legislative budget cuts, in September 2015, the Alabama Law Enforcement Agency (ALEA) reallocated driver license examination personnel back to the district drivers license offices on a full time basis. Prior to this budget decision, these examiners, who are state employees, were traveling to each county level probate office or courthouse once or twice a week to provide the service of examination.  I made the decision in October 2015 to ensure that an examiner report to each county level office at least once a month to continue providing this service."
Gov. Bentley continued, "Despite what the Obama Administration claims, there were no driver license offices closed in Alabama.  Despite facts to the contrary, opportunistic politicians such as Hillary Clinton have politicized an Alabama budgeting issue to serve their own agenda, going so far as to travel to our state for the sole purpose of political pandering. This USDOT investigation is nothing more than a weak attempt to embarrass the people of Alabama and exploit our state in the name of a political agenda. I am confident that the USDOT investigation will find no basis for the claims of discrimination.  It is time for the Obama Administration and aspiring national politicians to listen to facts, stop wasting taxpayers' dollars and put the political agendas away."
On Tuesday the U.S. Department of Transportation announced that it was launching an investigation into possible discrimination through the controversial Alabama driver license office closures.
Specifically, the US Department of Transportation announced it will investigate whether these actions by the State and the Alabama Law Enforcement Agency (ALEA) violate Title VI of the Civil Rights Act of 1964, which prohibits discrimination on the basis of race, color or national origin in programs and activities receiving federal assistance.
US Department of Transportation Secretary Anthony Foxx said in a statement, "Today, the U.S. Department of Transportation is making it clear that Title VI is not optional and that we will work to make sure all of its components are enforced.  Driver License Offices offer essential services to the American people, including providing thousands in Alabama with a method of identification. It is critical that these services be free of discrimination, and serve the people of the state fairly and equally."
USDOT said that, "On September 30, the State of Alabama announced the closure and reduction in services at 34 drivers licensing offices throughout the state. Preliminary information acquired by the Department suggests the reduction in drivers licensing services resulting from these closures may discriminate against Alabama's African American residents.  The Department's Title VI regulation — set forth at 49 CFR Part 21 — further clarifies that non-discrimination obligations under Title VI extend to all entities involved in administering programs or activities receiving Federal financial assistance. The State of Alabama and ALEA, in particular, receive substantial Federal assistance from the Department and, therefore, are subject to Title VI's nondiscrimination prohibition."
Departmental Civil Rights Acting Director Stephanie Jones said, "It is our obligation to ensure that recipients of federal funding are in compliance with federal laws that guarantee equal access and opportunity for all.  Our concern rests in the possibility that the State's closure of driver license offices disproportionately constrains the ability of some residents to secure driving privileges, register personal and commercial vehicles, and obtain proper identification –a critical requirement for access to essential activities such as opening a bank account and voting."
The Department announced that it has not reached any conclusions yet and will consider all relevant information during the investigation.
In more bad news, US Attorney Joyce Vance announced that her office was reviewing a voting rights lawsuit filed against Alabama by Greater Birmingham Ministries and the Alabama NAACP over the voter ID law.  Vance told the Alabama Media Group, "We received a copy of the lawsuit … We are certainly reading the lawsuit with great interest."  "We are acutely concerned with protecting the right to vote."
In 2011 the state passed a controversial law requiring that voters present a photo ID in order to vote in order to prevent voter fraud.
In January the Alabama Law Enforcement Agency (ALEA) announced that it was going to dramatically increase the cost of getting a driver's license in Alabama. ALEA raised the fee without getting approval from the legislature.  Efforts by State Senator Bill Holtzclaw (R-Madison) to make ALEA give back the money were blocked in the Senate.
Governor Robert Bentley (R) demanded that legislators give him $700 million in new taxes for the general fund and vowed to punish the districts of legislators who tried to block his plans.  The legislature refused, so the Governor called two special sessions over the course of the summer.  Ultimately the Republican leaderships caved in to some of Bentley's demands and agreed to raise taxes on cigarettes, pharmacies, and nursing home beds; but that $66 million was a far cry from what the Governor claimed that the state needed.  ALEA did not get the money that they requested.  Instead it was level funded at 2015 levels, the money that ALEA took by raising the drivers license fees was used to offset cuts.
ALEA Director Spencer Collier responded by cutting the 34 rural driver's license offices.  Rural counties, many of them majority Black were most impacted.  Most political insiders do not think that this decision was motivated by race, but rather was political payback to Democratic legislators (many of them representing rural, majority Black counties) for opposing Bentley's massive tax increase package.  Democrats joined with conservative Republicans to oppose the tax increases.
The affect was that many rural residents (many of them Black) now were 70 or 80 miles from a drivers license office.  The drivers license is also the most common form of photo ID used to vote in Alabama.  Democrats were already opposed to photo ID requirements to vote because they claim that Blacks and Latinos are less likely to have a photo ID than White people are.  The combination of a photo ID requirement and the closure of the offices, some claim amounts to voter suppression.  The State denies that and point out that if you don't have any of the other forms of photo ID, the state will make a voter ID for you free of charge in every Board of Registrars office in Alabama.  In addition to that Secretary of State John Merrill (R) is sending his mobile unit to every county in the state to make voter IDs for anyone who needs one.
Bentley denies that closing the drivers license offices had any political or racial basis and that it was just a cost cutting move by ALEA to save $100,000 by cutting the least utilized drivers license offices in the state and that efforts to claim that it was racial or discriminatory is just a cynical effort on the part of Democrats to try to motivate their voters with an election year approaching.  Republicans claim that the only reason one would oppose photo ID requirements is if they wanted to make it easier to steal an election.  Gov. Bentley has since agreed to reopen the offices one day a month.
(Original reporting by the Alabama Media Group contributed to this report)
House passes General Fund Budget
By Brandon Moseley
Alabama Political Reporter
The Alabama House of Representatives passed the state General Fund Budget on Tuesday.
The General Fund Budget for the 2019 fiscal year is Senate Bill 178. It is sponsored by Sen. Trip Pittman, R-Montrose. State Rep. Steve Clouse, R-Ozark, carried the budget on the House floor. Clouse chairs the House Ways and Means General Fund Committee.
Clouse said, "Last year we monetized the BP settlement money and held over $97 million to this year."
Clouse said that the state is still trying to come up with a solution to the federal lawsuit over the state prisons. The Governor's Office has made some progress after she took over from Gov. Robert Bentley. The supplemental we just passed added $30 million to prisons.
The budget adds $50 million to the Department of Corrections.
Clouse said that the budget increased the money for prisons by $55,680,000 and includes $4.8 million to buy the privately-owned prison facility in Perry County.
Clouse said that the budget raises funding for the judicial system and raises the appropriation for the Forensic Sciences to $11.7 million.
The House passed a committee substitute so the Senate is either going to have to concur with the changes made by the House or a conference committee will have to be appointed. Clouse told reporters that he hoped that it did not have to go to conference.
Clouse said that the budget had added $860,000 to hire more Juvenile Probation Officers. After talking to officials with the court system that was cut in half in the amendment. The amendment also includes some wording the arbiters in the court lawsuit think we need.
The state General Fund Budget, SB178, passed 98-1.
Both budgets have now passed the Alabama House of Representatives.
The 2019 fiscal year begins on Oct. 1, 2018.
In addition to the SGF, the House also passed a supplemental appropriation for the current 2018 budget year. SB175 is also sponsored by Pittman and was carried by Clouse on the floor of the House.
SB175 includes $30 million in additional 2018 money for the Department of Corrections. The Departmental Emergency Fund, the Examiners of Public Accounts, the Insurance Department and Forensic Sciences received additional money.
Clouse said, "We knew dealing with the federal lawsuit was going to be expensive. We are adding $80 million to the Department of Corrections."
State Representative Johnny Mack Morrow, R-Red Bay, said that state Department of Forensics was cut from $14 million to $9 million. "Why are we adding money for DA and courts if we don't have money for forensics to provide evidence? if there is any agency in law enforcement or the court system that should be funded it is Forensics."
The supplemental 2018 appropriation passed 80 to 1.
The House also passed SB203. It was sponsored by Pittman and was carried in the House by State Rep. Ken Johnson, R-Moulton. It raises securities and registration fees for agents and investment advisors. It increases the filing fees for certain management investment companies. Johnson said that those fees had not been adjusted since 2009.
The House also passed SB176, which is an annual appropriation for the Coalition Against Domestic Violence. The bill requires that the agency have an operations plan, audited financial statement, and quarterly and end of year reports. SB176 is sponsored by Pittman and was carried on the House floor by State Rep. Elaine Beech, D-Chatham.
The House passed Senate Bill 185 which gives state employees a cost of living increase in the 2019 budget beginning on October 1. It was sponsored by Sen. Clyde Chambliss, R-Prattville and was being carried on the House floor by state Rep. Dimitri Polizos, R-Montgomery.
Polizos said that this was the first raise for non-education state employees in nine years. It is a 3 percent raise.
SB185 passed 101-0.
Senate Bill 215 gives retired state employees a one time bonus check. SB215 is sponsored by Senator Gerald Dial, R-Lineville, and was carried on the House floor by state Rep. Kerry Rich, R-Guntersville.
Rich said that retired employees will get a bonus $1  for every month that they worked for the state. For employees who retired with 25 years of service that will be a $300 one time bonus. A 20-year retiree would get $240 and a 35-year employee would get $420.
SB215 passed the House 87-0.
The House passed Senate Bill 231, which is the appropriation bill increase amount to the Emergency Forest Fire and Insect and Disease Fund. SB231 is sponsored by Sen. Steve Livingston, R-Scottsboro, and was carried on the House floor by state Rep. Kyle South, R-Fayette.
State Rep. Elaine Beech, D-Chathom, said, "Thank you for bringing this bill my district is full of trees and you never know when a forest fire will hit.
SB231 passed 87-2.
The state of Alabama is unique among the states in that most of the money is earmarked for specific purposes allowing the Legislature little year-to-year flexibility in moving funds around.
The SGF includes appropriations for the Alabama Medicaid Agency, the courts, the Alabama Law Enforcement Agency, the Alabama Department of Corrections, mental health, and most state agencies that are no education related. The Alabama Department of Transportation gets their funding mostly from state fuel taxes.
The Legislature also gives ALEA a portion of the gas taxes. K-12 education, the two year college system, and all the universities get their state support from the education trust fund (ETF) budget. There are also billions of dollars in revenue that are earmarked for a variety of purposes that does not show up in the SGF or ETF budgets.
Examples of that include the Public Service Commission, which collects utility taxes from the industries that it regulates. The PSC is supported entirely by its own revenue streams and contributes $13 million to the SGF. The Secretary of State's Office is entirely funded by its corporate filing and other fees and gets no SGF appropriation.
Clouse warned reporters that part of the reason this budget had so much money was due to the BP oil spill settlement that provided money for the 2018 budget and $97 million for the 2019 budget. Clouse said they elected to make a $13 million repayment to the Alabama Trust fund that was not due until 2020 but that is all that was held over for 2020.
Clouse predicted that the Legislature will have to make some hard decisions about revenue in next year's session.