By Brandon Moseley
Alabama Political Reporter
Wednesday, December 9, Alabama Governor Robert Bentley (R) on Wednesday issued a statement dismissing the US Department of Transportation's announcement of an investigation into the closure of Alabama Driver License Offices as, "An ongoing attempt to politicize a resolved issue" and accused President Obama and former Secretary of State Hillary Clinton (D) of politicizing the situation.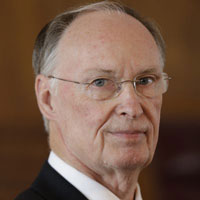 Gov. Bentley said, "In an ongoing attempt to politicize a resolved issue, the United States Department of Justice informed my office Tuesday of an impending investigation by the United States Department of Transportation (USDOT) that is in its early stages and no findings have been made. Due to legislative budget cuts, in September 2015, the Alabama Law Enforcement Agency (ALEA) reallocated driver license examination personnel back to the district drivers license offices on a full time basis. Prior to this budget decision, these examiners, who are state employees, were traveling to each county level probate office or courthouse once or twice a week to provide the service of examination.  I made the decision in October 2015 to ensure that an examiner report to each county level office at least once a month to continue providing this service."
Gov. Bentley continued, "Despite what the Obama Administration claims, there were no driver license offices closed in Alabama.  Despite facts to the contrary, opportunistic politicians such as Hillary Clinton have politicized an Alabama budgeting issue to serve their own agenda, going so far as to travel to our state for the sole purpose of political pandering. This USDOT investigation is nothing more than a weak attempt to embarrass the people of Alabama and exploit our state in the name of a political agenda. I am confident that the USDOT investigation will find no basis for the claims of discrimination.  It is time for the Obama Administration and aspiring national politicians to listen to facts, stop wasting taxpayers' dollars and put the political agendas away."
On Tuesday the U.S. Department of Transportation announced that it was launching an investigation into possible discrimination through the controversial Alabama driver license office closures.
Specifically, the US Department of Transportation announced it will investigate whether these actions by the State and the Alabama Law Enforcement Agency (ALEA) violate Title VI of the Civil Rights Act of 1964, which prohibits discrimination on the basis of race, color or national origin in programs and activities receiving federal assistance.
US Department of Transportation Secretary Anthony Foxx said in a statement, "Today, the U.S. Department of Transportation is making it clear that Title VI is not optional and that we will work to make sure all of its components are enforced.  Driver License Offices offer essential services to the American people, including providing thousands in Alabama with a method of identification. It is critical that these services be free of discrimination, and serve the people of the state fairly and equally."
USDOT said that, "On September 30, the State of Alabama announced the closure and reduction in services at 34 drivers licensing offices throughout the state. Preliminary information acquired by the Department suggests the reduction in drivers licensing services resulting from these closures may discriminate against Alabama's African American residents.  The Department's Title VI regulation — set forth at 49 CFR Part 21 — further clarifies that non-discrimination obligations under Title VI extend to all entities involved in administering programs or activities receiving Federal financial assistance. The State of Alabama and ALEA, in particular, receive substantial Federal assistance from the Department and, therefore, are subject to Title VI's nondiscrimination prohibition."
Departmental Civil Rights Acting Director Stephanie Jones said, "It is our obligation to ensure that recipients of federal funding are in compliance with federal laws that guarantee equal access and opportunity for all.  Our concern rests in the possibility that the State's closure of driver license offices disproportionately constrains the ability of some residents to secure driving privileges, register personal and commercial vehicles, and obtain proper identification –a critical requirement for access to essential activities such as opening a bank account and voting."
The Department announced that it has not reached any conclusions yet and will consider all relevant information during the investigation.
In more bad news, US Attorney Joyce Vance announced that her office was reviewing a voting rights lawsuit filed against Alabama by Greater Birmingham Ministries and the Alabama NAACP over the voter ID law.  Vance told the Alabama Media Group, "We received a copy of the lawsuit … We are certainly reading the lawsuit with great interest."  "We are acutely concerned with protecting the right to vote."
In 2011 the state passed a controversial law requiring that voters present a photo ID in order to vote in order to prevent voter fraud.
In January the Alabama Law Enforcement Agency (ALEA) announced that it was going to dramatically increase the cost of getting a driver's license in Alabama. ALEA raised the fee without getting approval from the legislature.  Efforts by State Senator Bill Holtzclaw (R-Madison) to make ALEA give back the money were blocked in the Senate.
Governor Robert Bentley (R) demanded that legislators give him $700 million in new taxes for the general fund and vowed to punish the districts of legislators who tried to block his plans.  The legislature refused, so the Governor called two special sessions over the course of the summer.  Ultimately the Republican leaderships caved in to some of Bentley's demands and agreed to raise taxes on cigarettes, pharmacies, and nursing home beds; but that $66 million was a far cry from what the Governor claimed that the state needed.  ALEA did not get the money that they requested.  Instead it was level funded at 2015 levels, the money that ALEA took by raising the drivers license fees was used to offset cuts.
ALEA Director Spencer Collier responded by cutting the 34 rural driver's license offices.  Rural counties, many of them majority Black were most impacted.  Most political insiders do not think that this decision was motivated by race, but rather was political payback to Democratic legislators (many of them representing rural, majority Black counties) for opposing Bentley's massive tax increase package.  Democrats joined with conservative Republicans to oppose the tax increases.
The affect was that many rural residents (many of them Black) now were 70 or 80 miles from a drivers license office.  The drivers license is also the most common form of photo ID used to vote in Alabama.  Democrats were already opposed to photo ID requirements to vote because they claim that Blacks and Latinos are less likely to have a photo ID than White people are.  The combination of a photo ID requirement and the closure of the offices, some claim amounts to voter suppression.  The State denies that and point out that if you don't have any of the other forms of photo ID, the state will make a voter ID for you free of charge in every Board of Registrars office in Alabama.  In addition to that Secretary of State John Merrill (R) is sending his mobile unit to every county in the state to make voter IDs for anyone who needs one.
Bentley denies that closing the drivers license offices had any political or racial basis and that it was just a cost cutting move by ALEA to save $100,000 by cutting the least utilized drivers license offices in the state and that efforts to claim that it was racial or discriminatory is just a cynical effort on the part of Democrats to try to motivate their voters with an election year approaching.  Republicans claim that the only reason one would oppose photo ID requirements is if they wanted to make it easier to steal an election.  Gov. Bentley has since agreed to reopen the offices one day a month.
(Original reporting by the Alabama Media Group contributed to this report)