Group Opposed to Marsh's Controversial Tenure Reform Bill Starts Petition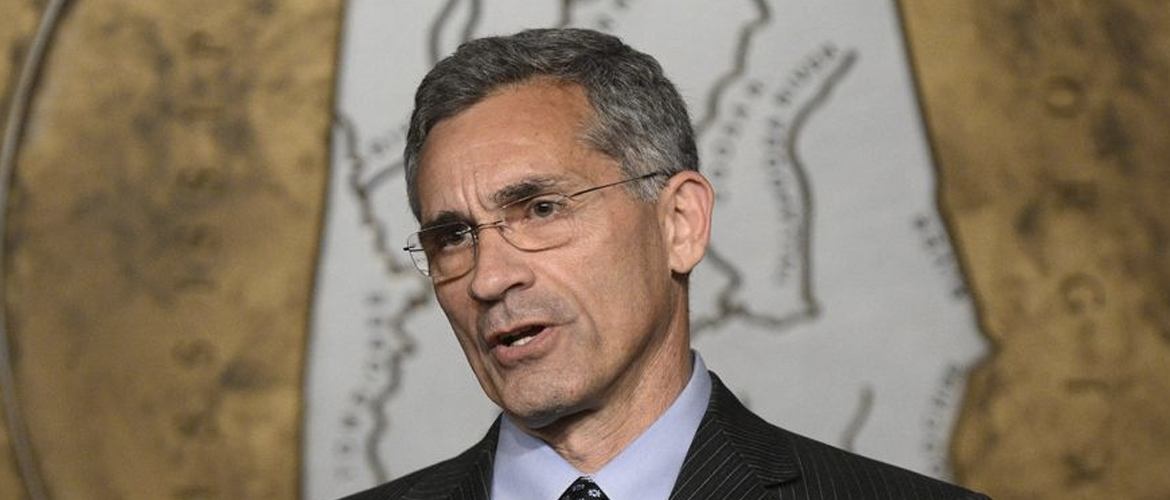 By Brandon Moseley
Alabama Political Reporter
Senate President Pro Tem Del Marsh (R from Anniston) has shared a couple of drafts of a controversial 'tenure reform' bill.  The 49 page Rewarding Advancement in Instruction and Student Excellence (RAISE) Act would two career tracks for new teachers and would fundamentally change how public school teachers are compensated in the state of Alabama moving forward.
Some educators and school boards have expressed opposition to parts of the bill.
Justin McNellage has started a petition at Change.org urging legislators not to pass the bill.  McNellage writes: "The RAISE Act, although ornamented by a seemingly positive title, is deceptive in nature and unfair to educators in Alabama. If this is passed, teachers, administrators, and every other professional within the confines of the educational process will have their futures drastically and negatively altered. Under the RAISE Act, which is being proposed by Del Marsh, teachers will be monetarily bullied into adopting a career path that will be plagued by subjective surveys from students and parents, observations by non-educators (creating more ways to waste money that should be utilized to helping the students), and the pressure that comes with not having job security (tenure). If teachers choose to keep their tenure, they will no longer be given raises from experience or obtaining advanced degrees. This laughable proposal by Marsh will result in teachers teaching to the test, treating kids unfairly in order to increase the salary-determining scores, and quitting because of the ridiculous aspects being presented."
At this point, 2,330 people have signed the petition begging the legislature not to pass the RAISE act as written.
Several commenters agreed with McNellage.  One wrote, "I'm a teacher, and this is not in the best interest of our students. This is a way to end tenure and pretend the legislation is giving teachers a raise. Nobody in their right mind will grandfather out to receive merit pay, so therefore those who want to get an advanced degree to further their education won't because they will not be compensated for it. How are teachers going to continue to be highly effective without continuing their own education at the University level? This is wrong on so many levels. Also, I've heard that states who use the ACT Aspire test and have gone through legislation similar to this pulled out of the state. The ACT Aspire doesn't want to be held responsible or be a part of their test judging teachers. That's not the intent. If this happens, what will Alabama use then? Back to the ARMT? The legislators need to quit disguising the bills. Call it what it is!"
Another wrote, "I am a special education teacher and I believe this bill is an insult to everyone in the teaching profession. Non-core teachers' pay based on parent surveys? Wow. Most of the parents I deal with can't even bother to return a meeting notice much less a survey to say whether I should be paid or not. This is a joke."
Another said, "Alabama leaders have consistently taken from public schools and teachers. If they spent a day in my classroom where I teach at an 84% free and reduced lunch school I believe they'd understand that what he's proposing is unfair. If we all taught cookie cutter children with cookie cutter families then maybe we could base pay on performance of students. But since these aren't the times we live in it is impossible and unfair. If we had a raise under these current leaders without our insurance and retirement contributions being raised maybe we could believe in what they're trying to do, but until then they do not have my support. I can barely take care of my own family yet I'm expected to teach twenty six year olds life skills, values, how to read fluently, how to write sentences and short stories, how to speak and act, how to count, add, and subtract, to reason, to construct viable arguments, to explain their thinking, and motivate them to learn by using everything from rewards to rap music. All while ensuring they get two balanced meals a day and providing them a snack out of my own pocket. I love what I do. I love making these children's lives better, but it's hard when after all they take out of my check I bring home $2300 each month and that's with a master's degree!!. I budget down to the dollar each month, so I can pay my mortgage and bills. I work at least 9 hour days, but many days it's a 10 or 11 hour day. And yet since 2008 my pay has actually decreased. To say I'm upset that these so called leaders don't value my profession is an understatement. I have lost all faith in these so called leaders."
Marsh's plan calls for two career tracks in education.  A non-tenured performance based career track that is higher paid but has little job security and a traditional tenure track where the teachers are less well compensated but can be awarded tenure by their local school boards.
The Marsh bill, as reported by Alabama School Connections, would increase the number of years for a young teacher to get tenure from three to five years.  This means that a teacher who takes a job at a school system under the tenure track could work in a place for up to five years and then the school board could vote not to give them tenure and they would be without a job.  School boards will not be able to give tenure to any teacher that scores less than a 3.0 on Marsh's new teacher evaluation scoring system.  Support personnel will not be given tenure at all.  
Performance track teachers would make more money but be fired at any time if they receive poor performance evaluations from their principal and a performance evaluator.  Pay would also be tied to student performance on standardized testing.  Existing teachers will be grandfathered into the tenure track.  If they elect to move to the performance track, they can't go back to the tenure track.  New hires under the performance track can not ever switch to the tenure track.
Existing Tenure (obtained under the Students First Act of 2011) can be revoked if the teacher receives two consecutive significantly below expectations performance ratings. The teacher can begin to earn tenure again upon revocation.  Cost of Living increases for current tenure track teachers will be capped at a maximum of five percent in any year.
Performance track teachers who receive "exceed expectations" evaluations receive bonus money.
Principals and assistant principals would be paid and evaluated under a similar system.
Sen. Marsh was one of the primary proponents of the Alabama Accountability Act as well as the charter school legislation that was passed in 2015.  Marsh has also blocked legislation that would repeal Alabama's unpopular Common Core aligned college and career ready standards.
Common Core aligned college and career ready standards.
The 2016 legislative session will convene on February 2.
Click here to read the draft bill.
Click here to read the petition.
The 2016 legislative session will convene on February 2.
House passes General Fund Budget
By Brandon Moseley
Alabama Political Reporter
The Alabama House of Representatives passed the state General Fund Budget on Tuesday.
The General Fund Budget for the 2019 fiscal year is Senate Bill 178. It is sponsored by Sen. Trip Pittman, R-Montrose. State Rep. Steve Clouse, R-Ozark, carried the budget on the House floor. Clouse chairs the House Ways and Means General Fund Committee.
Clouse said, "Last year we monetized the BP settlement money and held over $97 million to this year."
Clouse said that the state is still trying to come up with a solution to the federal lawsuit over the state prisons. The Governor's Office has made some progress after she took over from Gov. Robert Bentley. The supplemental we just passed added $30 million to prisons.
The budget adds $50 million to the Department of Corrections.
Clouse said that the budget increased the money for prisons by $55,680,000 and includes $4.8 million to buy the privately-owned prison facility in Perry County.
Clouse said that the budget raises funding for the judicial system and raises the appropriation for the Forensic Sciences to $11.7 million.
The House passed a committee substitute so the Senate is either going to have to concur with the changes made by the House or a conference committee will have to be appointed. Clouse told reporters that he hoped that it did not have to go to conference.
Clouse said that the budget had added $860,000 to hire more Juvenile Probation Officers. After talking to officials with the court system that was cut in half in the amendment. The amendment also includes some wording the arbiters in the court lawsuit think we need.
The state General Fund Budget, SB178, passed 98-1.
Both budgets have now passed the Alabama House of Representatives.
The 2019 fiscal year begins on Oct. 1, 2018.
In addition to the SGF, the House also passed a supplemental appropriation for the current 2018 budget year. SB175 is also sponsored by Pittman and was carried by Clouse on the floor of the House.
SB175 includes $30 million in additional 2018 money for the Department of Corrections. The Departmental Emergency Fund, the Examiners of Public Accounts, the Insurance Department and Forensic Sciences received additional money.
Clouse said, "We knew dealing with the federal lawsuit was going to be expensive. We are adding $80 million to the Department of Corrections."
State Representative Johnny Mack Morrow, R-Red Bay, said that state Department of Forensics was cut from $14 million to $9 million. "Why are we adding money for DA and courts if we don't have money for forensics to provide evidence? if there is any agency in law enforcement or the court system that should be funded it is Forensics."
The supplemental 2018 appropriation passed 80 to 1.
The House also passed SB203. It was sponsored by Pittman and was carried in the House by State Rep. Ken Johnson, R-Moulton. It raises securities and registration fees for agents and investment advisors. It increases the filing fees for certain management investment companies. Johnson said that those fees had not been adjusted since 2009.
The House also passed SB176, which is an annual appropriation for the Coalition Against Domestic Violence. The bill requires that the agency have an operations plan, audited financial statement, and quarterly and end of year reports. SB176 is sponsored by Pittman and was carried on the House floor by State Rep. Elaine Beech, D-Chatham.
The House passed Senate Bill 185 which gives state employees a cost of living increase in the 2019 budget beginning on October 1. It was sponsored by Sen. Clyde Chambliss, R-Prattville and was being carried on the House floor by state Rep. Dimitri Polizos, R-Montgomery.
Polizos said that this was the first raise for non-education state employees in nine years. It is a 3 percent raise.
SB185 passed 101-0.
Senate Bill 215 gives retired state employees a one time bonus check. SB215 is sponsored by Senator Gerald Dial, R-Lineville, and was carried on the House floor by state Rep. Kerry Rich, R-Guntersville.
Rich said that retired employees will get a bonus $1  for every month that they worked for the state. For employees who retired with 25 years of service that will be a $300 one time bonus. A 20-year retiree would get $240 and a 35-year employee would get $420.
SB215 passed the House 87-0.
The House passed Senate Bill 231, which is the appropriation bill increase amount to the Emergency Forest Fire and Insect and Disease Fund. SB231 is sponsored by Sen. Steve Livingston, R-Scottsboro, and was carried on the House floor by state Rep. Kyle South, R-Fayette.
State Rep. Elaine Beech, D-Chathom, said, "Thank you for bringing this bill my district is full of trees and you never know when a forest fire will hit.
SB231 passed 87-2.
The state of Alabama is unique among the states in that most of the money is earmarked for specific purposes allowing the Legislature little year-to-year flexibility in moving funds around.
The SGF includes appropriations for the Alabama Medicaid Agency, the courts, the Alabama Law Enforcement Agency, the Alabama Department of Corrections, mental health, and most state agencies that are no education related. The Alabama Department of Transportation gets their funding mostly from state fuel taxes.
The Legislature also gives ALEA a portion of the gas taxes. K-12 education, the two year college system, and all the universities get their state support from the education trust fund (ETF) budget. There are also billions of dollars in revenue that are earmarked for a variety of purposes that does not show up in the SGF or ETF budgets.
Examples of that include the Public Service Commission, which collects utility taxes from the industries that it regulates. The PSC is supported entirely by its own revenue streams and contributes $13 million to the SGF. The Secretary of State's Office is entirely funded by its corporate filing and other fees and gets no SGF appropriation.
Clouse warned reporters that part of the reason this budget had so much money was due to the BP oil spill settlement that provided money for the 2018 budget and $97 million for the 2019 budget. Clouse said they elected to make a $13 million repayment to the Alabama Trust fund that was not due until 2020 but that is all that was held over for 2020.
Clouse predicted that the Legislature will have to make some hard decisions about revenue in next year's session.