Zeigler Addresses Pro-Life Rally

By Brandon Moseley
Alabama Political Reporter
On Tuesday, February 22, Alabama Auditor Jim Zeigler (R) addressed Pro-Life forces gathered in Montgomery for Pro-Life Legislative Day.
Auditor Zeigler said, "Today in the United States, around 1,917 babies will be killed by abortion. We're here today because we care about them. We are here today to "speak up for those who cannot speak for themselves." And, perhaps there is no time more critical to make our voice heard than NOW. The battle to protect the innocent unborn is a spiritual battle. In this vital year of 2016, one key part of that battle has to be political."
Zeigler continued, "We have an opportunity in 2016 that we may never have again. An opportunity to elect a President who can turn the US Supreme Court to a pro-life majority — a constitutional majority who will reverse the imaginary right to privacy and right to abortion that were invented by the US Supreme Court in its unconstitutional decision, Roe v. Wade."
Zeigler said that it, "Is imperative that we elect a President of the United States who will appoint Justices to the US Supreme Court who will protect the lives of the unborn." "The death of Justice Antonin Scalia makes it all the more important we elect a President who will not be lukewarm on the requirement that judicial nominees be solidly pro-life. We do not need a Laodicean President, and we do not need Laodicean Justices. Our adversaries will have no idea what this means."
Zeigler said, "That he next President may appoint one to four Supreme Court Justices. For this reason, I am declaring 2016 "The Year of the Innocent Unborn." May 2016 be the year that this evil wrong is righted. Maybe 2016 be the year that America returns to its founding principle — the right to life, liberty and the pursuit of happiness. Notice that the right to life — is first. As we in Alabama go to the polls next Tuesday, there are a number of important decisions for us to make. Perhaps the most important is to nominate a Presidential candidate who is clearly pro-life. With no exceptions. No hesitancy. What we do next Tuesday can make all the difference for millions of unborn children who are at risk because of the US Supreme Court. What we do between now and the November general election can make THE difference for the unborn."
Zeigler said that he hoped that 2016 goes, "Down in history as a year of repentance and a year of change – a year for turning around the American holocaust. I don't want to have to stand here again next year and over 700,000 lives later."
The rally was part of a series of events on Tuesday in Montgomery for Pro-Life Legislative Day.
The Alabama House of Representatives has already passed the Unborn Baby Dignity of Life Act (HB 45) on Wednesday, February 17. Other Pro-Life bills are in various stages of the legislative process.
State Representative Tim Wadsworth (R-Winston County) said that HB45 Unborn Baby Dignity of Life Bill prevents the sale or other improper disposition of a deceased unborn child.
The Alabama House Republican Caucus wrote, "Unborn Infants' Dignity of Life Act – Recent reports about outrageous acts by Planned Parenthood and its representatives have prompted public outcry regarding the organization and the cavalier practices it utilizes regarding unborn life. In order to ensure that these atrocities do not occur in Alabama, the House Republican Caucus will offer legislation banning the sale of the bodily remains of unborn infants."
In 2015 the legislature attempted to increase the health and safety requirements for Alabama's abortion clinics. A federal judge overturned that legislation. The State joined a multi-state appeal led by Texas to the US Supreme Court. The death of US Supreme Court Justice Antonin Scalia, who was sympathetic to the Pro-Life cause, may have hurt the State's chances of victory in this case.
Alabama reports record-breaking 2,164 new COVID-19 cases
Thursday's number of new cases hit 2,164 and blew past the previous daily record set on July 3 by 406 cases.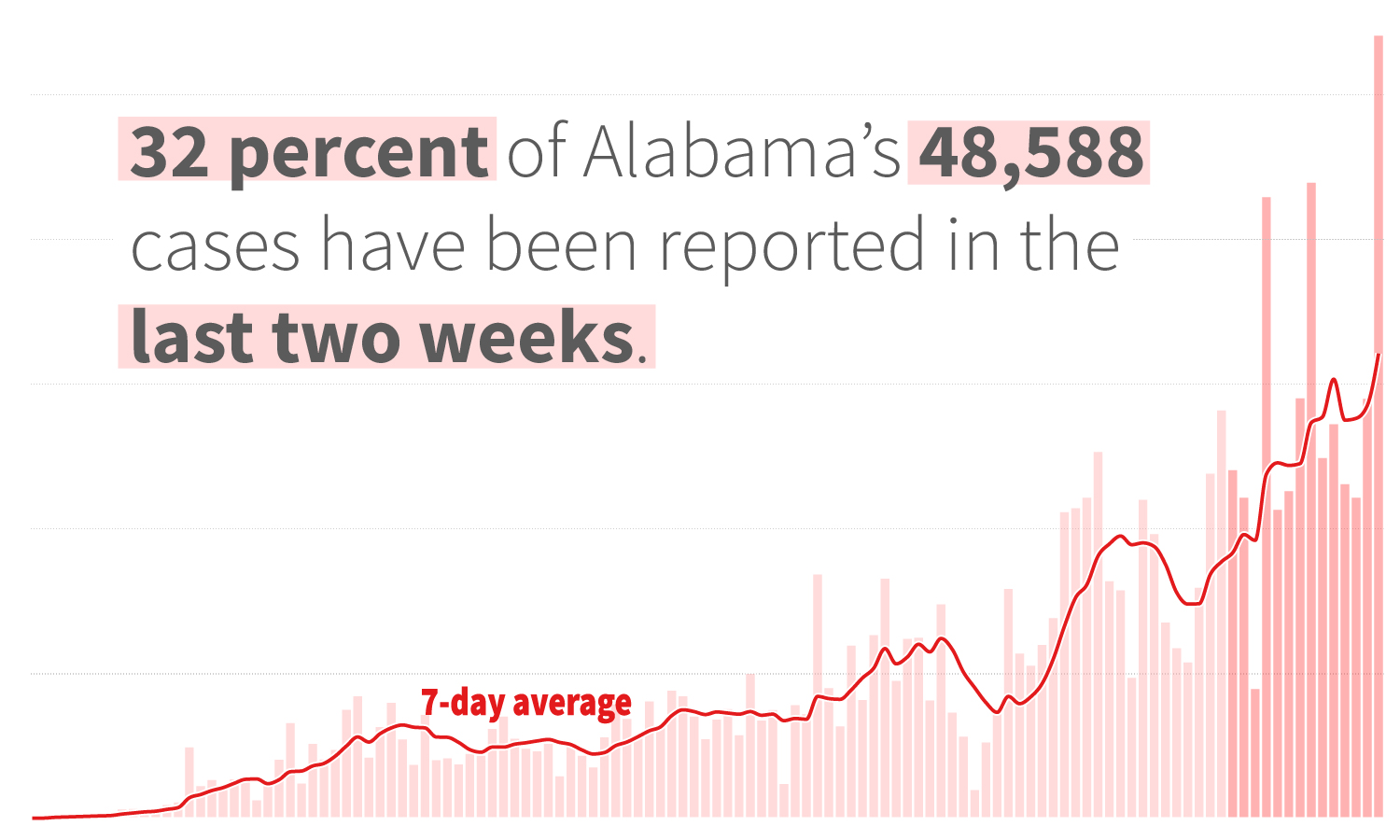 New COVID-19 cases in Alabama on Thursday jumped by nearly double from the day before, and for the first time broke 2,000 in a single day, according to the latest data from the Alabama Department of Public Health.

Thursday's number of new cases hit 2,164 and blew past the previous daily record set on July 3 by 406 cases. Both the seven-day and 14-day rolling average of new daily cases in Alabama were also at record highs Thursday. 
Thirty-two percent of the state's 48,588 cumulative confirmed cases have been added within the last two weeks. 
The Alabama Department of Public Health did not publish Wednesday an update to the total number of tests performed, which throws off the day's figures for the percentage of tests that are positive, but on average, over the last week, the state's seven-day rolling average of percent positivity has roughly 15 percent. 
Public health experts say the percent positivity should be at or below 5 percent — otherwise there isn't enough testing being done and cases are going undetected. 
Along with surging new cases, the number of COVID-19 patients hospitalized on Wednesday was higher than it's been since the beginning of the pandemic. On Wednesday 1,110 coronavirus patients were being treated in state hospitals, which was the fourth straight day of record current hospitalizations. 
UAB Hospital's COVID-19 Intensive care units were nearing their existing capacity Tuesday. The hospital has both a COVID ICU and a COVID acute care unit designated to keep patients separated from those who don't have the virus, but it has more space in other non-COVID units should it need to add additional bed space.

Hospitals in Madison County this week are also seeing a surge of COVID-19 patients. Paul Finley, the mayor of the city of Madison, told reporters Wednesday that local hospitals were reporting record numbers.

Hospitals there were at 80 to 90 percent capacity.
"Our ambulances yesterday had their greatest number of runs since this started," said Crestwood Hospital CEO Dr. Pam Hudson on Wednesday, adding that in about 20 percent of calls staff is having to wear full personal protective equipment. "That indicates that they are working with patients who have symptoms that could be compatible with COVID."
Meanwhile, Madison County set a new daily record, adding 286 cases Thursday, the first time the county has surpassed 200 cases a day. The county was largely spared early on in the pandemic, with low case counts and low death rates, but roughly 42 percent of Madison County's total case count since March has been reported in the last week as 803 new cases have been added.
Jefferson County and Madison County, over the last week, have accounted for 26 percent of the state's new cases.
Jefferson County led the state in the most new cases Thursday with 343 and has added 1,498 cases in the last week. The county's total cases increased by 33 percent from last week, and stood at 6,030 confirmed COVID-19 cases Thursday.
While Jefferson County and Madison County are seeing the state's most intense increases, other large counties including Shelby County, Baldwin County and Tuscaloosa County have also seen record increases and rising percent positive rates.
At least 81 people have died from COVID-19 in the last week, and 162 people have died in the last two weeks.
At least 1,042 people have died from COVID-19 since March, and at least 26 other deaths are listed as "probable" COVID-19 deaths.