Rising Republican Star Killed in Car Crash
By Brandon Moseley
Alabama Political Reporter
On Saturday, March 19, the President of the Jefferson County School Board, Dean Taylor, age 35, died in an automobile accident.  Taylor was active in the Greater Birmingham Young Republicans, Jefferson County Republicans, Young Republican Federation of Alabama and was considered a rising star in GOP politics.
The Chair of the Jefferson County Republican Party Sallie Bryant said in a statement, "Our heartfelt condolences to the family of Jefferson County BOE member Dean Taylor, who lost his life in a tragic accident overnight. He was an exemplary public servant who fought tirelessly to improve education for all students and provide our teachers the resources they needed. He will be greatly missed."
Young Republican Federation of Alabama Chair Jackie Curtis said in a statement, "We are heartbroken by the devastating loss of our fellow Young Republican Dean Taylor. Dean, President of the Jefferson County Board of Education, was passionate about ensuring every child in Alabama had the opportunity to achieve an excellent education. He was a wonderful friend, dedicated Republican activist, and a valuable member of our Federation. Most importantly, he was a dedicated and loving father to the little guy who made him more proud than anything else, his son Bronson. Please join us in praying for his family during this difficult time. We will miss you, Dean!"
Republican strategist and ALGOP Steering Committee Member Chris Brown said, "We are shocked and heartbroken by the loss of our dear friend, Dean Taylor. Dean was a great man and Republican, but most importantly he was an outstanding father to his young son, Bronson. Nothing made Dean more proud than being Daddy to a son he loved so much. Please keep His family in your prayers. He will be sorely missed."
Voice of Alabama Politics Producer and Republican nominee for Jefferson County Constable Jonathan Barbee said, "Dean Taylor, Jr. will be missed. I had the pleasure of getting to know him on the campaign trail during the last two years. Prayers are with his family. Tragic loss."
The Greater Birmingham Young Republicans released a statement: "We are all deeply saddened by the loss of our friend and club member, Dean Taylor. We knew him as a supportive friend, engaging personality, tireless public servant, and devoted father. We will miss him. Condolences to his family and all who loved him."
GBYR State Committeeman Sean Grehalva said, "So sad to hear this news. A friendly and memorable guy, Dean was a true gentleman."
Visitation will be Wednesday, March 23, 2016 from 11 a.m. until 2 p.m. in the chapel of The New Gardendale Funeral Home with the service to follow at 2 p.m.  Burial will be at Oakwood Memorial Gardens. In lieu of flowers, the family requests donations be made to the Raymond Doss Playground of Miracles; PO Box 889, Gardendale, AL 35117.
Dean was elected to the five member Jefferson County Board of Education in 2014.  His fellow board members elected Taylor President of the Board.
Dean Taylor was a graduate of Gardendale High School (1999), studied at Bevill State Community College, and was a United States Air Force veteran.
After serving a six year enlistment Dean returned home and took a position with Webb Payroll as Vice-President for Sales and Marketing which is the position Dean held at the time of his passing.
Dean is survived by: his son, Bronson Taylor; his mother, Sherry K. Webb; grandparents, Jim and Joyce Taylor, Myra Armstrong (Jerry) and Harry F. Keplinger (Pam); uncles, Keith Keplinger (Michelle), Harry F. Keplinger Jr. (LuAnn), Daryl Keplinger and Karl Keplinger; aunt, Kari Keplinger and a host of cousins, friends and colleagues.
Original reporting by the North Jefferson News contributed to this report.
Alabamians request more than 101,000 absentee ballots with 30 days left to apply
So far, 35,184 absentee ballots have been successfully returned for the general election.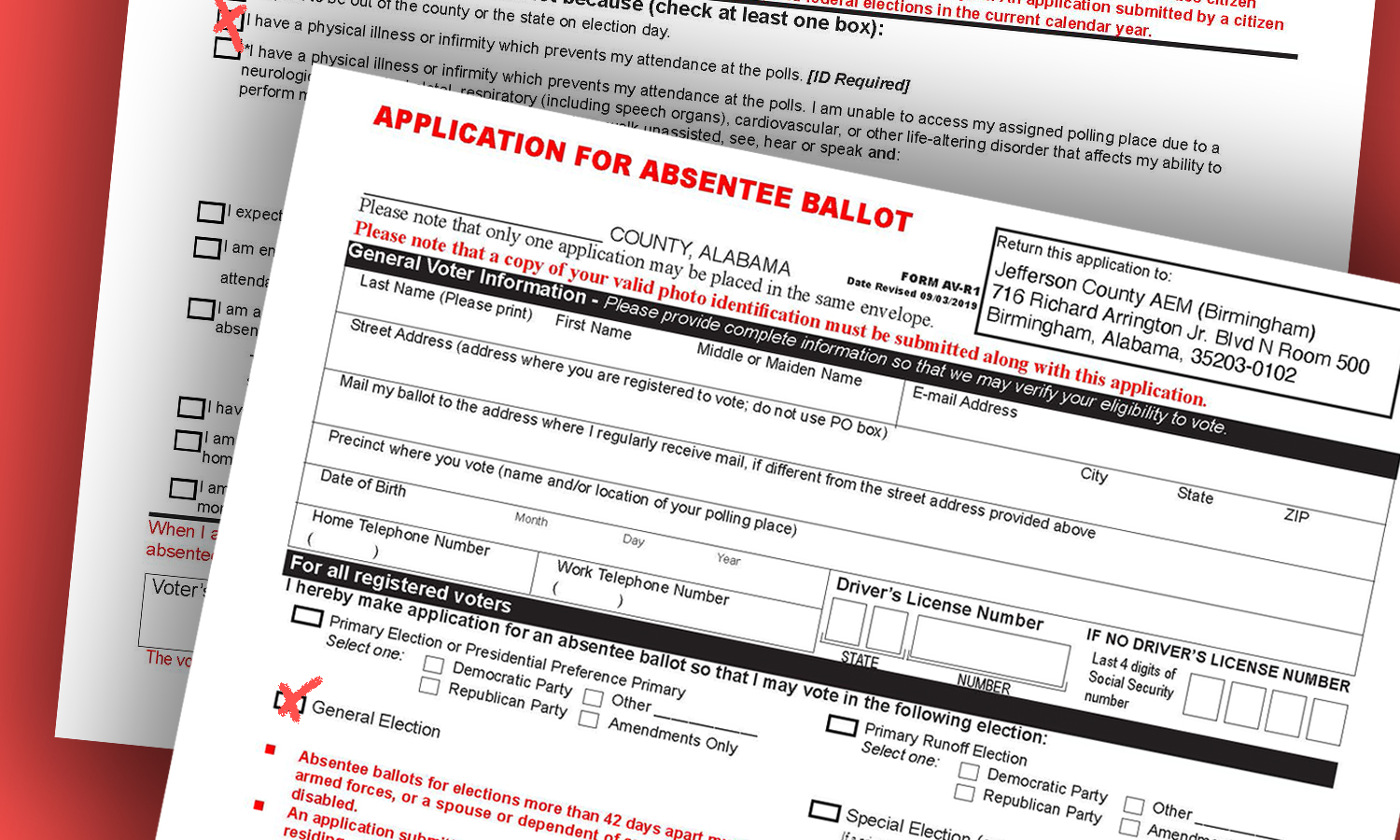 At least 101,092 absentee ballots have been requested so far in Alabama according to Secretary of State John Merrill, with just 30 days left to apply for an absentee ballot for the Nov. 3 General Election. So far, 35,184 absentee ballots have been successfully returned for the general election.
In order to protect the safety and well-being of voters, Merrill is encouraging those who are concerned about contracting or spreading the coronavirus to apply for and cast an absentee ballot.
Absentee ballot applications can be downloaded online or requested by visiting or calling your local absentee election manager's office.
Voters may also contact the Secretary of State's office at 334-242-7210 to request an absentee ballot application.
Due to the declared states of emergency, any qualified voter who determines it is impossible or unreasonable to vote at their polling place shall be eligible to check the box on the absentee ballot application that is most applicable to that individual. In the case none of the boxes are appropriate, voters can check the box which reads, "I have a physical illness or infirmity which prevents my attendance at the polls. [ID REQUIRED]"
For the Nov. 3 General Election, the deadline to register to vote is Monday, Oct. 19, the deadline to submit an absentee ballot application is Thursday, Oct. 29, the deadline to return an absentee ballot to the absentee election manager is the close of business Monday, Nov. 2, and the last day to postmark an absentee ballot is Monday, Nov. 2.
Voters who are eligible to vote pursuant to the Uniformed and Overseas Absentee Voting Act will have until Tuesday, Nov. 3 to postmark an absentee ballot.
Voters concerned about COVID-19 are encouraged to select the box on the affidavit, which accompanies the absentee ballot, which reads as follows: "I am physically incapacitated and will not be able to vote in person on election day."
Due to recently witnessed delays with the U.S. Postal Service, Merrill encourages voters interested in returning their ballot by mail to go ahead and make application for their absentee ballot. As a reminder, Merrill worked with the Legislature last year to pass Act 2019-507, allowing voters the opportunity to return their absentee ballot by commercial carrier in addition to U.S. mail.