Republicans Want to Limit Spending, Fundraising, Free Speech

By Bill Britt
Alabama Political Reporter
MONTGOMERY—Twin bills in the Alabama House and Senate would severely limit the First Amendment and the spirit of Citizens United, by limiting funds raised or spent on campaigns and issues.
SB356 and HB404 Sponsored respectively by Sen. Arthur Orr and Rep. Mike Jones would, "regulate the disclosure, raising, and spending of money to influence elections and governmental actions."
Alabama's own Shaun McCutcheon, a hero to many in the State and nation, fought the FEC over campaign giving and won in the 2014 US Supreme Court ruling "McCutcheon v. Federal Election Commission," believes full disclosure is right, but to limit how much money can be raised or spent is unacceptable.
"There are three areas here. There is disclosure, spending and then raising money. I would say the disclosure is a good idea makes things work better," said  McCutcheon. "But we need to get away from any kind of limits especially on raising money…so I would not be for any limits or regulation of raising money or spending. Also, I think that would be unconstitutional. It would be outside of the scope of the First Amendment."
These vague bills call for a amendment to the State's 1901 constitution, under the guise of the people's right to know. But, whose speech would be restricted, and how, is left to some future action by a legislature whose leaders have used dark money on a regular basis.
"As you know my case was utilized in about 20 states to strike down state aggregate limit laws," said McCutcheon. "That has already happened across the country. So, I don't know what limits they could put out there in terms of aggregate limits that would not be struck down pretty immediately because the ruling applies to states."
The bills claim to, "advance democratic self-government and political equality." But McCutcheon, doesn't see how limiting free speech advances self-government.
"I disagree with anyone attempting to undermine the Constitution or threaten Free Speech," said McCutcheon. "I have consistently advocated that more private money in the political process greatly benefits the public debate." He further said, "Any attempt by government officials to limit political messages from private citizens should be thwarted as it is a threat to the First Amendment."
Sen. Orr could not be reached before deadline.
Trump Truck and boat parades this weekend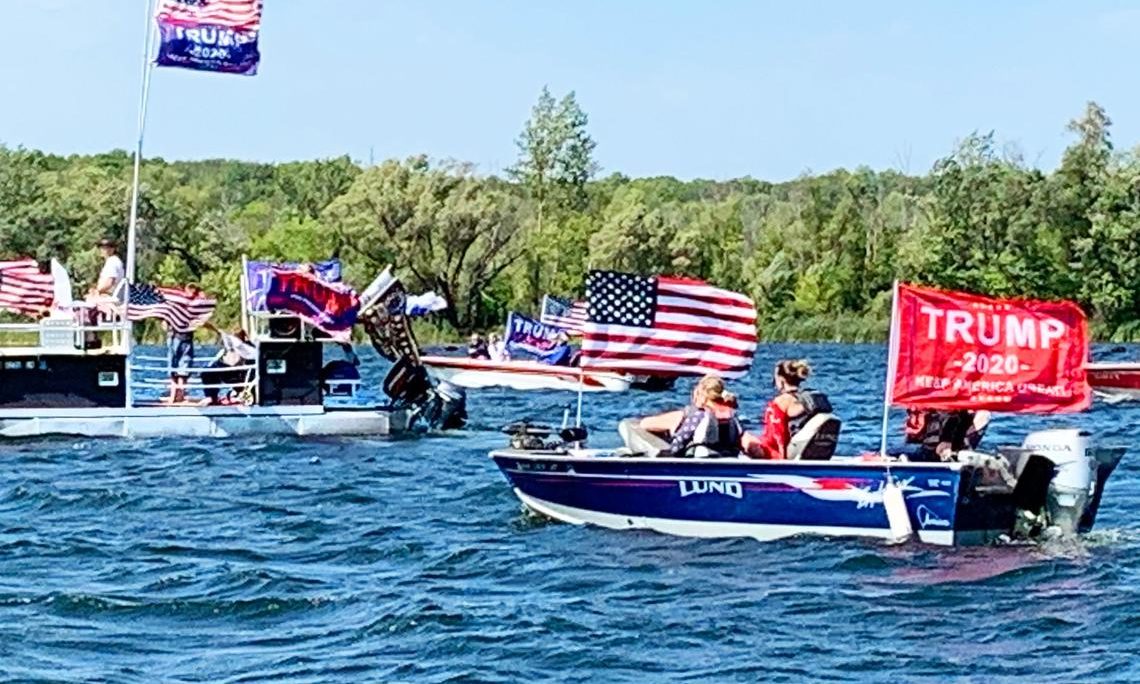 As Election Day draws near, Alabama Republicans are excited about promoting the re-election of Donald J. Trump as President and the election of Tommy Tuberville for U.S. Senate. This weekend two pro-President Trump events are happening in the state. There will be a truck parade from Ashland to Phenix City on Saturday sponsored by the Clay County Republican Party, while there will also be a boat parade on Wilson Lake in the Shoals sponsored by the Colbert County Republican Party on Sunday.
The pickup trucks will assemble at the Ashland Industrial Park in Clay County, 8240 Hwy 9, Ashland. There is a pre-departure rally at 10:00 a.m. central standard time. The trucks will depart at 11:00 a.m. and then proceed on a parade route that will take them into the bitterly contested swing state of Georgia. The Trump Pickup Parade will wind through east Alabama and West Georgia traveling through LaGrange and Columbus before concluding near the Alabama/Georgia line in Phenix City, 332 Woodland Drive, Phenix City at approximately 2:00 p.m. central time. Speakers will begin at 3:00. Trump flags will be on sale at the event.
The Phenix Motorsports Park will be hosting what sponsor hope could possibly the world's largest Pickup Tuck parade in U.S. history that is routing over 50 mile through Georgia in effort to "pickup" President Trump's numbers in GA.
A number dignitaries have been invited to address the Phenix City rally, including Coach Tuberville. Former State Sen. Shadrack McGill, Trump Victory Finance Committee member former State Rep. Perry O. Hooper Jr., and Paul Wellborn, the President and CEO of the largest Family owned Kitchen Cabinet manufacture in the USA are among the featured speakers who have committed to speak at the event.
Entertainment will be provided by: Charity Bowden, an up and coming country music singer who was the runner up on "The Voice". Charity will sing 'I am Proud to be an American' as well as songs from her Voice performances. The McGill Girls will also perform. The three beautiful and talented sisters will be singing patriotic songs in three part harmony. Geoff Carlisle, a professional DJ will be keeping the crowd pumped with music and entertainment.
Following the speakers and the entertainment there will Trump truck-vs- Joe Bidden truck races down the drag strip for the finale.
The Northwest Alabama boat parade will be on Sunday. The boats will gather at 2:00 p.m. near Turtle Point and then the flotilla will parade around the open waters of Wilson Lake til 3_00 p.m.. There will be a contest for best decorated Trump boats.
Trump supporters have held a number of large boat parades across the state to show their support for the re-election of Pres. Trump.
Boat parade sponsors say that this parade will be: pro-American, pro-law enforcement, pro-military.