Recall Power for Voters? Gov. Bentley Has a Better Shot at Getting Some

By Joey Kennedy
Alabama Political Reporter
Imagine if Alabama allowed voters to recall elected officials, like the governor, House speaker and state Supreme Court chief justice because they're doing bad stuff.
We'd probably be preparing for a pretty big election right now.
But Alabama lawmakers (and state officials) have never been too anxious to give Alabama voters that kind of authority.
Because they're cowards. Just like they won't let voters have the power of lawmaking, through initiative and referendum.
Oh, every so often a bill is introduced for recall or initiative and referendum. And every single time, not every so often, the bill is dead on arrival.
The shame is that it took a 73-year-old governor copping feels of an aide half his age to initiate the current effort at recall.
As reported by Alabama Political Reporter's Brandon Moseley, state Rep. Will Ainsworth (R-Guntersville) said in a statement recently that "I, along with 30 co-sponsors have introduced legislation HB501 that would provide Alabamians with the opportunity to recall any sitting constitutional officer of the State of Alabama, or any member of the Alabama Legislature.
Continued Ainsworth, as reported by Moseley: "Our State finds itself at a crossroad. My legislation is not aimed at one person, office, or political persuasion; rather, this is a pursuit of honest government that has too often eluded our state. Criminality, or lack thereof, should not be the sole standard by which we evaluate the leaders of this state. Alabamians deserve and expect leadership based in integrity. Should a leader's integrity and trust be lost, the people of this great state should not be left without recourse."
I don't know if we're at a crossroad as much as we're at uncrossed legs.
The important question, though, is why does Gov. Robert Bentley's junior high school-like sexual indiscretions warrant a push for recall, but Speaker Mike Hubbard's indictment on 23 felony counts of corruption not do the same? Or why isn't Chief Justice Roy Moore's flaunting of a U.S. Supreme Court ruling on marriage equality the catalyst for allowing recall?
Sure, Bentley's actions embarrassed the state and continue to do so, but, really, it's not the first time Alabama's been embarrassed by an elected official. Indeed, it's practically a state characteristic.
We've had drunk governors, governors who stand in a schoolhouse door and at least one governor standing in the "bedroom" door. With that door open. (But next time, we're told, it'll be closed!)
Alabama voters do need the ability to recall a particularly inept or corrupt elected official, just as they need the right to propose legislation when the Legislature itself won't do its job. Ainsworth said next year, he'll propose initiative and referendum.
Even Ainsworth's recall bill won't make it easy to recall an elected official. Nor should it. Recall is a serious step, and in the end, it'd be up to voters to decide if they wanted to recall a perverted governor, a corrupt speaker or a loony Supreme Court justice.
Under Ainsworth's bill, a recall election would be held only if a petition is signed by 30 percent of the voters in the last election. The recall would be decided by a majority of voters in a special election.
That's a significant hurdle. Indeed, with today's apathetic electorate, it's near impossible.
And it's because of today's apathetic voters that we find ourselves in the mess we're in. Many voters simply don't research the issues and vote for the candidate who represents their best interests. Instead, they respond to hot-button issues: Let's get rid of immigrants; let's keep two people who love each other from being able to marry or have equal rights; let's keep the black man down; let's decide what a woman can do with her body.
Or instead of simply voting stupid, they stay at home and don't vote at all.
Ainsworth's bill is just as dead as any of the others previously introduced. It's DOA for sure. Too late in the session. Too many cowards.
For the most part, we get what we deserve. And, sadly, we deserve no less.
Joey Kennedy, a Pulitzer Prize-winner, writes a column every Wednesday for Alabama Political Reporter. Email: [email protected]
Print this piece
Opinion | Alabama close to allowing hot dogs to be rescued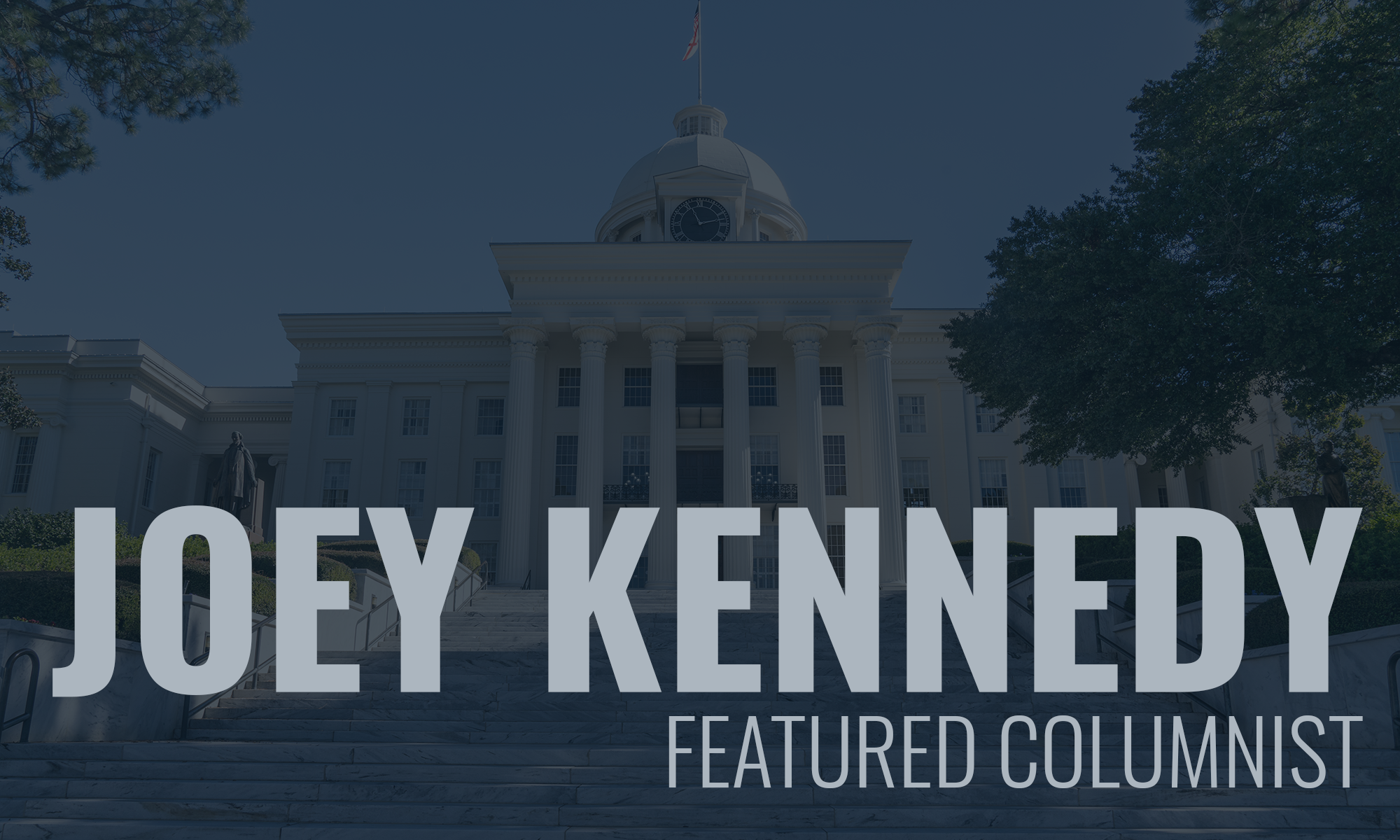 Most readers know that we've had a grumble of pugs for years. We lost four in the grumble last year. All of our dogs are rescues, and most of them have some disability: unable to walk well, blindness, incontinence, a perpetually crooked head.
And most of the pugs are elderly, so we expect to lose a few this year. Our youngest is Nellie Bly, at about 2 years old. We have a group of older pugs that are around 10-11 years old. Several came from puppy mills. One was surrendered to a vet tech when his owners took him to be put down because the owner's granddaughter wanted a different dog (I know!). The veterinarian naturally was not going to euthanize a healthy animal, and about a week later, Peerey came to us.
Pugs are bred to do one thing: Sit with their humans, mostly on their laps or next to them on the bed. All of ours are bed pugs. They snore; we adore.
I say all of this to underscore that Veronica and I know not ever to leave one of our dogs in a locked car, especially during the summer. But every year, we hear stories of the careless owners who leave their dog (or dogs) in the backseat of a vehicle while they run an errand. The errand takes longer than the owner thought, and heat builds in the car. Too often, that kills the pet, just like it does children, and that happens all too often as well.
As of 2019, 31 states had laws that either prohibit leaving an animal confined in a vehicle under dangerous conditions or provide civil immunity (protection from being sued) for a person who rescues a distressed animal from a vehicle.
Alabama – finally – is on the cusp of joining that group.
A bill (SB67) sponsored by Sen. Jimmy Holley, R-Elba, will allow good Samaritans to rescue pets left in a car if they are clearly in danger from either the heat or cold. The bill provides criminal immunity to civilians and grants civil and criminal immunity to law enforcement officers who rescue an animal.
Important, too, is that bill prevents owners from leaving their animals in a vehicle in a manner that creates an unreasonable risk of harm. If they do, they can be charged with second-degree animal abuse.
It doesn't take long for the situation in a vehicle to deteriorate, either. 
Even on a mild day, the heat inside a car can go off the rails. According to reports, if the outside temperature is 70 degrees (f), the interior of a vehicle can heat up to 89 degrees in 10 minutes. After a half-hour, the interior temp can be 104 degrees. Of course, it's much worse on hotter days.
At 80 degrees, a vehicle's inside temperature is at 99 degrees; after a half-hour, the animal is trying to survive in a 114-degree oven. And at 95 degrees, not an unusual June, July, or August temperature in Alabama, the inside temp of a vehicle is about 130 degrees.
Humans can't even survive long at those temperatures.
There are conditions before a good Samaritan can step up, but they're not unusual in states that already have similar laws: Among them:
■
The person has a good faith belief that the confined domestic animal is in imminent danger of suffering physical injury or death unless the domestic animal is removed from the motor vehicle;
■
T
he person determines that the motor vehicle is locked or there is no reasonable manner in which the person can remove the domestic animal from the vehicle;
■
B
efore entering the motor vehicle, the person notifies a peace officer, emergency medical service provider or first responder or an animal control enforcement agency or deputy of the confined domestic animal;
■
T
he person does not use more force than is necessary under the circumstances to enter the motor vehicle and remove the domestic animal from the vehicle.
■
Remains with the animal in a safe location in reasonable proximity to the motor vehicle until law enforcement or other first responders arrive.
■
Maintains control of the animal at all times to prevent harm to the animal or others.
There are other conditions that make less sense, however. The bill as passed 33-0 by the state Senate requires the ambient temperature in the vehicle be 99 degrees or higher before a citizen or first-responder can intervene.
I can tell you that a half-hour in a car at 95 degrees will kill a pug; a Lab or Golden might survive that temperature for awhile, but remember, every minute the car's interior is getting hotter. Pugs are brachycephalic – short nosed – and have trouble breathing outside at 80 or 85 degrees.
Other short-nosed breeds like English Bulldogs, French Bulldogs, and Boston Terriers, have the same issue. It's one reason why they snort and snore, even in the winter.
Generally, we can tell when a dog locked in a car is distressed, and few good Samaritans are going to be carrying a temperature gauge with them.
Still, the House needs to pass this bill as soon as possible. Spring and summer aren't that far off, and, no doubt, there will be animals to rescue.
Joey Kennedy, a Pulitzer Prize winner, writes a column every week for Alabama Political Reporter.
Email: [email protected]
Print this piece